[Editor's note: Happy Tuesday friends! I'm so very excited to welcome Kelly of Kelly Hancock Event Planning as Every Last Detail's newest contributor today! Kelly has a similar story as my own- she had some experiences while planning her own wedding that weren't quite the best, and so she became a wedding planner with the goal of helping brides. She's full of some amazing insight, and I can't wait for you all to learn from her!] 
Hi there! I am Kelly Hancock, a former bride and now an event planner. I realize the title of this post may seem confusing coming from someone who plans weddings as a profession, so I want to start off by explaining. Prior to my engagement, I had always loved being a part of the wedding process for friends and family. The way I had experienced others' weddings had always been great- full of squeals and pretty and projects. So when my college sweetheart asked me to be his bride in 2008, I thought my personal planning experience would be no different.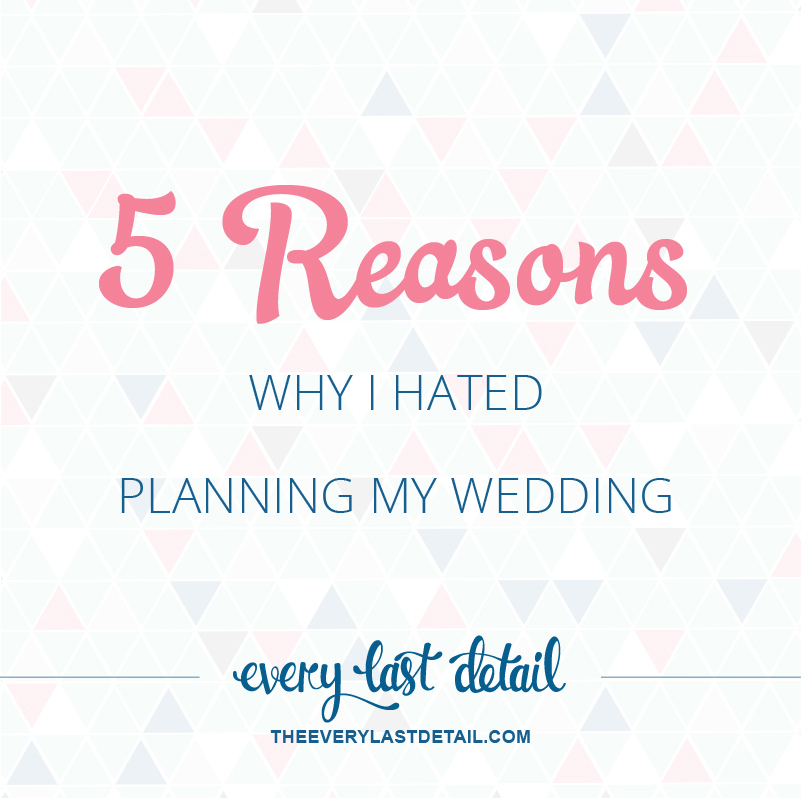 Oh, how very wrong I was. Instead, the experience I had was nothing short of miserable for me. My own wedding planning process is actually what drove me to be a bride turned planner. It is now my mission to help brides enjoy their engagement and wedding day. It is also what has lead me to share my experiences here as a contributor on Every Last Detail. It is my hope that maybe one bride out there will be able to identify and learn from my mistakes.
So, to start things off, let me break down the five reasons I hated planning my wedding… and then feel free to run and mark them all on your "what not to do" list so that you don't fall into the same trap!
1. I didn't use my voice.
What I have realized looking back on my wedding and the planning process is that at the time, I didn't use my voice. I was so timid and afraid of hurting feelings, offending someone, sounding bossy, etc. that I simply did not speak up. When I had questions in vendor meetings, instead of asking I would sit in silence, too nervous to say anything. Then I would go home and stress about each item that was discussed.
As a planner, I can tell you that I want to hear questions and opinions from brides! For one thing, not every vendor is a match for every bride. By asking vendors questions and expressing your vision, you can determine if you and that vendor are a good match. Additionally, if questions come up during the planning process you should feel comfortable enough with your vendor to address the concern or ask for clarification. As a bride, by not using my voice I ended up with a few vendors that may not have been the best fit, some vendors who had no idea what my vision was, and a lot of stress internally because I had so many unanswered questions.
2. I took on too many DIY projects.
Another contributor to my planning anxiety was that I took on way too may DIY projects. My wedding was on a tight budget and I opted to do a lot of things myself (with my mom's help of course!) but I was not honest about my schedule or how expensive these projects actually are. At the time of my engagement, I was finishing college and preparing to move hundreds of miles away- all while planning a destination wedding in another state. While hand-making the welcome bags, favors, program fans, centerpieces, and so on and so forth sounded cute, fun, and economical; the truth is that it added a lot of avoidable stress to my planning process and took a lot out of my budget.
I understand wanting to add unique, personal details to your wedding day and I know that DIY is a great way to achieve this. However, my personal and professional advice is to evaluate the situation first. Look at your timeline, your schedule, and your finances before committing to anything DIY. Once you have a good grasp on what kind of timeline and budget you are working with, choose 1-3 DIY projects to work on and leave it at that. Choose what is most important to you and also the most personal. By limiting the amount of non-essentials that I was taking on, I might have actually enjoyed my DIY projects instead of seeing them as a huge burden.
Image by Brandy & Beau Photography
3. I could not stop comparing.
This was a huge one for me and I wish at some point someone would have said "Step away from the bridal blogs- you are cut off!" Although it was a world before Pinterest (I know, can you even imagine it?!) I still fell into the beautiful weddings comparison trap. If you don't know what I am talking about, it sounds a bit like this: "Ooh I should have chosen grey and yellow for my colors!" or "Wooden letters on the church doors! I know I am getting married in two days but I wonder where I could get some wood…" I had the hardest time making decisions, sticking to them, and then being happy about them. By continuously looking at friends' weddings, blogs, magazines, etc., I never left the "inspiration stage" to move into the "execution stage". I continuously changed my mind or added new ideas/projects to my already enormous to do list.
As a planner I have one piece of advice: just walk away. There comes a point in every wedding where you have to stop looking at other weddings. It goes from being inspirational to being harmful. It can cause your ideas to become less personal and unique, and instead blend together with every other wedding out there. It can cause too many different ideas to come in and become a jumbled mess instead of cohesive. And most importantly, it stresses you out and makes you feel bad about your wedding. Stop wedding comparing! Find your inspiration, make your decisions, and then move forward.
4. I didn't hire a planner.
It probably goes without saying that I am a huge advocate for hiring a wedding planner seeing as I am one, but back when I was planning my own wedding I did not see the need or value. I can tell you this: I would be writing a very different message to you today had I chosen to hire a professional. My wedding was clearly my first experience as a bride. It was overwhelming and confusing and daunting. If I had chosen to have someone on my side who knew how to navigate the process from a professional standpoint, I would have felt such relief.
You see, the thing about using someone other than your mom/sister/aunt/best friend is that they are there to work for you. In addition to that, they bring their connections and experience with them. As a planner, it is my job to work out and deal with the stressful logistics of a wedding day. As a bride, I really wish I would have hired someone to do that for me.
5. I forgot to enjoy it.
Thinking about this it makes me so sad. For all the lists I made and all things I remembered, I forgot to enjoy being engaged. I didn't get to experience how much fun it could be to plan a wedding. This one fact is the pull of my heart that makes me do what I do now. I am so passionate about every bride out there taking time to enjoy their engagement and wedding planning! This is such a special and fleeting time in your life so remember to have some fun. Pop champagne, say "fiance" every chance you get, call your best friend each week just to scream "I'm getting married"… however you want to celebrate – just make sure you do it! Linger in this moment and feel how exciting it truly is.
—————————————–
I hope you all will be able to avoid making these same mistakes that I made! Have you learned anything while planning your wedding that you would tell others to avoid?
The following two tabs change content below.
Kelly Hancock is the owner of Kelly Hancock Event Planning. As an organization and detail junkie turned bride turned event planner, she has a passion for love stories and adores taking care of the "little things" so brides can savor every moment of their engagement and wedding day. Originally from New Orleans, you can currently find Kelly in St. Petersburg, FL with her husband of four years, running Kelly Hancock Event Planning.