Although it may seem as though time is standing still while you're planning your wedding, we promise your wedding day is coming! The months and weeks are ticking away, and the final week of your wedding will pass by in a flurry of activity. As you make your final preparations for your wedding day for yourself, your love, your family and friends, and your details, we thought we would chat with the members of our V List community to ask some of our go-to pros what they hope you don't forget on your wedding day!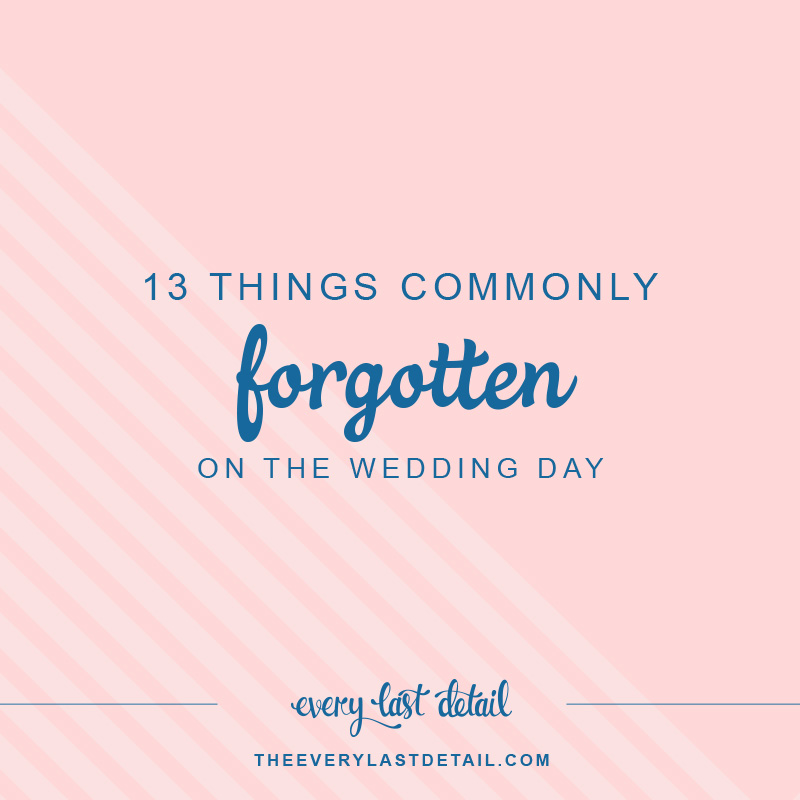 Before we share their answers, we thought we would share a few of our own:
1. Don't Forget to Order Lunch
Most often, wedding receptions happen during the evening. On any other day, you would likely make sure to eat both breakfast and lunch, and your wedding day is no different. In fact, it may be more important to stay fueled on this day than any other! We highly recommend setting a plan into place for lunch for everyone in your wedding party. Contact a local grocer and order things like sandwiches (ask for them to be cut into quarters!), fruit trays, and vegetable trays; order room service if you're staying at a hotel (this may help you to meet any catering minimums set by your hotel's team, so make sure to ask); or order in from a local restaurant. Whatever you do, don't skip lunch!
2. Don't Forget to Book Transportation
Make sure to think through how you're traveling from your getting ready location to your ceremony and then to your reception if all three are happening in different places. Mini buses are great if you would like to travel in a group, and companies typically ask you to book a few hours together for a minimum package. You can also consider Lyft and Uber, taking a cab, traveling with a wedding guest or family member, or simply walking (we've had couples do this!). Try to avoid making a plan on your wedding day at all costs because the stress of doing so isn't necessary.
3. Don't Forget Details
You plan and plan and plan, and have envisioned your day, but did you know that some of the commonly forgotten things for the wedding day are the details? These are things like table numbers, escort or seating displays, menus, signage, and more. Yes, they are little things, but they really do make a difference- whether it's affecting how your tables look, or providing your guests with information about what they're eating or where they're going! So make sure you have these details all figured out and ready to go for your wedding day! (And PS- the table numbers that your venue has? There's a 99% chance that they're hideous, so if you care about your wedding design, you'll want to provide your own!)
4. Don't Forget to Enjoy Your Day
Simply put, ENJOY YOUR DAY! You have planned and planned for this day, and your wedding professionals are at the ready to do exactly what you hired them to do. They're professionals after all, and they work weddings almost every weekend during their seasons. Try not to stress about the details, and don't worry about the weather – you can't change it by worrying about it! Whatever may come your way today, take in every moment; you're married, and that's what's most important.
Without further ado – with answers ranging from stationery and eating to simply not forgetting to have fun – here's the best advice our V List members have for you!
Don't Forget to Check the Marriage License Requirements:
"Be sure to check the marriage license requirements in your area well in advance. Verify how far in ahead of the wedding you can apply, and if there is a waiting period before the license becomes valid. In most cases, both partners need to apply together. Office hours are typically during "business hours," so you may need to take time off work depending on your schedule. This is the most important item you'll need to make your marriage legal, so don't leave this until the last minute." – Heather Canada, First Coast Weddings and Events
Don't Forget Your Stationery:
"Don't forget to send your photographer a copy of your invite suite and/or paper goods ahead of time. That way the photographer can style and photograph your papers goods in a pretty setting rather than a hotel room floor : )" – Ashley Granstad, Brooke Images

"Don't forget to take one copy of your wedding stationery suite to be photographed! Many of our #blushbrides have been using our heirloom vow books during their wedding ceremony, too, and they're a wonderful keepsake to have. They're lovely to have photographed, too, so be sure to let your photographer have a copy of those before the ceremony as well!" Jen Gebrosky, Blush Paper Co.

"Don't forget to save stationery for the photographer! And anything they have that's double sided or has more than one point of view I need multiples for. For example, if your envelope has a front, back return address and liner I would need three envelopes to show all views in one image. Also, please be sure to include stamps and an address (even if it's fake) for the photographer! It photographs much better. ;-) It's also great to save a menu and two to three escort cards for stationery photos too." Mikkel Paige, Mikkel Paige Photography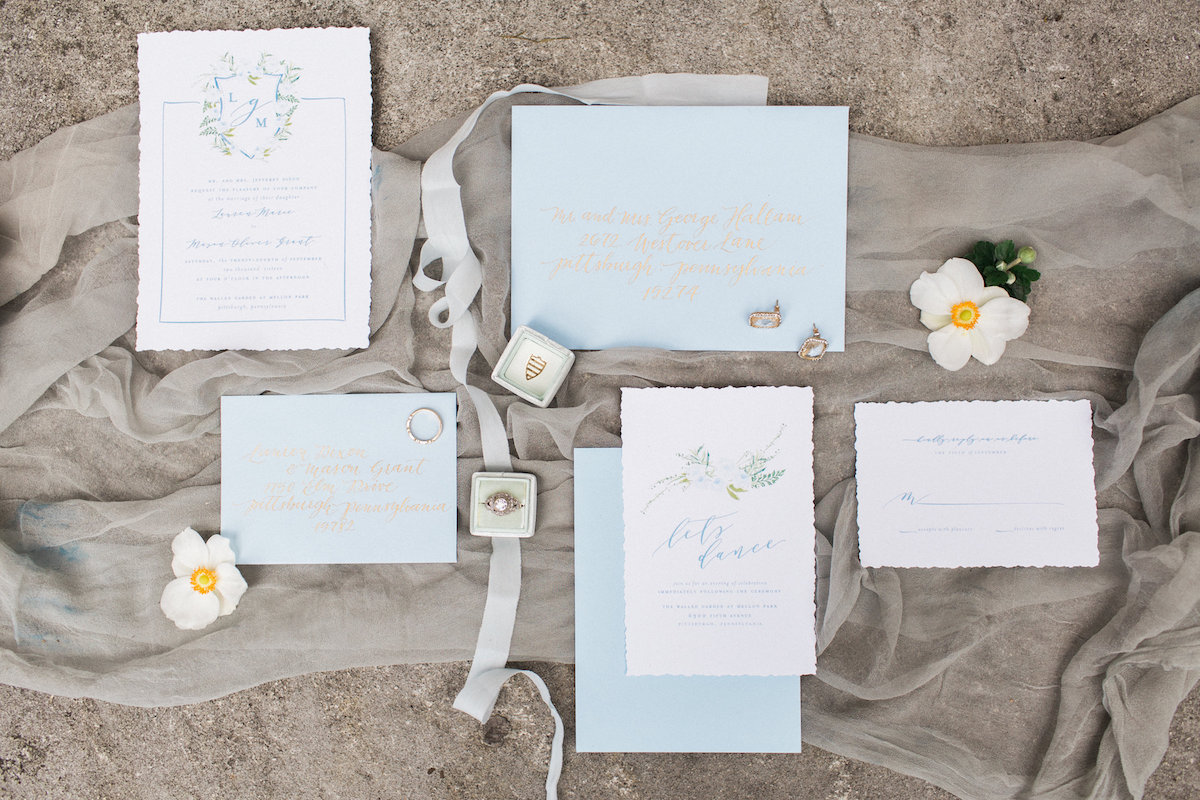 Image showcasing Blush Paper Co.
Don't Forget to Eat:
"Don't forget to eat!" – Kristen Weaver, Kristen Weaver Photography

"I cannot tell you the number of times I have picked up food for my couples, because they have not eaten all morning or afternoon. Sometimes parents or the bridal party will bring it, but most of the time it is only alcohol and we do not want anyone to get sick before, during or after the ceremony. So, please eat real food prior to your ceremony. It will be hours before you have a chance to eat again and even then you may not eat as much as need to party the night away." – Terri Gilbreath, G. G. Events
Don't Forget You're Married – Have Fun:
"At the end of the day, regardless of what else happens, you will be married and THAT is what matters. Doesn't matter if the cake falls over, your favorite photo spot is flooded, your veil rips, or your flowers are the wrong color. Your wedding is about more than the things you bought – it's about you starting a new chapter together with your partner. Keep things in perspective and don't sweat the 'wedding day fails', because when all is said and done, none of that stuff really matters." – Nicole Jansma, Nicole Jansma Photography

"More than anything else, don't forget to just have fun. There are so many things that happen on a wedding day that there are bound to be things that don't go perfectly. Regardless, you're still going to marry the love of your life. Nothing else is more important than that, so go have fun, get married, and celebrate with your friends and family." – Rudy Montilla, Rudy & Marta Photography
What else don't you want to forget on your wedding day? Let us know in the comments!
The following two tabs change content below.
My name is Carly, and I live for love whether it's the love I witness between my family members and friends or the love I have for places and weddings. For these reasons and more, I write about the wedding industry, and I'm an event planner, designer, and floral stylist who will forever be in love with flowers, pink, and bows.