Whether you're just embarking on your wedding planning journey or are well on your way to finalizing each detail, you might feel like you're on a never-ending quest to have a unique wedding. How to weave your own personal story throughout a wedding is one of the top questions we receive, and it's one of our favorite things too- because after all, personal details are what make weddings unique!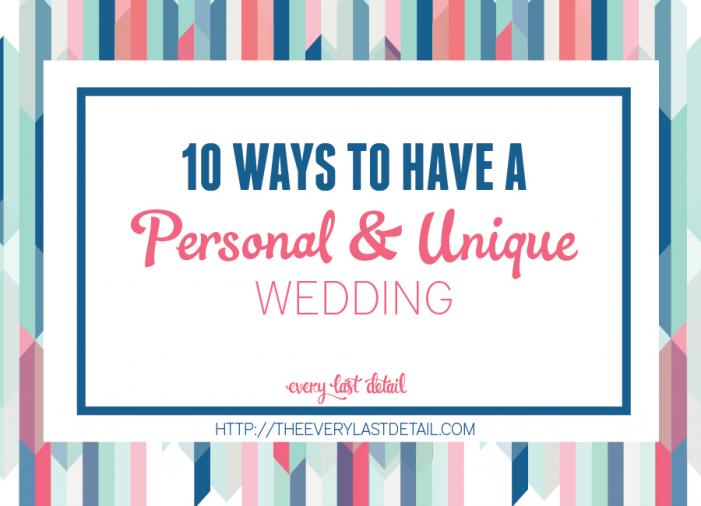 It's highly likely that we've all attended weddings, been a member of a wedding party, or spent far too much time pinning on Pinterest and catching up on our favorite wedding blogs. And in that, we've all seen so many details that we love, but they may or may not be right for YOU. The trick to making your wedding feel like your own is to dig deep into your story and pull from those moments to make your wedding day reflect your story together. So from vows and photography, to food and details, we're sharing 10 of our favorite ways that you can create a personal and unique wedding:
1. Engagement Photography
Your engagement session with your photographer is one of your first opportunities to personalize your wedding. Rather than relying solely on your photographer's suggestions for locations, request to meet at a place that holds meaning to you as a couple. Think about having your photos taken at a park where you love to walk your dog together, the place where you got engaged, your alma mater, or even your home. Your engagement photos are also perfect to use to personalize into your save-the-dates.
"I had a groom once that was really into Legos. He works for the company too. They made mini lego people for their engagement photos and he made a huge replica of their chapel to display at their reception. It was awesome!" – Jennifer Woodbery Photography
2. Date & Season
Weather is always important to consider when choosing your date and season for your wedding, but take time to reflect on other aspects that are important to you too. Maybe you want to get married on the date when you first starting dating, or perhaps you want to honor a family member by tying the knot on their anniversary. Further, the summer may be your favorite because of the trips you take with your family, the fall may be important because you love college football, or the winter may hold meaning because you love to ski together. Whatever your reason, choose a season that speaks volumes about your relationship.
3. Venue
If your family has a long history of visiting a certain locale- whether it's a beach resort or a country club- think about hosting your wedding there. Also, take time to consider the things you love whether that's weekends spent wine tasting or visits to favorite cities. These are all points and places you can use to inspire and personalize your venue selection.
4. His & Her Attire
First, let's talk about his attire. It's not too likely that your groom has a suit that has been passed down for generations. However, the men in your groom's family may all have a tradition of wearing a particular color suit, blazer, or tux at each of their weddings, or there might be a pair of cufflinks they've all worn. He should definitely think about following in their footsteps. Now, let's talk about your dress! Wearing your mother's dress is always a lovely gesture, but there are other ways to personalize your attire too. If you're not planning to sell your wedding dress, think about having the inside monogrammed with your name and wedding date. Also, think about the accessories you want to add to your look from your veil to your shoes and jewelry. Wearing pieces that look beautiful but also have tremendous meaning to you and your story speaks volumes.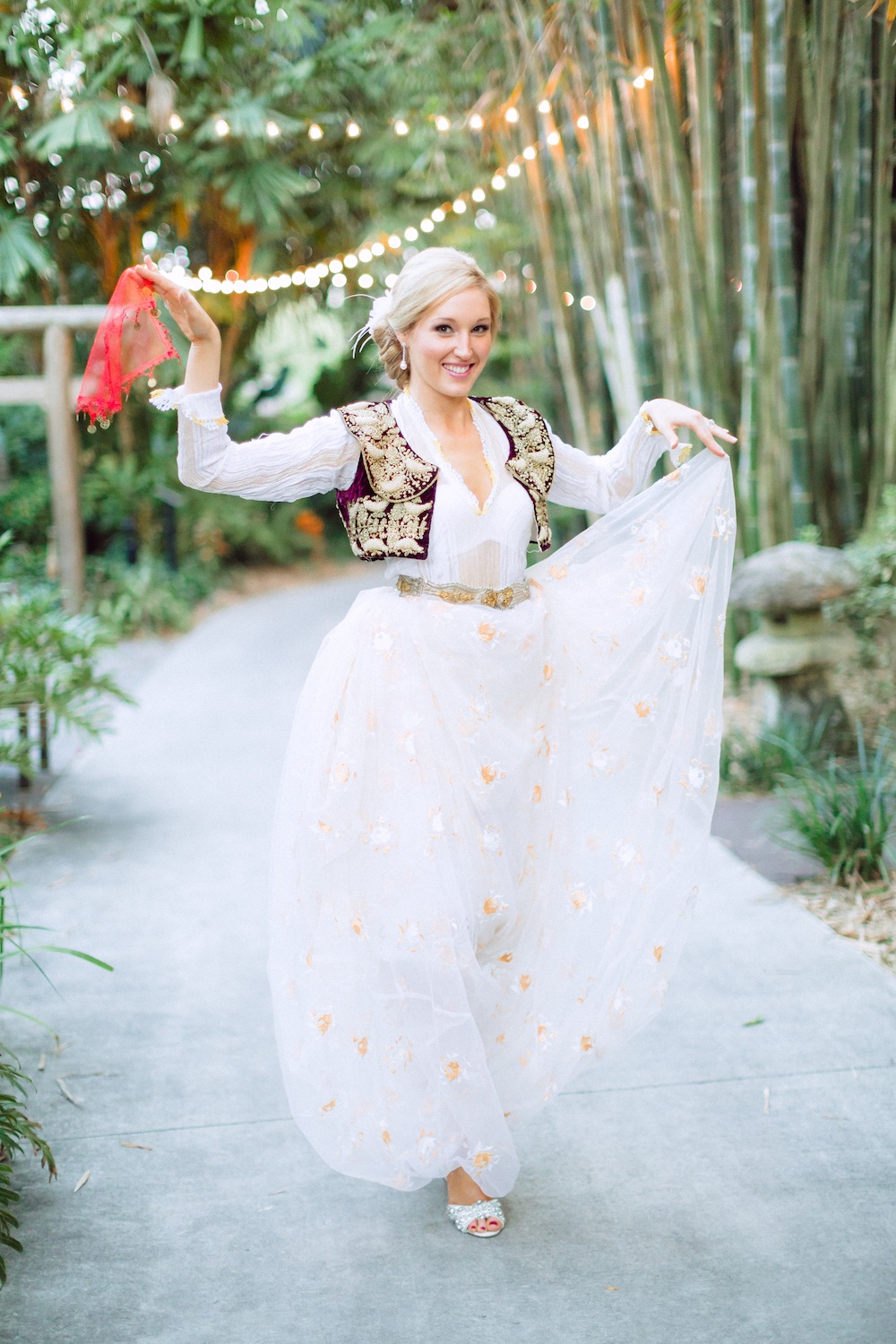 "The groom Dardan is from Kosovo.  The bride Lauren changed into a traditional Albanian wedding gown for their reception that has been worn by all the women in Dardan's family for 100 years.  The gown has survived many wars in their country and Lauren was honored to wear it as such a special part of their day and the merging of 2 families and cultures.  They also included Baklava for dessert to put another personal twist on their day and Dardan's heritage." – Hunter Ryan Photo
5. Color Palette
Your color palette will be woven throughout your wedding day, so it's so important to really love it. When choosing your colors, think about your wedding venue and season, the place where you met, the things that you love together, and more. Each has the tremendous ability to inspire your palette and really allow you to personalize your wedding (think: college colors, palettes already in the home you share together, a piece of jewelry he gave you that you love, or colors that you're both always drawn to).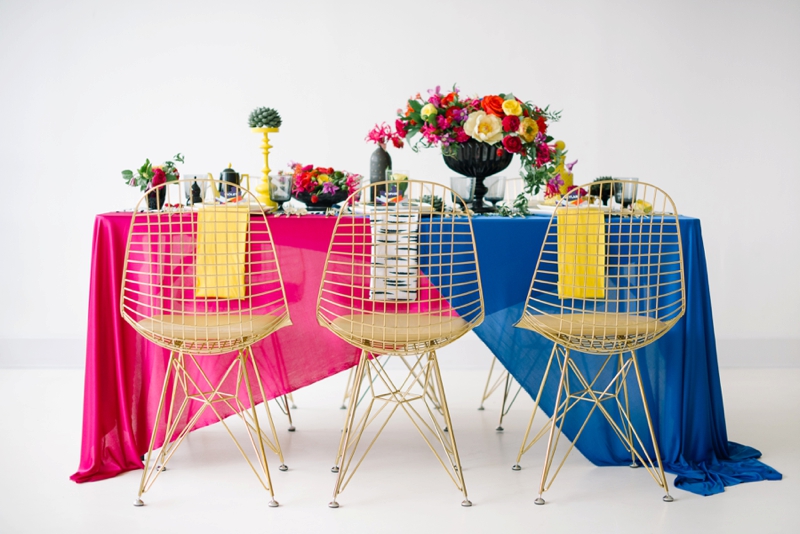 Image via Color Pop Events
6. Flowers
Always consider the flowers that will be in season on your wedding day because they are the most budget friendly. However, also consider flowers that hold meaning to you. Perhaps all of the women in your family carry a rose bouquet down the aisle, maybe you grew up always admiring the wildflowers in your grandmother's garden, or your fiancé always brings you bouquets of tulips. If possible, include these flowers! Also, when choosing your bouquet wrap, think about asking your florist to wrap your flowers with a loved one's handkerchief, charm, or a piece of a wedding gown from your mother, grandmother, or aunt.
7. Vows
Your ceremony is perhaps the most poignant moment to personalize, especially the vows you recite to each other. The most obvious way to personalize your vows is to write them yourself. If you're thinking about doing this, start very early and make sure you're both on board because it's a mighty task to take on! Another option is to review the vows your loved ones recited on their wedding days, and say the same vows as a way to honor those who married before you.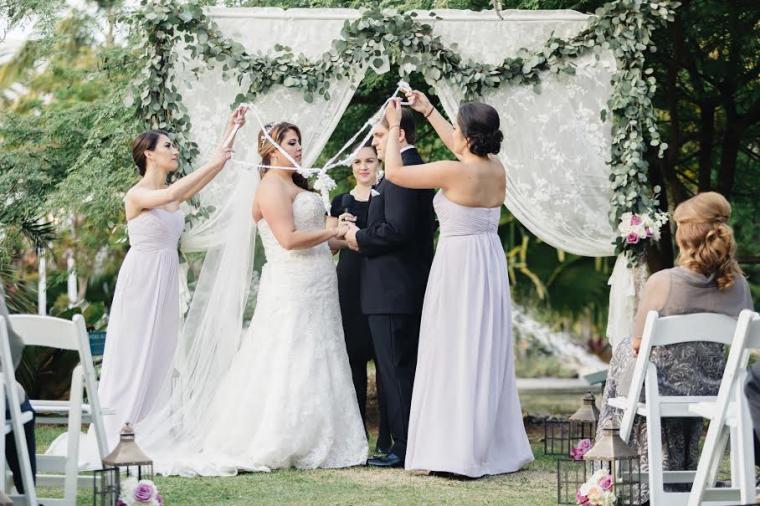 "A wedding ceremony is the perfect place to showcase personal style and tradition. We had a couple where the bride's grandmother created an arras to be used during the ceremony. After  her grandmother delicately carried it down the aisle, it was placed over the bride and groom during the ceremony to insure the protection of their union."  – Liz & Lex Events
8. Music
Simply put, play your favorite songs! Walk down the aisle to one of the classics if you've always dreamed about it, share your first dance together to a song you've loved for your entire relationship, and make sure to play the songs you and your friends always dance to together. Another way to personalize the music played at your reception: include a question on your RSVP card that invites your guests to write down which song(s) will make them want to jump onto the dance floor. That way your band or DJ can focus on playing the songs that have the most meaning to you and your guests.
9. Food
Similar to music, serve the food you and your fiancé love! If you both share a love for each dish served at Thanksgiving, plan to ask your caterer to whip up a Thanksgiving style feast. Maybe you research the best barbeque restaurants before visiting a new city – make sure that's on your menu, especially if your wedding is rustic! Also, think about the food that holds meaning in your family. Serve your grandmother's famous pies for dessert instead of cake, or work with your aunt and cousins to share your aunt's best jam with your guests as favors. We also love the guest book that one of our V List members made for her bride and groom:
"My bride and groom were both FBI and had a long-distance relationship until marriage. As often as possible, they would collaboratively look up a recipe and call each other as they cooked the same meal from states away! I had help from the bride's mom, but I thought it would be awesome to secretly gather favorite recipes from each of their guests and have them printed out for the wedding. As a surprise, the recipes became the guest book that each guest would write a personal note for the bride and groom. Now they have a book full of recipes they can finally cook together!" – Carillon Weddings
10. Details & Décor
I've saved the biggest place for personalization until last. Tell your story through the stationery pieces you mail to your guests and those present on your wedding day; add pieces to your centerpieces, like horseshoes if riding horses has always been your passion; include unique names meaningful to you instead of traditional table numbers; opt for lawn games if you and your family always play them together; serve signature cocktails you both always enjoy together. The options are truly endless!
"Decor is such an easy place to infuse your personal story into your wedding. From pictures of loved ones added to bouquets to pieces of mothers dresses becoming the bouquet wrap to items placed on tables as part of the centerpieces. One of the most fun ones we have done was for a couple who love to travel. We added small globes to the centerpiece setups. This was an elegant way to display this passion." – Andrea Layne Floral Design
---
How are you personalizing your wedding? Weigh in, in the comments! I would love to know.
The following two tabs change content below.
My name is Carly, and I live for love whether it's the love I witness between my family members and friends or the love I have for places and weddings. For these reasons and more, I write about the wedding industry, and I'm an event planner, designer, and floral stylist who will forever be in love with flowers, pink, and bows.