From the incredible opportunities for photos to the once-in-a-lifetime chances to introduce all of your favorite people to your most treasured locations, there are so many reasons why you may be thinking about hosting a destination wedding. And, we can safely say we love them all! However, the road to a destination wedding can at times seem overwhelming.
Will guests travel?
How do we find talented wedding professionals?
How does one even plan such a thing?
In order to answer these questions and so many more, we turned to our most trusted source, the talented professionals of The V List! Below, you will find answers to some of your top questions as well as those you may not have thought of yet. Your destination wedding dreams absolutely can be closer than they may feel, especially if you have the right team on your side. Make sure to take a peek!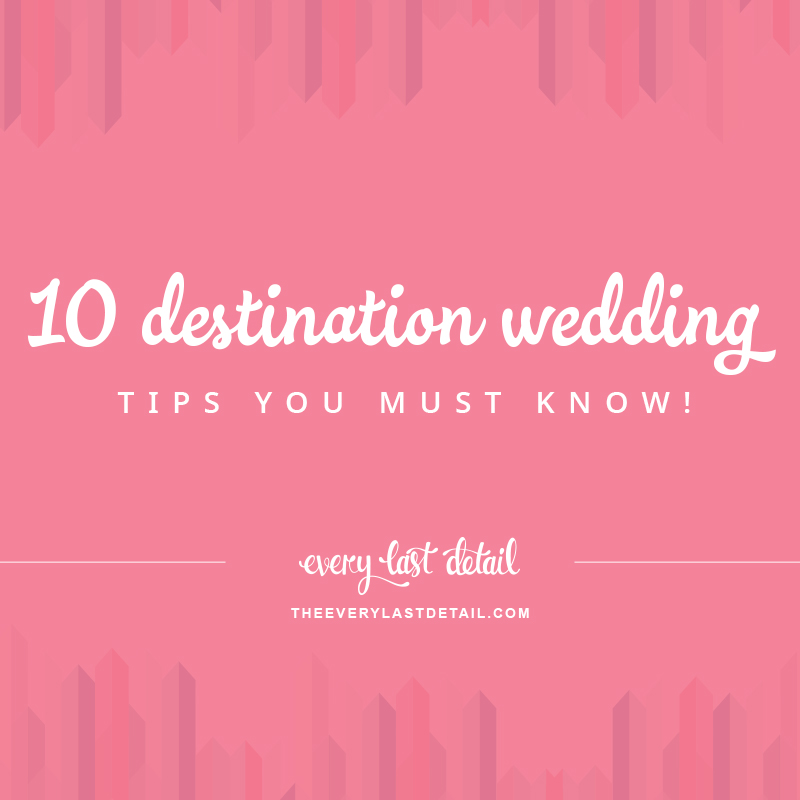 1. Choose Your Destination Wisely:
Pick your destination carefully. Zika virus is becoming a major issue with destination weddings right now since many wedding guests tend to include pregnant or soon to be pregnant sisters or friends, and their partners who are becoming more cautious and less willing to chance it when it comes to traveling for a destination wedding. Couples who had been planning destination weddings to countries on the CDC Zika watch list have been moving them to safer destinations which can cost a fortune and which might not be covered by insurance. Popular destination wedding locations that the CDC is recommending avoiding travel to include Mexico, Costa Rica, Aruba, Barbados, Dominican Republic, Puerto Rico, the US Virgin Islands, and Fiji among others. For an up to date list of Zika impacted countries visit the CDC website. – Tracie Domino Events
2. Be Flexible:
When planning a Destination Wedding, be flexible and keep an open mind. Something that may be the "norm" where you live could be completely different where you are hosting your wedding! – Liz & Lex Events
3. Work with a Wedding Planner:
It is really important to hire a wedding planner who is well-experienced with weddings in that destination and meshes with your personality as well that can bridge the gap between cultures. I specialize in Hawaii destination weddings (Although based in CA, I lived there for 5 years) and there is a big difference between Mainland U.S. and local Hawaiian expectations on response time and overall communication it can be frustrating for couples trying to plan a wedding there. By me understanding both sides and maintaining my relationships there, I am better equipped to assist my clients for a stress-free wedding – planning process and day of. – Michelle Garibay Events 
4. Hire the Right Wedding Professionals: 
Depending on your destination location, you may be offered a "resort photographer" or "staff photographer." If your wedding photos are a priority to you, you will be more confident and be more likely to have the images that you want if you source your own photographer from home. Although there will be travel expenses associated with bringing in a photography team, oftentimes, it is a comparable cost to finding photographers at popular destinations, because there is a higher market in these areas. This way, you still have a chance to work personally with your photographer throughout the planning process, have an engagement session to build rapport, and be able to follow up in person for things such as album design and prints after the wedding is over. – Ashley Gerrity Photography 

Don't be afraid to ask the venue for what you want. Some won't allow outside vendors, but they may let you pay extra to bring someone in. Don't disguise your photographer as a guest though…you can get in trouble with your venue and annoy the local photographer! – Melissa McClure Photography

Image by Melissa McClure Photography
5. Make Sure Your Wedding Venue is an Ideal Venue:
If at all possible plan an in depth visit to the venue ahead of time before signing on the dotted line and putting down a deposit. Seeing a venue in all its glory in perfectly staged and lit professional photos is much different than walking through it in person. Things you wouldn't see in a magazine feature like the bathroom facilities, parking lots, the quality of the space, the bar set up, etc. are details you'll want to see for yourself; sometimes these things can make or break your best wedding day vision! A venue walk through is also a perfect opportunity to meet the venue coordinator, ask critical questions (or have your planner ask them for you!), and envision how your own day will unfold. – Hey Gorgeous Events
6. Think About Travel for Professionals & Guests:
Know that a destination event requires more on not only you, your fiance, and your families (unless you're eloping!) but also your guests. This is especially true of any wedding across country or across the pond. Giving your guests ample time to prepare for travel and safe up necessary finances is courteous and ensures the people you love and treasure will be able to celebrate with you! – Hey Gorgeous Events

Talk to your photographer about travel fees. Every single one of them treat it differently. Some photographers don't charge any travel fees, while others do. Some specialize in destination weddings, while others only accept a few a year. – Rudy + Marta Photography
7. Communication with Guests is Key:
Create a website or even better, a Facebook group to communicate information to your guests. It allows them to ask questions for all to see, find roommates if needed and plan events around the wedding day easier. Don't forget about those non-Facebook users too…an email or phone call is good to keep them in the loop. – Melissa McClure Photography
8. Warmly Welcome Your Guests & Wedding Pros:
I frequently make custom maps for couples planning destination weddings. These maps are extremely helpful for your guests because they won't know their way around town. Including a map in the welcome bags for your guests allows you to let your guests know where and when your wedding events are happening, but it also allows you to let them know about some fun activities they can enjoy in their downtime. Let them know where the local hot spots are, fun sight seeing locations, or even some places they can just kick back and relax. Everyone will have a great time and remember your destination wedding as a great adventure! – Feathered Heart Prints

Include your destination vendors in the non-wedding day activities – and don't expect them to work. Including them in the welcome bags is always a nice touch too! – Melissa McClure Photography
9. The Sun is Not Your BFF:
Enjoy the SHADE :-) on the days leading up to your wedding once at your destination location. You're usually at your destination, relaxing with your guests for days before the wedding, which usually means pool or beach time. You don't want to be a lobster or have awful bathing suit lines on your wedding day! Sunscreen and shade are your friends. – Mikkel Paige Photography
10. Capture Every Moment:
Add extra time for photos. This is a once in a lifetime experience for you and everyone involved. Don't be afraid to leave the venue for epic photographs. 

Consider a Post-Wedding Session. The couple and photographer could get together on a weekday following the wedding to truly get unique images around the location where they got married. No stress about being on a timeline, so it'll be just the two of them and their photographer. Relaxed and in no rush. Good times for all. – Rudy + Marta Photography
---
Are you planning a destination wedding? Have you attended a destination wedding? Let us know which tips you would add to our list in the comments!
The following two tabs change content below.
My name is Carly, and I live for love whether it's the love I witness between my family members and friends or the love I have for places and weddings. For these reasons and more, I write about the wedding industry, and I'm an event planner, designer, and floral stylist who will forever be in love with flowers, pink, and bows.