If you didn't know already, I'm ALL about providing insight into the "wedding world" and educating brides- in addition to sharing pretty wedding inspiration of course. And even though some of the information I share might not always be what you want to hear, it's still SO important to know… because no matter what, the more you know about weddings, the BETTER your wedding will be, and in turn, the happier you will be!
So with that said, today we're talking about a few things your wedding vendors won't tell you…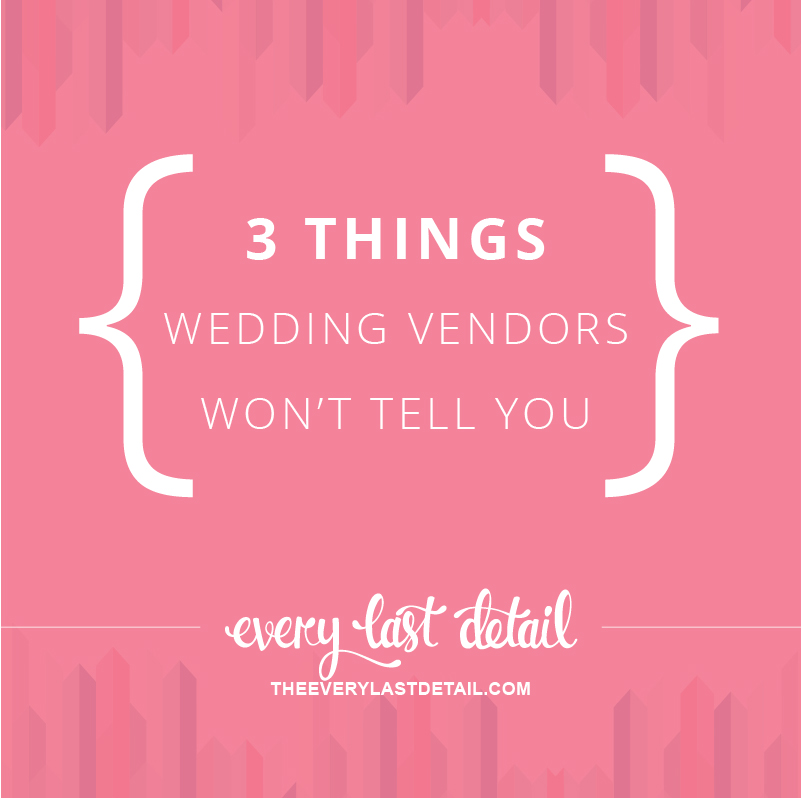 Now, I'm not saying they won't ever tell you these things, but they won't tell you right off the bat. The thing is, knowing these few tidbits will make your experience of working with wedding vendors way better! I for one had no clue about any of these things when I was planning my wedding, but I certainly wish I had known!
1. Weekends don't exist.
Okay, well weekends exist for you, but unfortunately, not for wedding vendors. Weddings happen Friday, Saturday, and Sunday, as you all know. If you are requesting a meeting during the weekend, chances are good that you probably won't be able to get one. And if you're emailing/calling during the weekend, just know that you might not get an immediate response.
Ask yourself this: Do you want your vendors answering emails and phone calls and taking meetings on your wedding day? I know I wouldn't!
2. Since weekends don't exist, days off (for vendors) happen during the week.
Vendors don't have 2 free days during the weekend, because they're most likely working those days. Because of this, "days off" usually occur during the week… even then, often times it's only one day off. So when a wedding vendor doesn't reply to your email in the normal speedy fashion on a Monday or Tuesday, it's probably because it's a "day off" for them- you know, trying to do laundry, buy food, clean- things that are necessary for a person to live. ;) Nowadays, most wedding pros will have an auto-responder turned on in their email, telling you this, but just in case, it's helpful to be aware of this tidbit!
Ask yourself this: On your day off (or any other day really), do you like your boss calling and/or emailing when you don't respond in less than 2 hours?
3. A vendor's product/service is their livelihood.
Sometimes vendors act like what they do is fabulous and fun (which it is of course), but they also make it seem like less work than it actually is. For some reason, a wedding vendor's profession is immediately classified into a different "category" than say, an accountant or a realtor. Just because they're providing you with a service or product related to your wedding, doesn't mean that they're any different than that accountant or realtor. I've said this before, but I'll say it again- vendors charge what they charge, and they charge it for a reason. If you have to, ask, but don't barter or try to talk them down. It's truly how they're putting food on the table, not just fun and games!
Ask yourself this: Do you want people who don't do your job telling you what they think you should be paid?
——————————————————————–
So now that you know these wondrous tidbits of knowledge, what can you do with them? Ask.
Ask your wedding vendors what their weeks are like, what days they take off when they have weddings all weekend, or if they prefer meetings on certain days of the week. Most vendors will usually ask you similar questions, because it helps them work with you smoothly and effectively. By asking them as well, you will be able to further establish an awesome relationship with your vendors. And when you have both have an awesome relationship, that will lead to an equally awesome wedding, and less stress for you! :)

Editor's note: These are my own opinions based on my experiences as a wedding professional and a bride. Vendors, please feel free to add in your own "tidbits" in the comments below!
A version of this post was originally published in December 2010.
The following two tabs change content below.
Lauren Grove is the editor and owner of Every Last Detail. A clueless bride-turned-wedding planner, Lauren uses her experiences and knowledge to educate and inspire brides all over the world.