Planning a wedding sometimes seems like it's a whole other world. I myself was absolutely clueless about all things weddings when I was a bride. Once I entered the wedding world, I learned a few things about wedding vendors that would have been really helpful to know when I was planning. Of course the same information would also be helpful for ALL brides, so I thought I would put together a few things to let you all know about wedding vendors… so everyone's lives can be easier while wedding planning!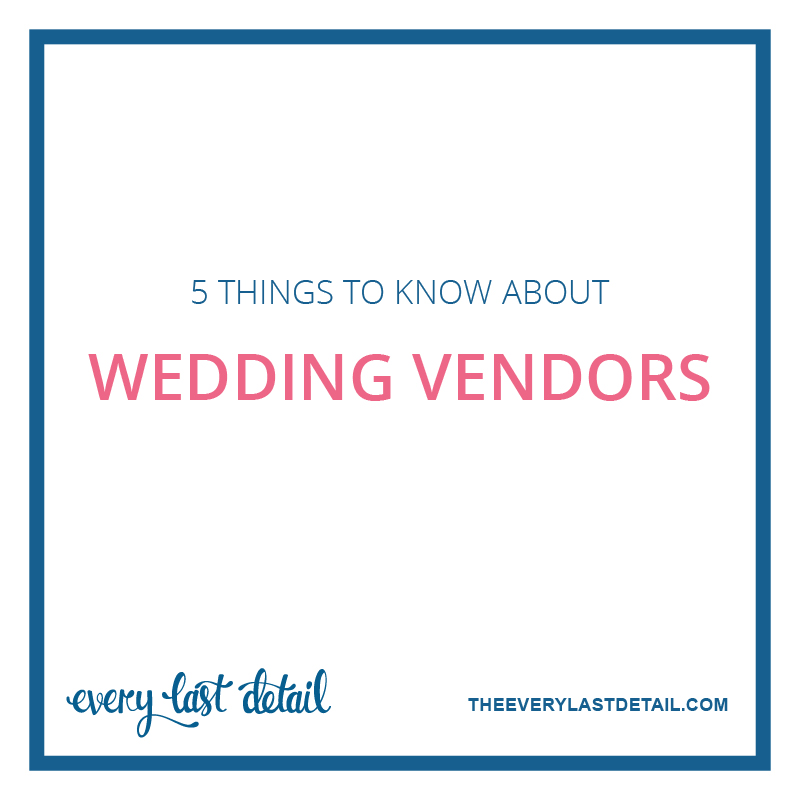 1. If you call or email Thursday Friday through Sunday, chances are good that you won't hear back until the following week. (Yes, maybe even Thursday- because in an effort to get "cheaper prices", Thursday weddings are all the rage now.) It all depends on how many weddings your vendor has- if they have nothing, then SURPRISE, you'll get a call back. But if they have a wedding Thursday, Friday, or Saturday, you'll probably be getting a returned call/email on Monday. It's just the way it is. I realize that that is a whole 3-4 days. If you are in need of an IMMEDIATE response, tell them that. They WILL get back to you. But if it's just a general email/call, trust me, you don't want your vendor responding to you when they're at someone's wedding… would you want them doing that at YOUR wedding?
2. Email is email. Flukes happen. I've seriously had people's email not be able to come through to me because they cc'd someone. Weird. But things happen. So if it's been a while since you've emailed and you haven't heard back, call and leave a message. The phone still exists. :) On that note, if you know that your vendor receives your emails successfully, before you call, ask yourself, "Is this something I need an immediate answer to? Or can I email it?"
3. Contracts are important. I know, they're mumbo jumbo and it takes 5 minutes to read, but read them. You'll be aware of certain things like deadlines for telling your videographer what songs you want in your video, requirements for your band, or the importance of sticking to a timeline.
4.  Unfortunately, you're not their only wedding. They wouldn't be in business if you were their only wedding. There. I Said it. It's the reality of things. :)
5. You've hired them, so trust them. Whoever it is, you hired them to do a job- let them do it. Don't be at your reception venue while your florist/event designer is setting up, don't ask photographers if they got a shot of the cake, etc etc. Trust them- they're in business because they're professionals. You'll be a lot less stressed out if you just do that. :)
These are all of course very general things, but they definitely apply to just about every type of wedding vendor. I also have posts like this for more specific types of vendors, and you can see them here. And don't forget, if you have questions, feel free to ask here or in the comments! :)
—————————————-

A version of this post was originally published March 24, 2011
The following two tabs change content below.
Lauren Grove is the editor and owner of Every Last Detail. A clueless bride-turned-wedding planner, Lauren uses her experiences and knowledge to educate and inspire brides all over the world.