Sometimes I look back on my own wedding planning experience and think, "Geez, why on Earthy did I do that?" or "What was I thinking?" It's really just because I had no clue. I had never planned a wedding before, nor did I have any close friends who had already gotten married for me to ask for advice.
One of the things that I now look back on involves how I communicated with my vendors. I would email them a barrage of emails in a short period of "planning" time after I hadn't spoken with them for a long time. That's a totally normal process when planning a wedding- you have a little spurt of "activity", and then you have a little lull. (This may not be the case if you're planning a wedding only a few months ahead of time) However, I would email my vendors, most of the time late at night or on the weekends, and expect a response RIGHT away. If I didn't hear back from them in a few hours, I would get frustrated. Yes, sometimes there are pressing matters that you need a response for ASAP. However, not everything is of utter, extreme importance.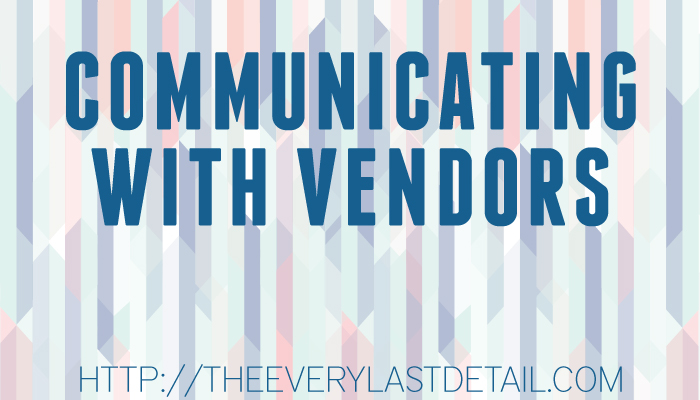 So here are few things to keep in mind when communicating with your wedding vendors:
– Your wedding vendors are not always sitting at their computers waiting for emails to come in. If they happen to be there at the time of receiving your email, then great! Perfect timing!  Give them about 24 hours to answer your email or return your voicemail.
– On that note, wedding vendors have office hours too, just like any other business. They also have to take days off during the week (since they're working weekends the majority of the year). Even if they don't flat-out tell you, they do try to keep some sort of schedule- because if they don't, their lives will turn into complete chaos.
– Wedding vendors have very busy schedules. Sometimes they're not even ABLE to respond to an email or phone call because they literally can't even get to their phones. From meetings to networking events to working actual events, things can pretty crazy. (Hmm, maybe one day I'll do a "Day In The Life" series for wedding vendors…)
– As much as us brides would like to think that we're the only bride our vendors have, we know we're not- but we still like to think of it that way because it's a very important day that we're planning for. Trust me- if a wedding vendor could only take like one bride a month and make a living from it, he or she would. But that usually isn't the case, so keep this in mind when communicating with your vendors.
– If you call or email on the weekend, don't expect an answer. Because your wedding vendor is most likely at someone's wedding. Working. Would you want one of your vendors being distracted by answering calls and emails while working at YOUR wedding? I wouldn't!
So there you have it- a few things to consider when you're communicating back and forth with your vendors. The wedding industry is a different world, and it's uncharted territory for many. So now you know more about it! If you have any other questions about communicating with your vendors, feel free to ask! I'll tell you like it is because I want to help you all have awesome weddings, and that includes having awesome experiences with your vendors! :)
The following two tabs change content below.
Lauren Grove is the editor and owner of Every Last Detail. A clueless bride-turned-wedding planner, Lauren uses her experiences and knowledge to educate and inspire brides all over the world.