Y'all, there are so many details about this Alabama wedding that make it nothing short of magnificent. Lindsé and Andy tied the knot during the summer at Gabrella Mansion in Birmingham, Alabama, and I'm fairly certain their venue is one of the prettiest… ever. Ivy covered walls created an unreal backdrop for so many of the lovely photos captured by V List Member j.woodbery photography, and some of my favorite photos from the couple's day were during their first look (their sweet families and wedding party were invited to view the reveal!). I also cannot get over their wedding ceremony beneath a canopy of string lights, and their reception was most definitely not short on completely elegant details. Oh, and the bouquets? Swoon!
I could continue to elaborate, but I'll let Jennifer's images of the beautiful day (complete with a purple, burgundy, and peach palette- all colors perfect for fall!) and Lindsé herself do the talking!
What (or who) helped you most in your planning process and/or on your wedding day?
I had a lot of help from some amazing people along the way to make my dream wedding a reality! First, my mother was amazing — she had a storage room full of decorations and details for the wedding. I would consider her my "wedding planner" — also, the ladies at Gabrella Manor were truly AMAZING. They answered every question I had quickly and were able to work with me to make everything I wanted come alive within my budget. They laughed (with us) when we showed up a few days before the wedding with a U-haul full of stuff!! :) They were truly the best through the whole process. My photographer, Jennifer Woodbery was AMAZING. She took our engagement photos, bridal shoot, private boudoir shoot for a wedding gift for my husband and wedding day photos. She would text me and send me emails that made me grin from ear to ear! She always gave me presents along the way and she truly became my friend through the whole process. She always knew the right things to say and even on the wedding day was the one who was helping me fix my veil! :) Our videographer crew was also exceptional. Main Street Productions (Angela, John and Sam were who I worked with) really wanted to work with me through the whole process to be able to capture my personality and turn it into video. We're still waiting on getting our video back — but I know it will be breaktaking when we get it. Sam was so fun on the wedding day — I can tell that the video will capture a lot of our little details because I saw him taking all kinds of awesome shots throughout the day! There were also several people who helped throughout the whole process, and we couldn't have done it without them. I remember sitting on my mom's back porch (or in her garage) filling up tiny succulent plants or painting chalkboards and filling candles and frames with my mother, grandmother, sister and our neighbors and their son and his girlfriend. They were so helpful and truly stepped up to help us when we needed it most. There are truly some wonderful people in this world! My best friend and Matron of Honor, Christy was also a HUGE help – she helped me by letting me vent to her about everything throughout the process and basically held my hand. She was 20 months pregnant when we got married and looked SO beautiful at the wedding!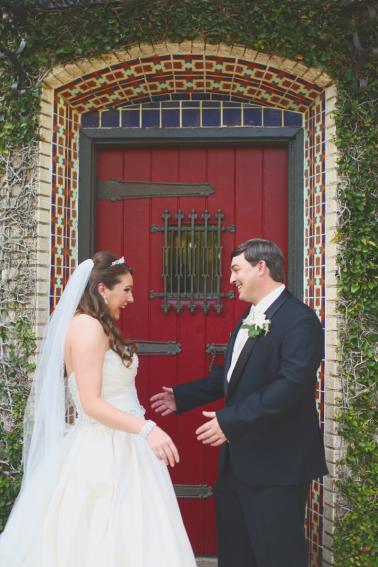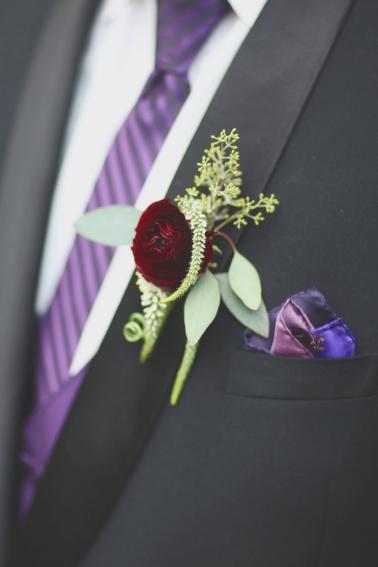 What was the most important thing to you when deciding who to work with for your wedding?
I wanted people who could understand my vision and were willing to deal with someone who is (just a little bit!) OCD!!! I knew what I wanted, and I just needed the perfect team to make my vision come alive. I wanted to find a team that was professional but not "stuffy" or "uptight". I wanted people who could laugh with me and who I could picture myself being friends with, even if they weren't planning my wedding. All of my team was truly that, plus more.
What was your inspiration for your wedding details and/or design?
When I started the wedding planning process, I was digging through piles and piles of magazines and Pinterest boards — but nothing I saw was what I had pictured in my mind since I was a little girl — I wanted "glam, vintage, candle light, night time, spiritual, fun and romantic" — I feel like my wedding ended up being all of that plus more!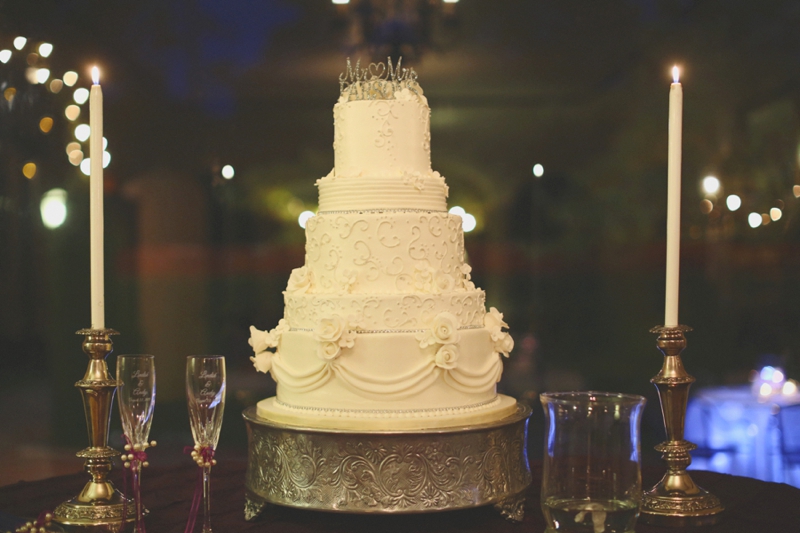 What was your favorite thing about your wedding?
That's really a tough question!! There are SO many thing I love about our wedding. It truly was the perfect day. On the day of the wedding – I would have to say that my favorite part was our DJ. We used Jared from On-Site productions and he truly went ABOVE AND BEYOND to make our wedding amazing. He came to the rescue when our original unity cross fell and broke — he sent one of his friends out to grab one at a store and had it back in time for our wedding. Saved the day! Then at our reception, he made a speech that brought tears to both Andy and my eyes! He also called up our Sunday School class for the photographer to get a picture of — which is one of my favorite pictures from the wedding. We still talk to him on facebook, I know that God put him there to help make our wedding day special. Another thing I love is that the rain held out until RIGHT after our ceremony! There were a few drops here and there (which was somewhat refreshing in August in Alabama) but after everyone got inside under the tent, it started to down pour! So grateful that God held out the rain until we were all inside! :) I also truly loved all of our wedding party and the fact that all of my siblings and Andy's nephew's were a part of our wedding. I am one of 9, so it was a challenge to figure out how to get everyone involved. Everything turned out so perfectly. Our cake was amazing, Hilde from Magnificent Cakes did our cake — it tasted even better than her samples tasted! The way that the ladies at Gabrella decorated was truly breath-taking. They made my image come alive! I also loved the photobooth — we had Special Events do the photo-booth – we got a lot of amazing pictures from it and they sent me a flashdrive with all of the images almost immediately after the wedding! :) The mother-son dance was also another special moment at our wedding. Andy's mom was diagnosed with pancreatic cancer about 2 weeks before our wedding. It was an emotional moment for the two of them, but looking back at it now — Wanda (his mom) danced more than ANYONE at the wedding. She truly had the time of her life, and that means the world to both Andy and I. (Great news — God is the ultimate healer and she went back for her check-up last week and the doctor was amazed at her progress. Her cancer cell count went from 264 to 64 in the last 2 months! Woohoo! She's going to kick cancer's butt!!)
What is your best piece of advice for other brides?
Take it all in. Enjoy every moment. The day will go by so fast! But, I guess truly my best piece of advice is to remember that the wedding is one day and the marriage is forever. Remember not to let the wedding planning come in between your future husband and you. If you haven't been on a date in a while — take a minute to go grab dinner and a movie. You're only engaged once and the months can be consumed with wedding planning or marriage planning. Another thing I would suggest is going to premarital counseling. Our pastor, Pastor Joe Kitchens at North Highlands Baptist Church really helped up think about what was important and why we wanted to be married. I strongly suggest that all engaged couples talk about the hard stuff and really think about what is important to them for their future.
Vendors who made it all happen…
Photographer:  j.woodbery photography // Event Venue: Gabrella Manor // Cake Designer: Magnificent Cakes // Cinema and Video: Main Street Productions // DJ:On Site Productions // Wedding Planner: Kelly Mann // Wedding Dress: Bella's Bridal's // Bridesmaids & Mother's Dresses: David's Bridal
The following two tabs change content below.
My name is Carly, and I live for love whether it's the love I witness between my family members and friends or the love I have for places and weddings. For these reasons and more, I write about the wedding industry, and I'm an event planner, designer, and floral stylist who will forever be in love with flowers, pink, and bows.