As your wedding day nears and your checklist (hopefully!) becomes shorter, there is still one topic that still needs some attention: whether or not you need to tip your wedding vendors.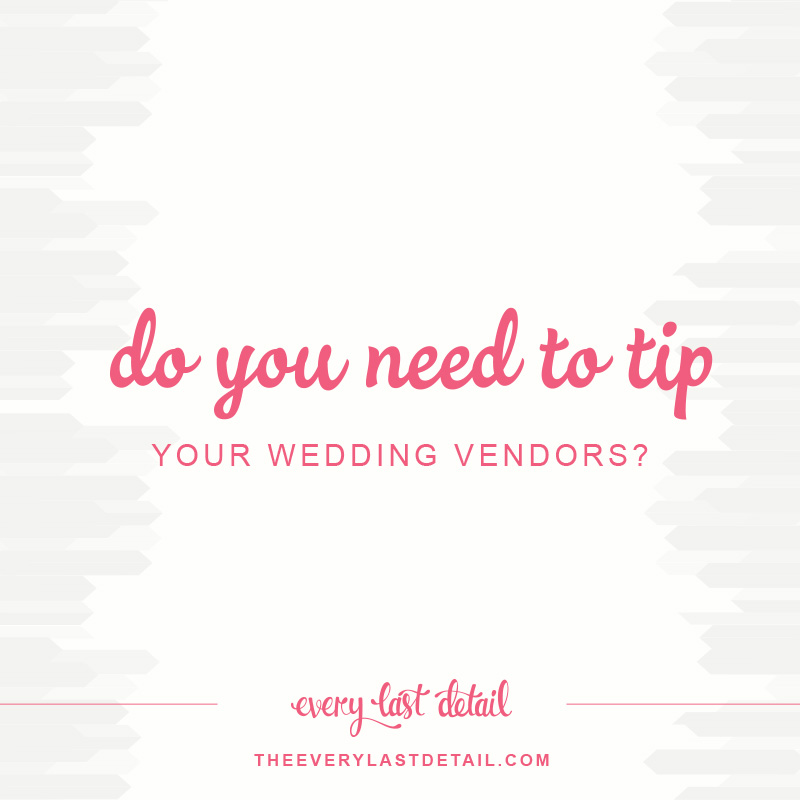 By and large, tipping is such a sensitive subject because there are so many differing views. As we attempt to offer insight on the topic, we thought we would add our top three ideas for you as well as poll the members of The V List for direct answers from wedding professionals!
1) Is it included?
Always take a look at your contracts. Sometimes venues and catering teams will include tax and gratuity in your contract. This is a great first step because there will not be any additional funds due post-wedding; however, sometimes this is not included. Tipping outstanding servers, bartenders, and venue managers directly is still at your discretion, but make sure to review your contract and talk to your point person at your venue to determine when tax and gratuity will be charged.
2) It's not required or expected.
Outside of remitting tax and gratuity to a venue or catering team, it is important to note that tipping is not something you must do. It should always be your choice, especially because you have already paid the professional for his or her services. But, offering a gift or tip is always appreciated, especially when your team members have served you incredibly well.
3) Envelopes!
The best way to tip is via envelope! Before your wedding day begins, divide cash into envelopes for each wedding professional (or team!) you would like to tip. Having tips individually divided and ready to present to your vendors is such a time saver, plus the only person who will know the amount you have offered is the pro because they will open their envelope. Unless you would personally like to distribute the envelopes, think about asking your wedding planner to distribute each envelope for you as long as you and she feel comfortable.
And, there's more! We asked V List members a series of questions for even more insight:
Do I really need to tip people who deliver decor/rentals to the venue? They're already charging delivery fees.
I don't always tell my clients to tip for deliveries, but I do encourage it if there are extreme weather situations or if they have a large delivery or setup. Though a delivery fee is charged, it's important to remember that this is often kept by the rental company and is not passed along to the delivery personnel (outside of their regular hourly wage), so a little something ($5-10) can go a long way toward feeling appreciated! – Christina Sloan, Christina Sloan Events
I do not recommend my clients tip decor/rental companies. – Nicole Kaney, NK Productions
We have a 5-piece band, so how much should I tip each musician?
I typically recommend planning for $20-25 for each band member, in lieu of an "overall" band percentage. If the band was particularly amazing and kept the dance floor full all night, you might consider an additional amount at the end of the night, to be distributed evenly among the members. – Christina Sloan, Christina Sloan Events
Do I tip my photographer if she owns her own business? What about her second shooter?
As a business owner, I never expect a tip personally. But if I do receive one, I always make sure that it is shared across my team with my second shooter and assistant. Oftentimes, a couple will bring separate envelopes for each of the members on our wedding day team and it is always appreciated. For us, tipping is always a treat and we work hard to be sure that we are deserving, whether we receive one or not. Sometimes, along with photographer, we've also played the role of seamstress, hair-dresser, and more. Tips are a lovely way to show appreciation if you feel we've gone above your expectations throughout our (sometimes year or longer) relationship with you. – Ashley Gerrity, Ashley Gerrity Photography
As a husband and wife duo, we share tips amongst ourselves. It's never expected but much appreciated when it does happen. – Rudy Montilla, Rudy + Marta Photography
Our catering contract includes gratuity, and our servers/bartenders are being provided under the same contract. Do I need to tip the servers/bartenders separately?
 Do you have to? Absolutely not. Is it a nice gesture, especially if staff members went over and beyond, YES! – Julie Painter, Events by Jules
What should I do for my wedding planner?
I always give my brides a tip guide during the last 8 weeks of the wedding planning process. In it, is customized information for their wedding vendors. I take into account the amount of hours the vendor is working, any discounts that were given as well as if the vendor went above and beyond for the couple. I put ranges for each of the vendors but for wedding planner I always put "at your discretion". By putting it on the list, it lets them know that the wedding planner would appreciate a gratuity if they feel they deserve one and lets them make a decision on amount. I've had brides ask me how much they should tip me and I always tell them, "what your heart tells you". I've had brides give me fun personalized gifts as well and those are just as much appreciated! – Carlisha Magnarella, Designer Weddings by Carly Rose 
For our clients in Full planning most are tipping 20%. We put so many hours into our clients that they know we go above and beyond for them. If the client prefers not to give cash we are often given gift certificates to spas or hotels. They also will include my team if i have 2-3 people working with them on the wedding day. I do think our business is customer service so tips are highly appreciated after we have done a great job. – Nicole Kaney, NK Productions
We are always appreciative but never expect a tip. When we receive do receive them, they are usually in the range of $250-500. We have also received fun, personalized gifts such as coffee mugs, Tervis tumblers, and yummy candles. The gifts are always great because they usually end up in my office where I can see them every day and reflect on the awesome friendship we developed over the planning process. At the end of the day, as long as we know that you are happy, we are happy. – Stefany Allongo, The Majestic Vision
Do you have any additional questions about tipping? Leave them below for us, and we will answer them for you!
The following two tabs change content below.
My name is Carly, and I live for love whether it's the love I witness between my family members and friends or the love I have for places and weddings. For these reasons and more, I write about the wedding industry, and I'm an event planner, designer, and floral stylist who will forever be in love with flowers, pink, and bows.