It's no secret that planning a wedding during the Covid pandemic has proven to be quite stressful. There are SO MANY unknowns for everyone involved. Which is why we're doing our best to keep you updated with what wedding professionals are experiencing and recommending to their own couples so you can gain the knowledge you need to make educated decisions. 
Today we're sharing a glimpse of what our friend Adair of Dairing Events, a Jacksonville wedding planner, has shared on her own blog. Below we will give you an abbreviated version, and we strongly recommend you go read her full blog post for all of the details and even more information. 
Take it away Adair! 
---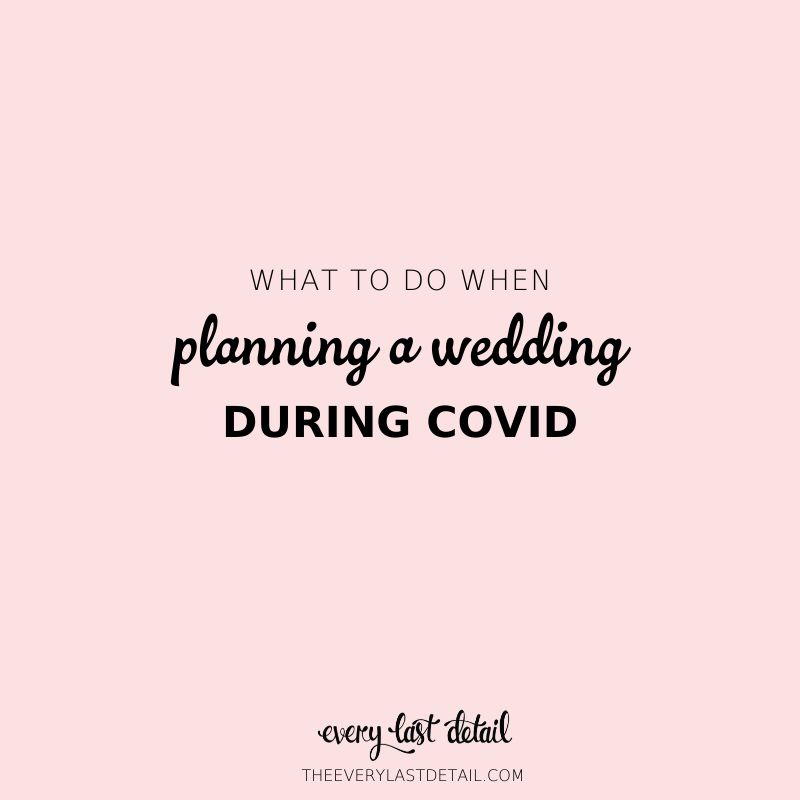 Whether you are newly engaged or anticipating your day in a few months, chances are you have been anxiously watching the news and wondering, "What the heck am I supposed to do?"
You are not alone friend. There are hundreds of thousands of people in your shoes asking that same question.
The truth is, no one really knows what to do.
Being a Wedding Planner in North Florida, I compared it to a never-ending hurricane watch. That was the best thing we could compare it to but it is incomparable. With a hurricane, we can see it coming, anticipate it's arrival, hold on tight while it hits, and the day after, open our doors and assess the damage. Unfortunately in the case of Covid, we have been holding on tight since March with no real end in sight.
Don't read that last line like a death wish, because it isn't. Covid will be around for a while but nothing (as of now) is stopping you from celebrating. Our country is slowly reopening and the idea is that we can begin opening our doors an inch at a time, too.
I am writing this note to you today because I feel as though we all feel better when there are goals for us to achieve and tasks to check off. I am a HUGE list writer. So here is a list and a guideline for of all you who are planning a wedding during Covid.
1. Change your mindset and create new expectations
At some point in time, big weddings with huge guest lists became some sort of a sign for 'status'. That status means nothing to Covid because it literally touches everyone from rich to poor. So change your mindset and create a new range of expectations for your day.
Who is telling you that your wedding now has to be in a backyard, can't be formal or black tie, that it is now an 'elopement' because it is under 100 guests?
You can still have a beautifully, elegant, wedding day with gorgeous flowers and rentals, and a photo booth, you just may need to lower your guest list to achieve those things. Bonus: by lowering your guest list, you'll save money! Since when is saving money a negative thing?
2. Make a new guest list
This is crucial. My best advice to all current planning couples is to make a guest list that is no more than 50-75 people (including them).
Why? Because that is typically the core group that would include their wedding party, their spouses, parents, close family members. The people you are probably already quarantining with. This is an achievable number that everyone can agree to because the fact of the matter is, if you want to get married on the date you have chosen, you have to make some sacrifices.
NO ONE WILL QUESTION WHY THEY WERE NOT INVITED.
This is quite literally your get out of jail free card.
You know those coworkers you feel like you 'have' to invite? NOPE. Your parents' friends who you only see every summer? NOPE. Your future husband's weirdo college buddies that he talks about nonstop but you haven't actually met? NOPE.
STOP putting so much pressure on yourself to match these unrealistic ideals of what weddings 'were' and START setting yourself up for success and create what realistic ideas your wedding will be.
Click here to read more about what to do about your guest list, even if your wedding is in 2021. 
3. Contact your venue
This may seem like a no brainer but the truth is, couples have been sitting on the idea of postponing their weddings until it is too late OR have been avoiding the conversation of 'what will my wedding look like because we want to move forward?'.
Having this conversation doesn't mean you are giving in- it means you are preparing yourself for any possible outcome. You will become so much strong mentally and emotionally once you start allowing yourself to have these conversations.
Contacting your venue needs to be your highest priority because they are like the bus driver. They open the door to let you on and open it to let you off. Click here to find out what questions you should be asking your venue in this instance.
4. Reach out to guests and make them aware of the precautions you will be exercising
The easiest way to do that is to include what I have been calling a 'Covid Card' in your invitation suite. It can explain what steps and precautions the venue will be implementing, how you and your future spouse are feeling, and of course encouragement.
If you are working with a custom stationery designer, lucky you! They will be your biggest ally. With your smaller guest list, request less invitation suites. If you have already paid a deposit and the new expectations mean you will be spending less than anticipated, ask them to utilize those funds in a couple of different ways.
Click here to see what one of Adair's couples used on their "Covid Card", as well as ways to have your stationery designer utilize any extra money you've paid. 
5. Speak to your vendors
There is a "chain of command" when contacting your vendors and I encourage you to move from your highest investment first. Think about it this way: talk to those you *must have* for your wedding day to be a success first.
I have created a simplified way of getting out information and to streamline communications with all of your vendors.
Click here to see and learn more about ways to communicate with your vendors, as well as what the "Chain of Command" is.
PS: Please understand that many of your wedding vendors are small business owners and will not have the ability to return any non-refundable retainers that you agreed to upon signing their contract. 
And if you do have to postpone your wedding OR change your plans last minute, you can also learn about what to do in that situation here in the full post.
---
Thank you so much to Adair of Dairing Events for sharing her excellent insight with us! 
As we've said many times before- this is such a new, unique situation that everyone is experiencing. But please know that you are not alone. Your wedding vendors want you to get married. One thing I've noticed that some might not realize is that even if you choose to just go to the courthouse for your original date and postpone the party to later, you can always ask some of your originally hired vendors to be a part of it! Florist, photographer, videographer, hair and makeup- you don't have to make the day that you say your vows any less special than it should be. <3 
The following two tabs change content below.
Lauren Grove is the editor and owner of Every Last Detail. A clueless bride-turned-wedding planner, Lauren uses her experiences and knowledge to educate and inspire brides all over the world.