When you start planning your wedding, you will likely feel as though you have entered into an alternate universe. It's a fun place to be (if it wasn't, we wouldn't adore our industry so much!), but there are questions you will be asked, decisions you will need to make, and terms you will learn very quickly. One of those terms and questions that will come up for you: what is a first look, and should you do one? We know it's a "hot button" question, so we thought we would dive into this topic today!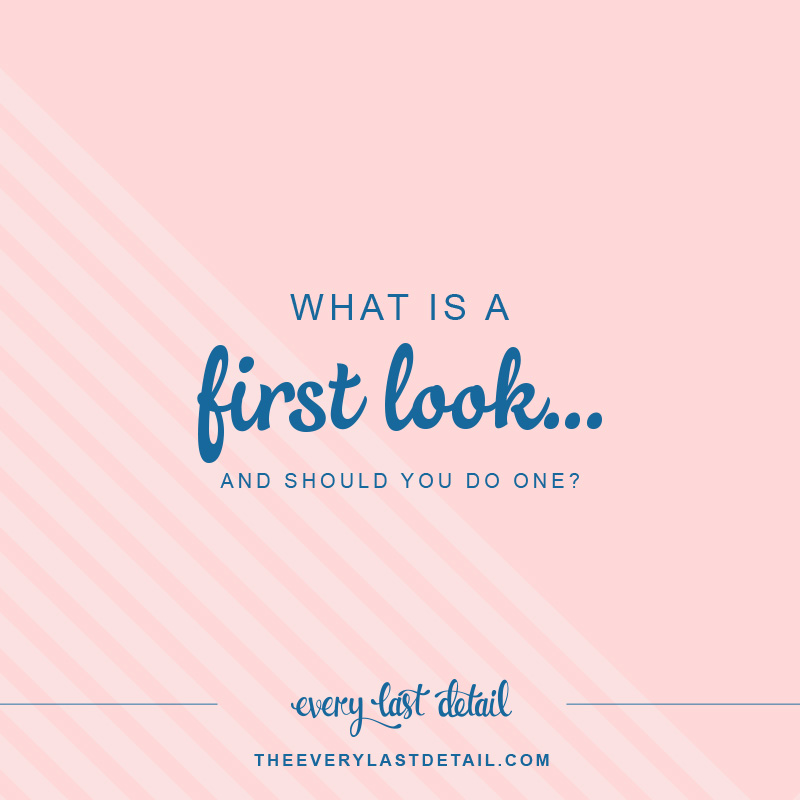 A first look is when you opt to see your bride or groom before your wedding ceremony. Popular opinion may lead you to think otherwise, but there isn't a right or wrong decision to be made!
Opting to do a first look may help to calm your nerves, elicit gorgeous photos, and free up your timeline for additional shots later in the day with your wedding party and family, plus you will likely be able to attend your cocktail hour. (And, contrary to popular belief, the "down the aisle" reactions from couples who have already done a First Look are AMAZING! We have seen HUNDREDS of weddings, and this always rings true!)
On the flip side, not seeing each other before your ceremony can build more excitement for the moment you do catch your first glimpse as you walk down the aisle. Further, you also may decide to do a first look with your bridesmaids, groomsmen, or parents, rather than your soon-to-be-spouse.
Because there are options and opinions, we thought we would turn to our trusty members of The V List to weigh in on first looks! These ladies and gents are not only loving, talented professionals, but they have also walked your path as brides and grooms. See what they have to say below! Hint: Many of them are in favor of first looks, but the final decision is of course up to you!!
"I don't think this is a 'one size fits all' answer and that is exactly what we tell our clients. Part of our process, as your Planner is to find out exactly how you envision your wedding day unfolding and what elements of your day are the most important. During that process, we work with our couples and their vendors to determine if a first look is best for you or if we should opt for something like a first touch or even sunset photos. In our experience, we have had incredible moments happen with each of these options. It truly all comes to a point of finding out what gets you excited, pairing that with our knowledge of logistics and working with your vendors to make the unforgettable moments happen." – Jennifer Buono, Bourbon and Blush Events 
"I am torn on the first look trend. I am 'pro' first look because I love that the couple can have an intimate moment in a beautiful setting to just breathe it all in together. I love the images that the photographers are able to capture in those first few moments. BUT, I am also 'pro' no first look, because I love watching the groom's eyes light up when he sees his bride walk down the aisle for the first time. There is something so special about the Groom & Bride's eyes locked on each other as the Bride walks down the aisle as they see each other for the first time. So, I like both, I think it just depends on the Bride & Groom and how they want that one moment to go." – Alicia Rohan, A&P Designs
"Yes they should. It is the moment where you have the chance to see each other before accepting the commitment of two becoming one. It is the moment you will hold each other's hand and heart, before being in front of your family and friend to say yes, I do." – Andie Muller, Events By The Flower Studio
"Yes! Absolutely! We opted for a first look for our own wedding and my favorite photo from the wedding day is still where he sees me walking down the aisle for the first time, we really feel like it doesn't take away from that moment but only enhances it." – Ashley, Ashley Jane Photography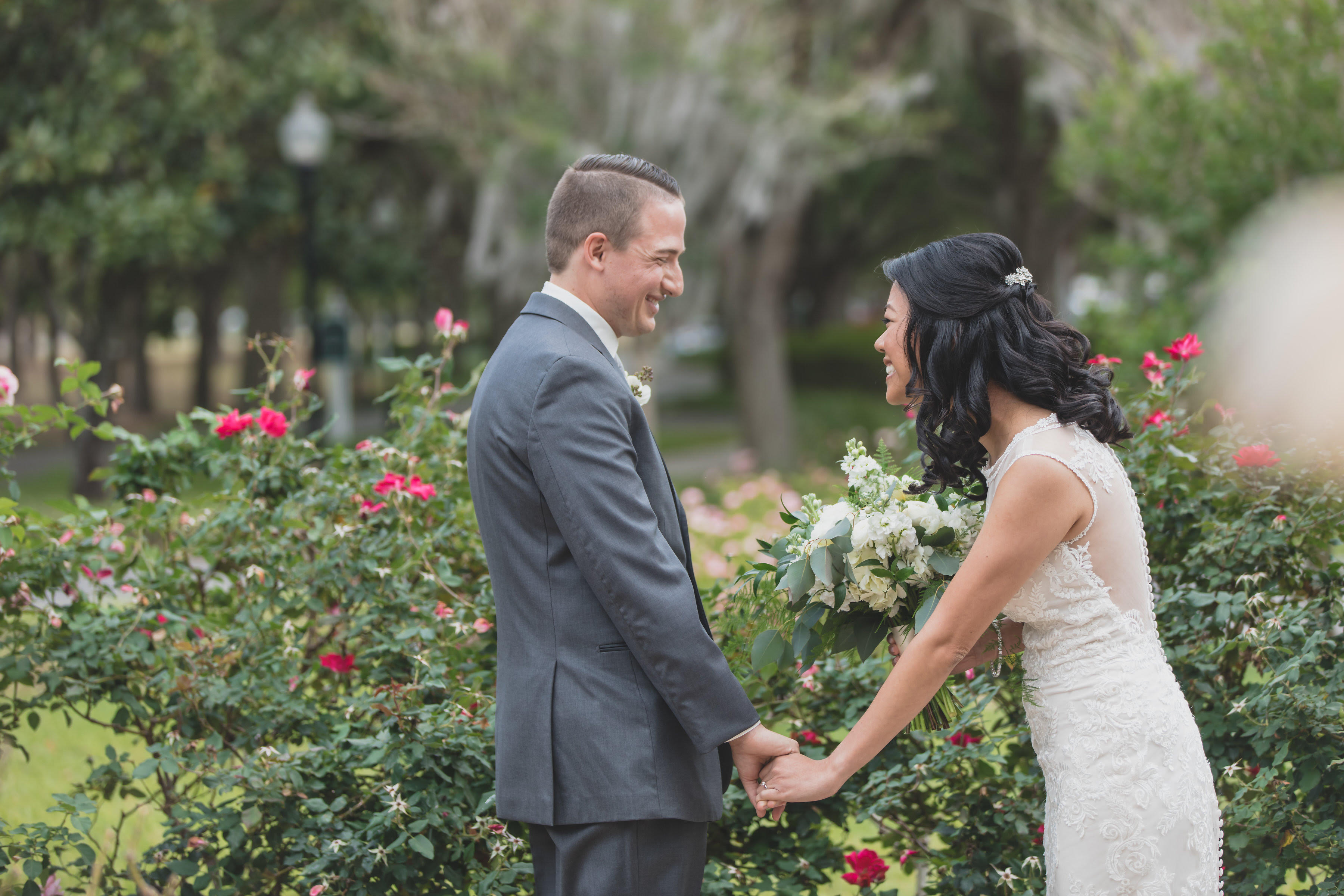 Image by Ashley Jane Photography
"Yes! I LOVE when my couples opt to do a first look. It helps cut down on the pre-ceremony jitters, they share an intimate and special moment together before they go down the aisle AND it helps spread out the photo times on the timeline so they aren't rushed to get everything done after the ceremony. I've had couples take my recommendation for a first look, and even though they were skeptical at first, they raved about how glad they were that they took my suggestion after the fact because it helped them feel less stressed on the big day!" – Belinda Philleo, Photography by Belinda Philleo
"To be honest, I'm on the fence with this! But I do think there are things to consider as the couple makes the decision that's right for them. One thing is the time of year and the ceremony time. If you're getting married when there is an early sunset and you're doing an afternoon or evening ceremony, then I am all for a first look! The first look would allow daytime and evening photos during the wedding day – truly the best of both worlds!" – Bethany Walter, Bethany Walter Photography
"Absolutely! Besides the practical tip that it really helps your timeline by letting you get more photos done pre-ceremony, it allows you to enjoy a few special moments alone with your person – hug, laugh, kiss, cry, jump up and down, and soak in the realization that you're getting married today!" – Julie Painter, Events By Jules
"Yes, I think a first look gives the couple a chance to have a few moments to themselves before the day gets busy. The day goes so fast for couples that sometimes it is key to create those moments to slow down and take in the day. It also is a way to get the jitters out." Melanie Tindell, Oak & Honey Events
"Let's be honest, there's a whole lotta expectations put on the groom and his reaction to seeing his bride for the first time. Some guys have no problem letting that emotion out during the ceremony. But from our experience, most tend to go stoic – because that's a LOT of eyeballs looking their way. Sometimes we don't even see smiles, though we know they are head over heels for their bride! After first looks, we've still seen grooms cry during ceremonies and we've seen the biggest smiles – because the pressure is off!
Pro tip: make sure to communicate with your photo and video teams about your first look before your wedding day. Ask them how they typically shoot during that time (i.e. how far away they are, how long you'll have, etc) to make sure you're all on the same page." – Bri Cibene, Bri Cibene Photography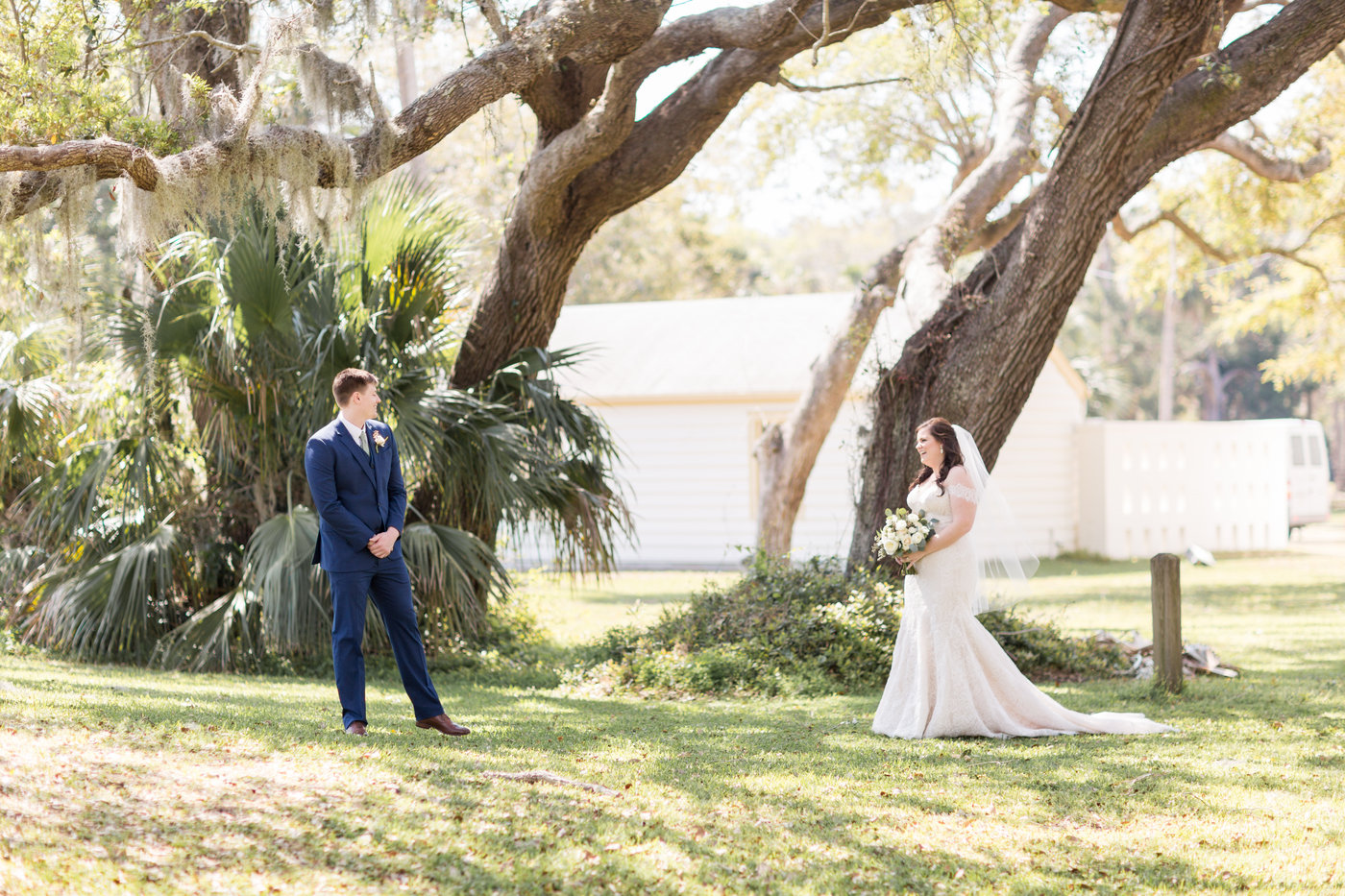 Image by Bri Cibene Photography
"The hopeless romantic and artistic photographer me wants you to do a First Look because of just how wonderful it is. The First Look is intimate in a way that most of your wedding won't be. It's a moment between the two of you completely separate from the rest of hoopla that accompanies any wedding, big or small." – Elaine Palladino, Elaine Palladino Photography
"Absolutely! First looks have so many advantages for the couple and wedding day, and our clients have never regretted including this special time as part of their wedding. We've discovered that a first look gives the couple a few minutes to share together without any distractions so they can focus on each other. It's also a way for couples to show their unique style and personalities. We suggest getting creative with their first look, there is no right or wrong way to do it. During first looks, we've captured such tender and precious moments that otherwise would have never happened if the couple had not set that time apart." – Mariana, Kismis Ink Photography 
"When I'm considering this question with my couples, it honestly 100% comes down to the timeline of the day and what will give them the most bang for their buck when it comes to the hours of photography they are getting. Typically, when ceremony and reception are all taking place back to back at one location, I strongly encourage a first look, otherwise the couple will miss out on cocktail hour. When there are different locations or a gap between ceremony and reception, I usually recommend we wait and do portraits after the ceremony, otherwise they'll likely have to pay for more hours than they actually need." – Nicole Jansma, Nicole Jansma Photography
"Yes! We love a first look to allow for so much more time for photos. Especially since we have these incredible venues that allow for so many special photo opportunities." – Nicole Kaney, NK Productions Wedding Planning
"I do suggest to them that we make the first look special and only include the couple and photo/video. I want to capture the groom's reaction when he sees his bride for the first time and having too many spectators can make some fellas feel uncomfortable." – Rae Leytham, Rae Leytham Photography
"Yes. Please. There's nothing more sweet, sincere, and personal throughout the entire day. A wave of emotions, moments of sincerity, and tears of joy every single time. The idea of seeing each other before the wedding ceremony 'bringing bad luck to the wedding' is just as crazy of a saying as saying 'if it rains, then it's good luck'. What happens if it's all sunshine and blue skies on your wedding day? Is that a marriage filled with bad luck?
Savor the moment together. Enjoy each other presence before embarking on the biggest and most fun adventure of your lives." – Rudy Montilla, Rudy + Marta Photography
"I encourage couples to do a first look for several reasons. First, although the wedding day is all about the couple, there are few moments JUST for the them. A first look allows you some time with your future spouse. I also find it can help calm nerves and allows for time for makeup touches after tears. Additionally, I firmly believe if a couple has spent all this time planning an amazing wedding, they should get to participate as much as possible. With a first look, couples are able to attend cocktail hour and the reception and get the most out of a day that will fly by!" – Sarah Pete Rizzi, Sincerely Pete
"Yes! As a photographer, a first look is also great for when weather might change your plans. It also gives you the opportunity, when planned right, to enjoy your own cocktail hour by doing your formals and portraits before the ceremony." Kara Rebello, Embrace by Kara 
So, after all of that insight… what are your thoughts on a First Look? Have you decided??
The following two tabs change content below.
Lauren Grove is the editor and owner of Every Last Detail. A clueless bride-turned-wedding planner, Lauren uses her experiences and knowledge to educate and inspire brides all over the world.