There are ALWAYS last minute expenses when it comes to weddings. Various unexpected wedding costs come up throughout the process that may be unique to your event and couldn't have been planned for within your budget. But then there are little things that are almost always present, yet somehow easily forgotten when it comes to budgeting out your wedding expenses. *Shameless plug for a wedding planner here.* Planners should know to anticipate these things and prepare you well in advance, rather than having you scramble to come up with more cash one week before the wedding day.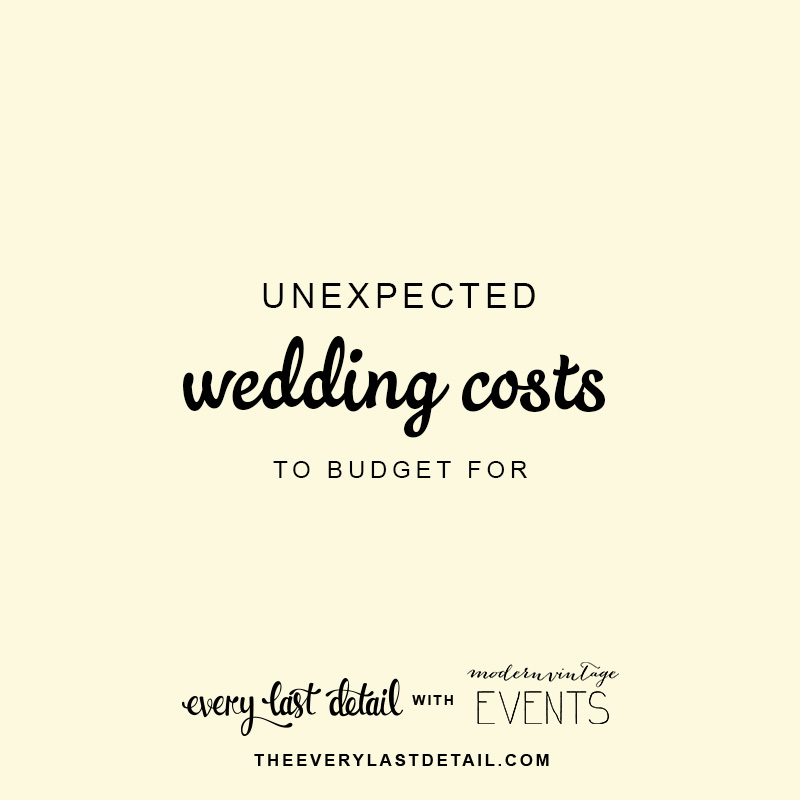 Lighting
A lot of people don't realize how important lighting is until it's too late. We've definitely said this before, but good lighting can go far when it comes to setting the tone and providing ambiance for the reception.  It's important to take note of the lighting situation in your venue early on. Will you need to bring in extra lighting for the reception? Oftentimes, the aesthetic lighting is a given, but more functional lighting is what gets forgotten. Do you need to light the caterer's space? What about the parking lot if you are in a remote location? You don't want those guests stumbling to their cars in the darkness! If the restrooms are separate area, you should definitely light the way to those!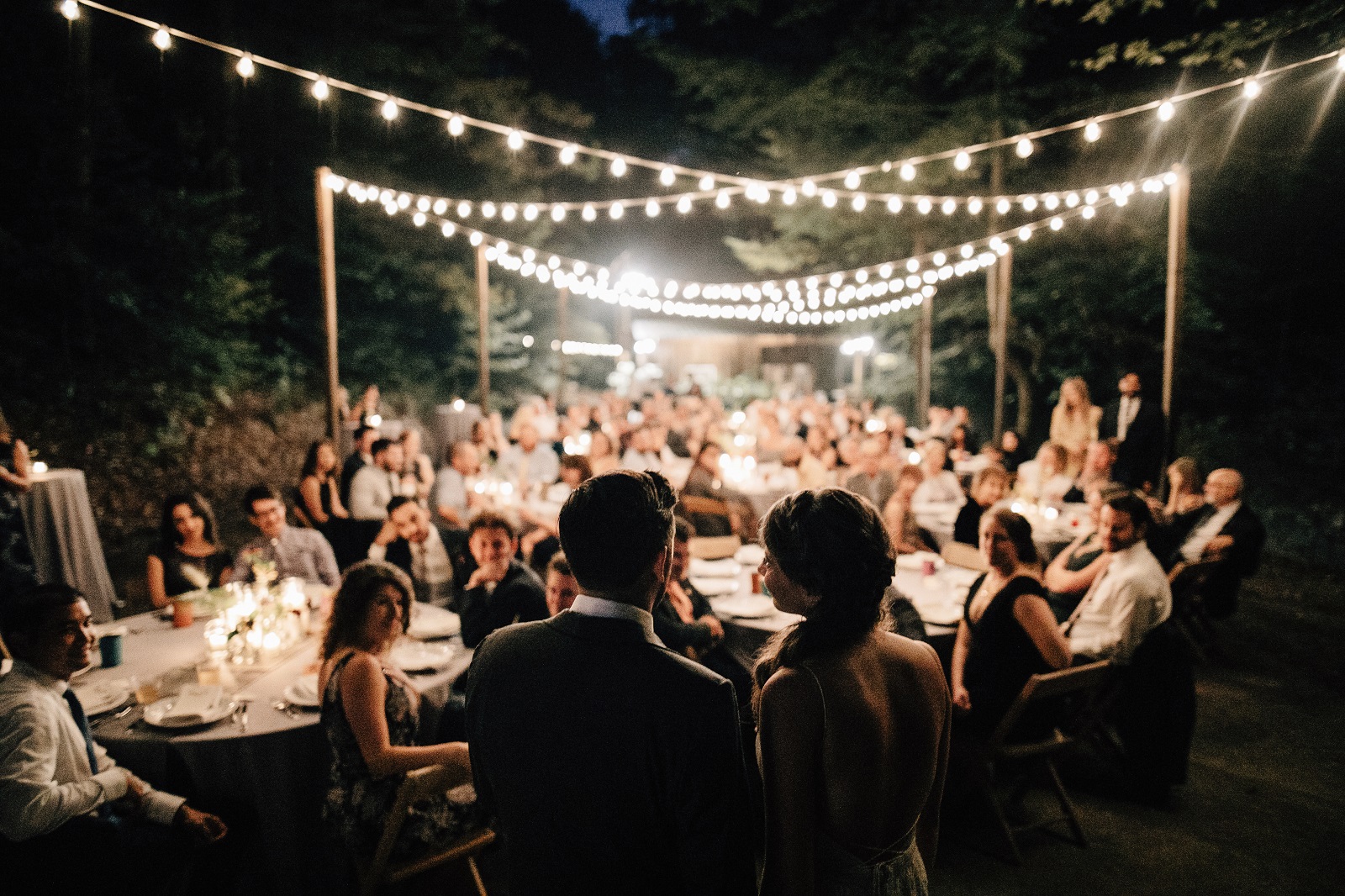 Restrooms
Speaking of restrooms, these can be another unplanned expense. If the venue does not have adequate restrooms for your guests, or you are perhaps in a tent, you want to make sure to budget for restrooms. These are more than just a port-o-potty (please don't do that to your guests!) but a trailer with running water, granite counter tops and air/heat. Seriously guys, some of these are nicer than my bathroom at home. Just remember, they do come with a cost!
Paper Goods
Most people know to budget for invitations, but setting aside money for postage is often forgotten. The cost of a forever stamp is currently .55¢. So, you need to plan for at least that much per invitation. Add an RSVP card with stamped envelope for return at .35¢ and you are up to .90¢ per invitation. What about having an inner envelope as well as the outer envelope and an info card for hotels, direction and more? Doing that will likely put you over the weight limit for one stamp and over $1 each just to mail the invitation. If you're mailing 200 invitations, the math is easy — you'll have to budget at least a couple hundred extra dollars to mail your invites.
There are also the additional paper goods associated with a wedding and reception. Programs for ceremony, menu cards for place setting, escort cards or a seating chart, table numbers and more. These are detail items and not everyone will choose to have one or all of them, but they are the little details that help tie together the day beautifully and cohesively. However, they often get forgotten until the very end!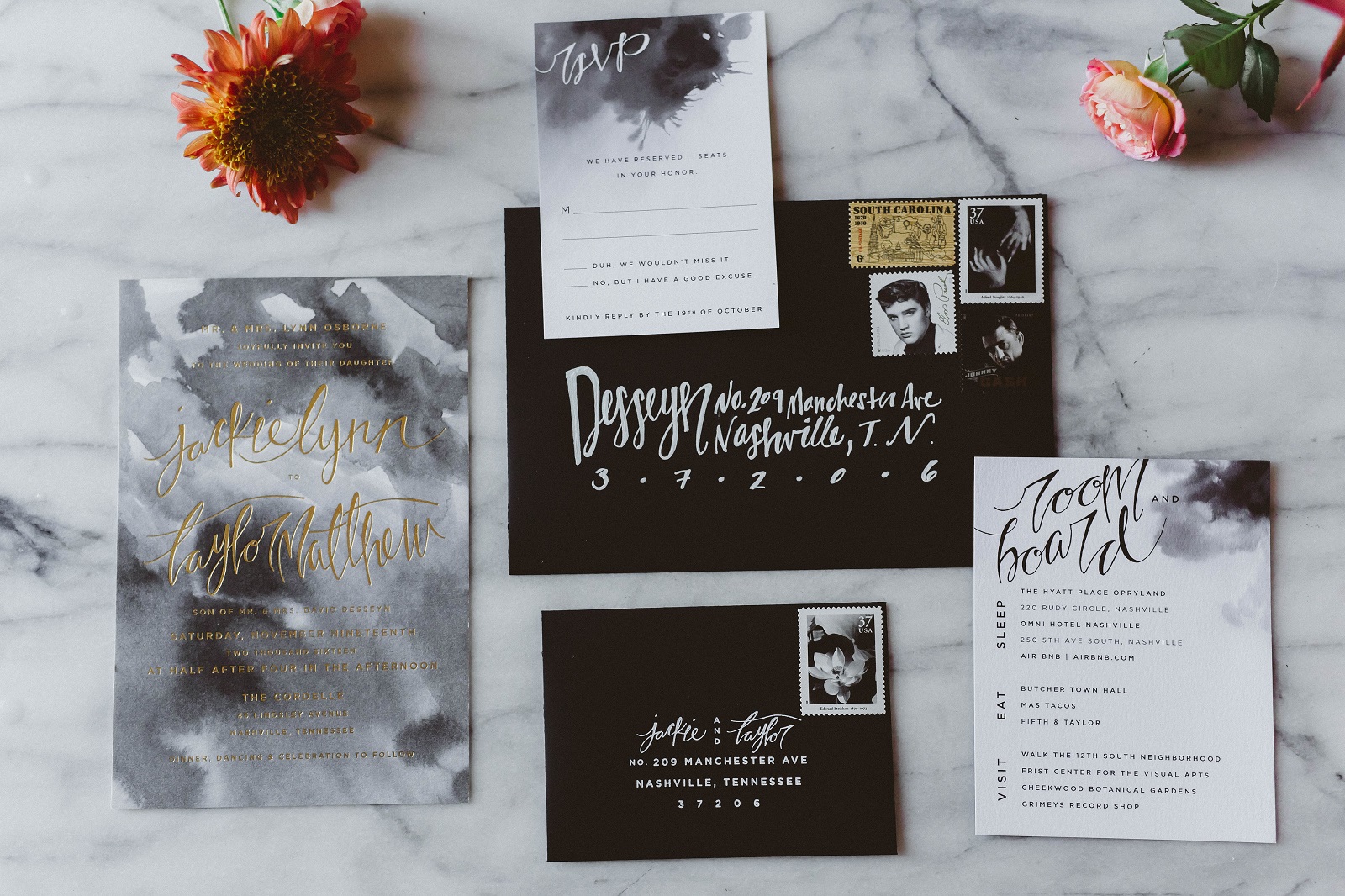 Gratuities
This is a big one. As is customary with gratuities, they are never mandatory, but function as a thank you for stellar service. That being said, there are a few vendors where it is more customary to extend a tip. Hair and makeup artists, servers, kitchen staff and bartenders are a few of these. A good rule of thumb is that if the vendor is the owner of their business, it is not as common to tip them. If they are an employee of the vendor, then tipping is a good practice. Again, tipping is never mandatory (and should you choose to tip business owners or other vendors they will also be incredibly grateful) but planning for this in advance will ensure all these people don't get forgotten!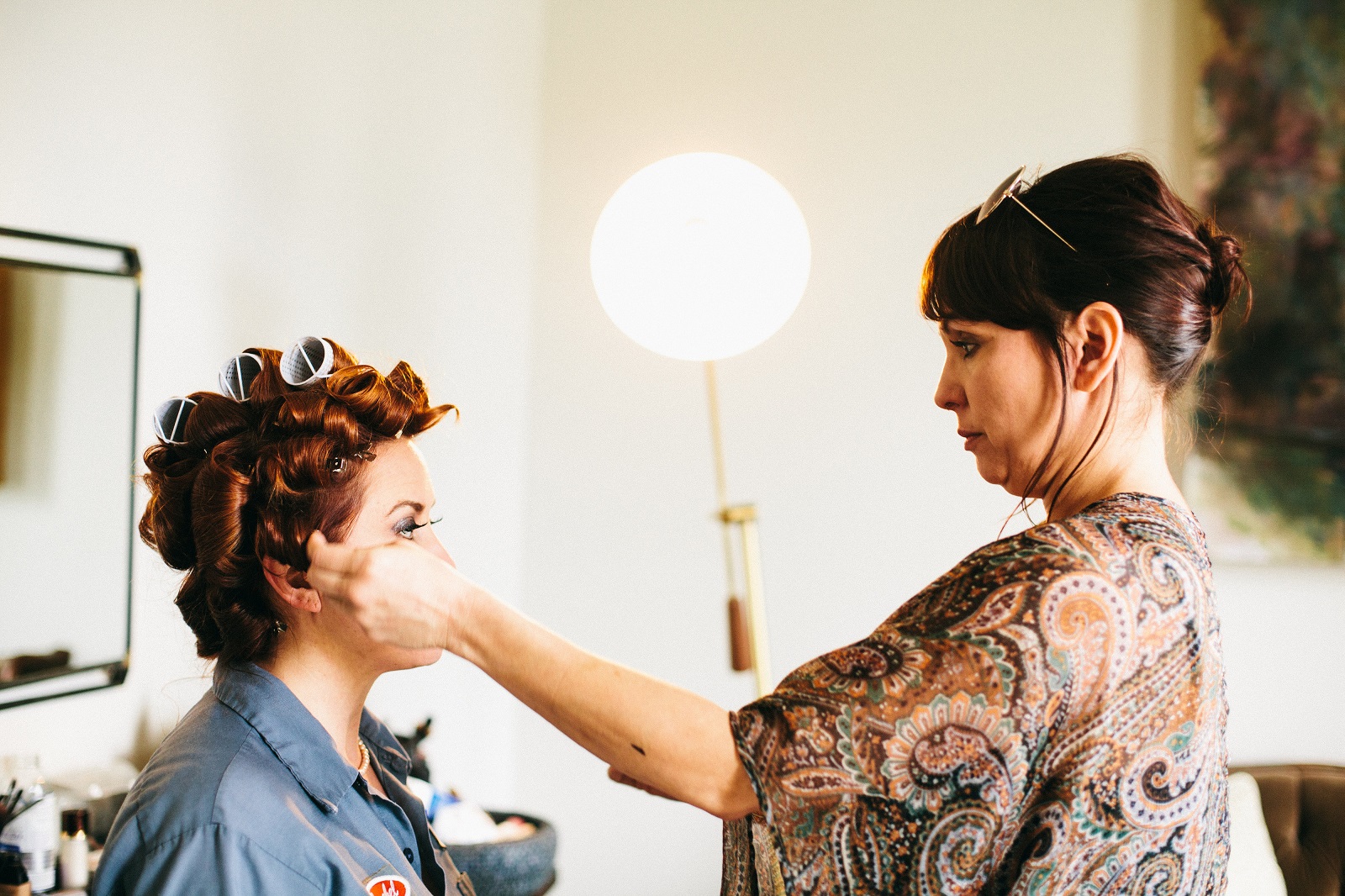 Enacting a Rain Plan
Let's face it, guys. Rain is never fun on your wedding day. Unless maybe you identify with Oscar the Grouch. However, fun or not, it happens. The weather is the one thing we planners have not figured out how to control… yet! If you have planned ahead, you and your wedding planner will already have a rain plan in place as a backup. If this is the case, you need to make sure you've also thought through how the rain plan affects your budget! Some added expenses in putting a rain plan into place may be:
Tent Rental
If you are in a space where a tent could be crucial (say an open field), you should already have one on hold — which means you've paid a deposit. If you enact rain plan, you will have to pay that remaining balance in order for the tent company to set that up for you. Or perhaps you've already rented a tent but the original plan was to have open air sides. If driving rain is heading your way, you will be glad to add sides to the tent to keep your guests dry.
Adding a "Flip"
In event terms a flip is where you set up a space for one portion of the day, such as ceremony, then move guests out to another space for cocktail hour, and "flip" the first space for something else, — usually dinner or reception. If you are enacting a rain plan, you might be in a situation where your outdoor ceremony now needs to happen inside, in the reception space. You'll now need to use the space for two different things. Your rental company can assist with making the flip quick and seamless while your guests enjoy cocktails or appetizers. This does come with a price tag since their staff will have to make a trip back to move the furniture for you. This fee is usually worth the price so that your family and friends do not have to schlep around tables and chairs in their best wedding garb.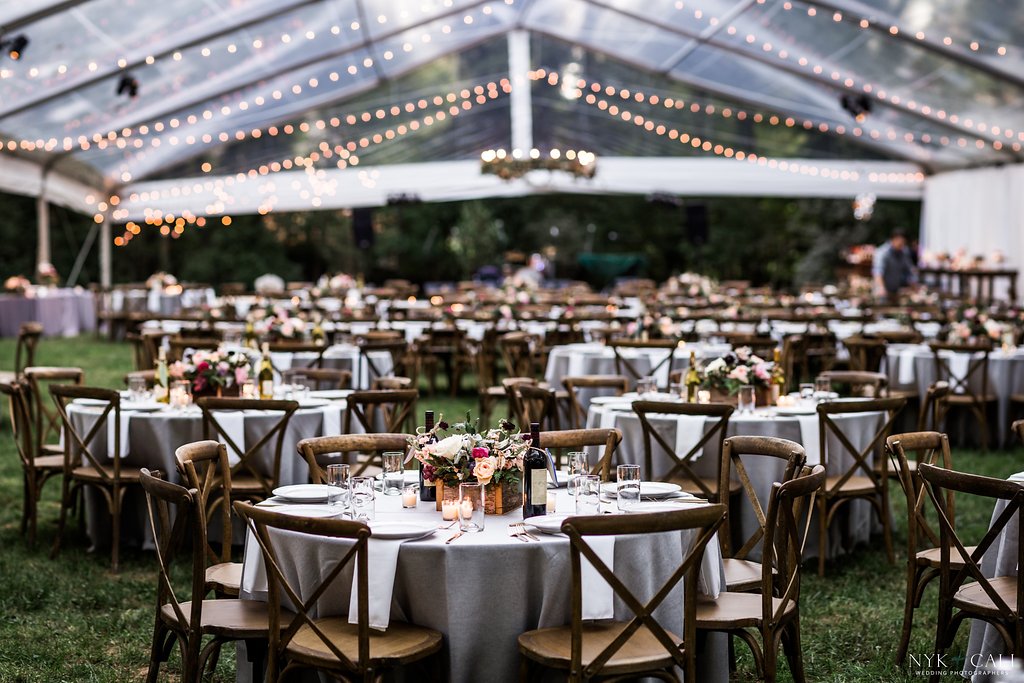 Transportation
Whether or not you are providing transportation for your guests, you may want to consider transportation for your wedding party. They will be spending the better part of a day (sometimes 12 hours or more) with you at your venue. It's a long day for them and if they are drinking at the reception as well, a safe ride home for those who are tipsy and tired can be a welcome option. Wedding party transportation could be just a shuttle to take them home, or even a fun trolley that can take you and your friends around town for photos before the ceremony.
Don't forget transportation for the two of you at the end of the reception as well! We have plenty of clients who opt to simply leave in an Uber Black, but if that's not your jam, you may want to hire something more fun. If you've budgeted for it, the two of you can ride away in style.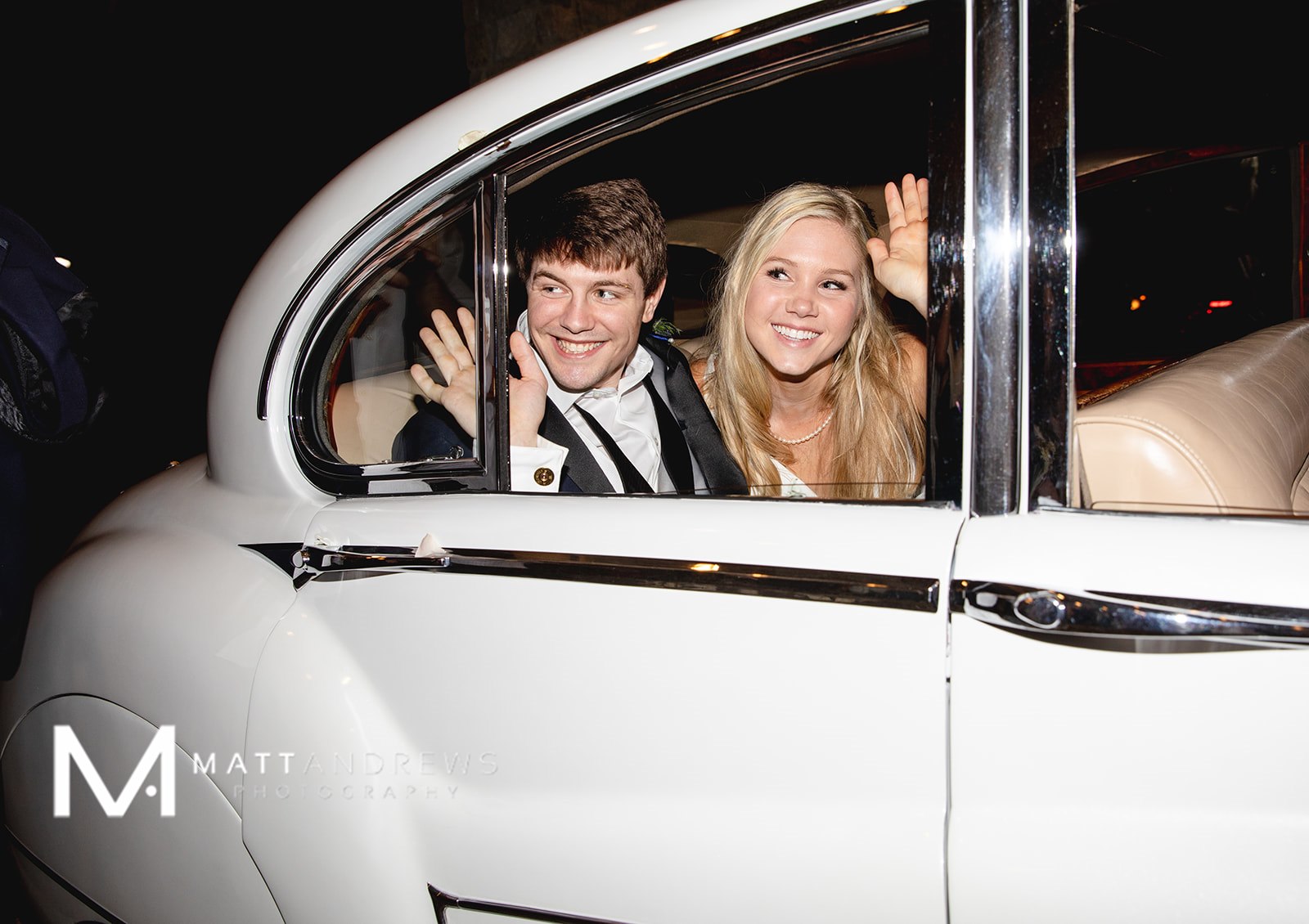 Hotels
If your guests are staying at hotels in town, you might want to provide them with a little welcome gift upon check in. This is not something you have to do, but a nice touch if budget allows. This could be as simple as an informational card outlining the events for the weekend, directions to venues etc or a bag full of local goodies for guests to enjoy. And while we're on the subject of hotels — don't forget to budget for your hotel room for the night! If you've chosen to book a night at a boutique hotel, remember to budget accordingly so that cost is not a surprise in the end.
When building out your budget, try to leave room for the little things and possible unexpected wedding costs. It's up to you decide what is important to you when spending your hard earned money, but if you try to expect the sometimes unexpected, you might spare yourself some unwelcome surprises!
Check out more of our tips on Planning + Prosecco!
xoxo Jessie + Becca,  Modern Vintage Events
The following two tabs change content below.
Latest posts by Modern Vintage Events (see all)