Hey everyone! This week's Pro Insight comes to us from Samm, a recent bride (you may recognize her from her wedding that was recently featured here on ELD!) who also happens to be half of the duo that is Imprint Cinema, an amazing cinematography company! I asked Samm to share some information and her own story on something that many brides think they don't need- wedding film! Take it away Samm!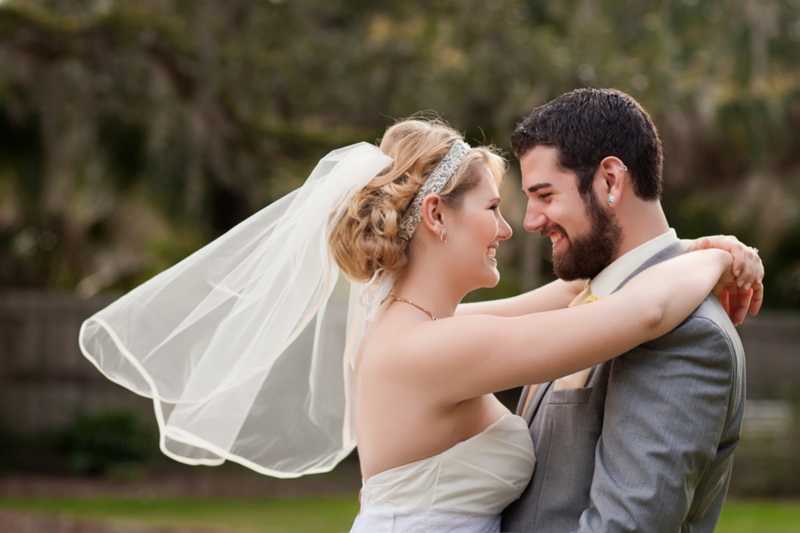 Photo via
Often times at bridal shows, in passing, or when we talk with a bride or groom (outside of the ones who have contacted us), they will say "I don't need/want a wedding film". So to make this short and sweet, yes you DO need a wedding film! I say this not as a wedding filmmaker, but as a bride- as someone in your shoes. Allow me to explain…
I got married six months ago and my wedding was everything I had ever hoped it would be- chill, fun, and colorful. It was so very ME and ALEX (my husband). When I was planning our wedding, even as a professional in the wedding industry, I realized early on that it was hard. Between budgeting, finding everything I wanted, and having unconventional options for things, I was overwhelmed- but I didn't want to let go of my control. Alex on the other hand had seen enough, and he called a planner. [Editor's note: Samm will be coming back another day to talk more about this little tidbit ;)]
Skip ahead to the day of our wedding- all of this planning, all the sleepless nights, all the stress over who was going to do what, when they would do it, and what to do if they didn't do it perfectly, was gone. I walked into my venue with Alex feeling for the first time like the bride everyone had been telling me I was. I put everything in its place, said good morning to my hair stylist and sat down. And what I am about to tell you is my honest recollection of my wedding day…
I sat down to get my hair done, and got a call from Alex-though I can't remember what he said. My hairstylist put in my hair pin Alex had given me as a gift, then I had my makeup done. During this time, I noticed my bridesmaids were gone, and so I hung out with my mom while in the makeup chair. My bridesmaids brought me a gift, and I cried- but I can't remember the exchange. We finished makeup, I wrote my vows into the correct book (much prettier), then I put my dress on. During this time, we laughed a lot- I know because of the pictures, but I can't remember why we laughed so hard. We toasted champagne, and my mom put my veil on. All of our family came into my suite and we called Alex's grandfather for a blessing, as he couldn't be there with us on the day. Neither of us remember his words of blessing, and I never had the chance to meet him. He passed away in June. We walked down the aisle, said our vows, and kissed- but I couldn't tell you what I, Alex, or our officient said- I simply can't remember. I was tackled by my bridesmaids, we took pictures, we did our entrances, Alex and I said a few words (no idea what they were), we ate dinner, did our cake cutting, toasts- again no recollection- and then we danced. That's it. That's all I've got as far as memories from our wedding day, and I have seen the photos already. But as far as actions, things that were said, and hugs that were given… I can't remember. I am honestly going to cry at this very moment as I write this because I feel so guilty and sad that I can't remember what my husband said to me on our wedding day.
The truth is, the day is a blur- as you can see. You put your heart and soul into planning the most perfect day of your life and in 12, maybe 15 hours, it's all over. It goes so very fast, and all you want to do is be able to go back for just a moment and really let it all sink in. But the thing is… you can't.
Before I started making wedding films, I'm pretty sure I wouldn't have wanted a wedding film either. After watching the faces of newly married couples as they had a chance to relive their day, I realized how important what I do is. How empty my own day would feel now if I didn't have a wedding film. Don't get me wrong- I adore the photos from my wedding. I get to hang them on my wall, put them on my phone, and see my album every single day. I get to show off my wedding to everyone. But my wedding film captures the things my photos can't. My wedding film lets me hear Alex tell me how excited he is to finally call me his wife, and his best man say how much he has grown to love me as much as he loves Alex. You can't replace those moments, and photos can't capture the words that loved ones say- and the words that YOU will say.
I can't tell you enough how much you will want a wedding film. Even if you don't realize it until after, you will want one. Trust me- wedding filmmaking is not like it was when your parents got married. It isn't even like it was 5 or 10 years ago! We don't make a wedding video… we make wedding films. We make your memories into something cinematic, something that you will love and be proud of. Please, at least look into it! And if you can't find someone you love, you can call me on my personal cell and I will do everything I can to help you find the perfect filmmaker.
Every couple should be able to relive the moments of their wedding day like it is all happening again right in front of them… and there is no other way to do that than to have a wedding film.
—————————————————————————————————————-
Thank you so much for sharing this Samm! Seriously, I swear it's like a rule that if someone doesn't have a wedding film, something awesome happens at their wedding that can't be fully captured by photography. I've witnessed it SO many times! So brides, please, consider a wedding film! You might think you don't need one, but trust me- you will never regret having one if you hire an excellent cinematographer!!  
[Want to see Samm & Alex's wedding film? Go to their wedding feature here! Want to see more of their work? Check out their ELV listing!] 
The following two tabs change content below.
Lauren Grove is the editor and owner of Every Last Detail. A clueless bride-turned-wedding planner, Lauren uses her experiences and knowledge to educate and inspire brides all over the world.