"Do I need a wedding planner?"
I'm sure it's crossed your mind if you don't have a wedding planner already. Maybe you've even Googled it too (I know I did)…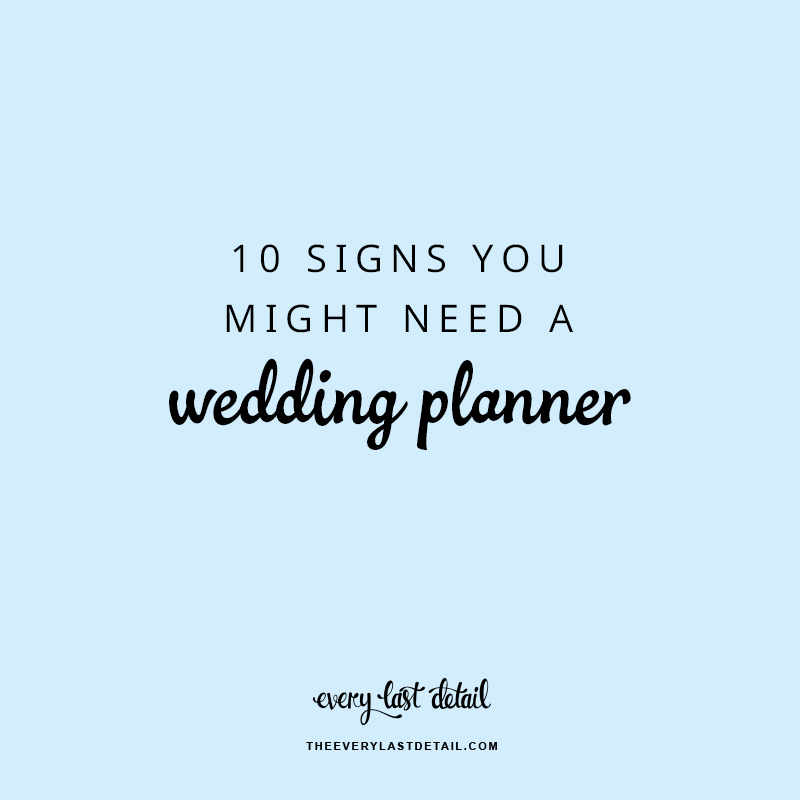 It was definitely a thought I had when I started planning my wedding, but I didn't actually see it until someone else pointed out all of the reasons. (Because we all want to plan our own wedding, right?)
And I'm pretty sure not many of you start out on your wedding planning journey immediately knowing whether or not you need a wedding planner (unless you're my best friend and you've heard me talking about all of this for 10 years). So, how exactly do you know? It's why I've put together a few signs that you might need a wedding planner…
1. You work a full time job- so does your fiancé.
(And you don't have any family to help- or they all work full time too!)
2. You don't have time to research, read blogs, look for inspiration, and email all day every day.
3. You're planning a wedding at a location that you nor any of your willing-to-help family members live.
4. You're relying on another vendor to handle your wedding day- one who is NOT a wedding planner working for YOU.
5. Your future spouse is getting mad at you for not spending enough time with them and spending too much time looking at/obsessing over wedding stuff (okay, you might still do this even when you have a wedding planner, but it's a legit reason).
6. You've booked your venue and date, but it's been a few months since… and you haven't done anything else beyond that.
7. You have no clue what you should budget for things.
8. You've developed ulcers (or headaches, insomnia, etc) from the stress associated with wedding planning.
9. Family tensions are starting to develop because of the wedding.
10. Panic sets in when you start thinking about your wedding day.
Of course there are many, many more reasons, but these are most that I see and some of what I experienced myself too.
And guess what? You don't have to be having an expensive, giant wedding to have a wedding planner- there is a planner out there for everyone.
Because I don't care who you are, where your wedding is, or what your budget is-  you DESERVE to not be stressed about your wedding. You DESERVE to have fun planning your wedding. You DESERVE to enjoy your wedding day, and the days leading up to it! You DESERVE a wedding planner my friend!
---
So, if you've decided to get a wedding planner, what was your tipping point to help you make the decision?
And if there are any planners reading, feel free to comment with other "signs" that you've seen from your couples! :)
---
Click below to search our
Vetted & Verified Wedding Planners!

A version of this post was originally published in August 2011.
The following two tabs change content below.
Lauren Grove is the editor and owner of Every Last Detail. A clueless bride-turned-wedding planner, Lauren uses her experiences and knowledge to educate and inspire brides all over the world.