What is a "small wedding" anyway?
Valerie Gernhauser, for Every Last Detail
---
[Editor's Note: We recently talked about what weddings will look like post COVID-19, and one of the major aspects of events moving forward is going to be a lower guest count. This is where "small weddings" come into play, and I wanted to shed more light on this concept (and the different types of small weddings), so my friend Valerie Gernhauser of Small Wedding Society is here with us today to share her expertise!]
With so many changes on a daily basis in regard to social gatherings, engaged couples everywhere are weighing their options for alternative solutions for their original wedding plans that are affected by today's current socially distanced climate.
If you are planning a wedding during the time of COVID-19, you are certainly not alone! Many couples are forced to make difficult choices about their wedding plans during this uncertain time, opting to cancel their plans altogether, postpone their original plans until a vaccine is in place and proven effective, or otherwise seek an alternative allowing for some version of their wedding to take place on schedule while postponing the "big" celebration to a later date. This is where small weddings are having a big impact.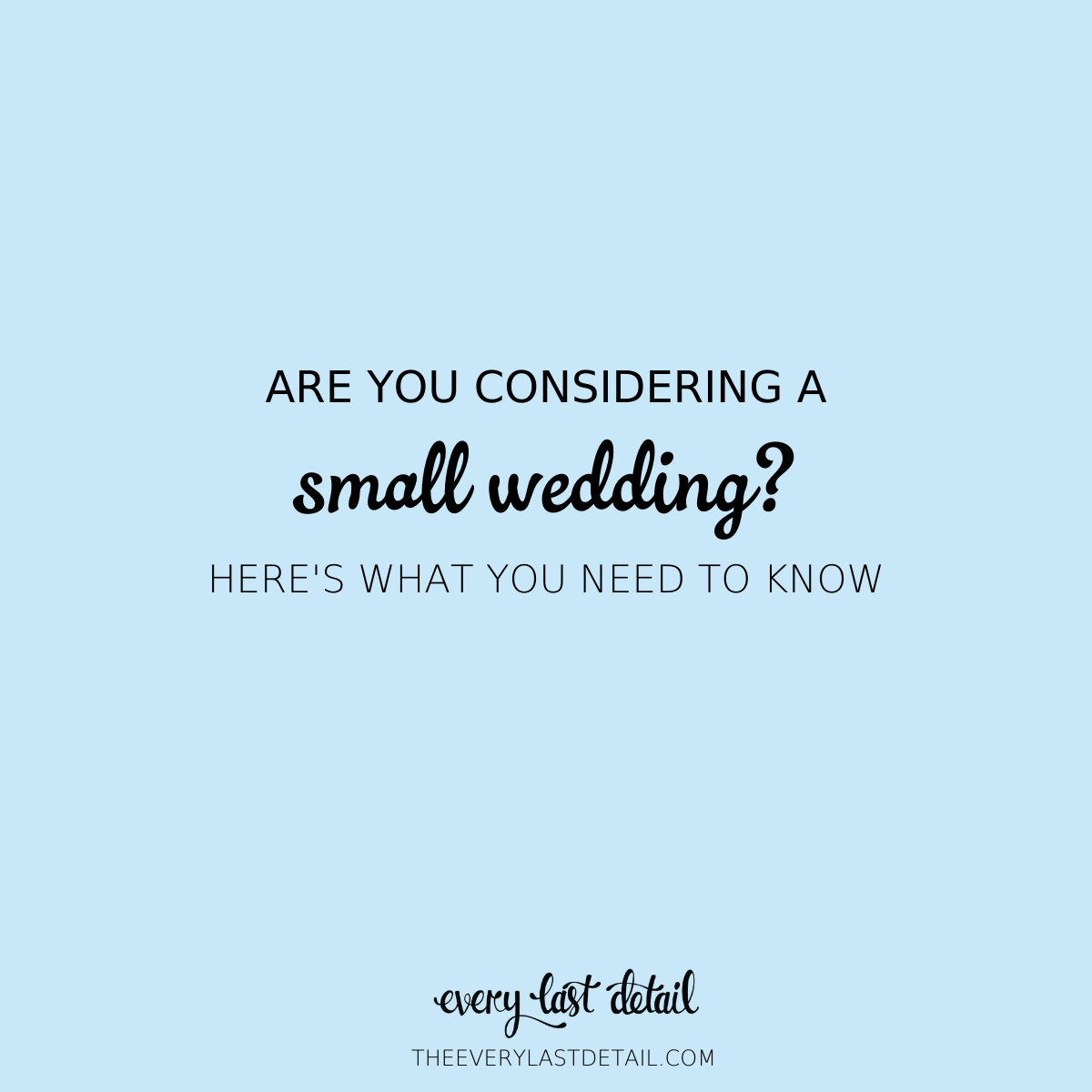 Small weddings have certainly been around as long as folks have been getting married. Now more than ever, couples are turning to small weddings as a viable option where anticipated CDC regulations and government phasing out of stay-at-home orders keep gathering numbers extremely limited. It is a very real possibility that weddings of 100 people or more will not be able to take place in many locations until well into 2021. As a result, small weddings of 100 or fewer people provide an opportunity for couples to continue with their plans to marry this year, even if that means their original wedding day plans might look a bit different than before.
Did you know that there are different types of small weddings?
It's important to understand the different classifications of small weddings, and the parameters that are in place for each.
Here are the key terms and specifics for identifying which kind of small wedding is a good fit for you:
Elopements
---
Elopements are generally limited to the couple and officiant only, and possibly two witnesses (if required). Elopements can be spur-of-the-moment endeavors, with details known only by the couple themselves and very few key players. The ceremony is the focus of the day, consisting of an exchange of vows and rings, without readings, songs, or a processional. Because there is no reception, typical traditions like toasts, cake cutting, and first dances usually do not take place at an elopement.
Friends and family members are not usually in attendance at the ceremony, as the couple announces their newlywed status after the fact to friends and family members by word-of-mouth. A photographer may or may not be present to document the moment. These kinds of small weddings take place at any location that may have particular meaning for the couple, like a special destination abroad, at home, or at the courthouse. Attire is simple, comfortable, and understated, and florals are kept to a minimal adornment for the couple (some combination of bouquet and boutonniere), if at all.
Elopements are also a great opportunity for couples looking to "do the damn thing" – get married, and get on with their lives, without having to further delay personal goals like purchasing a home together or starting their family, among others.
Micro weddings
---
Micro weddings bring the couple together with a limited number of friends and family members for a planned, abbreviated ceremony and reception celebration, usually with 30 or fewer guests in attendance. The formalities of a micro wedding typically take place any time of day, and any day of the week, usually in an hour or two. The micro wedding structure consists of a 10-15 minute ceremony with the couple in the presence of immediate family members and a few very close friends, then a quick champagne toast, a bite of cake, first dance and parent dances (with songs played on an iPod or mobile speaker) followed by a send-off.
Although there are generally no wedding party attendants or processional, photography, florals, and a dedicated venue spaces are key elements here that enhance the micro wedding experience. Couples are also enlisting the help of videography teams to capture their micro weddings, including a set up for live-streaming capabilities so those unable to attend the event can still watch the special day take place while toasting from afar. Other than possibly offering limited passed hors d'oeuvres, food and beverage is not a focal point of the micro wedding celebration at the venue, although couples and their group of VIP guests often opt to continue the celebration with a pub crawl or restaurant reservations after the send-off.
Micro weddings offer couples the opportunity to pool their financial resources with other couples getting married on the same day, allowing access to exclusive venues, stellar photographers, and beautifully designed ceremony floral décor that the couple might not otherwise be able to (or be interested in) investing on their own.
Mini weddings
---
Mini weddings are a more traditionally structured ceremony and reception, with a max of 50 guests (or fewer). The ceremony starts with a processional, including wedding party, family members and friends and family in attendance. After the couple recesses down the aisle in as newlyweds, the couple and their guests take in a meal at the venue, complete with all the courses one would expect for any larger event. Live entertainment is a cornerstone of a mini wedding just as it would be at a larger wedding, with a dance floor surrounded by tables and lounge seating areas as well. The duration of the celebration would take place over several hours throughout the late afternoon and evening, and would typically take place on a Saturday (though Friday and Sunday dates are also good candidates for mini weddings). After the reception is over, the group can move on to an after party and carry on the revelry until the wee hours or the morning!
Mini weddings are an excellent opportunity for couples to maximize their per person spend on each guest, personalizing the experience more than they'd ever be able to do with larger guest counts. Having fewer guests means any couple's overall budget goes much farther, allowing engaged couples to invest in all the experiences they want for their big day – the live band, a great photographer, upgraded linens and elaborate florals, to start – without having to sacrifice because of budget limitations (which are driven by higher guest counts).
Although the climate for engaged couples right now is undoubtedly challenging, small weddings offer solutions to those seeking viable options to get married now under our current socially distanced circumstances. For many, small weddings offer opportunities that larger, more elaborate celebrations often prohibit.
---
Wedding planners around the country are pivoting their business models to support engaged couples looking for solutions to "marry now, party later." Amy Nichols, Beth Bernstein, Gretchen Culver, Valerie Gernhauser, and Wendy Kay created their own independent small weddings brands to serve an immediate need for engaged couples in the wake of the coronavirus disruption in the wedding industry. As founding members of the Small Wedding Society, a collective of planners and wedding professionals alike, these five seasoned planners launched the group to provide a resource to engaged couples looking for creative teams ready and able to serve.
Coming together from markets around the country, including Chicago, Minneapolis, San Francisco, Dallas, and New Orleans, the founders of the Small Wedding Society believe it is imperative to bring awareness to small weddings as an option by creating a common narrative and a standard of practice for the benefit of engaged couples everywhere. We are offering support to other members of the wedding community that are interested in learning how to pivot their current offerings toward serving small weddings, and are interested in joining the Small Wedding Society of vetted professionals offering this service. To learn more, visit the website www.smallweddingsociety.com.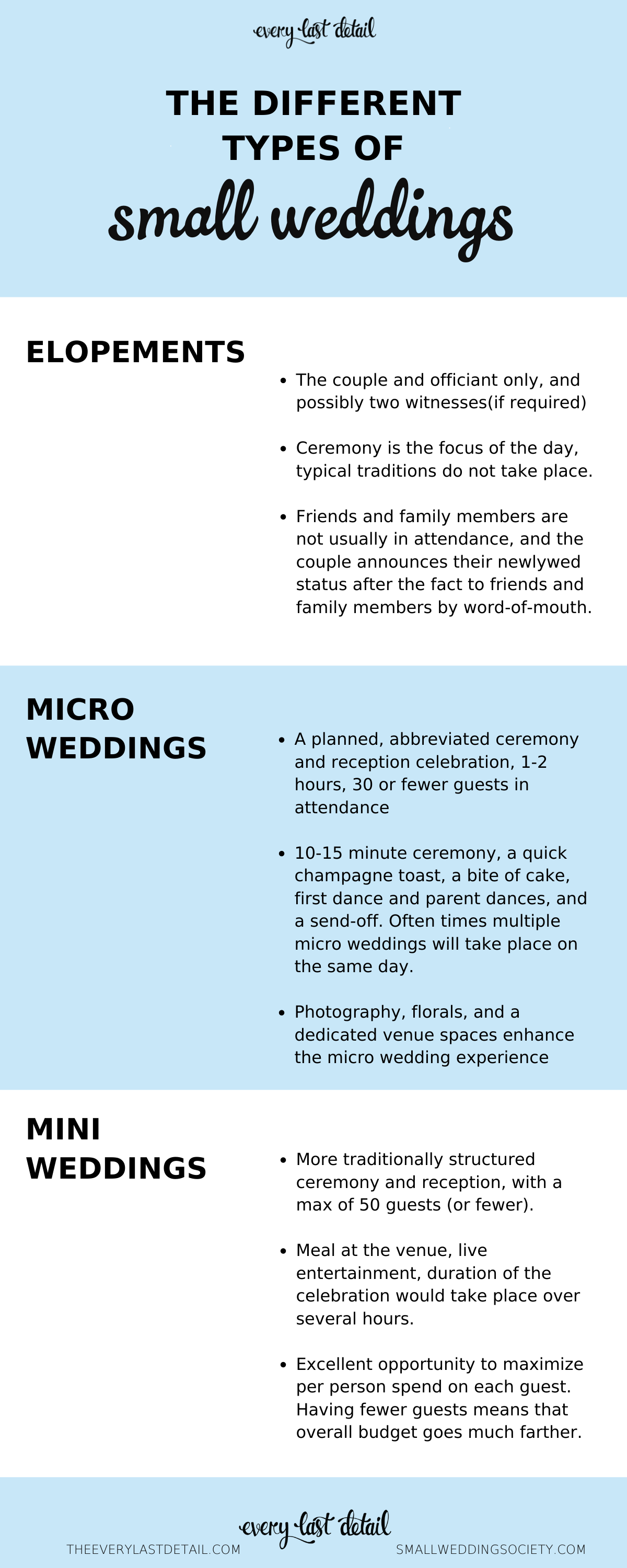 The following two tabs change content below.
Lauren Grove is the editor and owner of Every Last Detail. A clueless bride-turned-wedding planner, Lauren uses her experiences and knowledge to educate and inspire brides all over the world.