Is it just me, or are sunflowers just so happy? I saw the flowers for this yellow wedding by Weber Photography, and I just fell in love. It's all so sweet and beautiful and romantic, not to mention the bride is just gorgeous! Every detail seems to be thought out, and you can truly see the happiness on everyone's faces.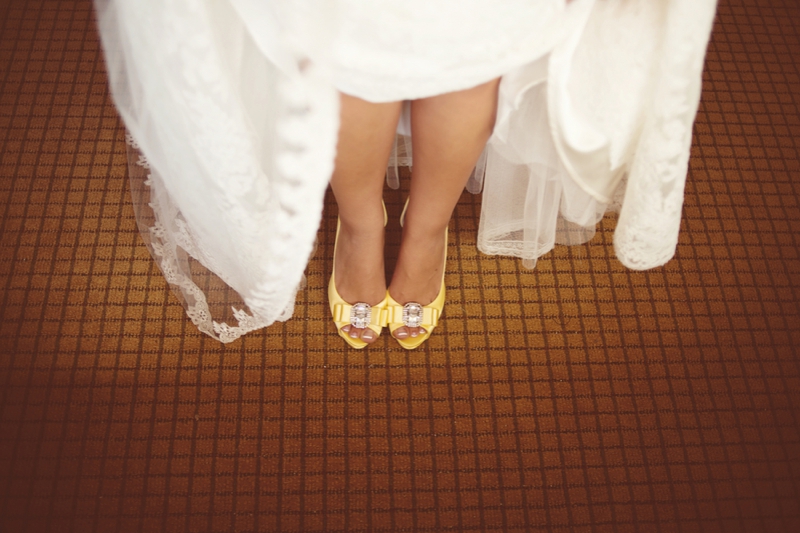 From the bride… What (or who) helped you most in your planning process and/or on your wedding day?
Since I was one of those brides that wanted to create all of my own stuff and DIY, which I thought made it a lot more personal, I was in need of much help from family and close friends. My aunt is VERY crafty, along with being a seamstress, so I would definitely say that she helped me pull everything together and was one of the main reasons that everything ended up being as lovely as it was in the end. She made my beautiful lace veil, ring bearer's pillow, flower girl's dress, embellished each mason jar with a hand painted heart, hemmed the bridesmaid dressed, and helped put together my "love notes" sign. She definitely is beyond amazing! Also, my maid of honor, who is my sister, helped keep me calm and was a huge help throughout all of the wedding planning process.  
What was the most important thing to you when deciding who to work with for your wedding?
It was not easy at first when deciding who would be our wedding vendors such as, DJ, caterer, ceremony/reception site, photographer, florist. Luckily I had some friends and people I knew that I asked for ideas and recommendations for vendors. We loved almost all of our vendors and thought they did an awesome job, except for the fact that we weren't the happiest about our DJ for a few reasons. I would say that this is one of the key vendors that you should put a little more thought into, due to the fact that they create the flow and setting for the night. I would say the photographer is equally as important, and definitely was the vendor that was most important to me. I knew someone that had Wes Weber shoot their wedding and loved their pictures. So I looked them up online and read all of their views, which were great, so I knew I had to have them for our wedding. They truly help keep your day flow the way it should and try their best to keep stay true to what you have set your schedule to be. Most people skimp on this vendor and just try to use someone they know or someone they can get a deal from and don't realize how important the photographer really is for the wedding. They were one of our best investments for the wedding, hands down!
What was your inspiration for your wedding details and/or design?
Rustic, vintage, chic, yellow/gray, simple, DIY, barn themed (without the barn). I have always liked vintage and rustic things and my aunt's house is full of so many awesome trinkets that also really inspired me to follow through with this theme for my wedding! I love going to thrift stores and garage sales where you find some of the most treasured and awesome items! This is what I did all before the wedding to find my lovely vases for the flower centerpieces at my wedding. Yellow is by far my favorite color, which helped incorporate spring for my March wedding, but the browns and grays were how I really pulled the vintage, rustic theme all together! Oh, and maybe I looked at a wedding blog or two.. ;)
What was your favorite thing about your wedding?
Oh geez, that is probably the toughest question! I seriously loved everything about my husband and I's wedding day! I would have to say that one of my favorite parts of the wedding, other than being able to marry my handsome man, was to have everyone that my husband and I really love and cherish, all at the same place just to celebrate us and our love! The other part, which I still to this day tell people about, is how awesome of a feeling it was when on my wedding day when I walked into my reception site, Mirror Lake Lyceum, and saw everything all together and complete. I was just in such shock finally seeing all of the hard work that I, along with my family, friends and husband, put into trying to make my wedding look as beautiful as it did! I just quietly sat there at the bridal table as my sister said, "Cass, are you okay?" I turned to her with the biggest smile on my face and tears in my eyes and said, "I just can't believe how amazing everything came out!" Hands down this was the best day of my life, and I still cherish everything about it as often as possible. 
What is your best piece of advice for other brides?
My main advice, would be to try and enjoy every single part of all of the planning, even in spite of how stressful it can be. I loved being able to create all of my own decorations, invites, guest book cards, Mr. & Mrs. signs, mason jars for the guests, with my close friends and family and envision exactly how I wanted everything to come out. Even though I wanted to pull my hair out many times, it still was so much fun and now I look back and wish I could do it again! (Okay, maybe once was enough ;)) Also, try to really embrace and cherish all of your friends and family that took the time, money, and far away trip to come be with you on your special day. We definitely didn't get to spend as much time as we had wished with our family and friends that came from out of town. Everything truly goes by SO fast! That can't be emphasized enough! So take a few deep breaths, soak it all in, and remember that soon it will all just be a memory. Also, try to take a moment with just you and your husband at some point on the wedding day and really just hold each other close and embrace it all together. 
I just adore that last photo, don't you? Actually, the photography in general is just beautiful! I have a feeling this couple will remember their sweet day forever.
Vendors who made it all happen…
The following two tabs change content below.
Joelle is the founder, owner, and creative director of Joelle Charming. She blogs, plans weddings, and writes love stories. Joelle is also obsessed with Taylor Swift, loves the color pink, and likes to wear bows in her hair.