[Editor's note: We're starting today with something a little different- a romantic surprise proposal! Our contributor Adair helped to plan this proposal idea as inspiration for future grooms, and it was so gorgeous and simple that we just had to share it with you all! Take it away Adair!] 
With Engagement Season upon us, it is time for me to talk directly to the person who might be thinking about "popping the question" with a surprise proposal! Let's press the fast forward button- past the proposal and the moment your Forever Love says "Yes!" with tears welling in their eyes. Literally five minutes after that "YES!" was spoken, they will to be on the phone with mom, best friends, close friends, dad, siblings, and then just about everyone you encounter, sharing that you two just got engaged! And I will bet you that each of those people will always ask the question, "Well, how did you propose?" One thing I know for sure- you do not want it to be a boring story! That moment will live on for the rest of your lives together and you are going to hear it at least 100 times in the first 24 hours of your engagement. And with all the flashmobs, hidden photographers, and music video proposals that are out there, it's hard to figure out what exactly to do when it comes to proposing.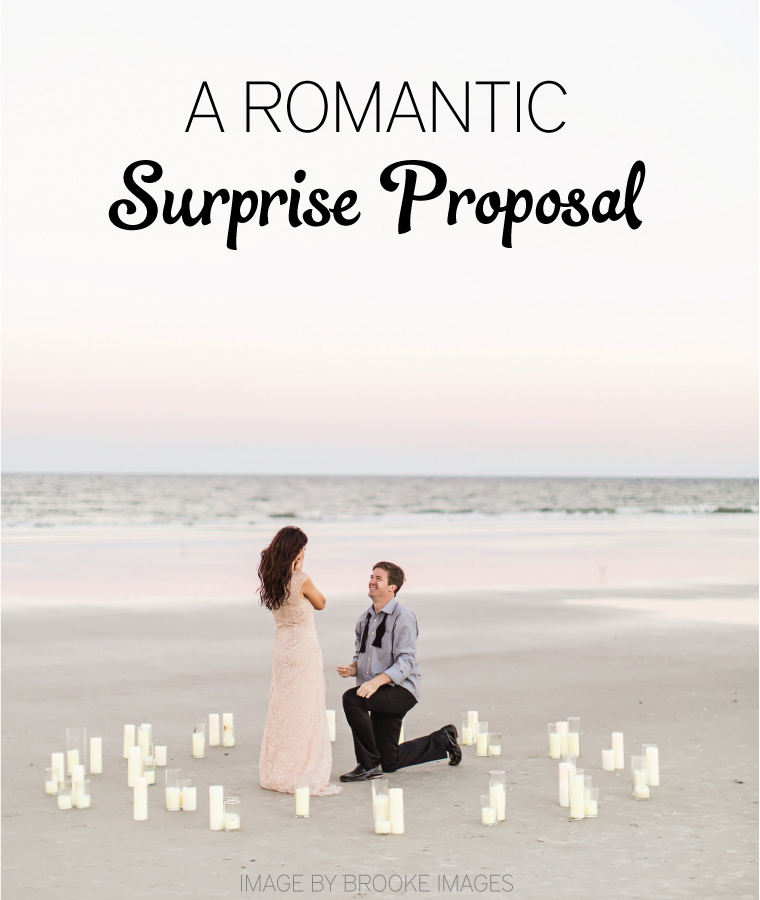 So now I know what you're thinking… "How do I come up with the PERFECT surprise proposal?" Really the answer is actually a lot easier than one would think!
1) Start thinking about the favorite hobbies, places, vacations, and memories you have made together.
2) What does your future fiancée love or enjoy to do? A pet, fashion, music, yummy food?
3) No matter what you do, there are two things that are always important in a proposal: 1) begin by sharing from your heart how you feel about that person and 2) ALWAYS get down on one knee.
These things, though few in number, are SO important to remember and can be used to create the perfect proposal for the two of you.
So now that we have those tidbits out in the open, are you ready for some inspiration? I teamed up with Soulshine Rentals to create this romantic surprise proposal in Jacksonville Beach, captured by Brooke Images Photography. For this shoot we created the storyline of our Bride-to-be, Rachel, coming home to a candlelit rose petal path, leading her to a little love note from her hunny, Kenny. I'll let the photos tell you the rest of the story!
I love the concept of a surprise proposal that is still intimate and romantic. Can you imagine being surprised by something like this upon arriving to your home?
Vendors who made it all happen…
The following two tabs change content below.
Hailing from Northeast Florida, Adair Currie has spent the past four years carving out her niche when it comes to executing spectacular events & weddings for her clients. Taking a different approach to the planning process with focusing on the couple or client first, keeping love & warmth of the event in mind, and creating memorable details that are client centered, has set Adair apart and ultimately has led her to be named Jacksonville's Best Wedding Planner.