[Editor's Note: Although at ELD we typically share tips for couples planning their wedding, the bridal party is an integral part of the day too, and so we're excited to be sharing a few tips and insight with you all today on how to be the BEST bridesmaid for your bride!]
As a wedding planner, I've interacted with lots of brides and their bridesmaids- and I've been one a few times myself too! Some of my brides have had bridesmaids that were less than helpful, and some have had bridesmaids that were AWESOME. So today I'm using my experience of being on both sides of the bridesmaid's dress to share a few tips on how you can be the "best" bridesmaid… or at least just a helpful one!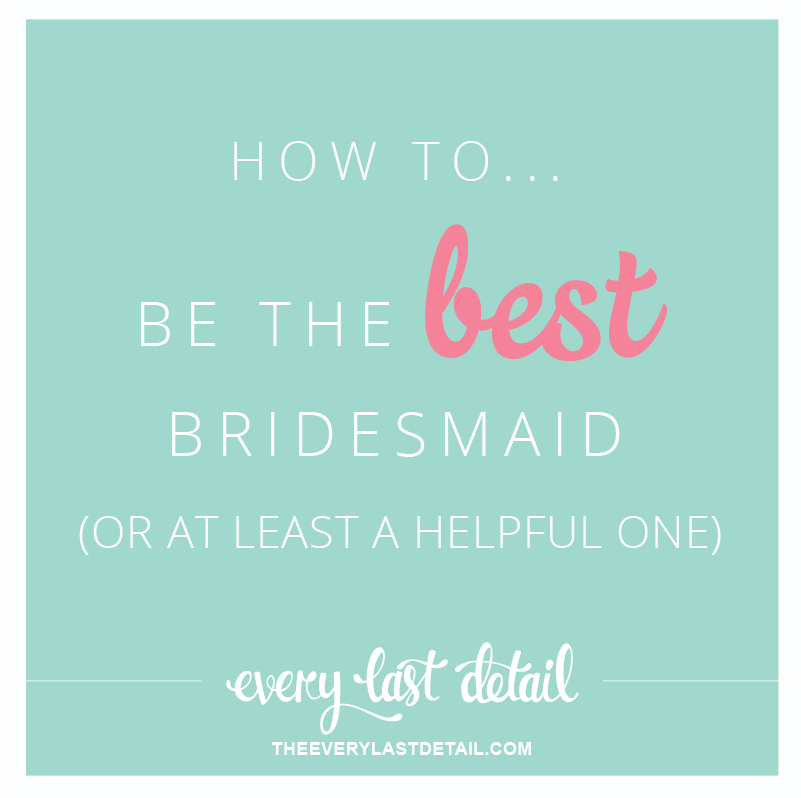 Image by Hunter Ryan Photo
1. Always be supportive.
It's a pretty common notion that bridesmaids should help the bride out in some way, shape, or form. The least you can do is be supportive of her. Even if you hate the idea of a flash mob entrance or you are walking down the aisle with her smelly cousin who has always had a thing for you… be supportive. Put your big girl panties on and suck it up for a few months during the planning process and on the wedding day. The. End.
2. Gifting.
There will be a lot of parties throughout the whole wedding process, but don't feel like you have to bring a huge gift to each one! Simply bring a card and if you are contributing in other ways, she will definitely know that! But, if you are still trying to come up with the perfect gift, think of something she will need for the week of the wedding- a mani/pedi date, a massage, or even a "something borrowed or something blue". Another option would be gift your bride with a special detail for the wedding day- this sequin hanger is one of our favorites!
3. A plus one...
Let me break this down really quickly. Are you married? Do you have a Fiancé? If you answered yes to either of those questions then yes, you absolutely get a plus one. If you are single or have only been dating your guy for a few months, don't be upset when you don't get to bring them. The advice I typically give a bride is, "If you wouldn't give a particular guest a $150.00 gift certificate for Christmas, then they shouldn't get an invitation either." Harsh? Maybe. But it is your friend's day and you need to respect that when it comes down to it, it's money being spent on those who are closest to them.
4. Have an Emergency Kit!
Even if your bride has a wedding planner, he or she might not be with you the whole time you're getting ready, and the emergency kit the planner has won't be available to you until you get to the venue! I would suggest that you chat with the other girls and either take on the task of creating a little emergency kit yourself, or elect someone else to so you can steer clear of any casualties earlier in the day. A few things to include: tampons, Tylenol, dry shampoo, clear nail polish, double sided table, straws, tissues, safety pins and wipes. Basically clean out the travel size area at your local Target!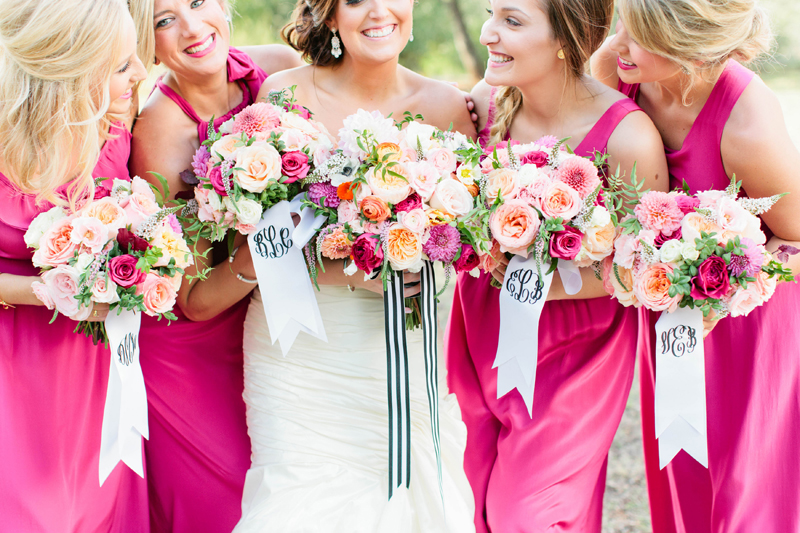 Image via Hey Gorgeous Events
5. EAT!
Without fail, everyone always forgets to eat (or just doesn't do it) while getting ready for a wedding, and then they are starving by the time the ceremony comes around. You are an adult who most likely likes to eat lunch around 12 or 1 every day. Remember that and be the one to order food for the whole group, or make a plan the day before for what you all will be having for lunch.
6. Timing is Everything!
Be on time for your hair and makeup appointments in the morning- and for goodness sakes ladies, please stay till the end of the wedding. That may sound easy enough, but a wedding day is a LONG one. You will be wiped out and your significant other will be begging you to leave, but you need to stay. The bride may need you (IE help in the bathroom for one last potty break) and chances are she will hold it against you if you leave. After such a great day we don't want to end it with a grudge being formed, do we?
7. Don't be a brat to the Wedding Planner.
Your friend hired the wedding planner, not you. It's not a good idea to boss the wedding planner around and tell her what to do. Chances are good that if there is some kind of issue, she is already aware of it and is doing her best to take care of it. Also, don't comment that something hasn't been set correctly or put out yet when there are still 2 hours to go until the ceremony or reception. There are so many things going on behind the scenes of a wedding and the wedding planner is being pulled in 12 different directions, but it's her job and she knows what she's doing. Truth be told, if she ends up needing your help, she will ask you.
---
So there you have it! A few of my tips for being the BEST bridesmaid… and they're pretty darn easy, don't you think? This time (hopefully) will only come once for your friend, and the fact that she wants you to be there by her side throughout it is something really special. We hope you will enjoy it!
Have any other tips to add?
Feel free to share your suggestions below! 
The following two tabs change content below.
Hailing from Northeast Florida, Adair Currie has spent the past four years carving out her niche when it comes to executing spectacular events & weddings for her clients. Taking a different approach to the planning process with focusing on the couple or client first, keeping love & warmth of the event in mind, and creating memorable details that are client centered, has set Adair apart and ultimately has led her to be named Jacksonville's Best Wedding Planner.