Friends, I'm not quite sure any of my words are going to do this gorgeous Clearwater Beach wedding justice. Not only because of it's beauty, but because it's my best friend's wedding!
My best friend Meg has been one of my biggest cheerleaders in these 9 years of Every Last Detail, so naturally, she knew exactly what to do when her fiance, Ralph, slipped a stunning (morganite) engagement ring on her finger. She knew that she needed to invest in a wedding planner right off the bat, so she turned to the V List to find someone who would be a perfect fit for her. Amber Veatch Designs was Meg and Ralph's match made in wedding heaven, and it was such an honor (and relief) to know that her wedding day would run by someone who I know and trust. Okay, enough of my sentimental gushing!
Meg and Ralph knew right away that they wanted their wedding to be near- and inspired by- the ocean. A color palette filled with varying shades of blue set the tone beautifully for their organic, coastal inspired day. Seaglass, driftwood, and travel were integral parts of their wedding day look, all reflecting things that reflect the two of them. Rental pieces from ELD favorites Reserve Vintage Rentals and Treasury Rentals provided just the right amount of detail, and Meg was made even more beautiful (which I thought was impossible) thanks to the team of Lasting Luxe. Oh, and we can't forget the hidden touches of Disney throughout the day- see if you can spot them!
I'm so excited to share Meg and Ralph's day with you, as captured by Rachel Burkhart Photography, just a week shy of their 1 year anniversary! (Oh, and yes, you may spot me in a few of these photos… and I definitely had to include a capture of me and my baby girl with the beautiful bride!)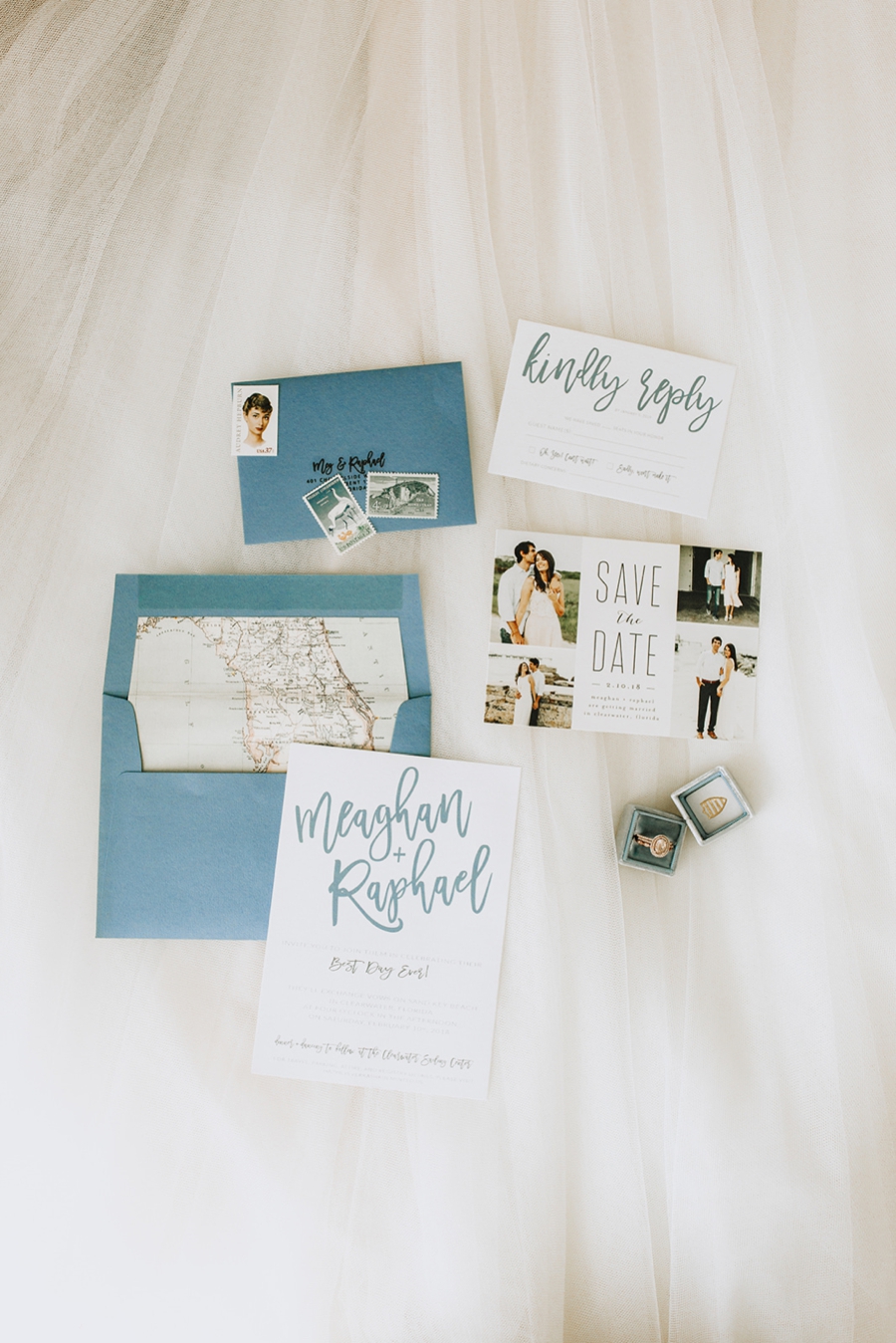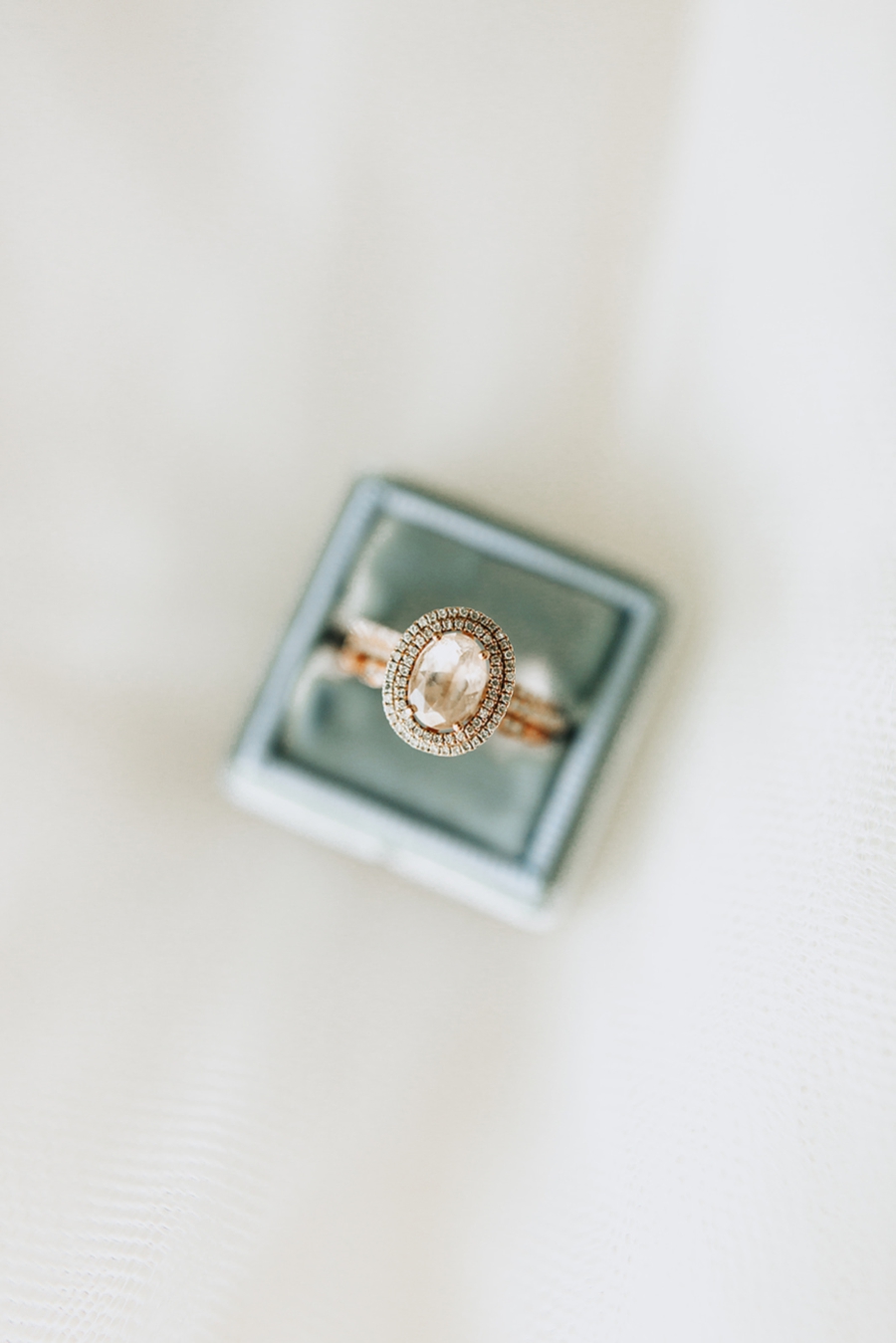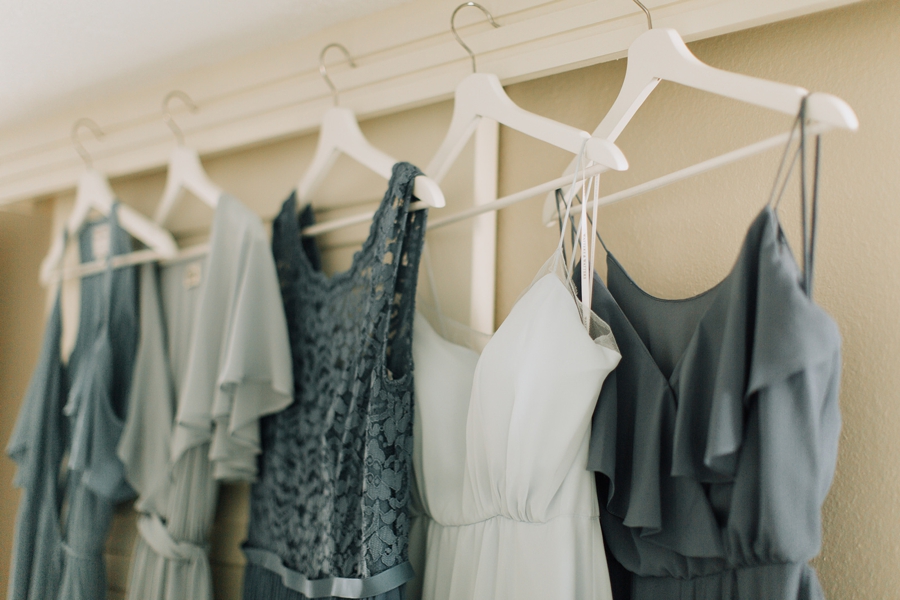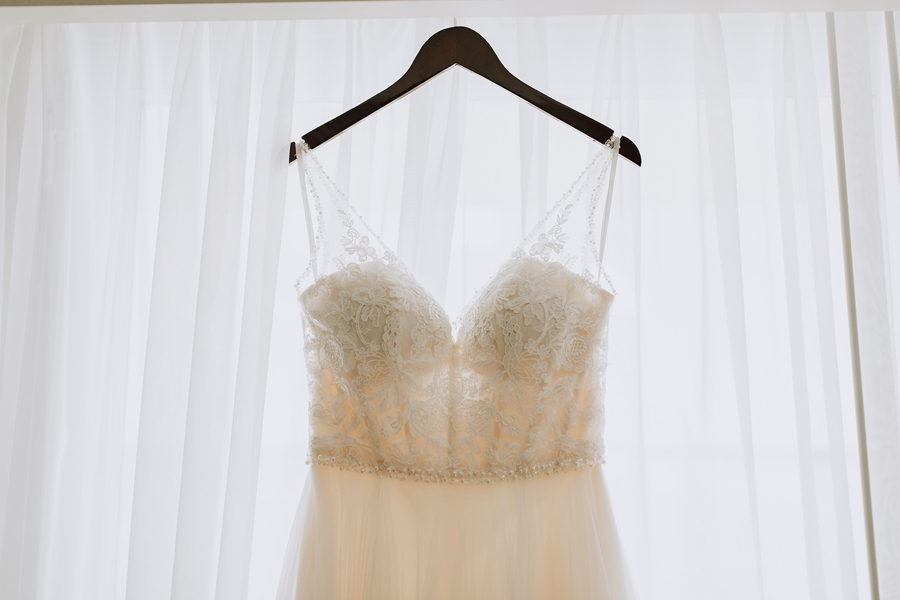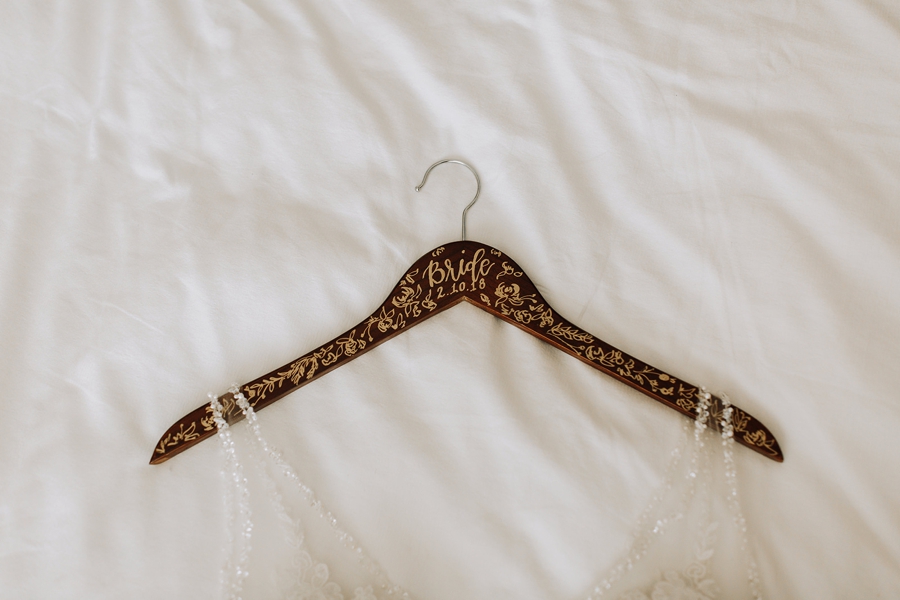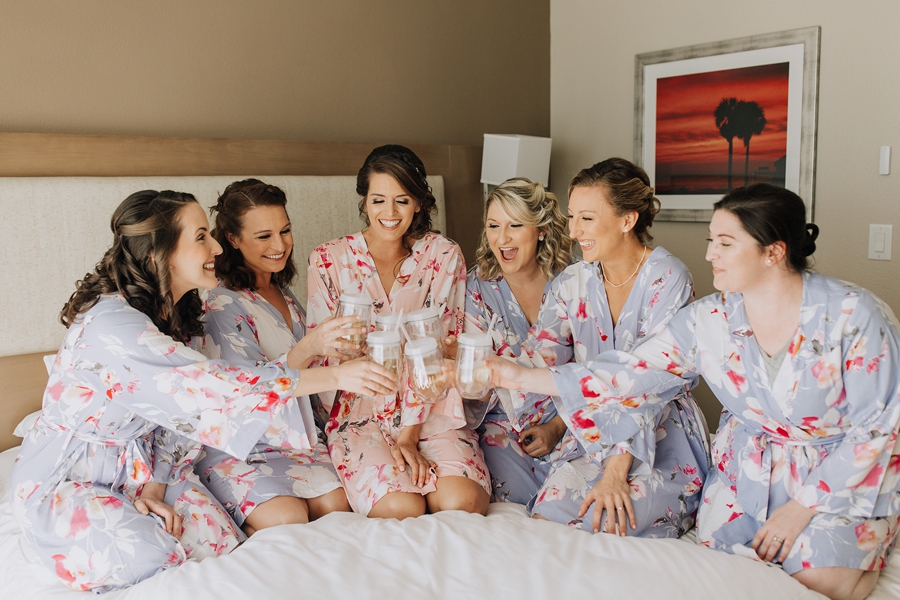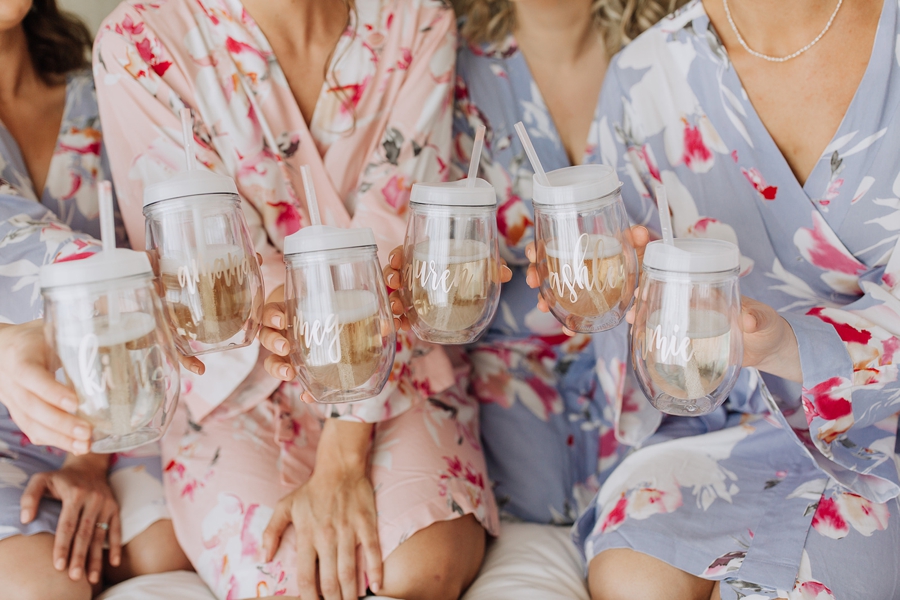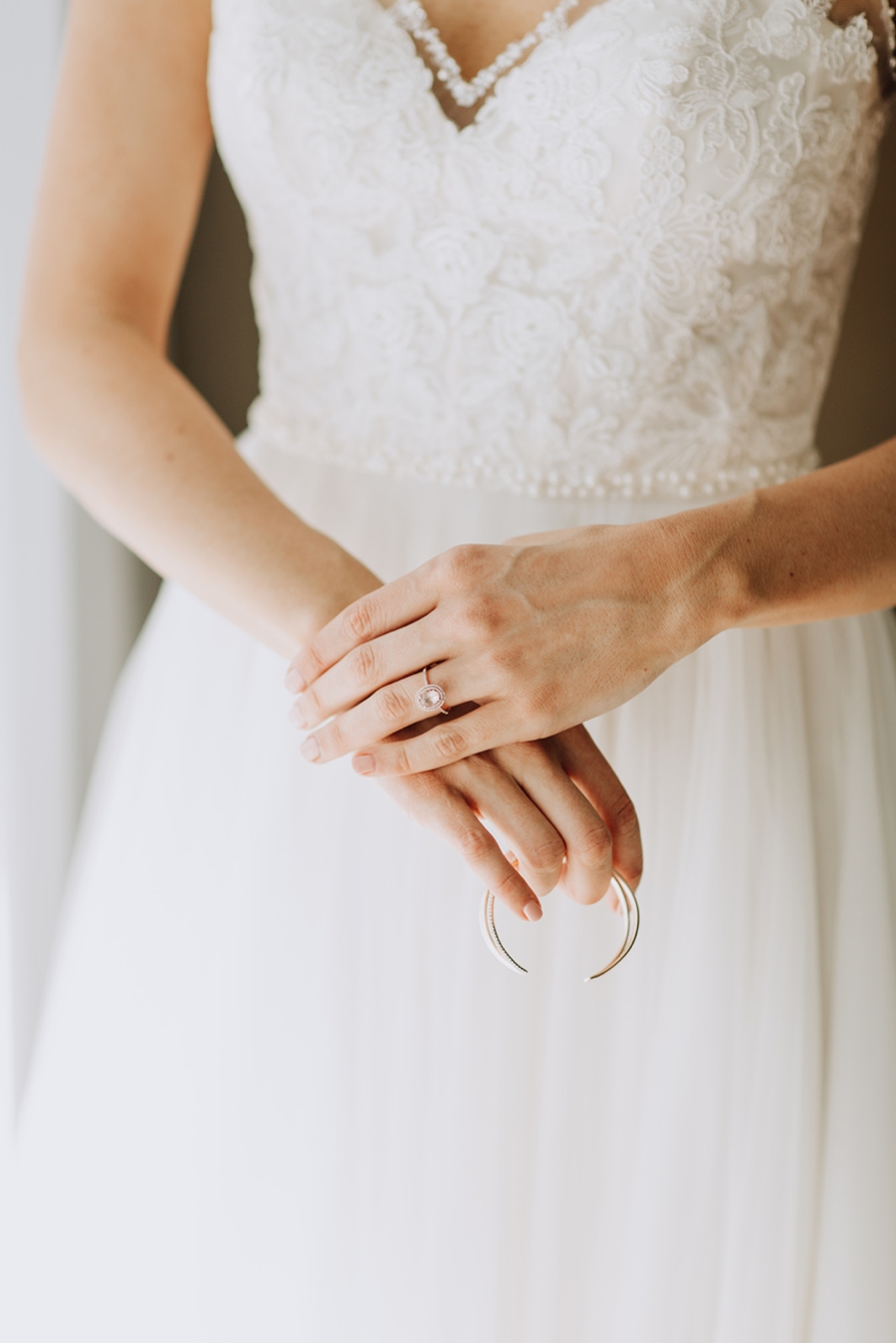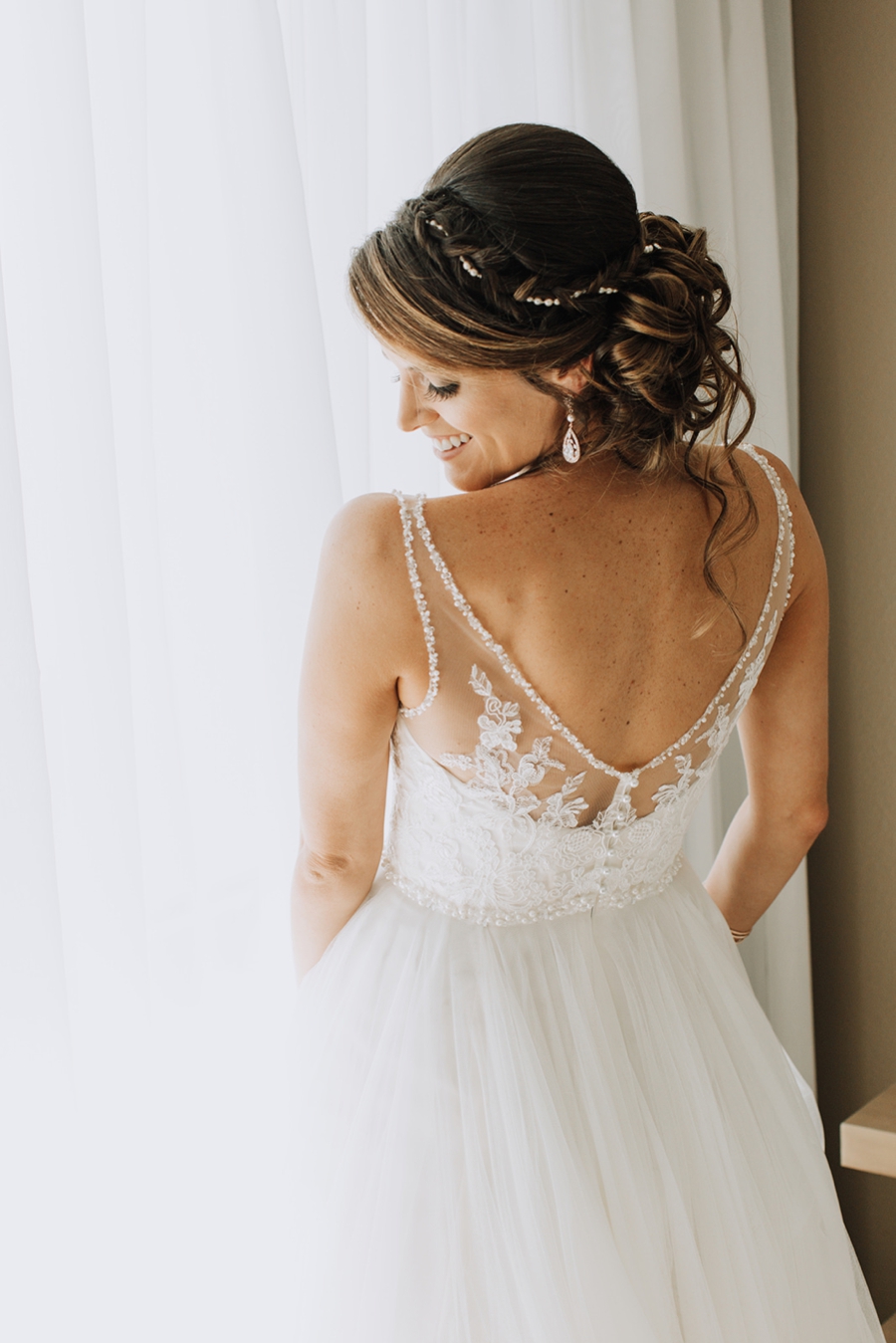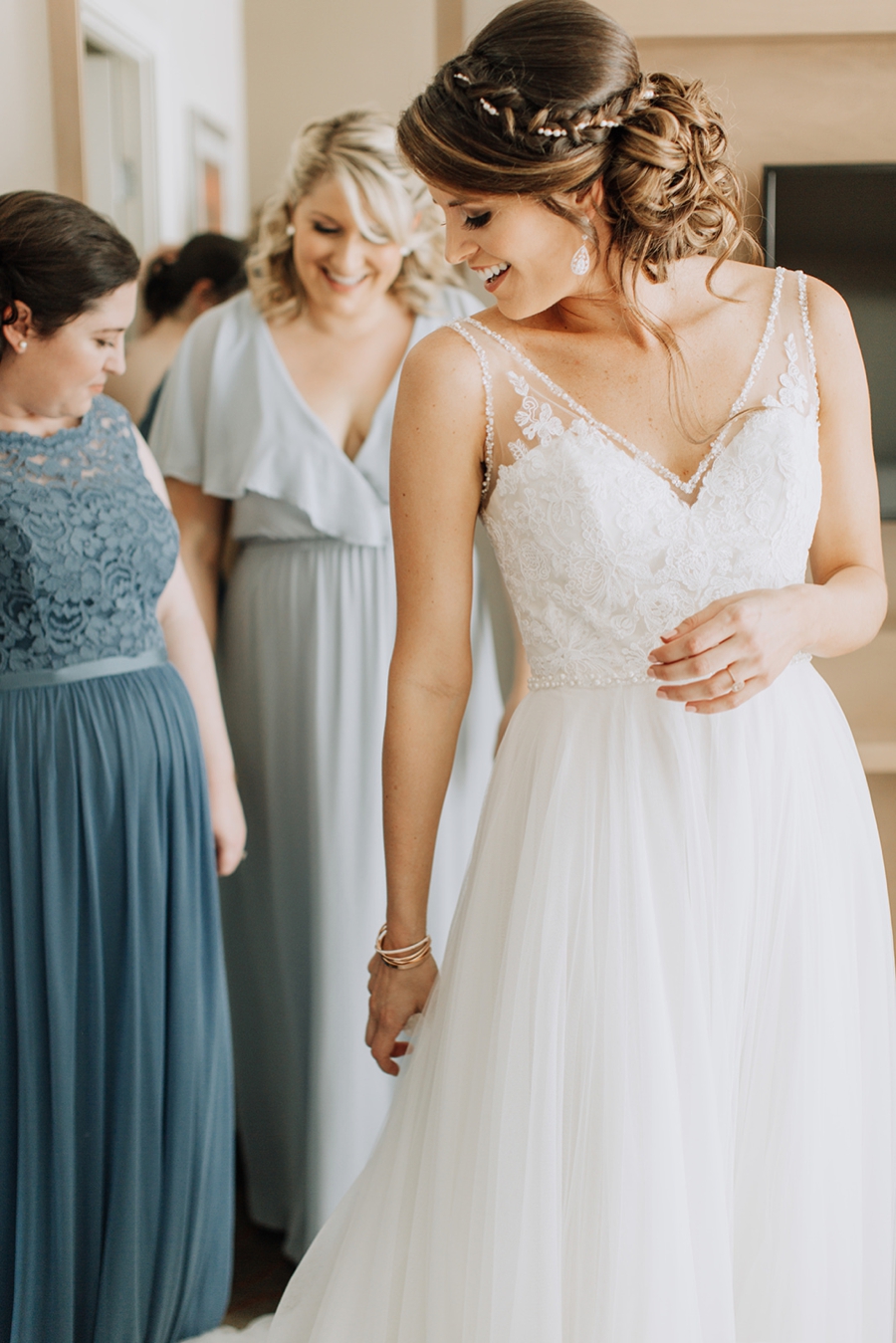 Tell us a little a bit about your wedding.
We wanted a casual yet classy wedding that reflected our relationship, and that's exactly what we planned! Our theme was a blend of coastal and organic, with nods to Disney and travel. We held our ceremony at Sand Key Beach and then had the reception at the Clearwater Community Sailing Center, which I think is a hidden gem in the Tampa Bay area. To keep the casual beach vibe going, we used 4Rivers Catering and served a BBQ buffet, which gave people more time to dance the night away with the amazing Matt Winter Band.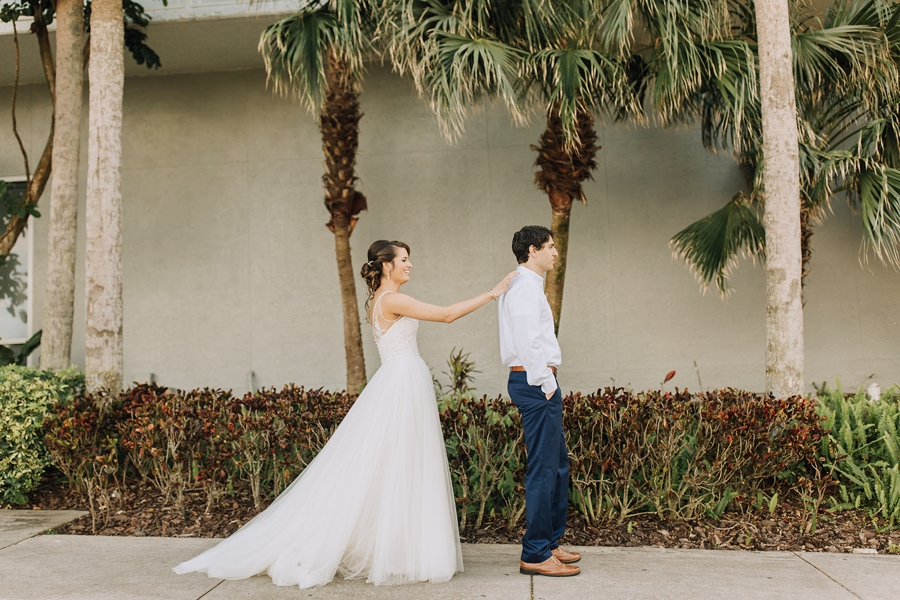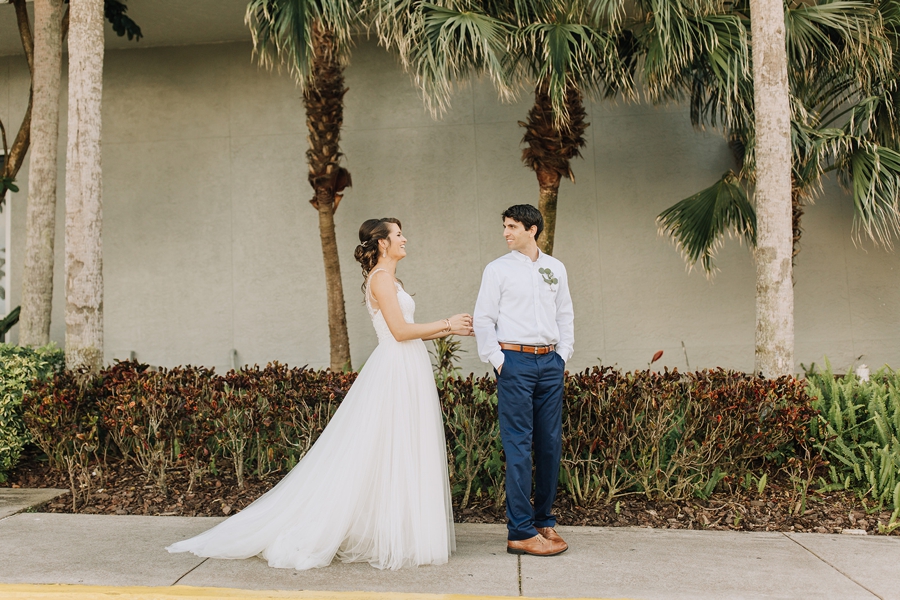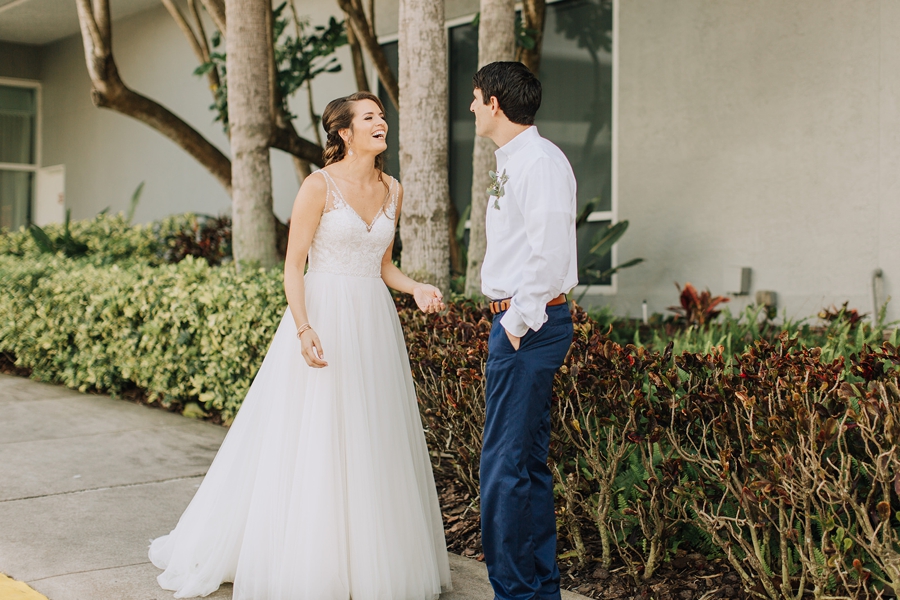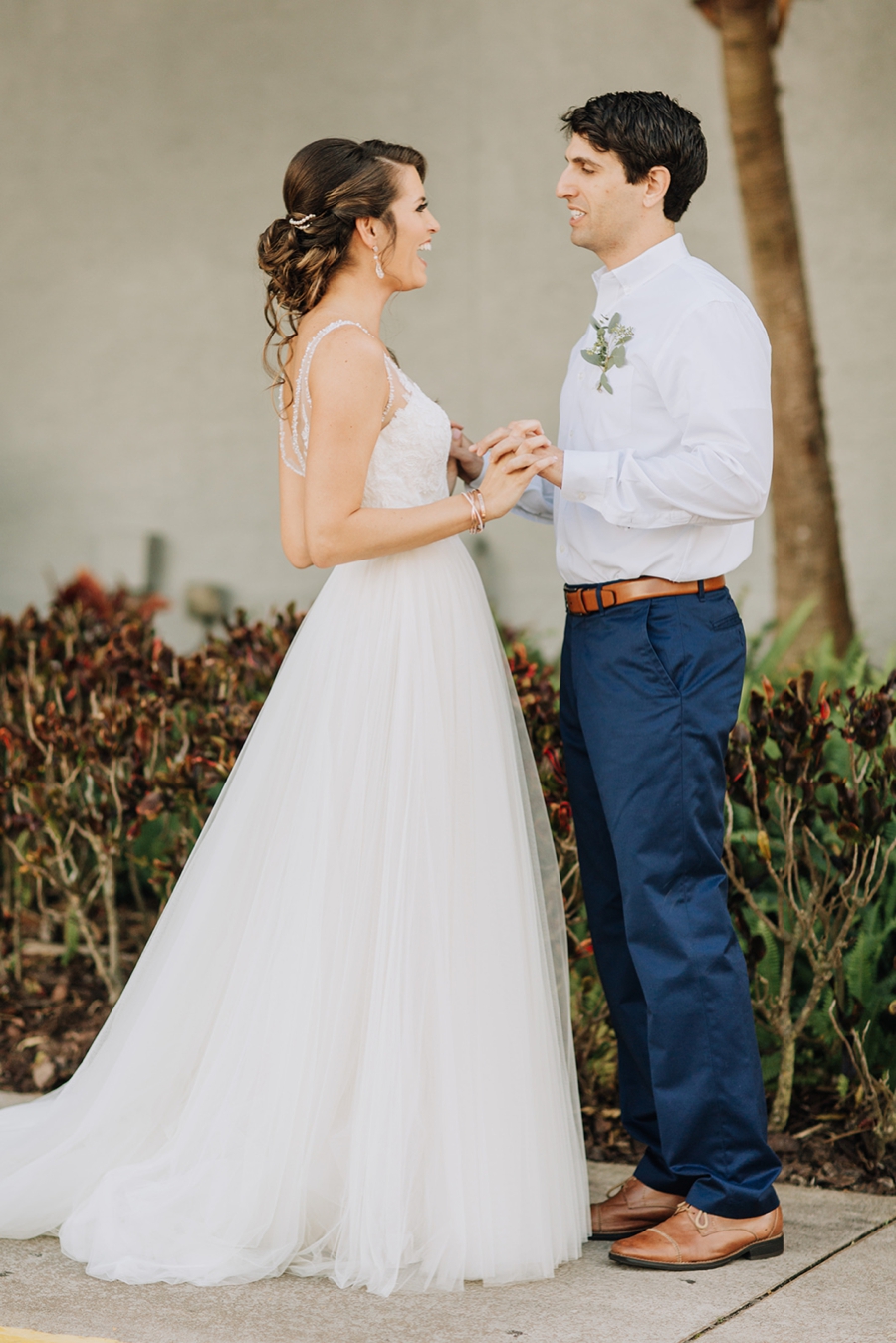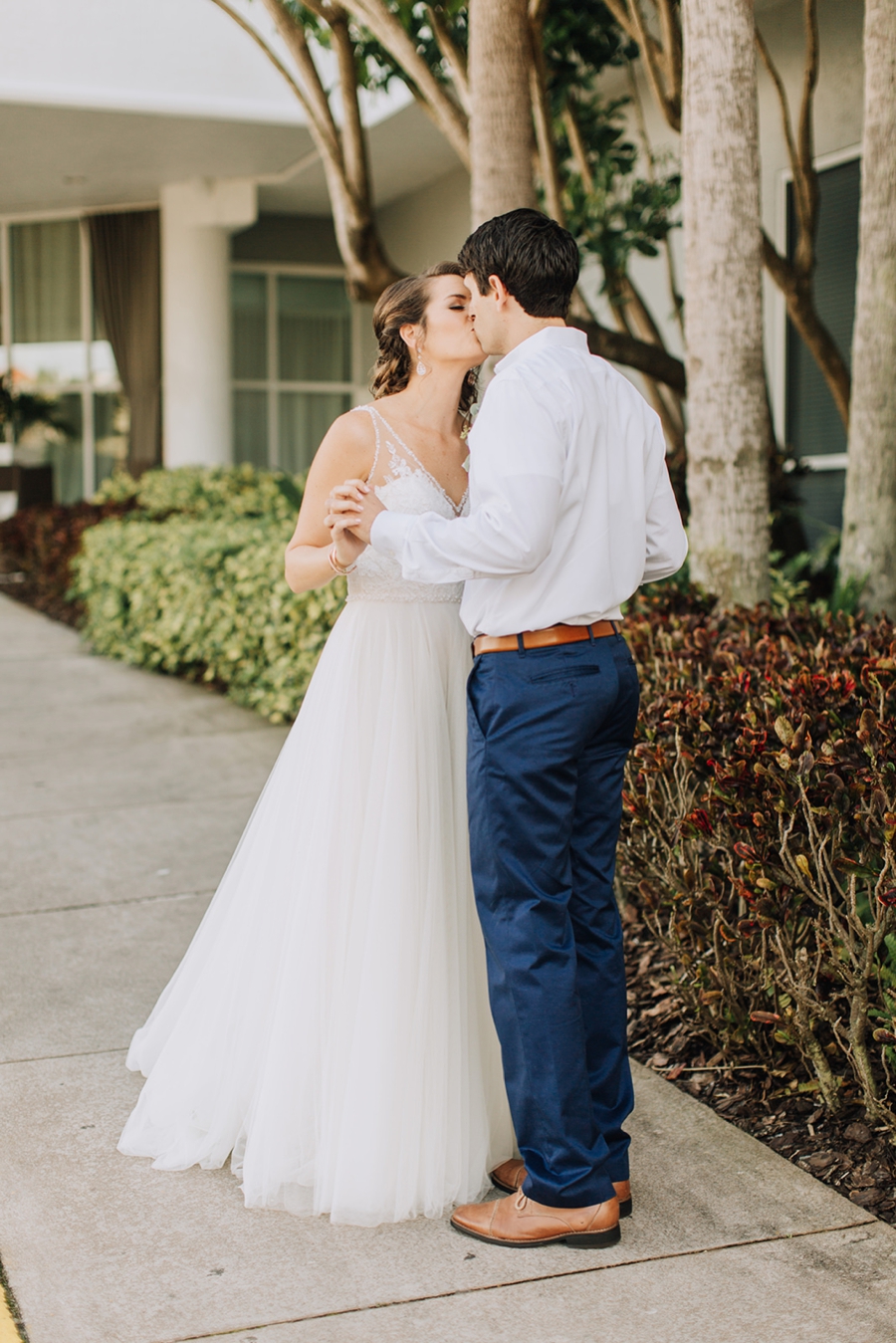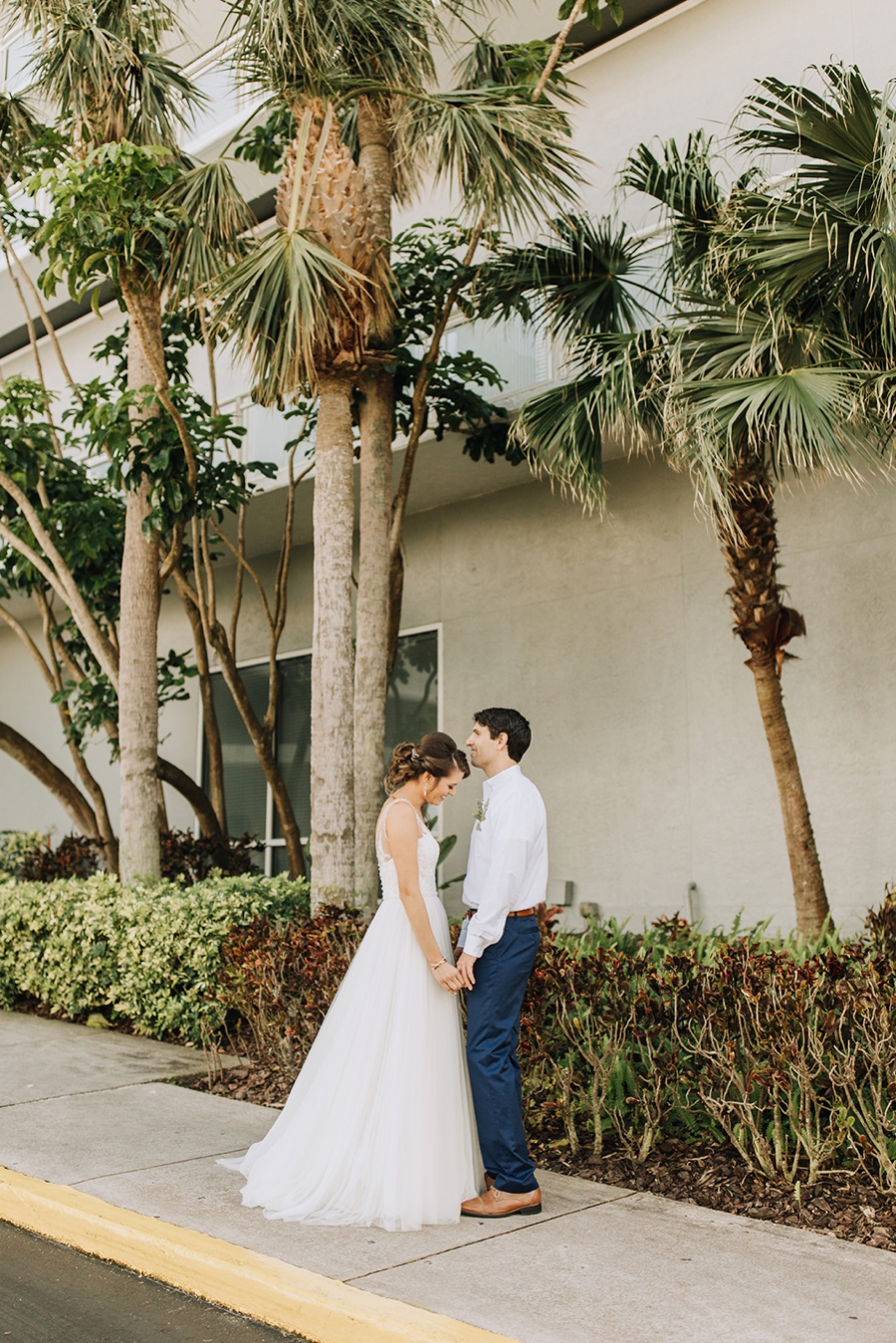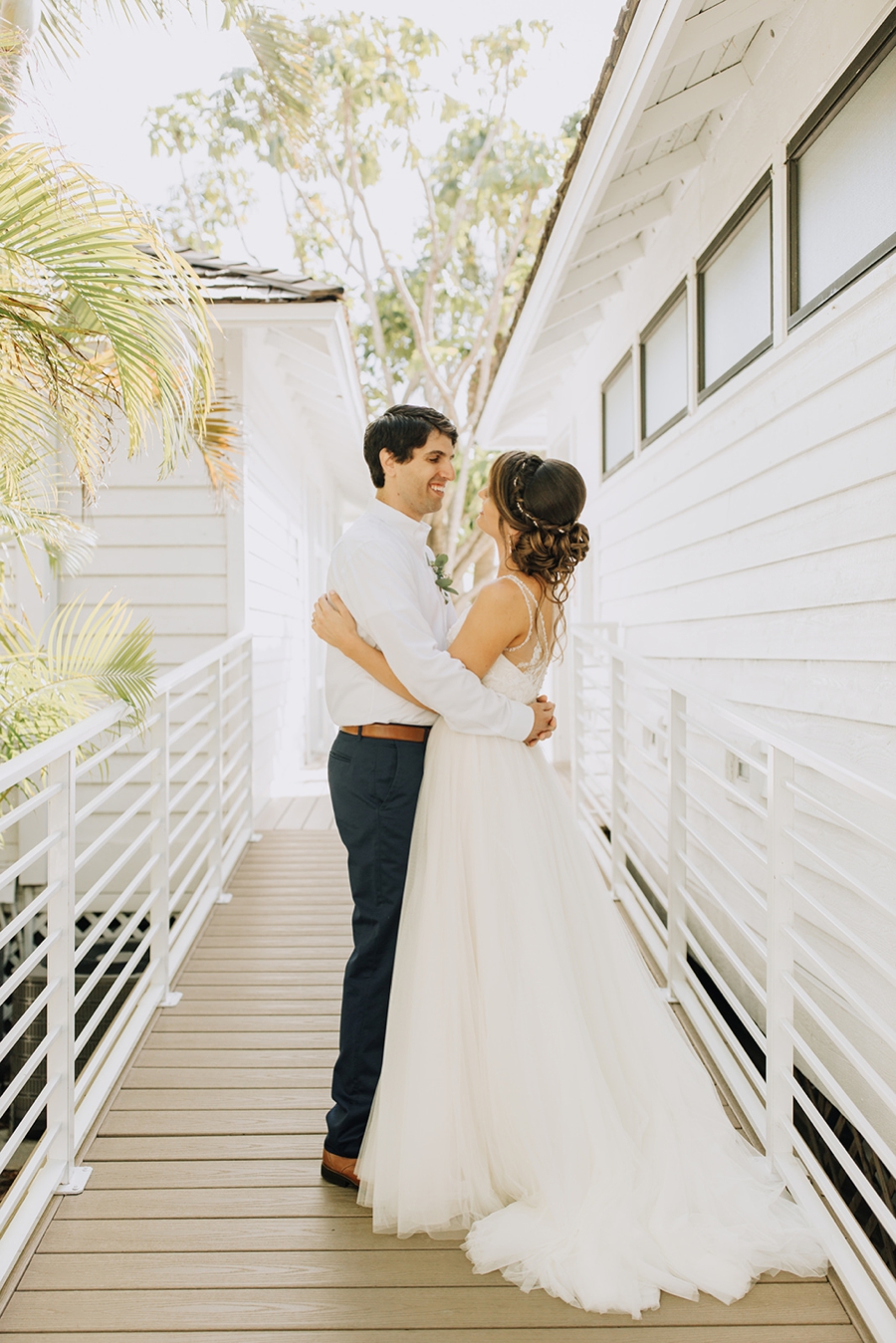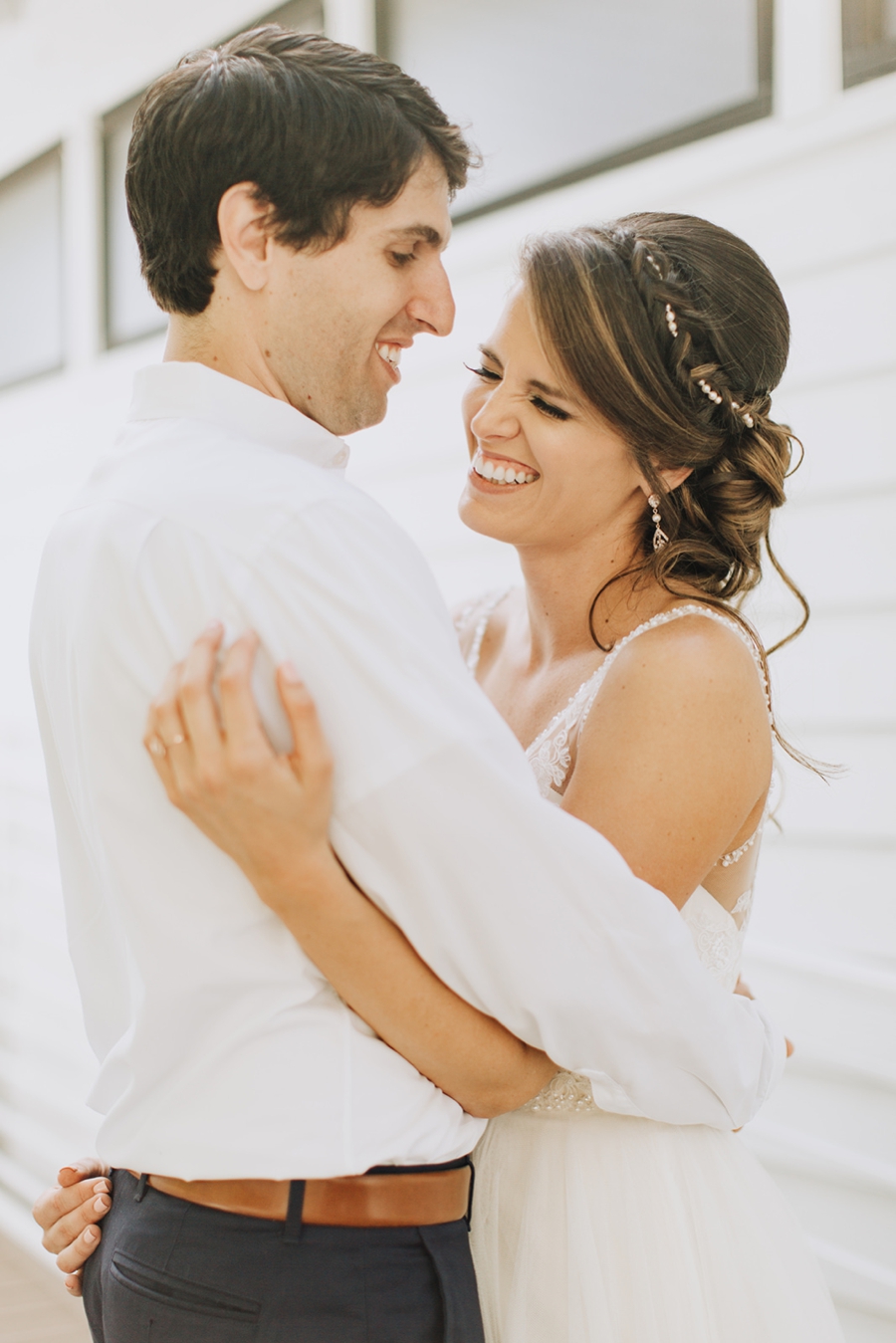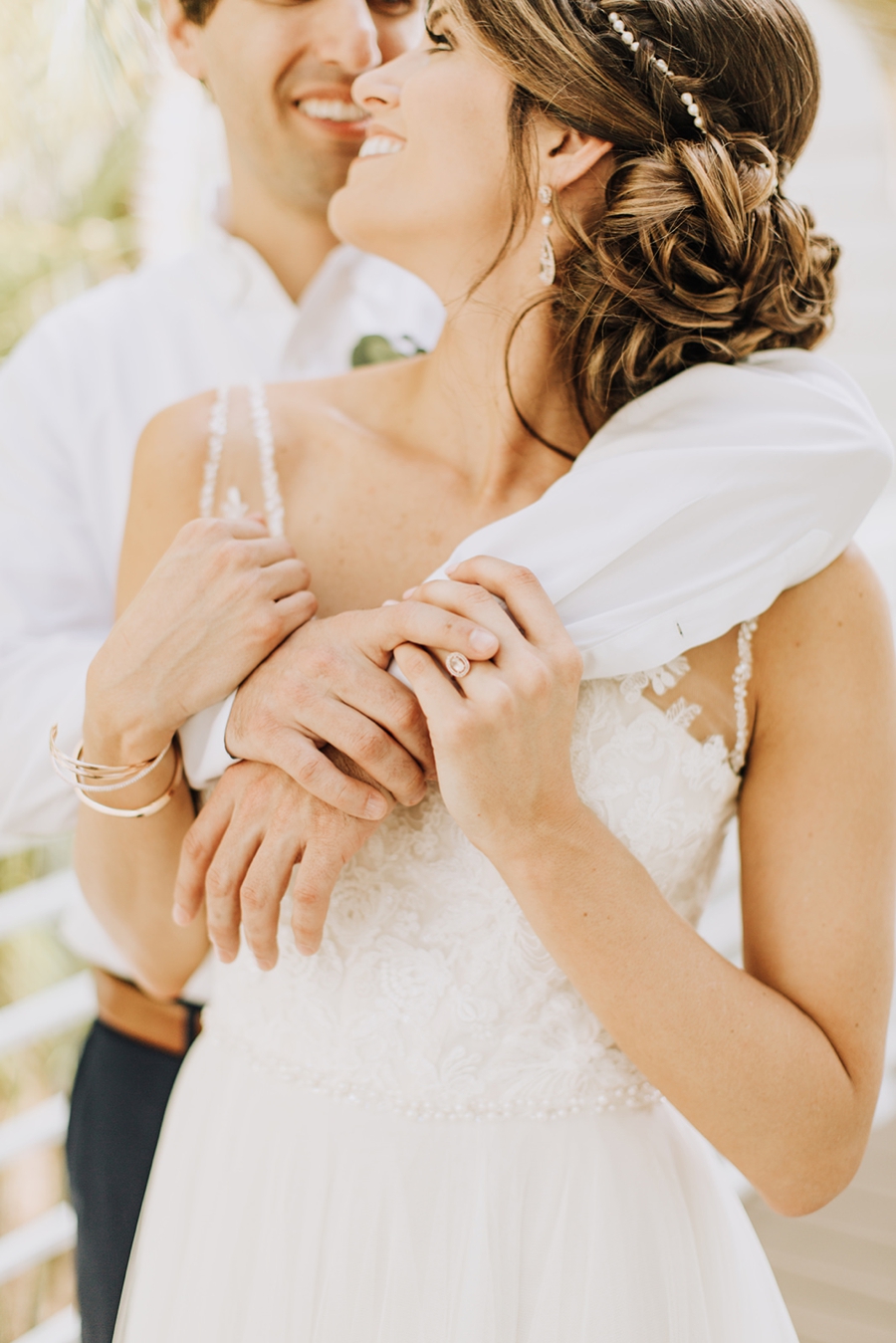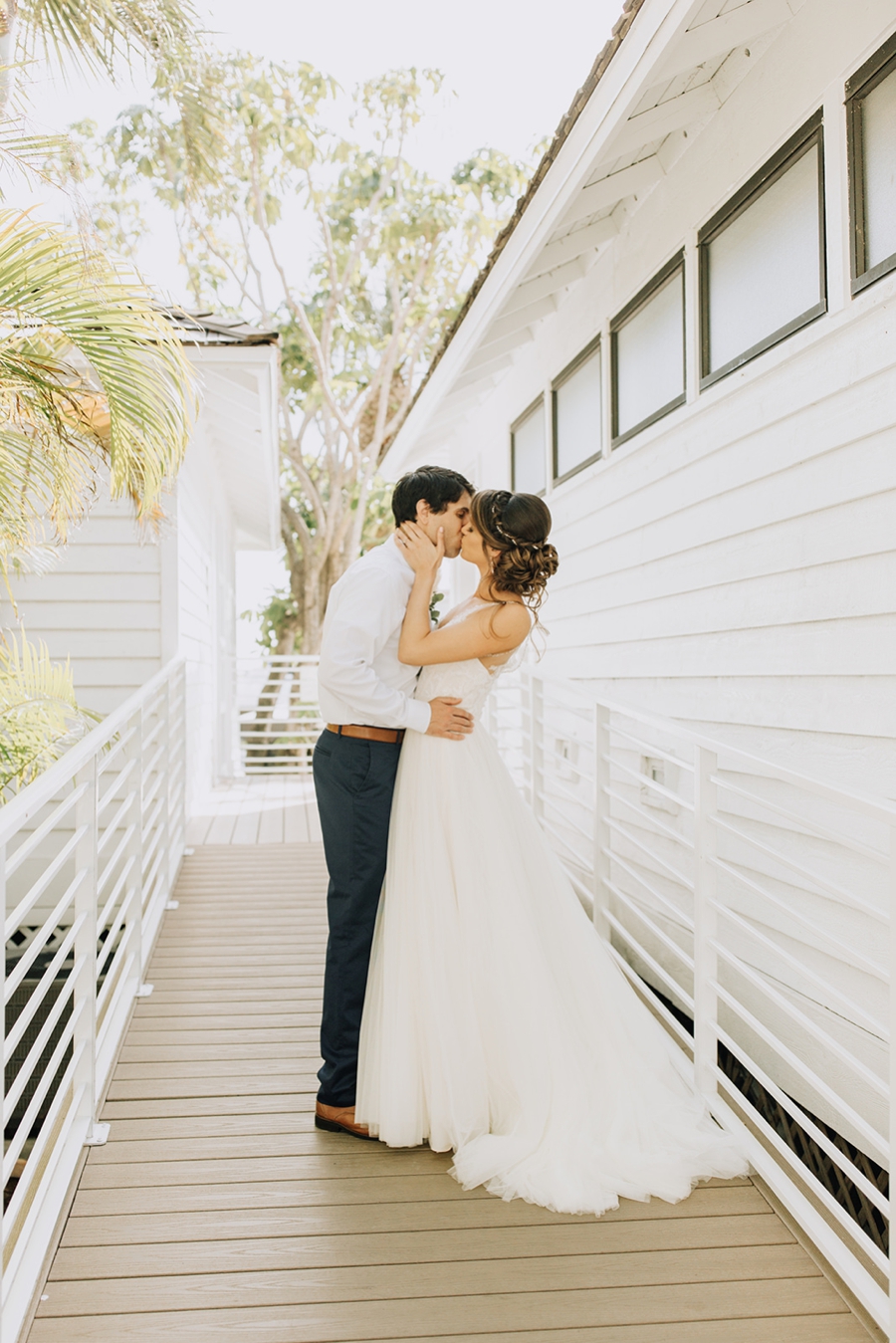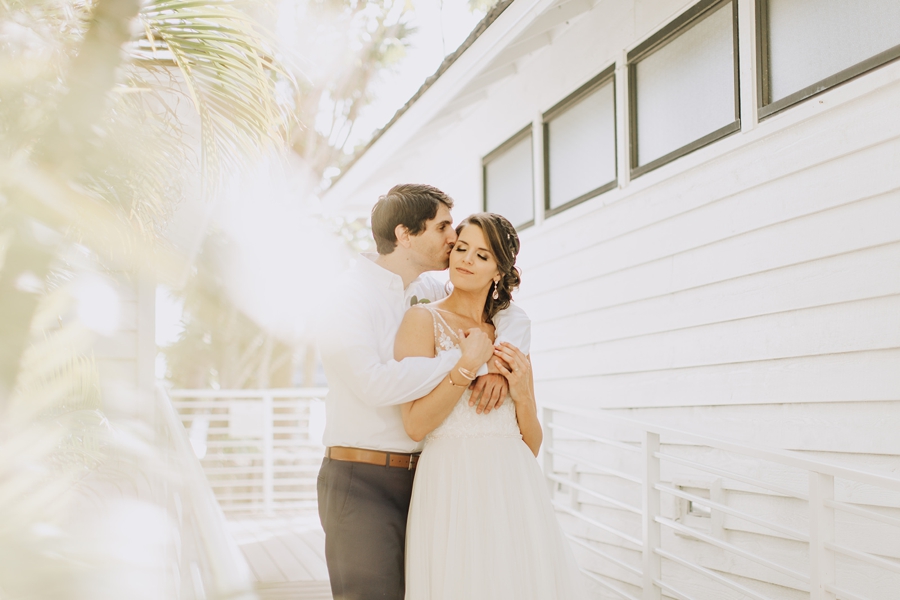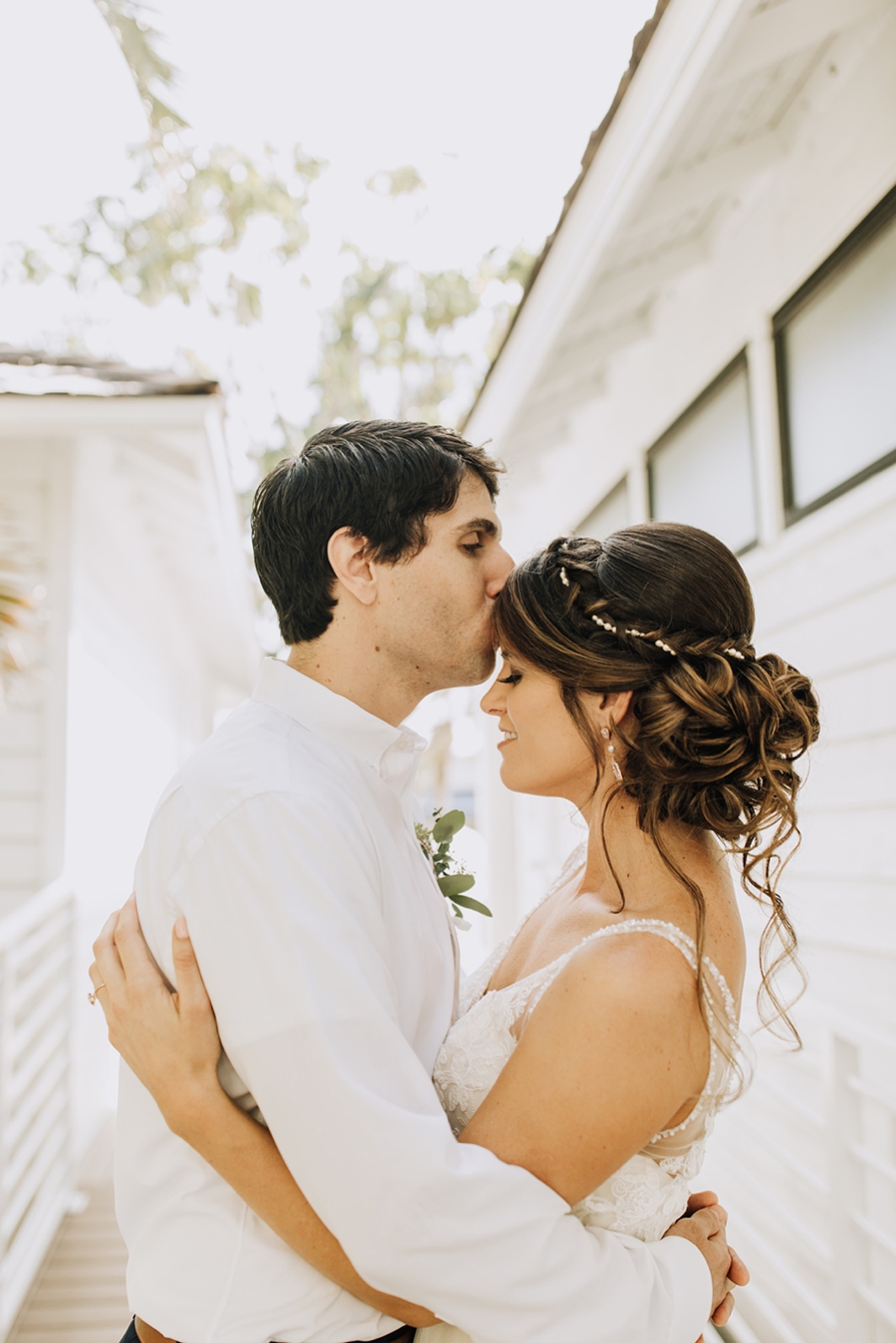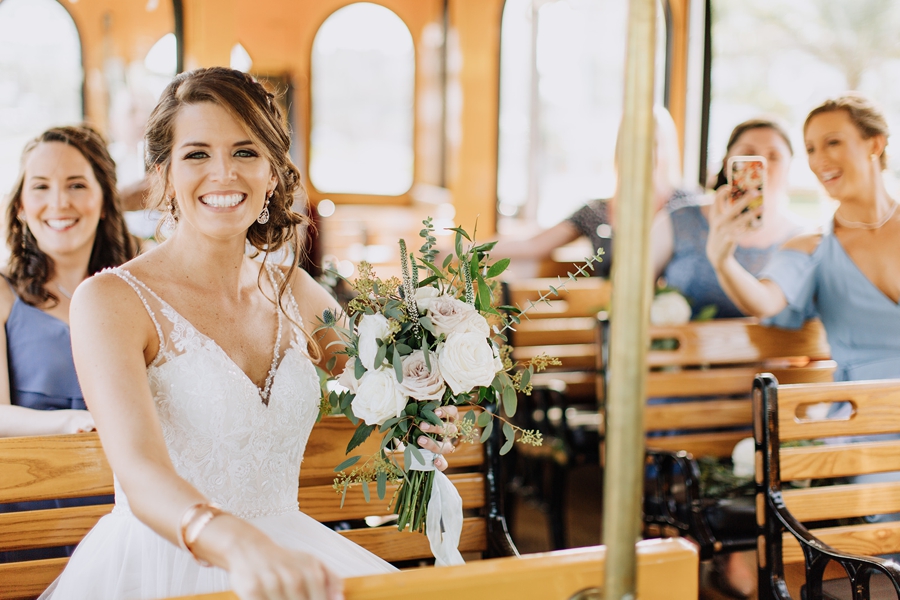 What was the most important to the two of you while planning? Was there anything that you chose to splurge on or skip?
I really wanted to make sure our wedding embodied and celebrated our interests, so that was most important to use. We were also very budget-conscious. In terms of vendors, we prioritized and splurged on a wedding designer/planner (who helped us SO much), photographer, and the band.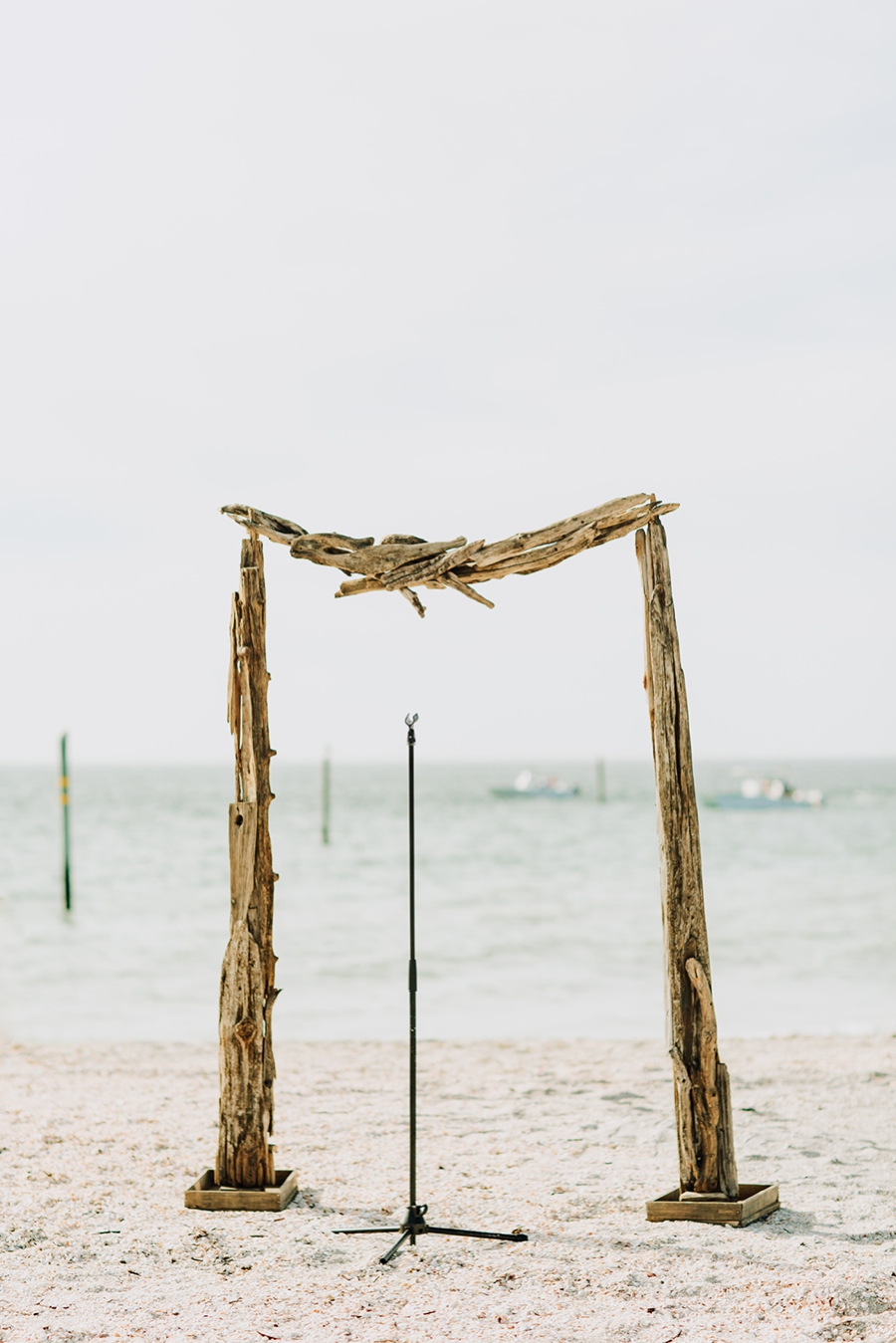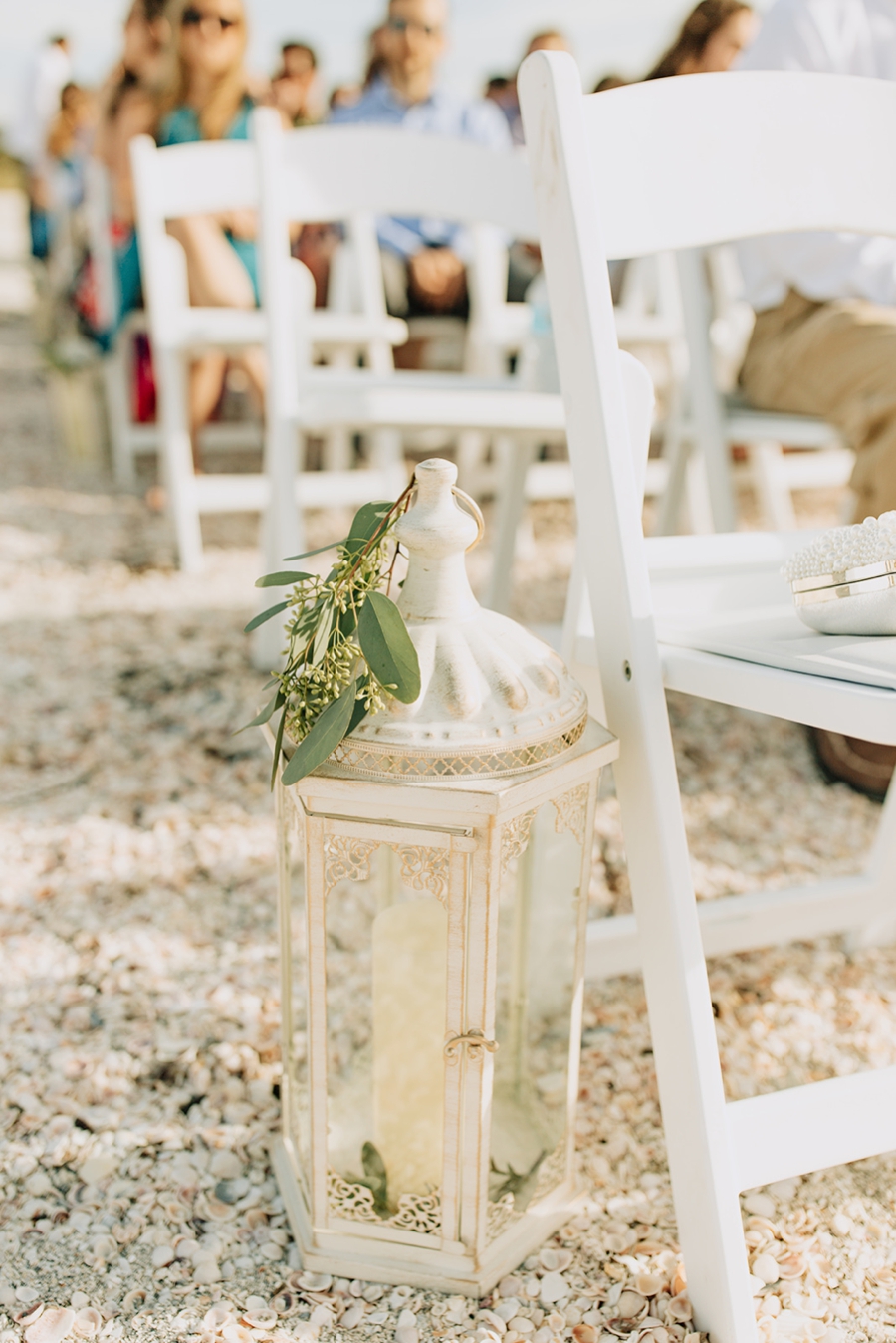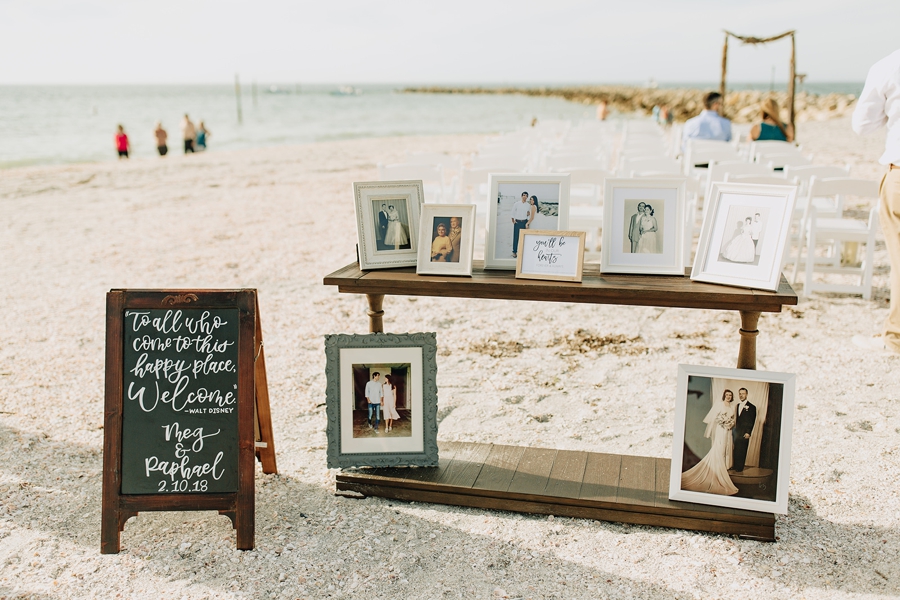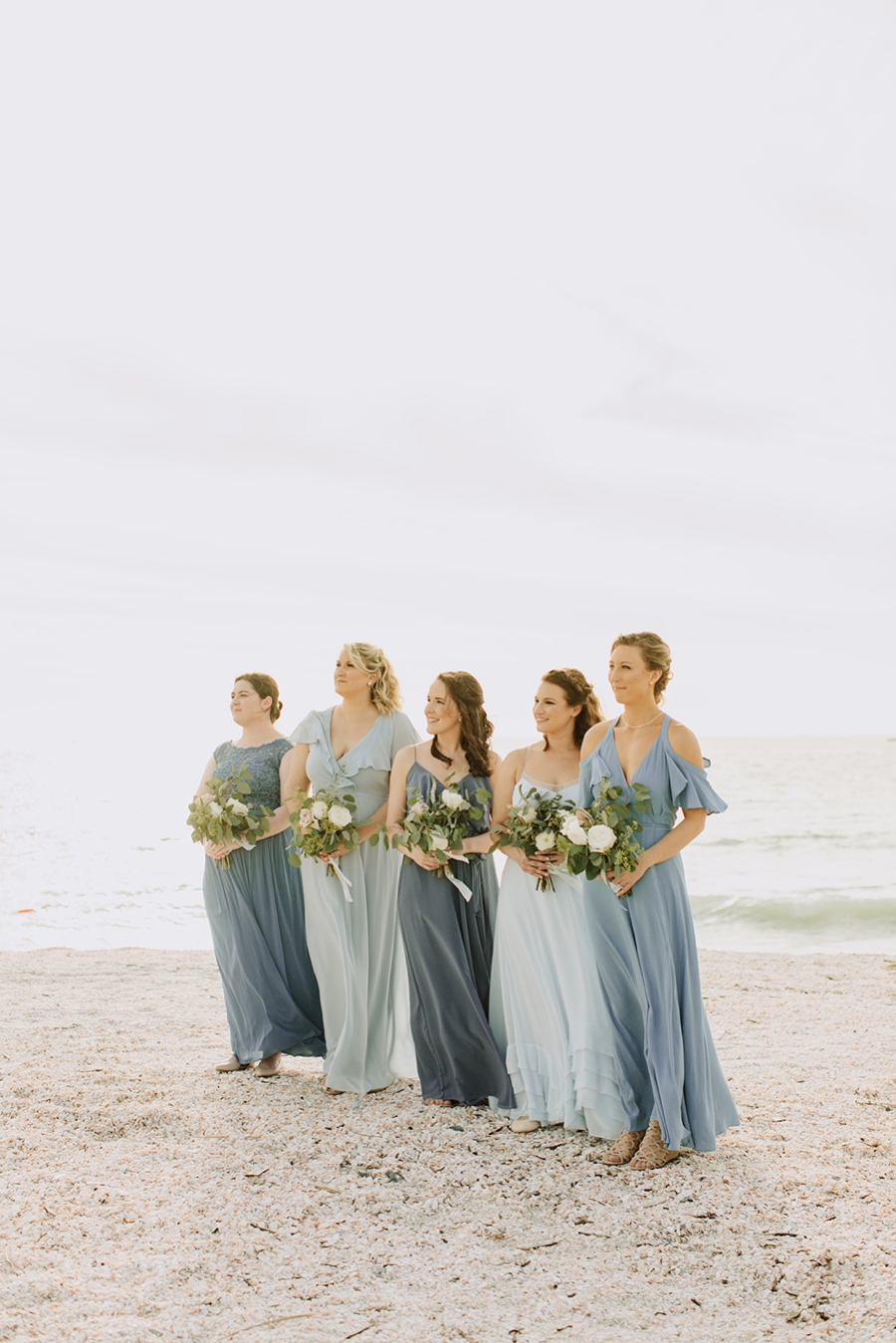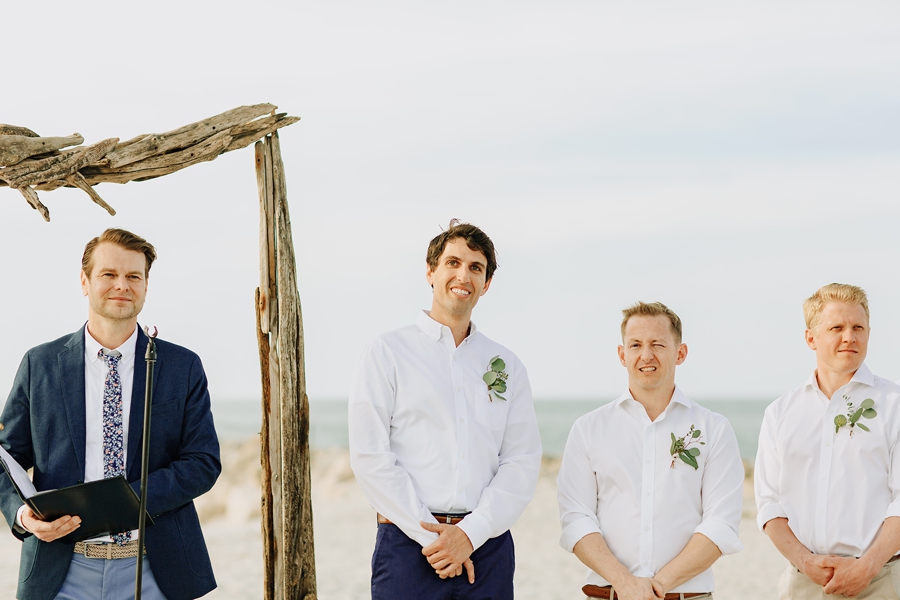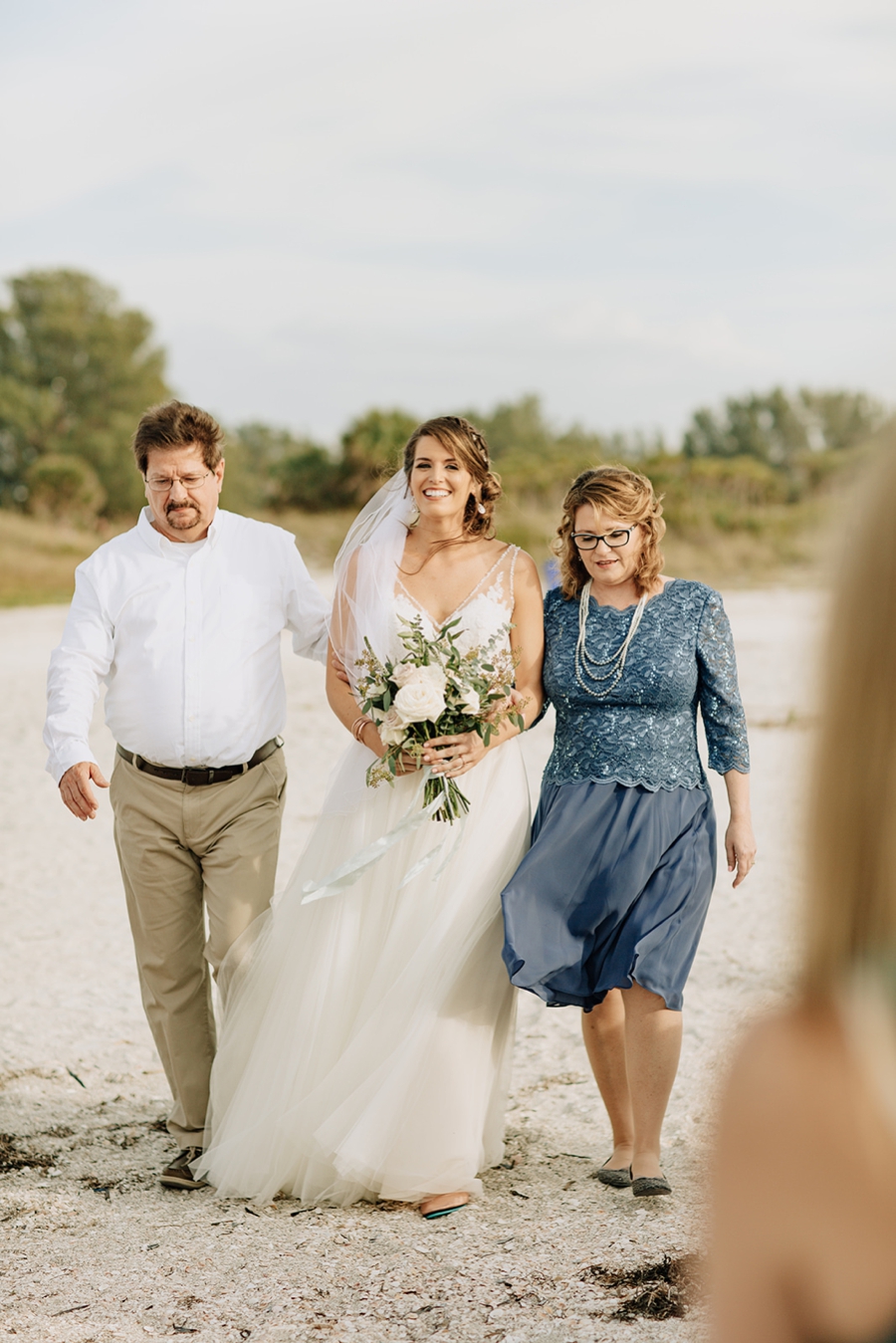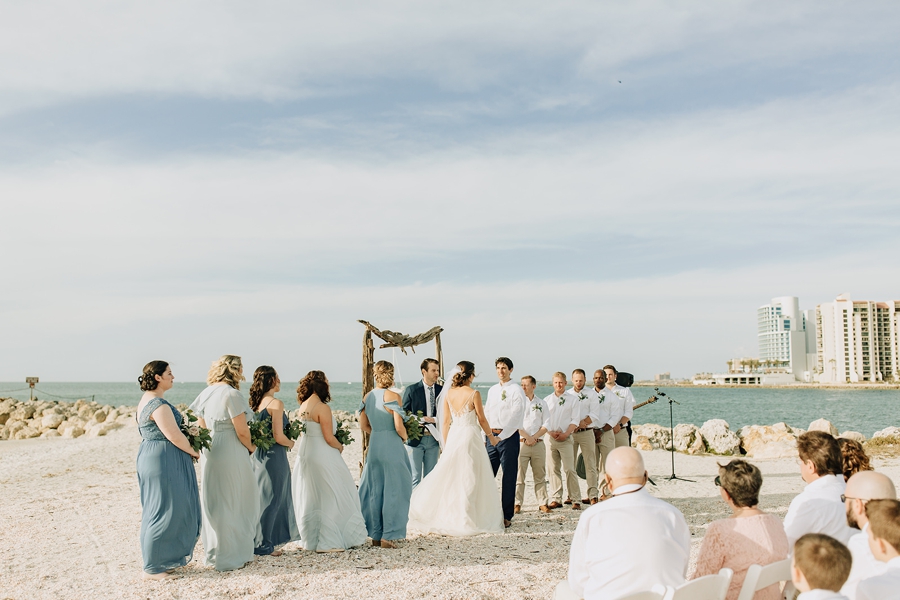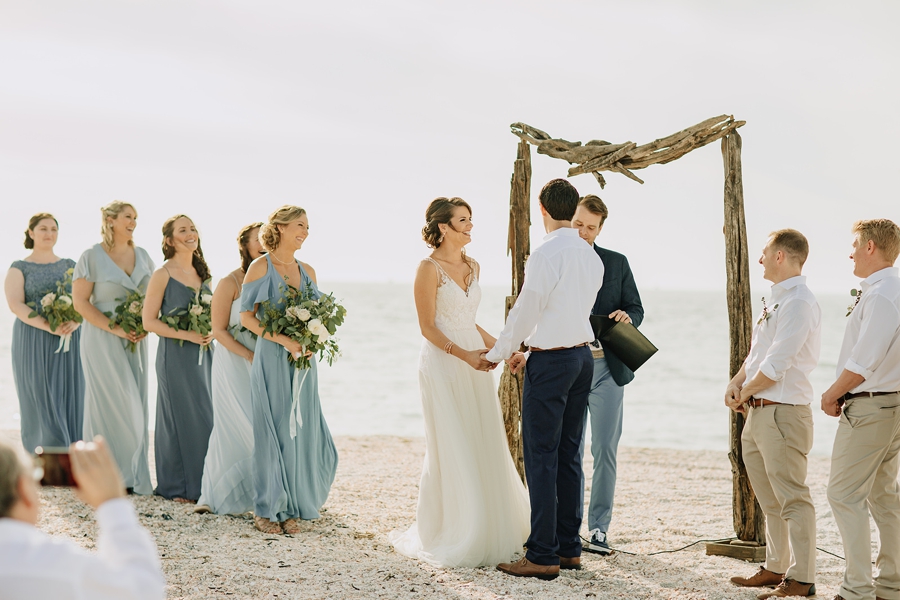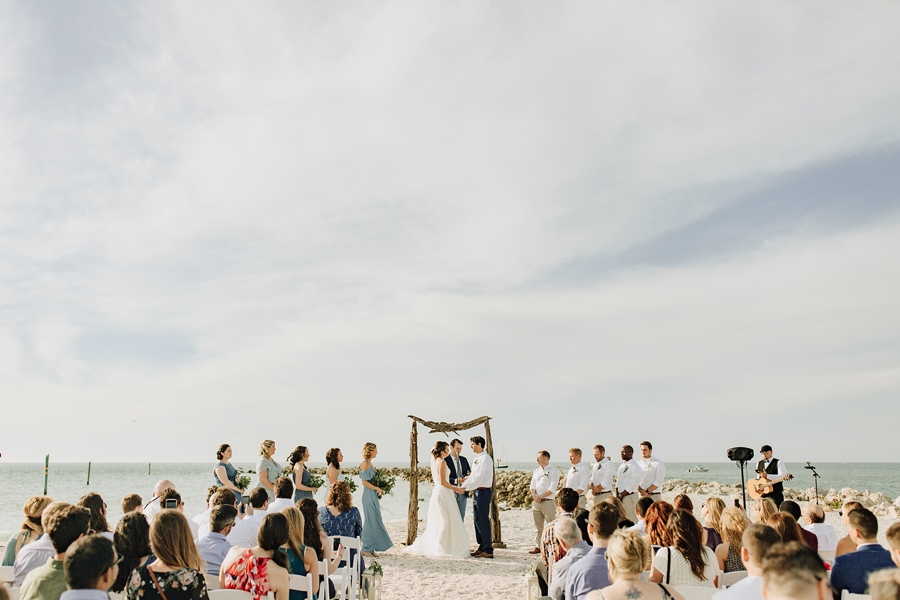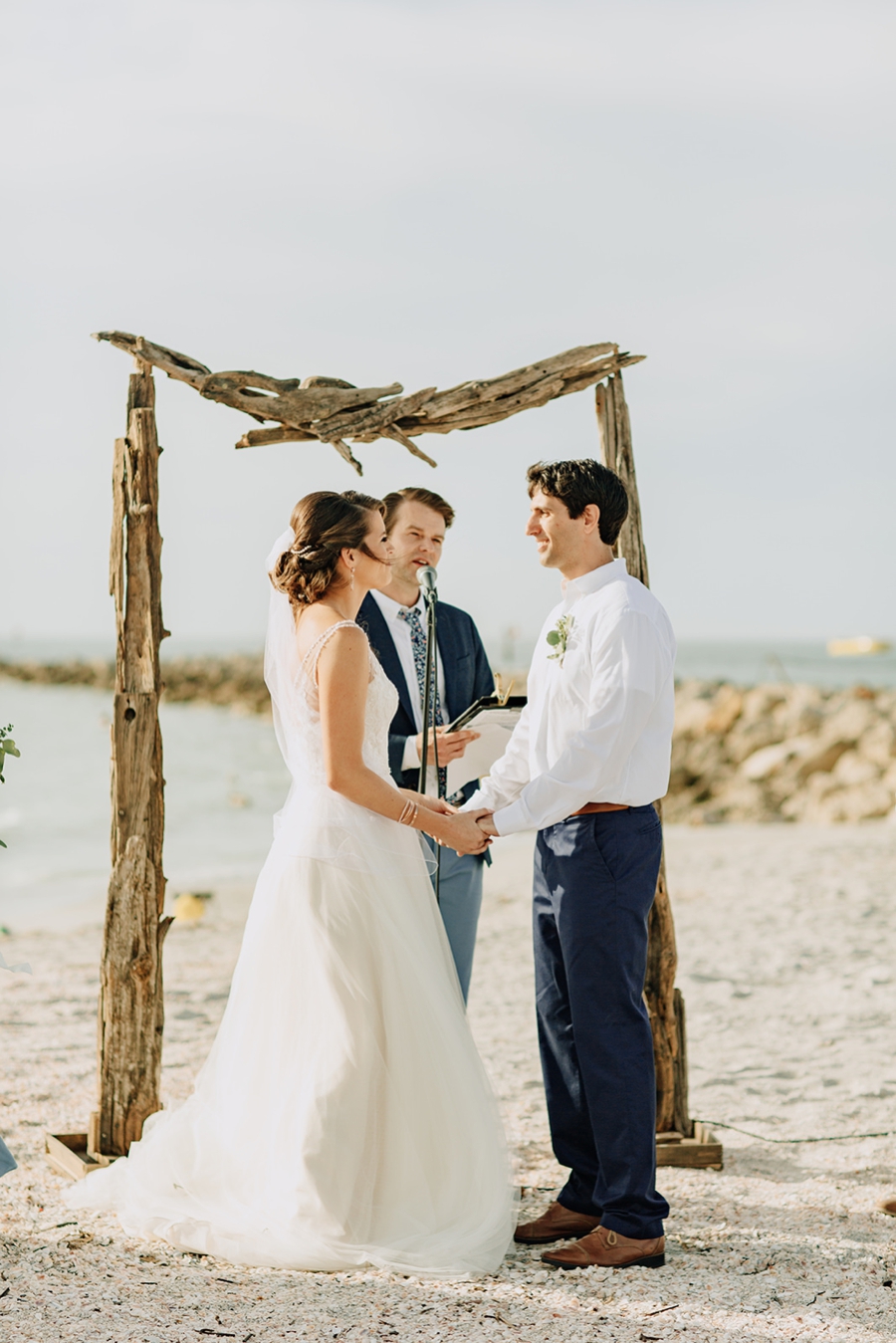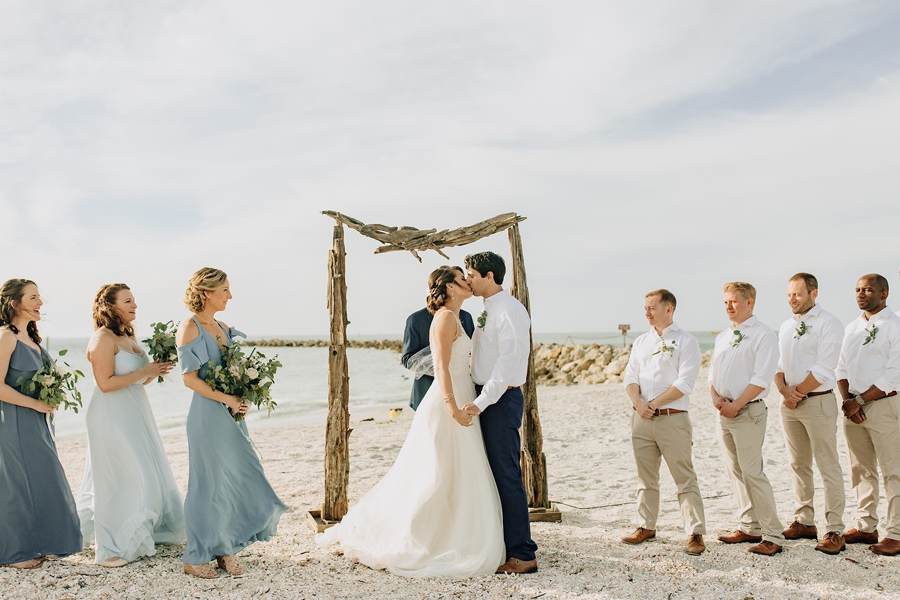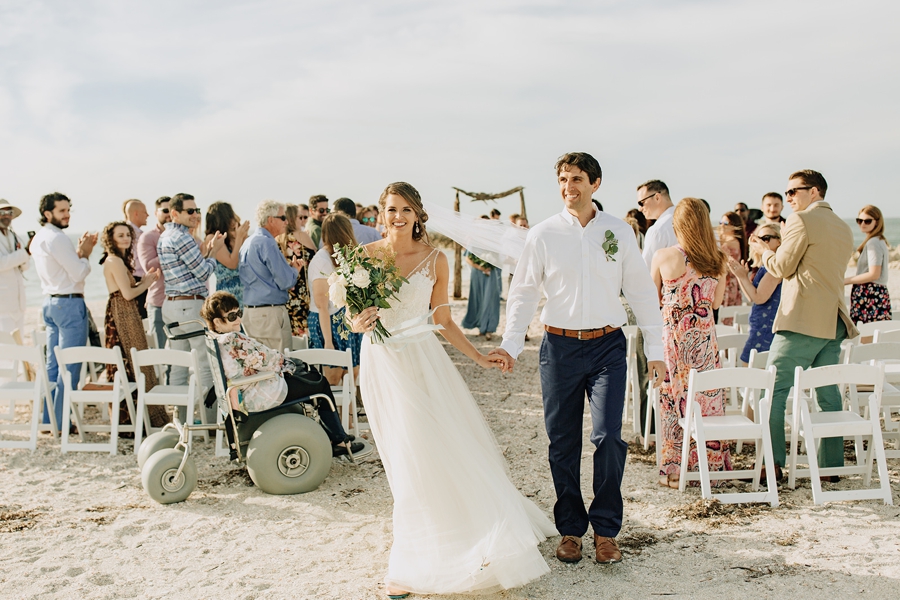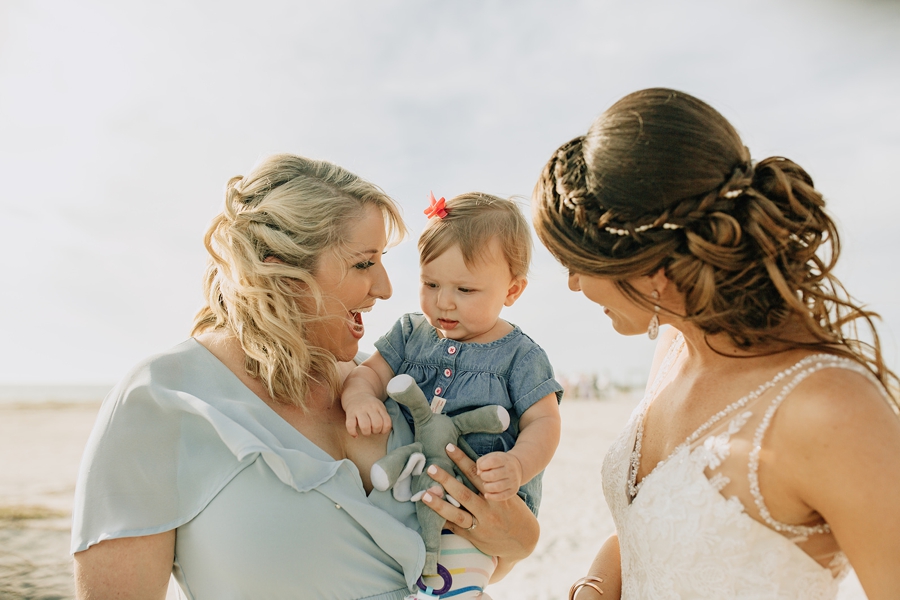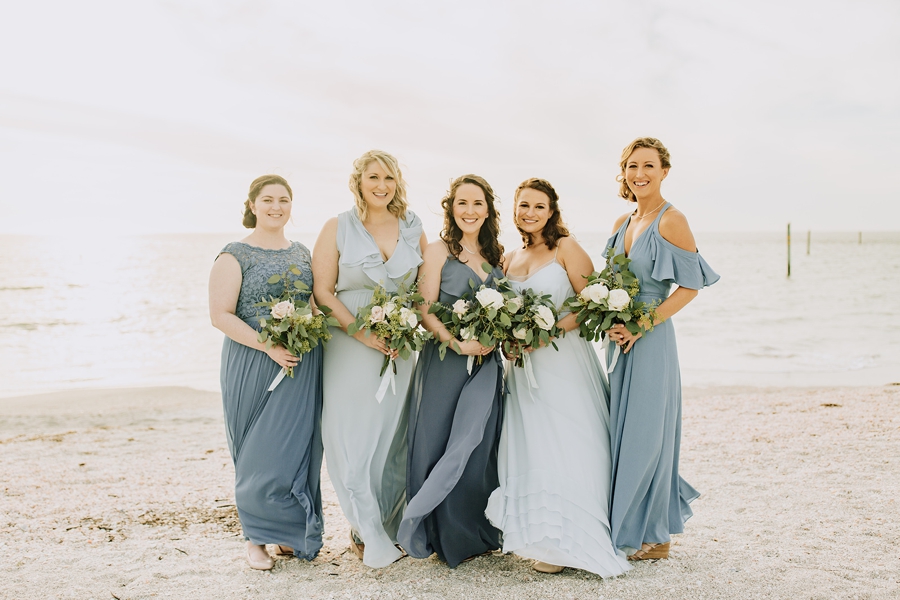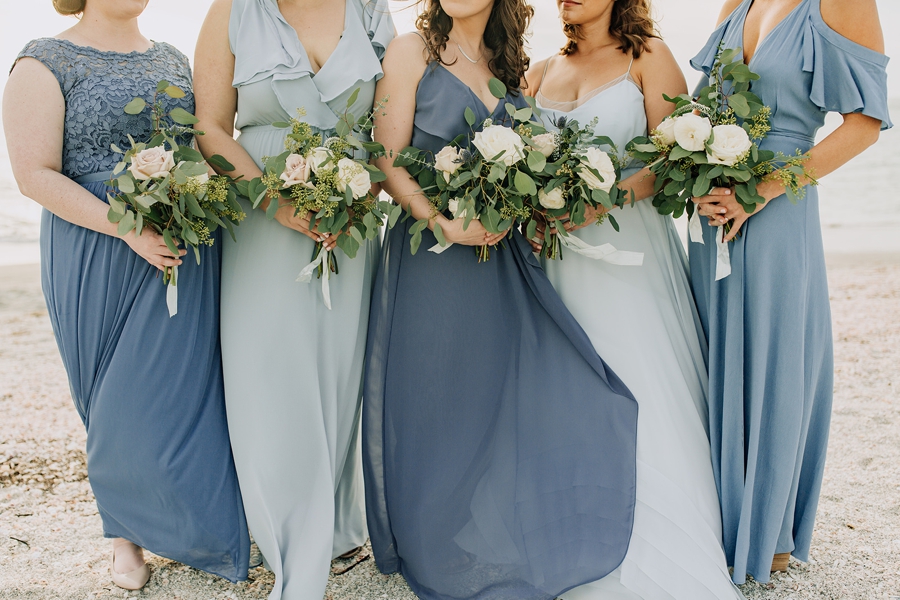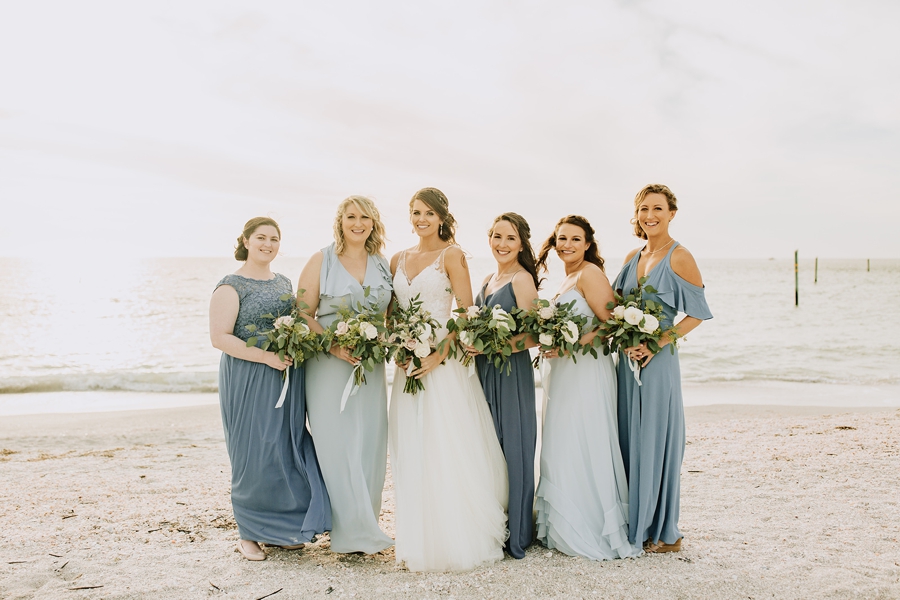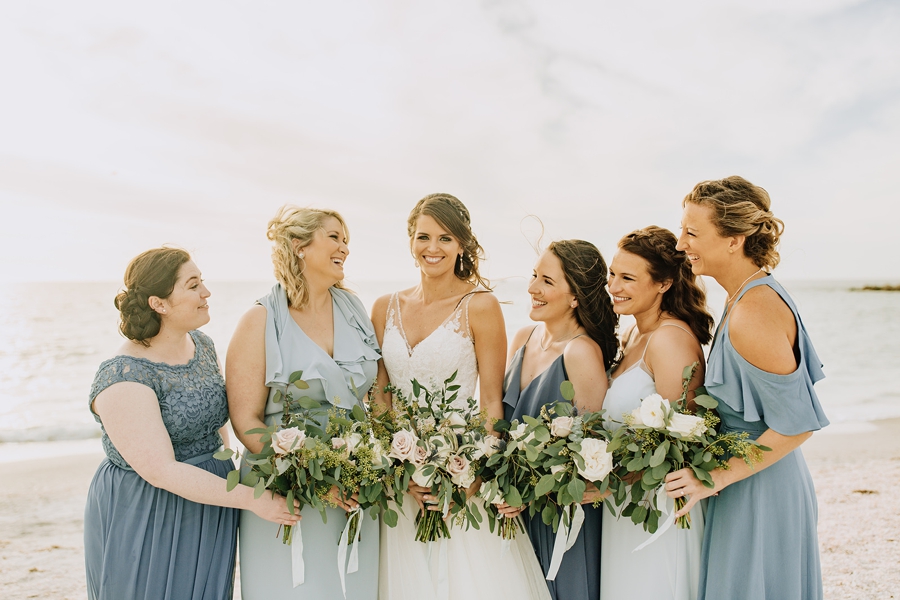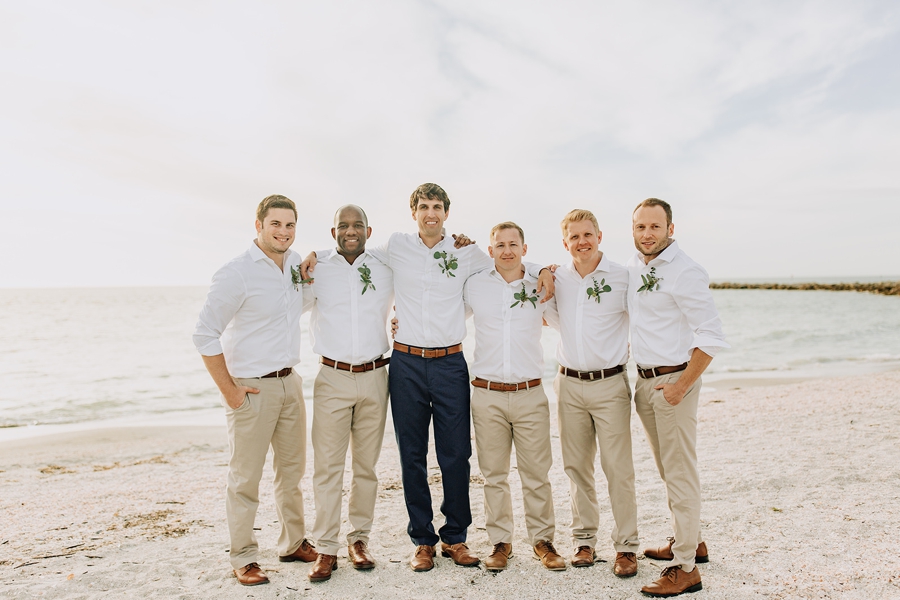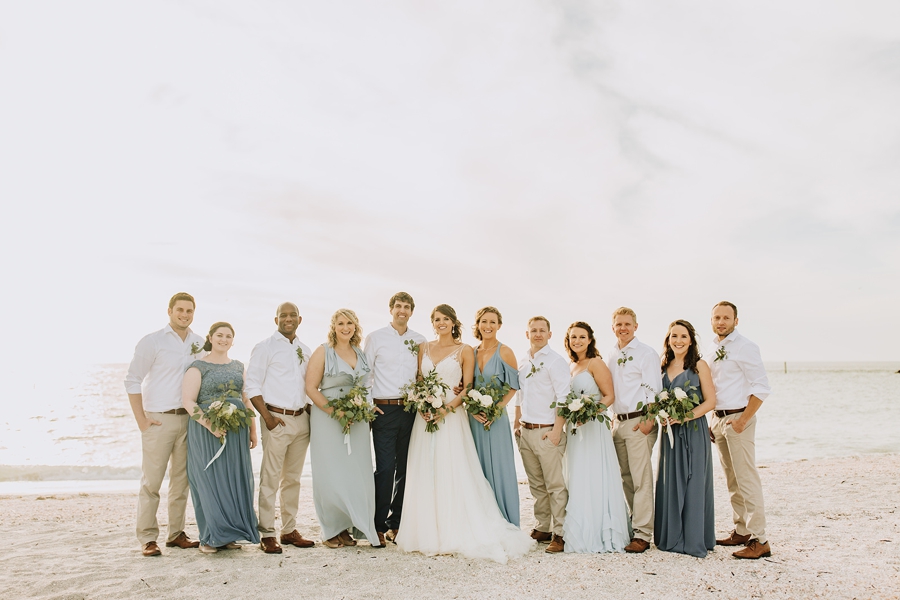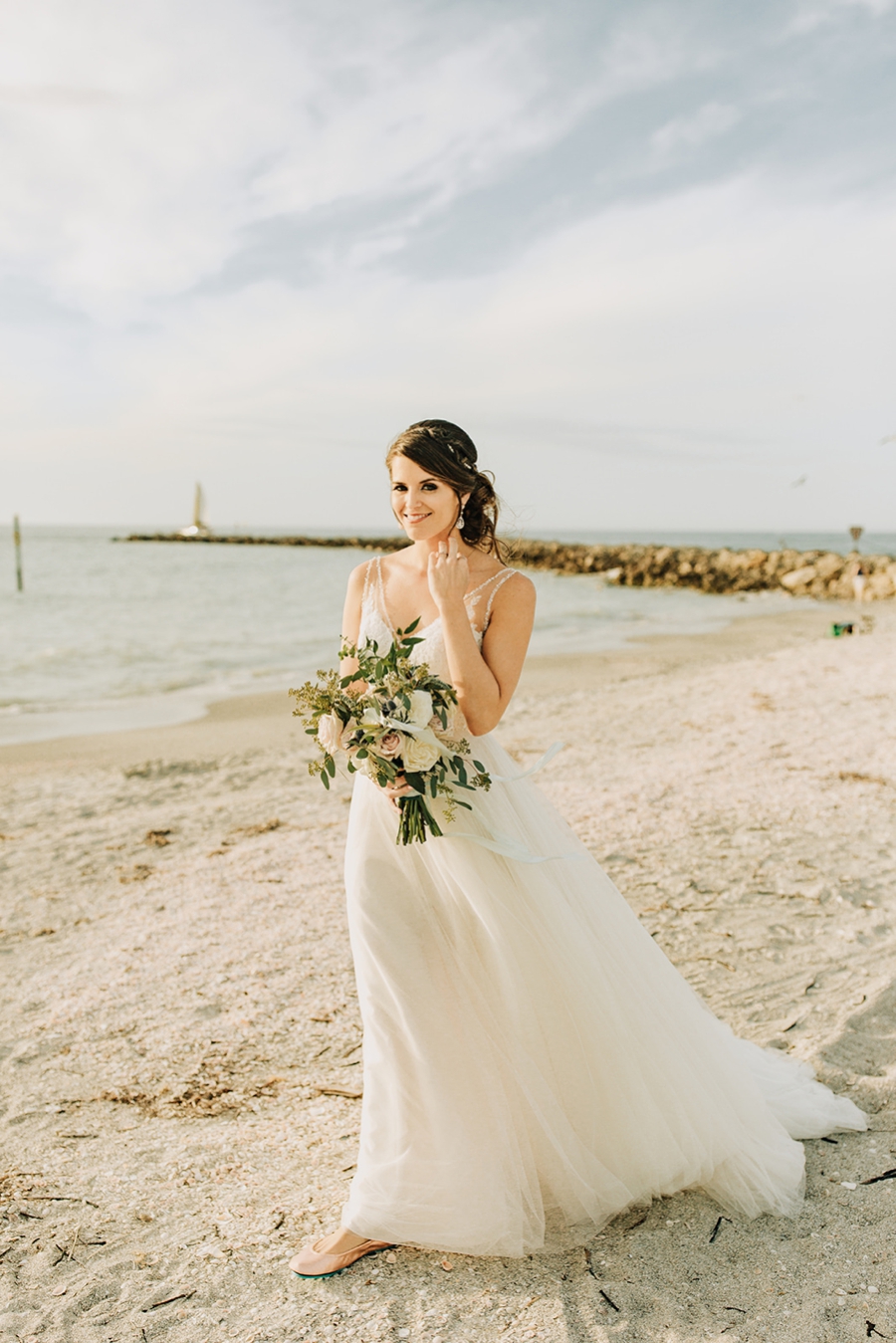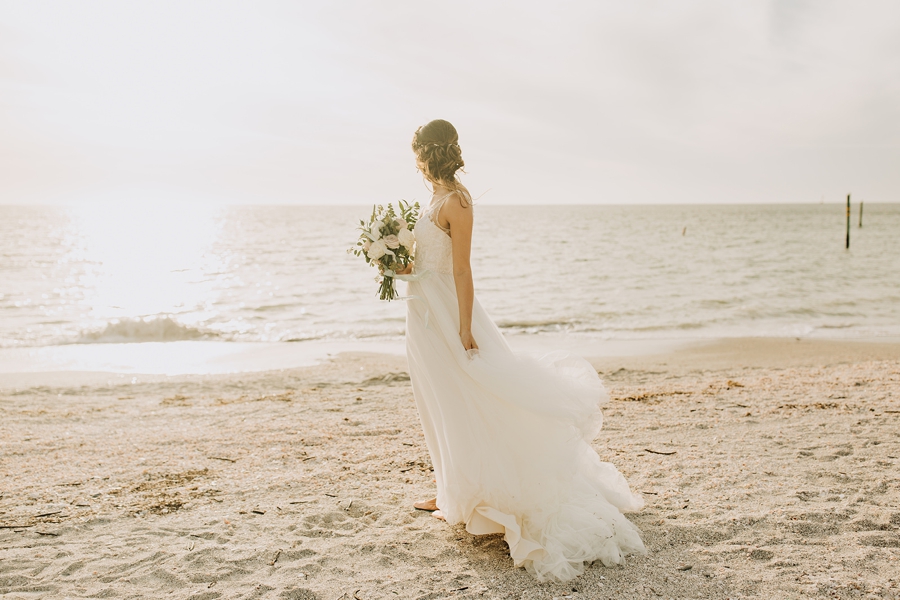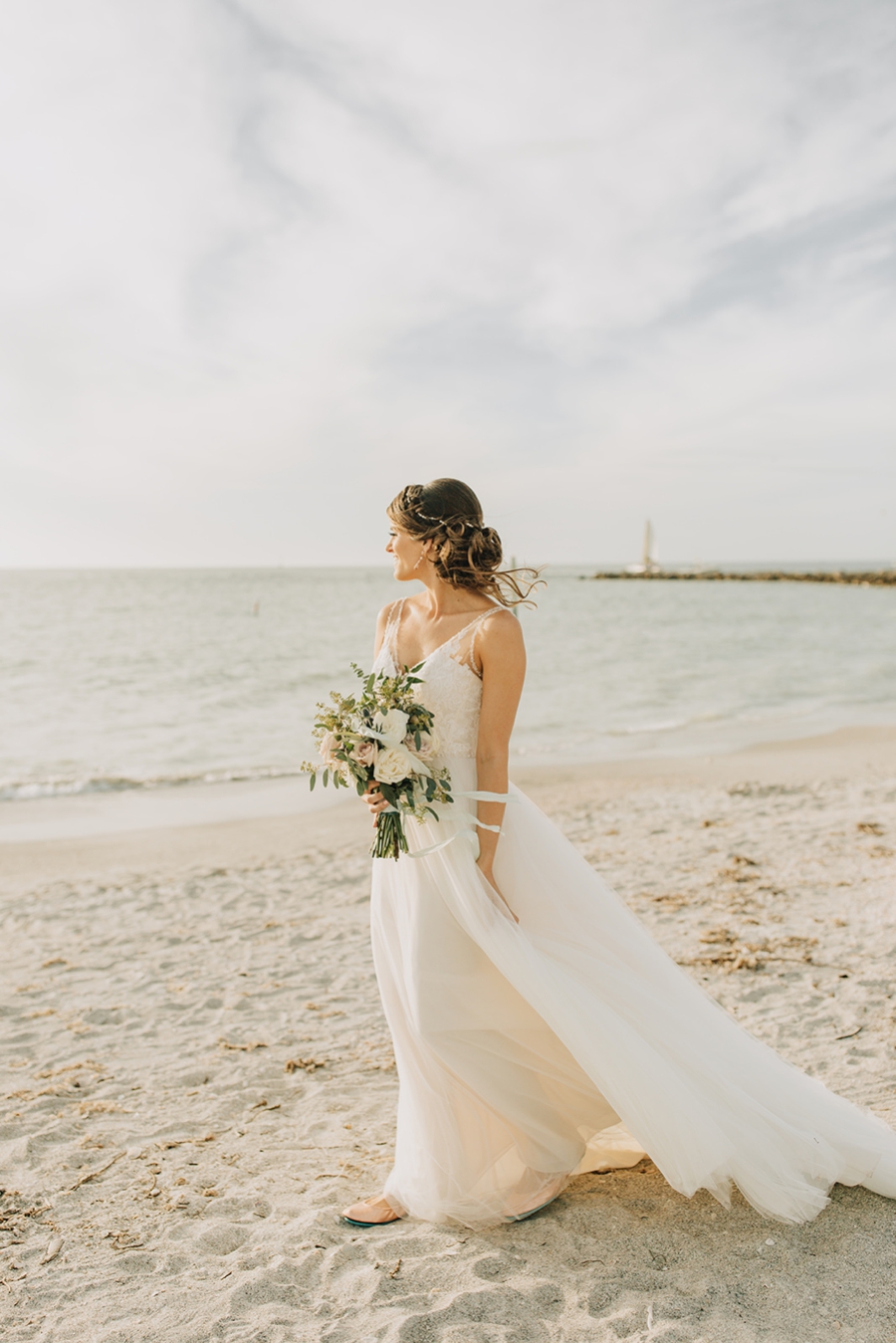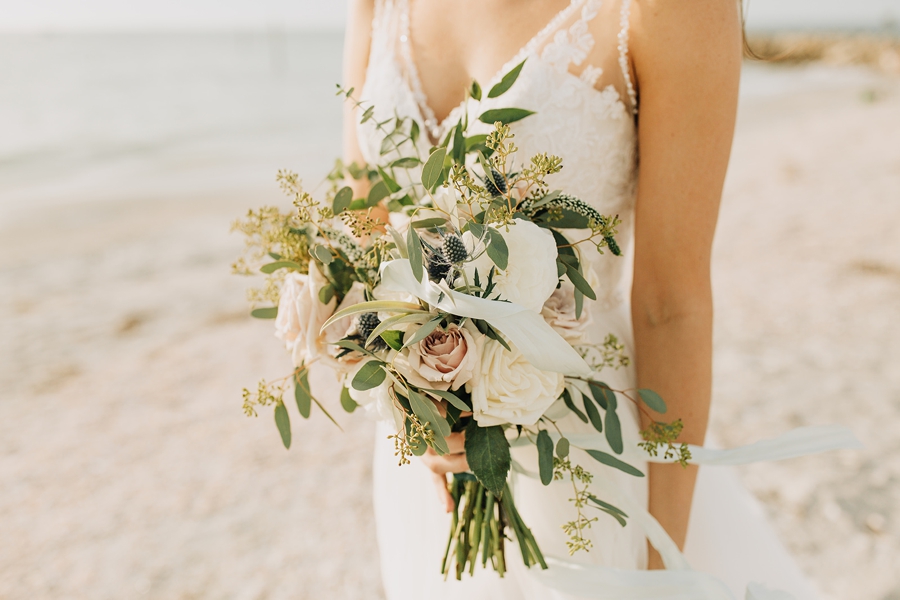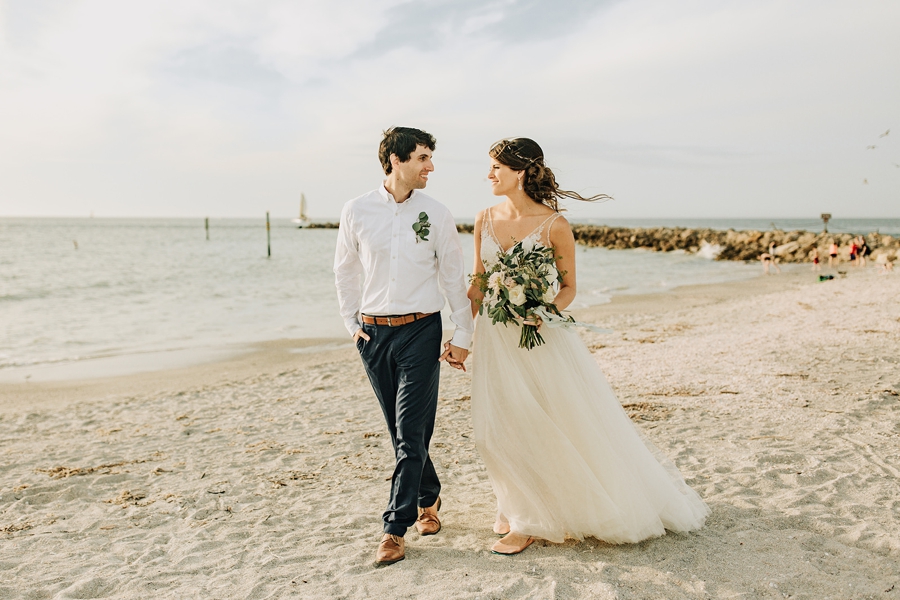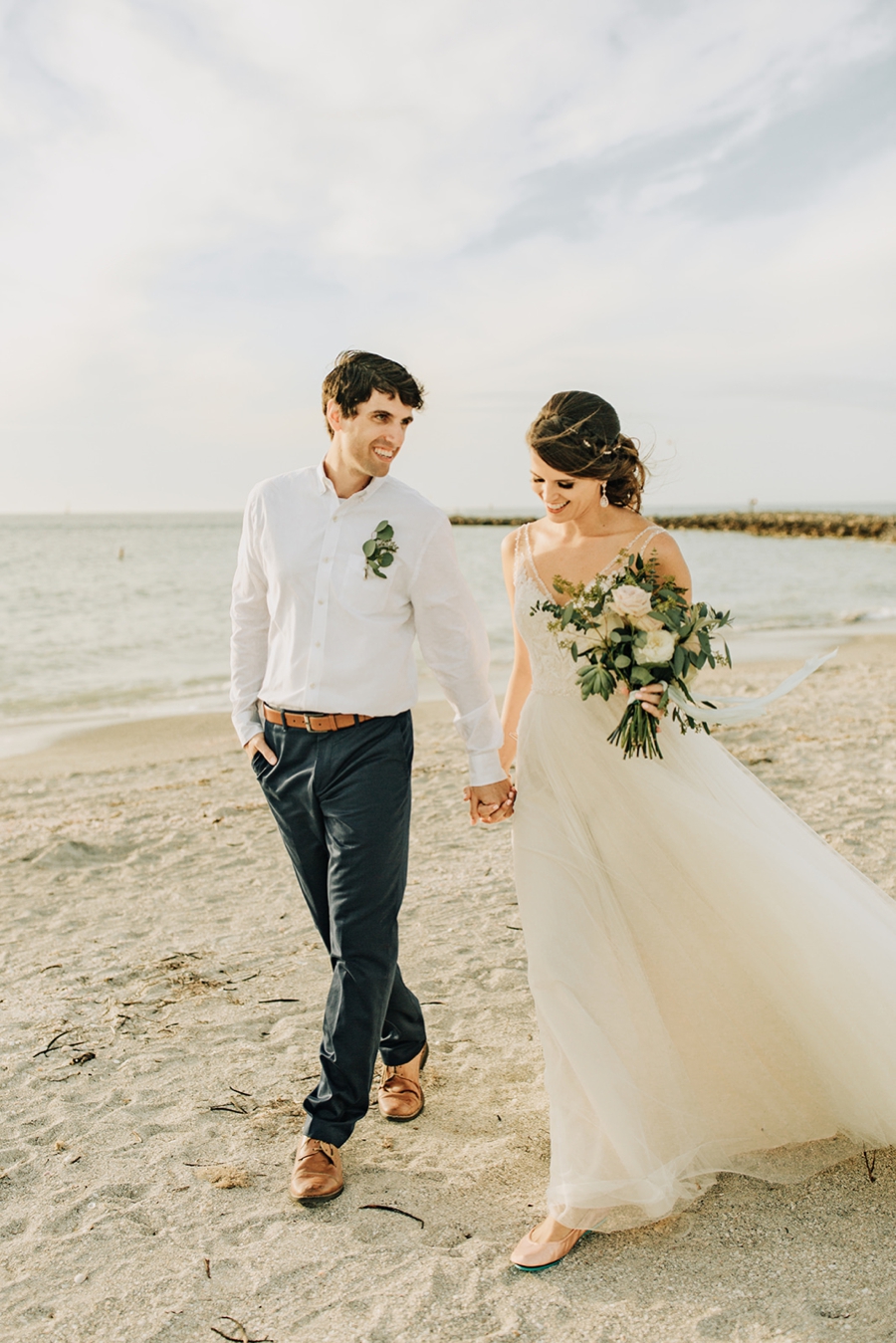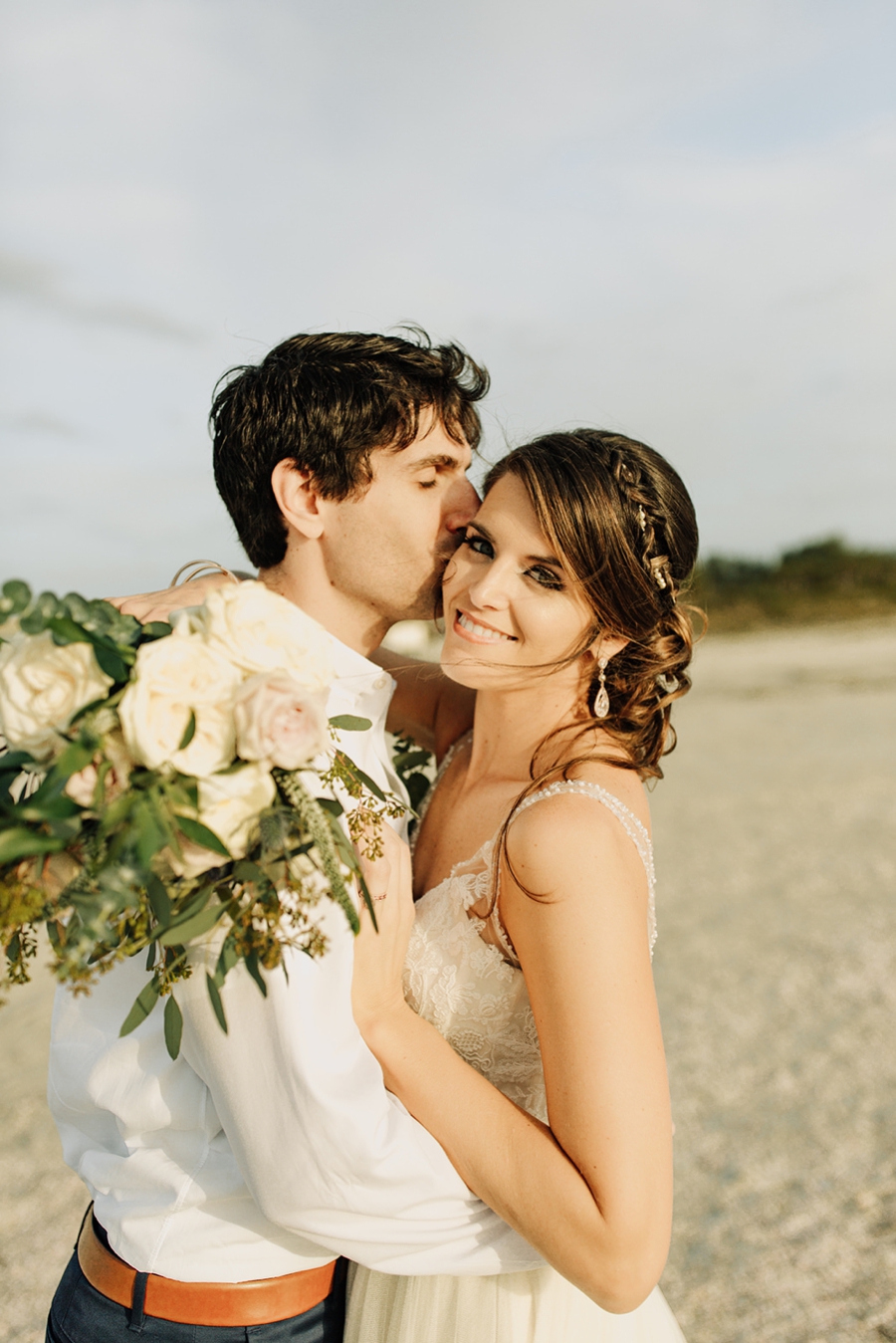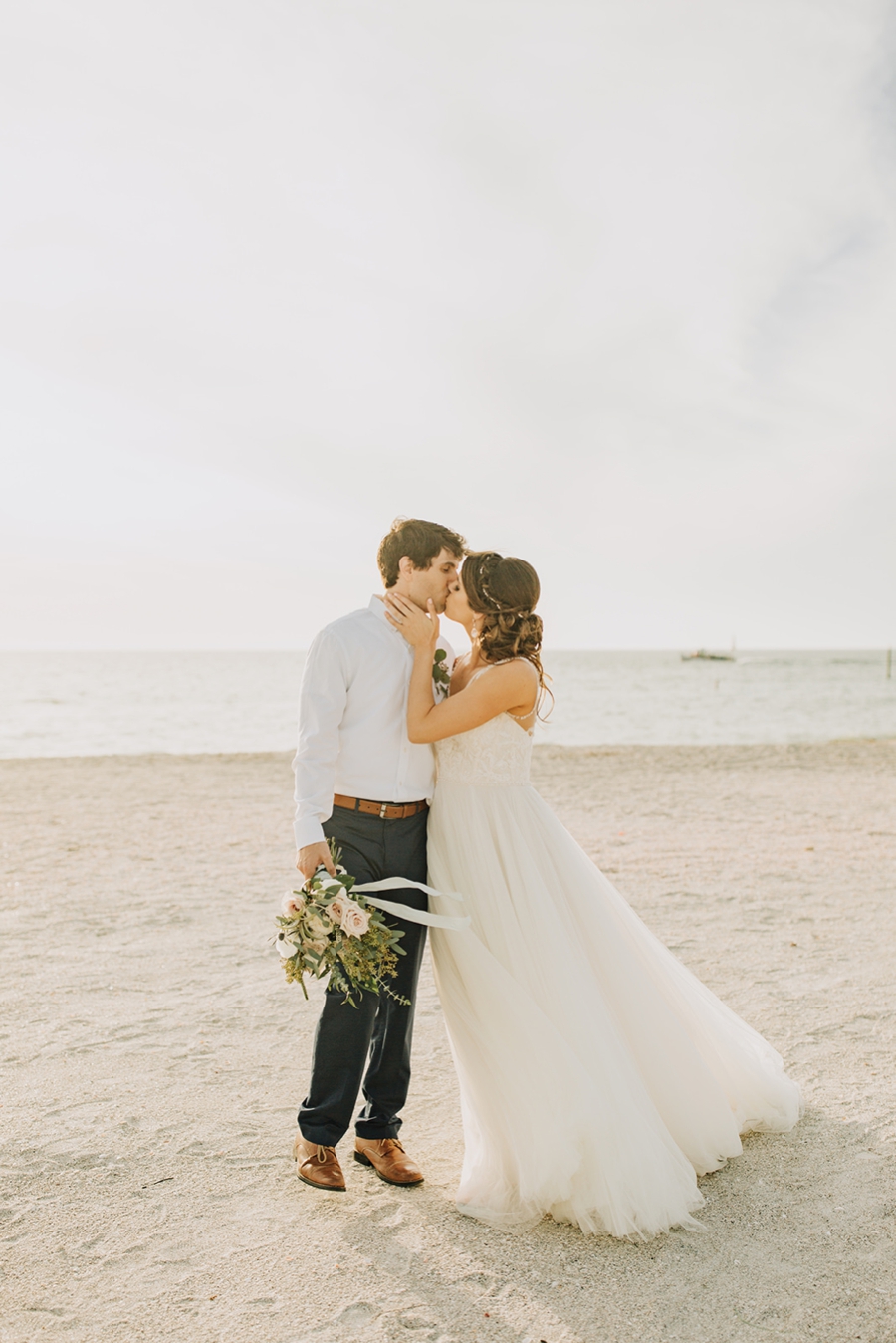 What were your favorite parts of the day?
Every. Single. Moment. I loved getting ready with the most important women in my life– we had so much fun together. Having my mom help me get into my dress, just the two of us, meant a lot to me. It also allowed me to do a "first look" with my grandmother which was so fun. Then the First Look with Ralph was simply wonderful and amazing… I was so happy to finally see my soon-to-be-husband. Having time alone before the ceremony relaxed us a lot, plus we got to share funny stories from the morning, which led to lots of laughter and funny photos. We loved, loved, loved our 9-minute ceremony. Our friend Dan did the best job personalizing our ceremony, making everyone laugh, and getting us married! Walking into the reception and seeing how beautifully it all came together brought tears to me eyes. Amber did the best job. We loved having our best friends give such hilarious and meaningful toasts. I'll never forget dancing with my grandfather — it was such a beautiful part of the day. And, of course, the party aka reception with all our friends and family was a blast. We've never had more fun in our lives!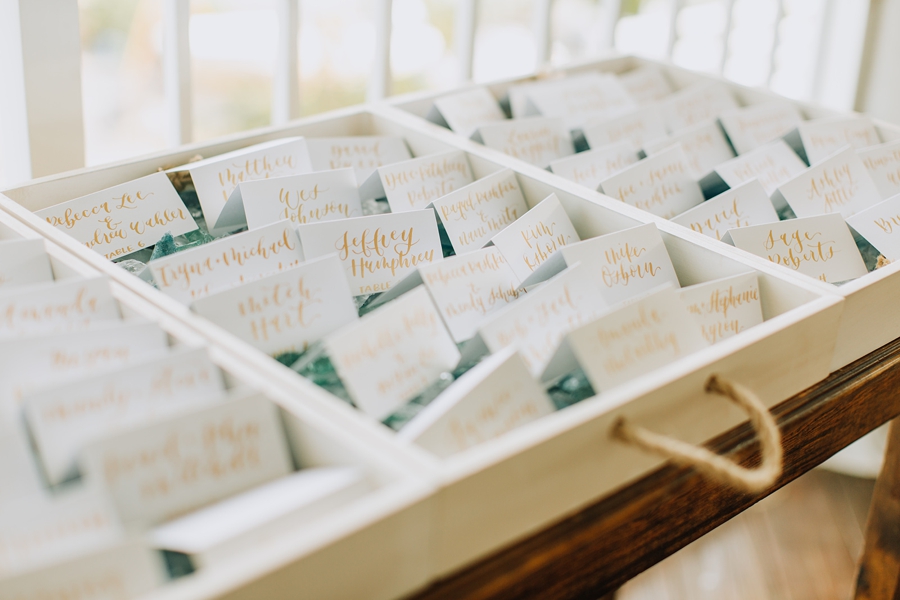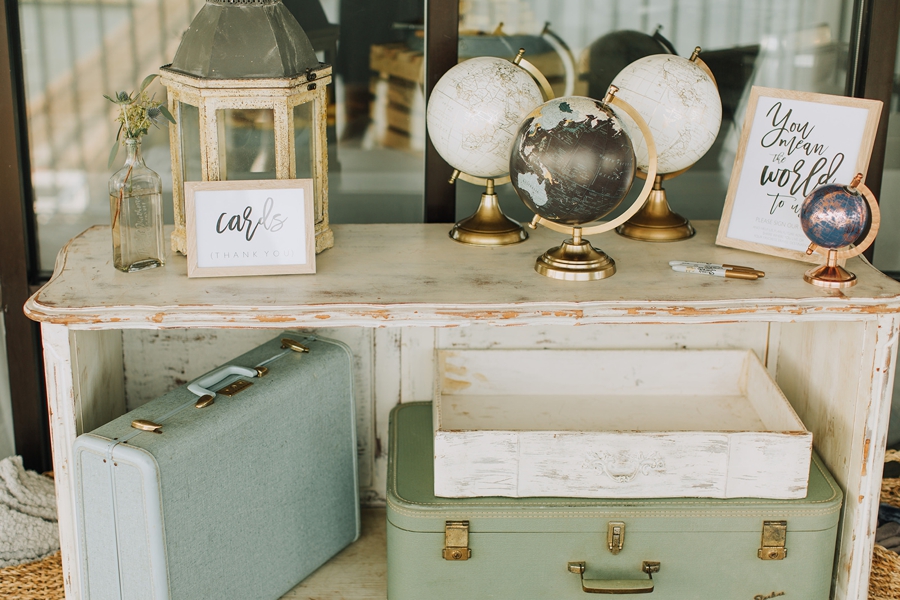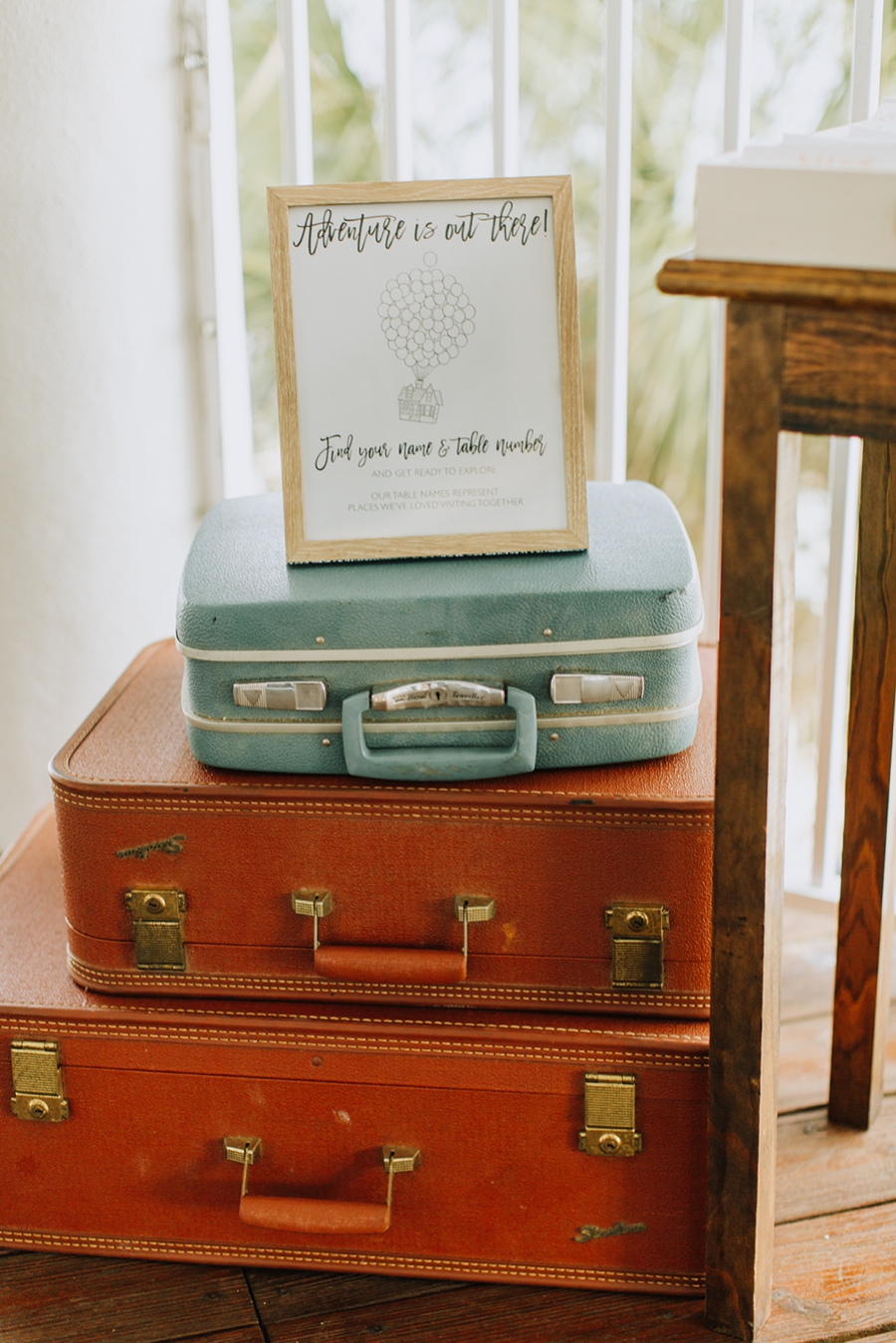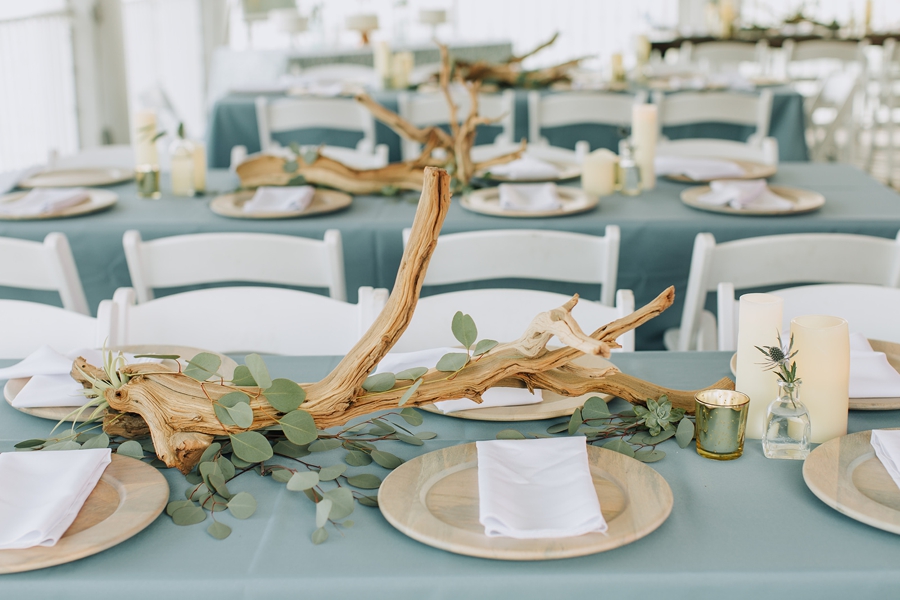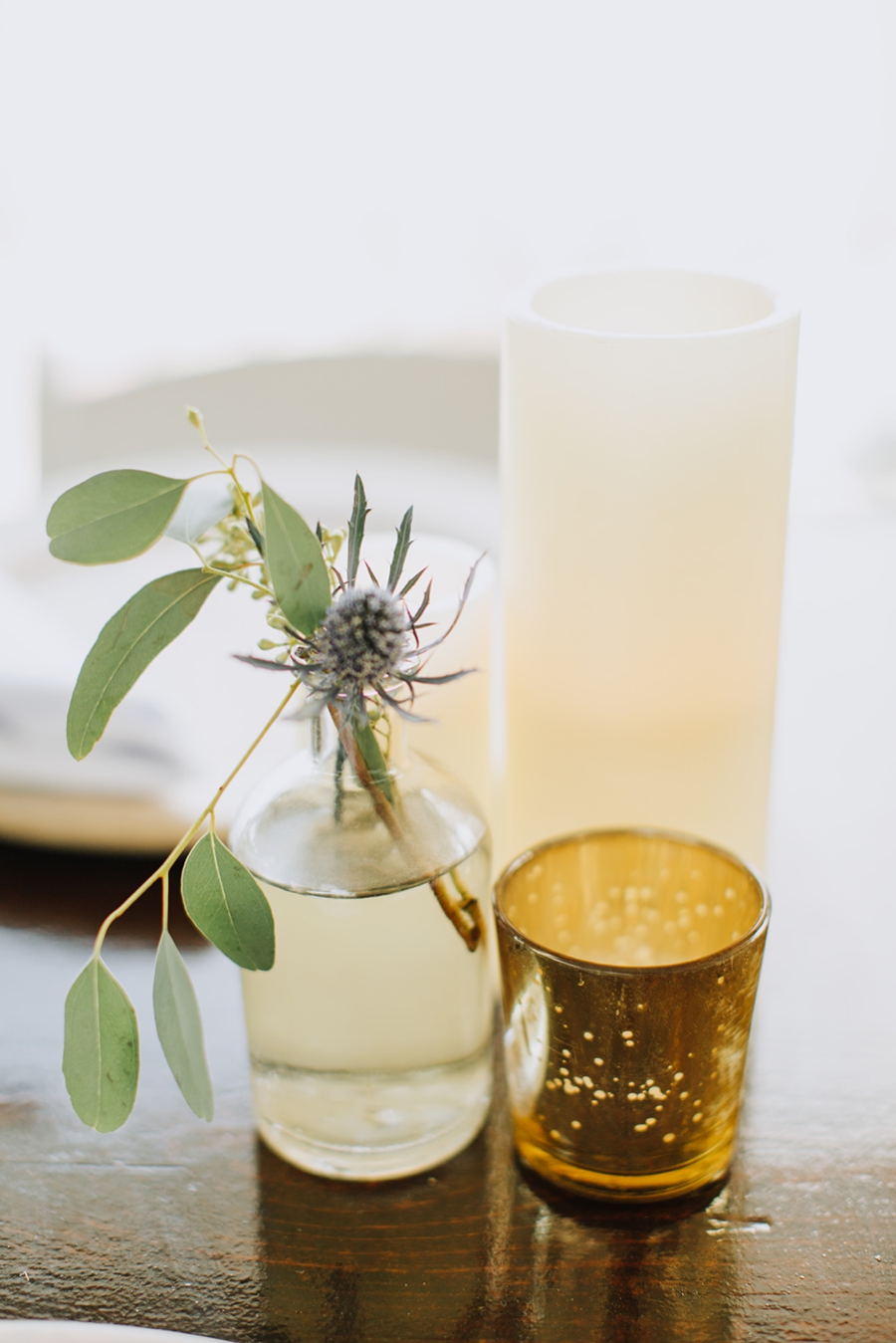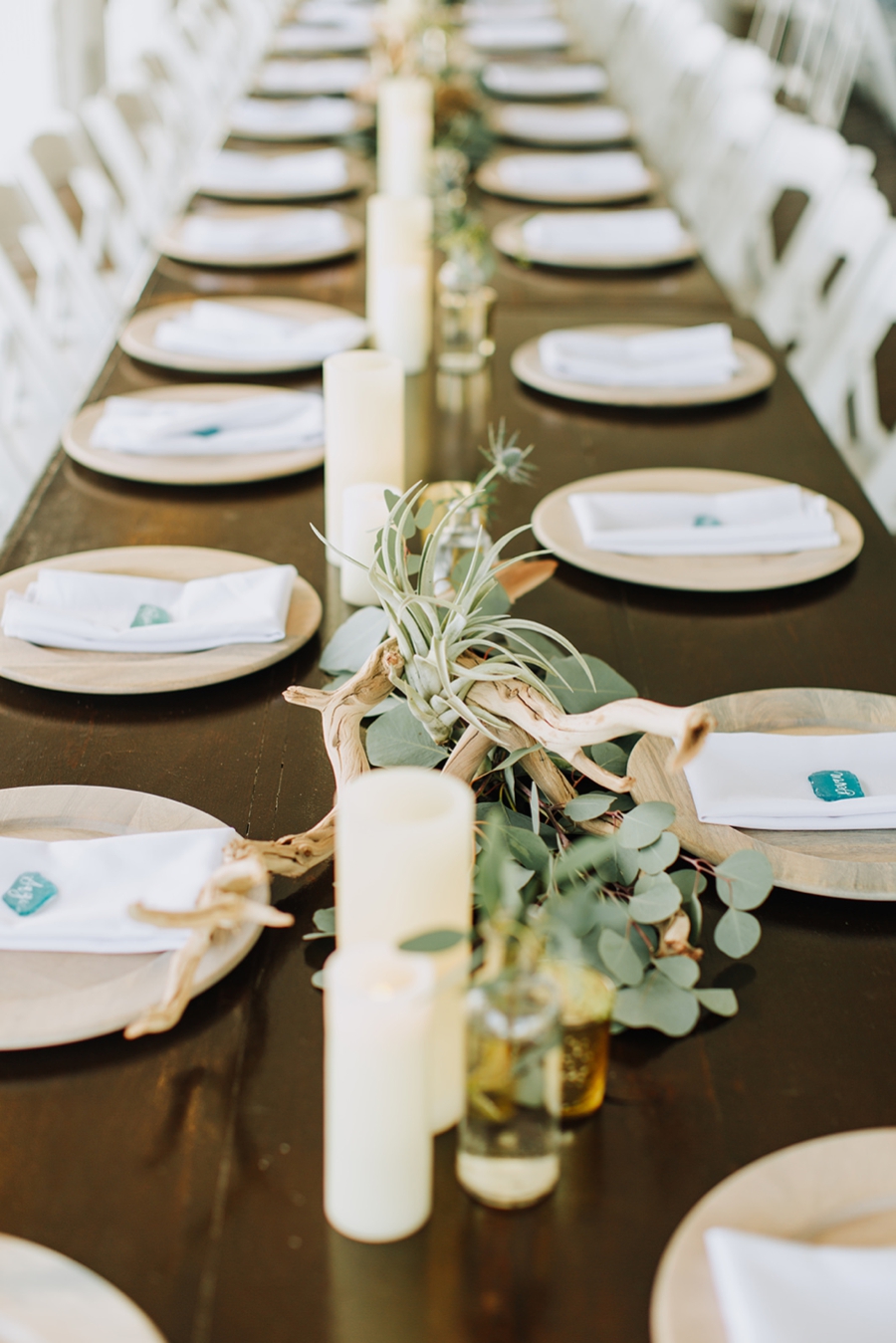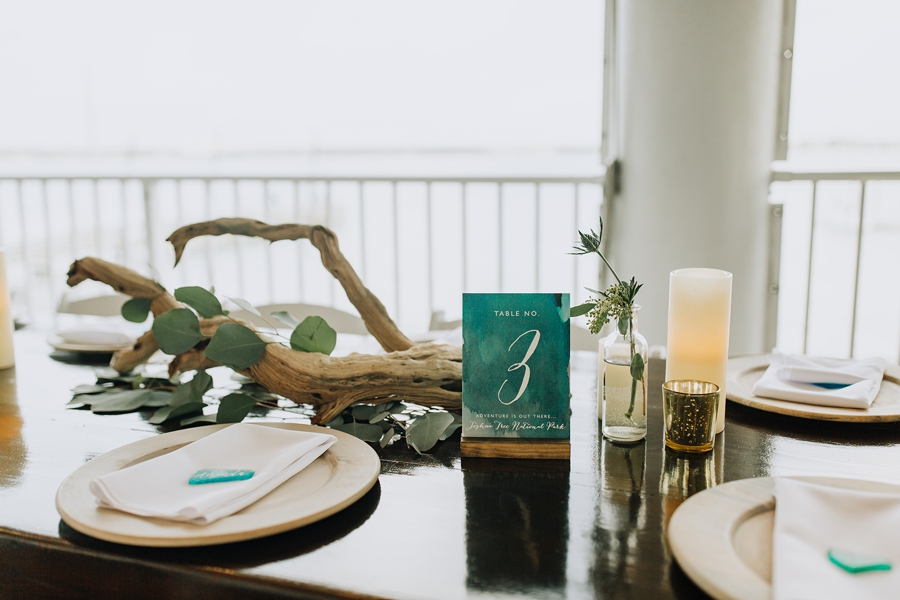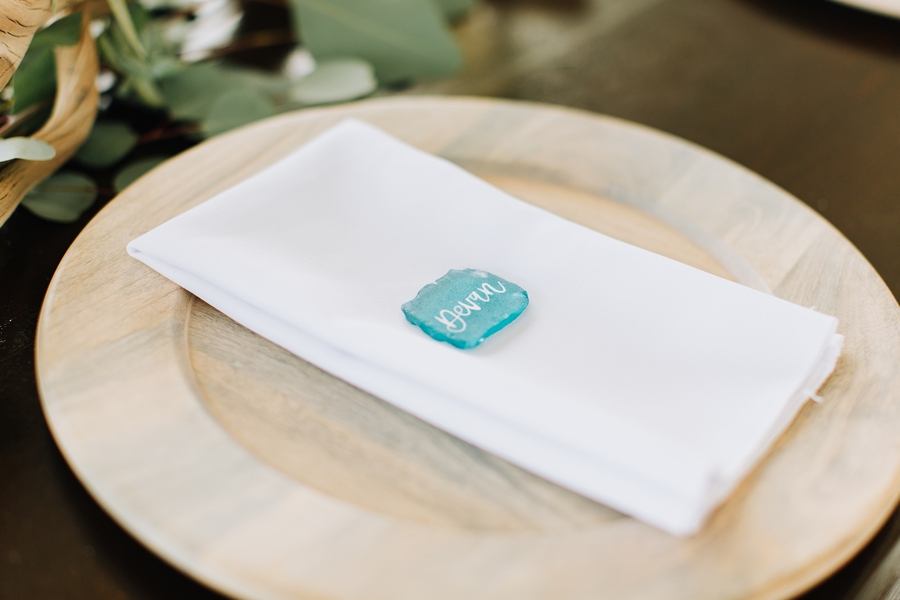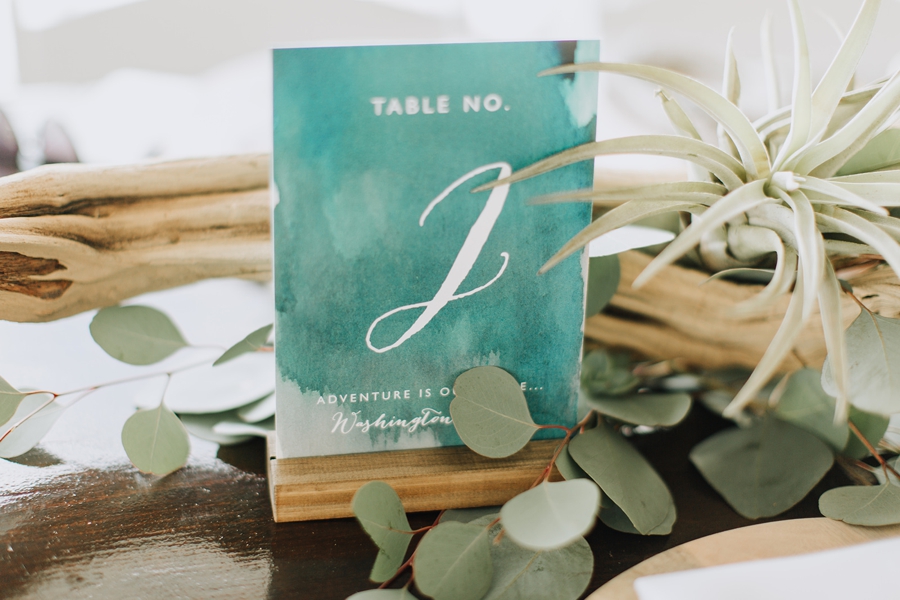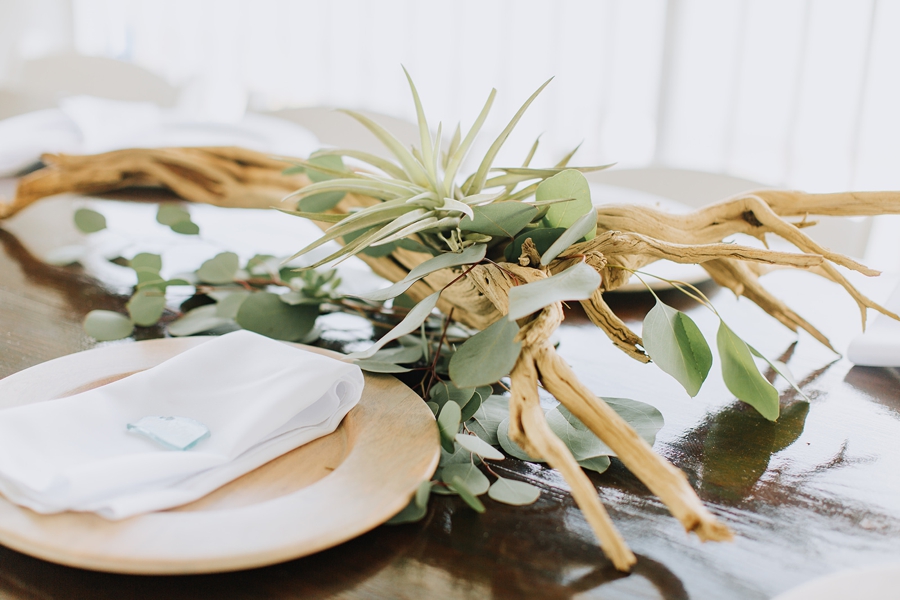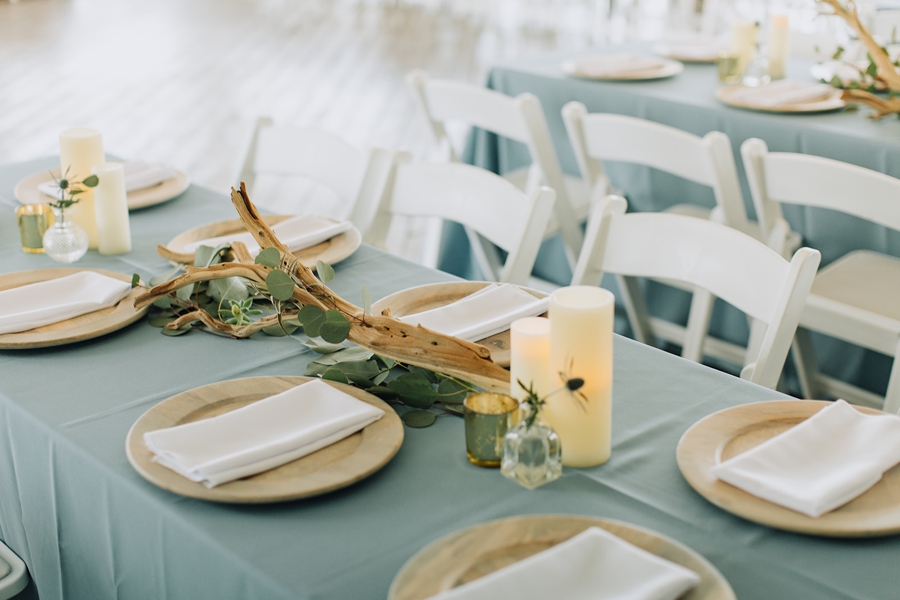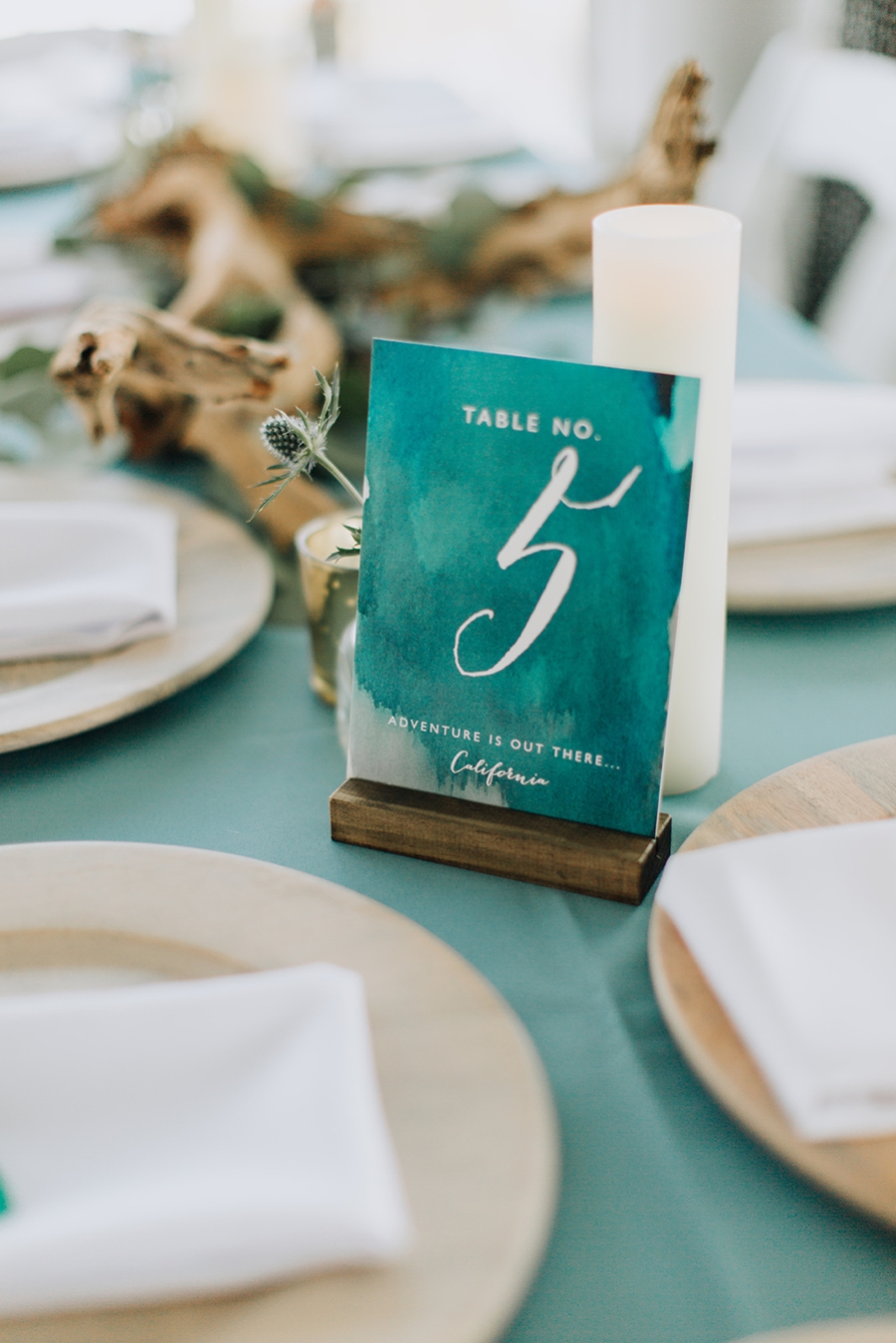 Please describe any DIY, handmade, or personal details.
With Lauren as my best friend, I knew personal details would be really important in making our special day feel like, well, ours. Traveling, Disney, and family are big parts of our lives, so I wanted to incorporate elements that reflected them throughout our wedding day.

We didn't want a cheesy Disney wedding, and I struggled finding chic ways to incorporate our fandom. Luckily my wedding planner, Amber, helped me get creative with Disney decor without being tacky. We welcomed guests to our ceremony with a Walt Disney quote, nodded to Disney movies with our reception signage, and handed out Mickey-shaped rice krispie treats for our favors.

To celebrate our love of travel, we used globes rather than a traditional guest book and shared our favorite travel destinations on our table numbers. We even found cute Disney quotes related to travel to tie everything together!

With a demanding job and marathon training, I was very selective about the DIY projects I took on myself. I prioritized the ones that meant the most to me and aligned with my skills: I designed our invitation suite, table numbers, and all the signage. Originally, I thought I would make all the Mickey-shaped favors, but my (now) husband convinced me that was crazy. I'm so glad we worked with Sweetly Dipped Confections to bring those to life — looking back, there's no way I could have handled that the week of the wedding!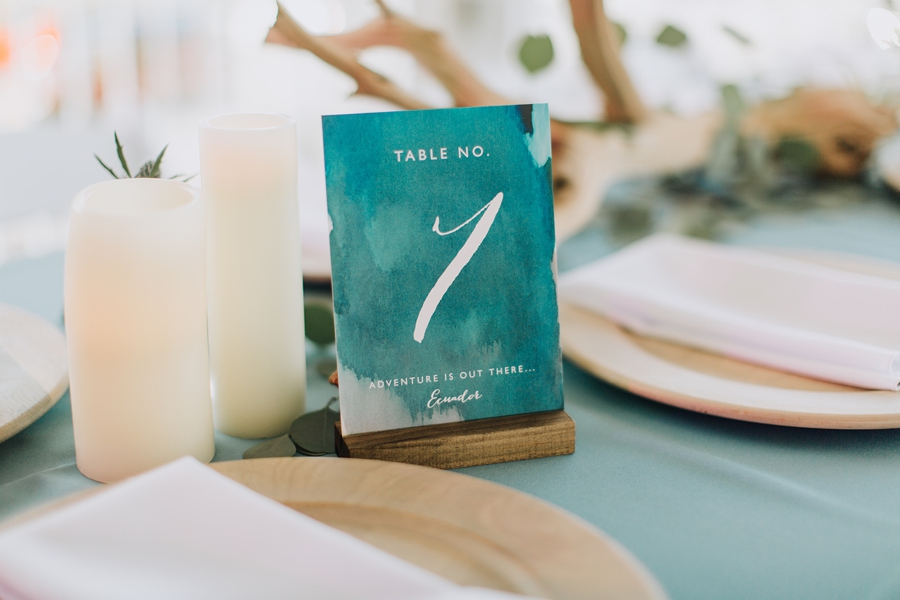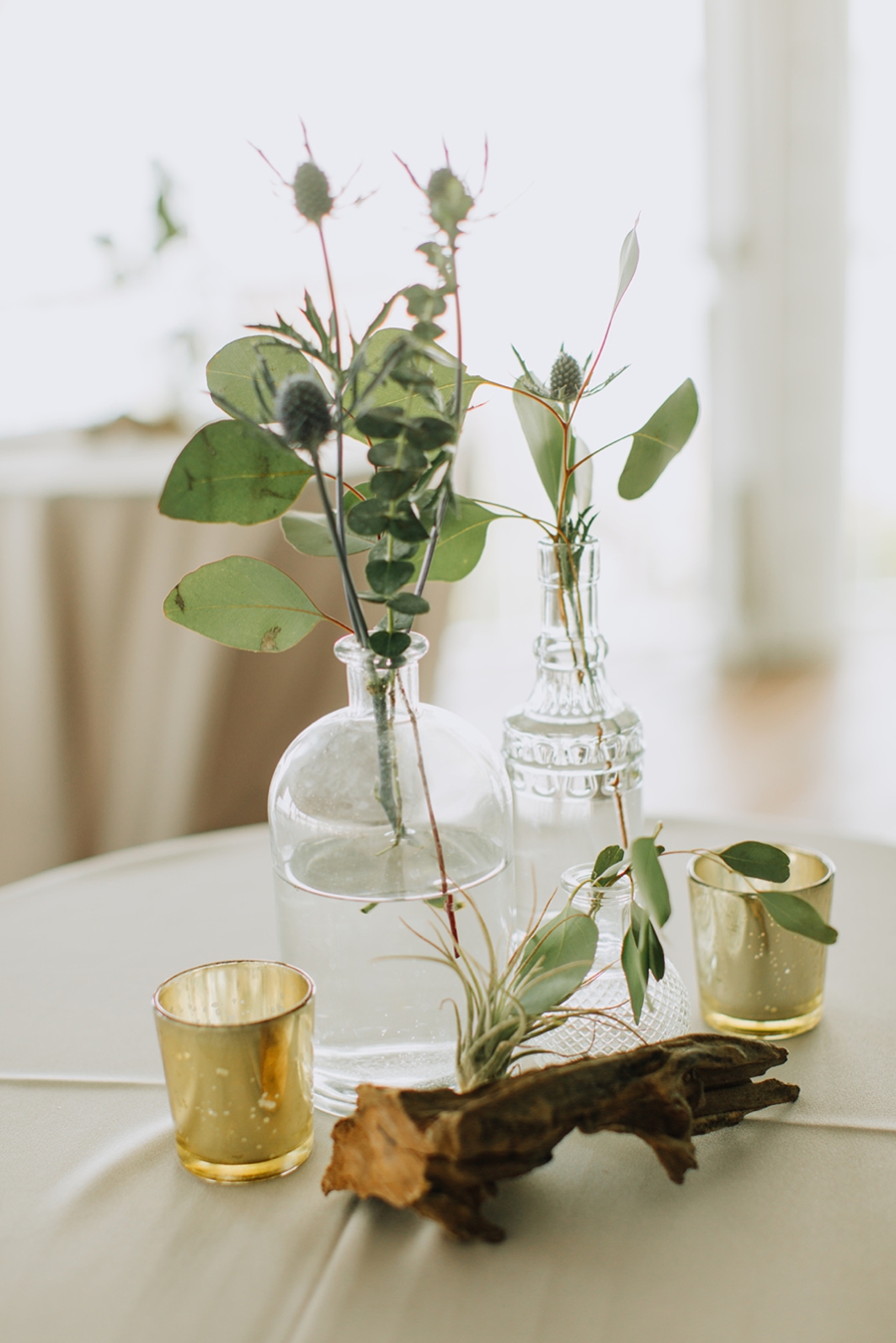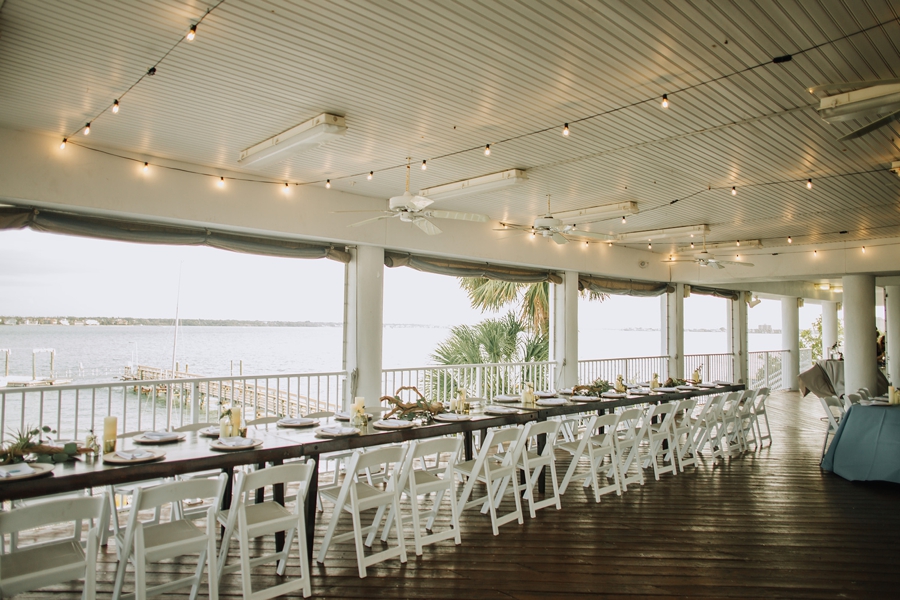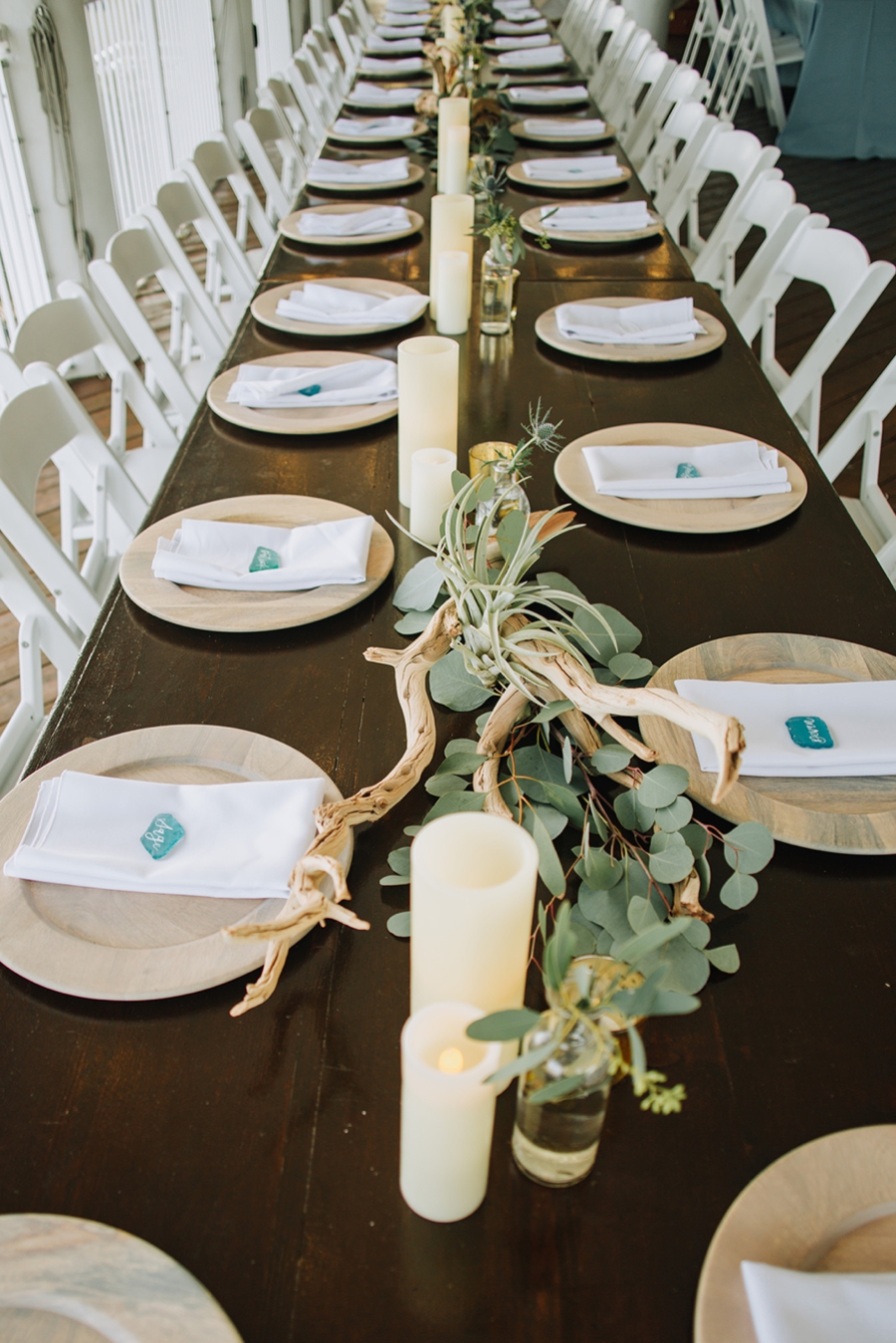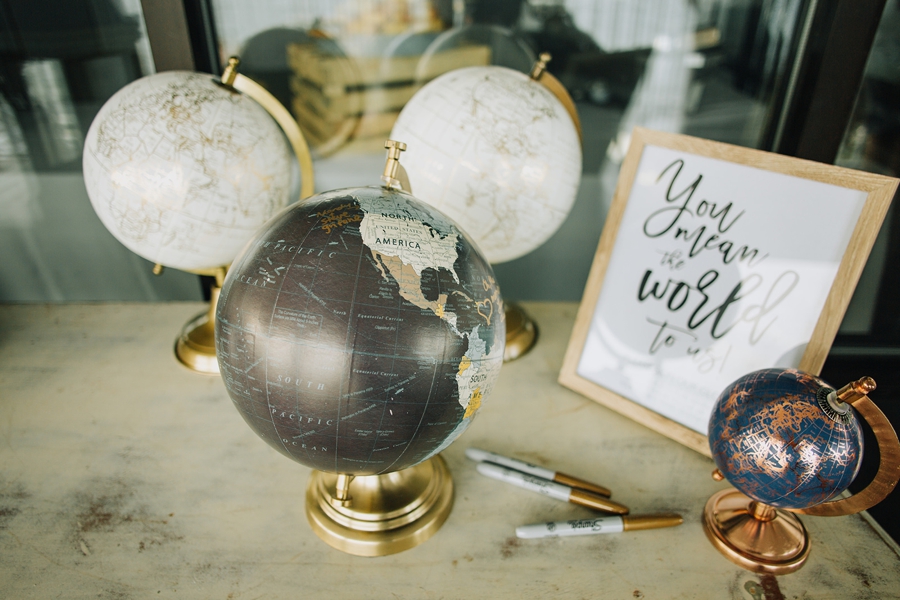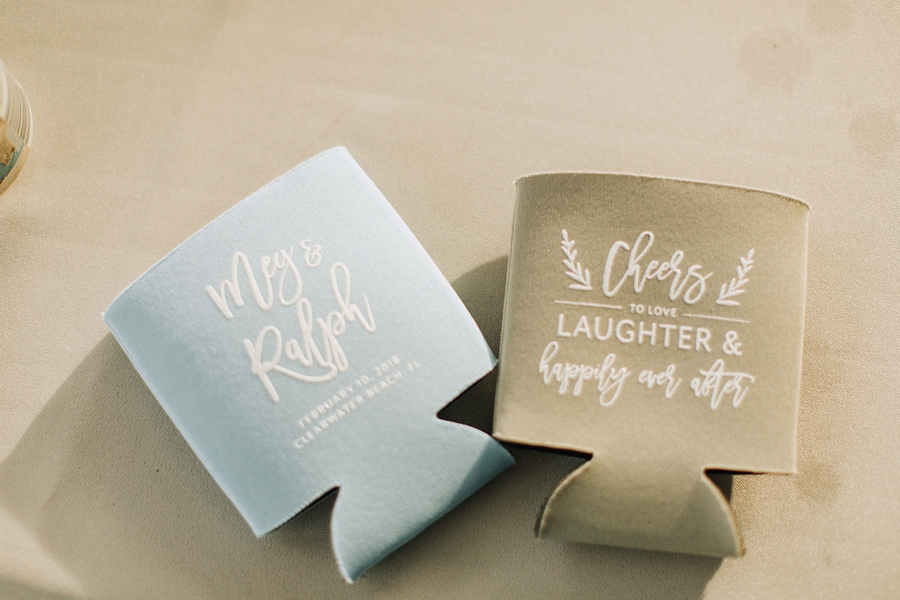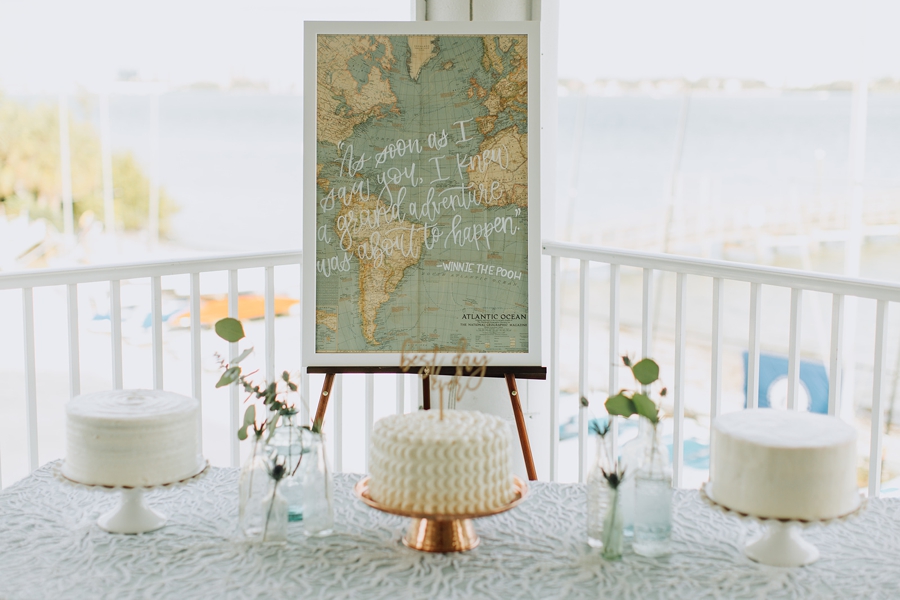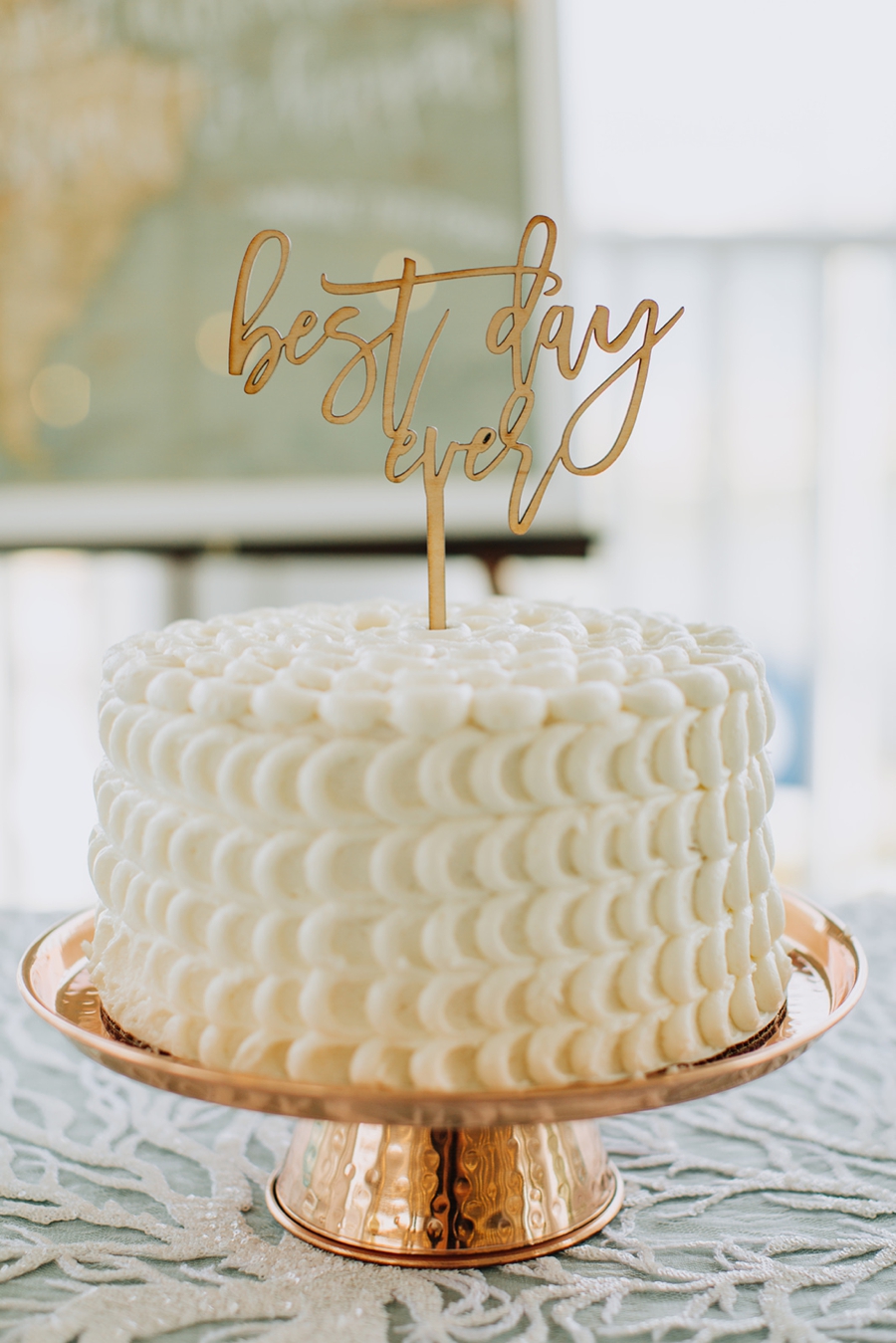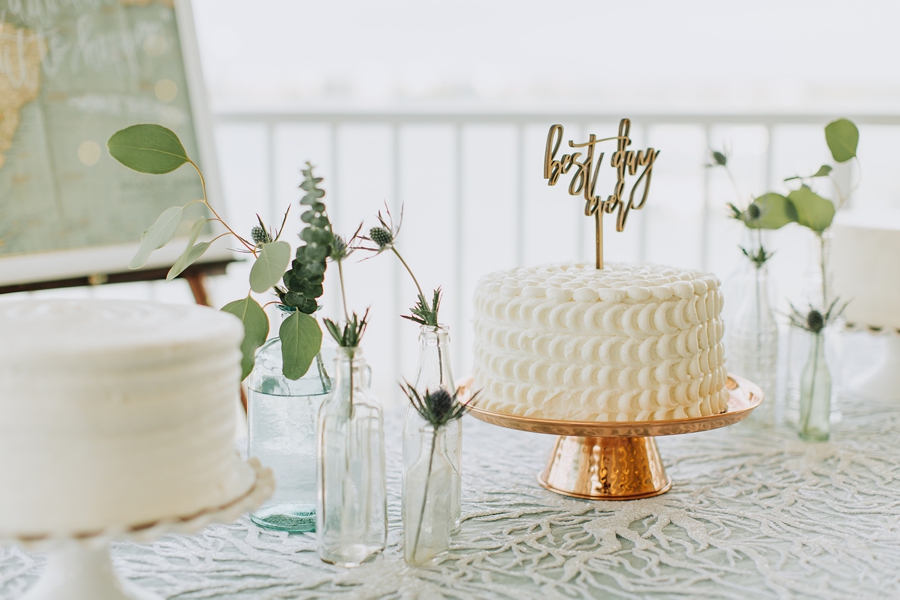 Did you include any family heirlooms or special traditions?
Oh, yes! So many. One of my favorite details from the day is that I wore my Nana's pearls in my hair. Dena from Lasting Luxe figured out how to make it happen, and I love how it looked with my dress.

My family is SUPER Irish so we had lots of little Irish elements: my grandparents gave me an Irish penny to wear in my shoe for good luck, my husband and I drank a glass of Irish mead that my grandparents brought over from Ireland years ago, my grandfather and I danced to "Black Velvet Band" by the Irish Rover instead of a traditional Father/Daughter dance, and my whole family did an Irish jig together at the reception.

We also celebrated my husband's Jewish heritage by doing the Hora chair dance. To symbolize families coming together, we included the Irish Gaelic and Spanish words for "cheers" on our signage.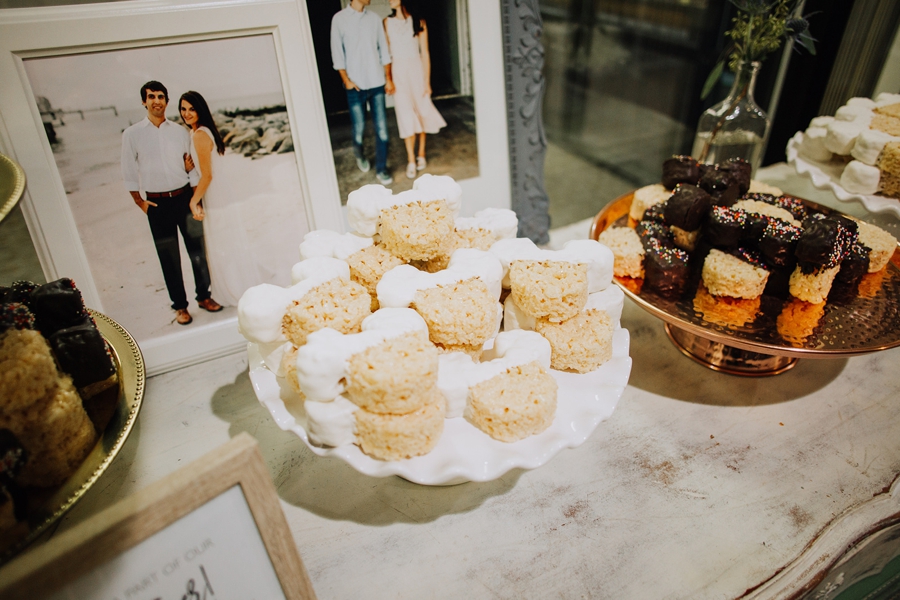 Oh, and I have to share what their planner, Amber, said about working with them:
They say when you know you know, and after a brief consultation over the phone with Meg I knew she was my kind of person. Her best friend is one of my friends, Lauren Grove of my favorite wedding blog, Every Last Detail. Lauren has a gift of connecting people and she knew what she was doing when she recommended Meg to contact me. Then I met Ralph and the fun began as we all worked together to create their travel, adventure, Disney, coastal-inspired wedding. I quickly picked up on the fact that they just loved to get out and enjoy life and don't take things too seriously, it was an infectious vibe and everyone needs more of that in their life. Being able to showcase that in their wedding was a real treat.

 Meg and Ralph love to travel, love the outdoors, the beach especially. They love going to Disney together, in fact that is where Ralph asked Meg to marry him (squeal!). Yes, some of the elements were a challenge to bring together and incorporate but I love a good challenge. We brought in their love for Disney in a lot of the signage, using quotes and through their favors. To incorporate their love of travel we used suitcases and globes as decor. Inspired by the water, the color palette was serene with soft monochromatic shades of blue and natural driftwood elements. It was so calming and care-free but still intentional and stylish. 
I absolutely love all of the insight that Meg shared about their day! Meg and Ralph, thank you for letting me share in your day (both in person and here virtually)- happy 1 year anniversary you two!
Vendors who made it all happen…
Photography: Rachel Burkhart Photography | Full Planning, Design & Flowers: Amber Veatch Designs | Accommodations: Clearwater Beach Marriott Suites on Sand Key | Ceremony location: Sand Key Beach | Reception location: Clearwater Community Sailing Center | Bride's dress: The White Magnolia Bridal Collection | Hair and Makeup: Lasting Luxe | Transportation: Clearwater Jolley Trolley | Calligraphy and signage: Old City Calligraphy | Ceremony arch, farm tables, furniture: The Reserve Vintage Rentals | Driftwood chargers and candles: The Treasury Rentals | Driftwood chargers: Set Event Rentals | Entertainment: Matt Winter Band | Catering and cakes: 4Rivers | Mickey Mouse treats: Sweetly Dipped Confections
The following two tabs change content below.
Lauren Grove is the editor and owner of Every Last Detail. A clueless bride-turned-wedding planner, Lauren uses her experiences and knowledge to educate and inspire brides all over the world.