Okay friends- I promise we'll get back to normal wedding planning info and wedding inspiration soon! But right now the questions and comments are still rolling in regarding how COVID-19 can affect your Fall or 2021 wedding, and I exist to HELP, so here we are.
Today, I want to touch on how the Coronavirus can affect your wedding planning, even if your wedding isn't happening right away. If you are just getting started with planning or your wedding is in a few months or next year, I want to encourage you to KEEP planning your wedding! Things might be just a little different than they were a month ago, so here are a few things that you need to keep in mind regarding the current situation we're all in…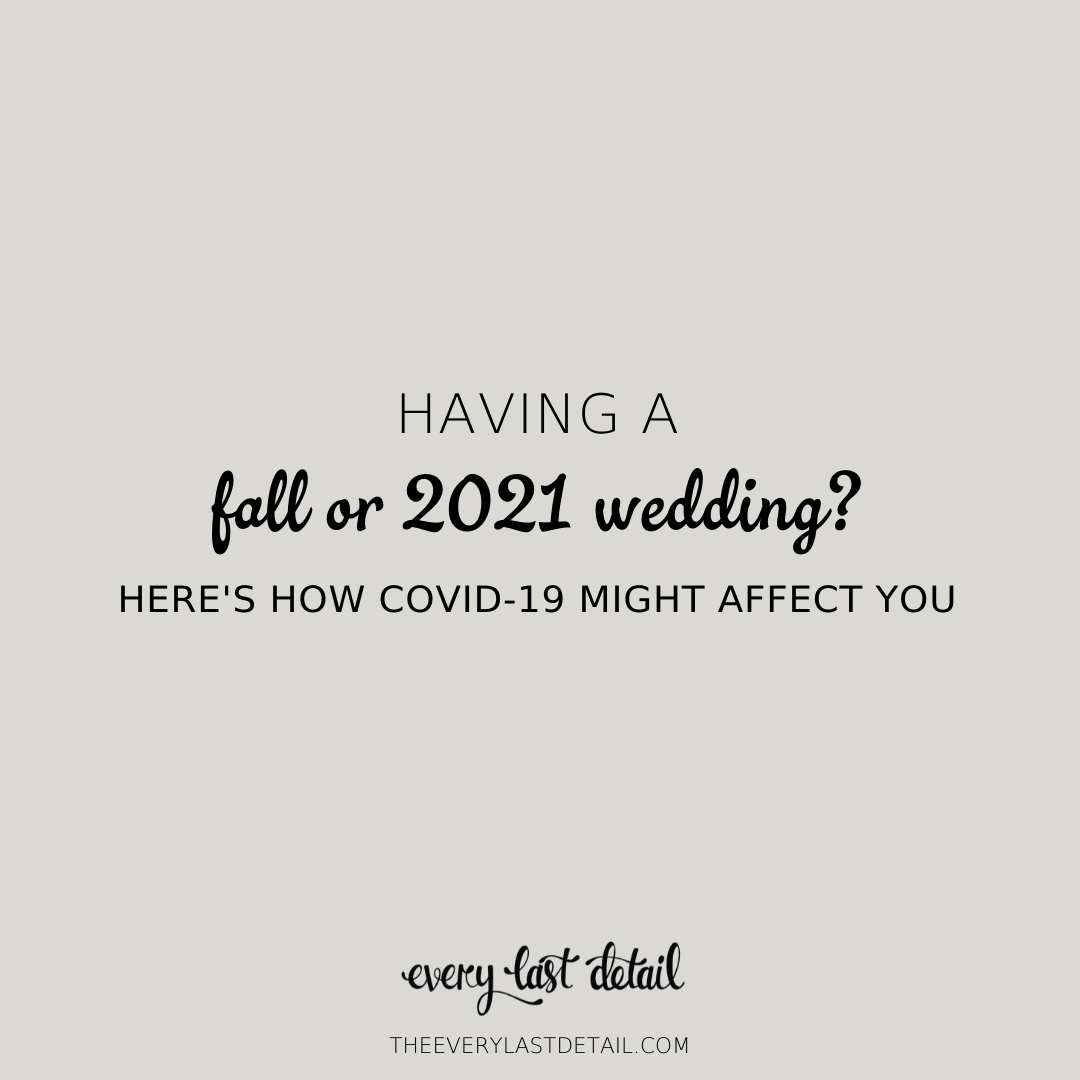 Grab Those Wedding Dates!
Dates that were available later this year are now being booked by couples having to reschedule their weddings. In other words- if you are wanting to get married later this year, or even early next year, get your venue and vendors booked! The bonus to this is that some vendors are actually doing specials right now, so you could luck out too!
We love what Claudia of A Day To Remember has shared, "If you were debating whether to even start the planning process [survivor's guilt, unsure of what the future holds, etc.], don't stop living! No storm lasts forever — this too shall pass. As we have been rescheduling new dates for our couples, 2021 dates are filling up faster than normal, so a desired date for you may NOT be available." Read more of her insights about planning during COVID-19 here. 
Meetings with potential vendors
If you're still looking for vendors or you're in the process of inquiring and scheduling meetings with them, expect that these will not be happening in-person, possibly for quite some time depending on what your area ends up looking like over the next few weeks (or months). Everyone needs to be staying safe and considerate in this difficult time that we're all navigating.
Yes, establishing a "connection" with a wedding vendor is very important to do. But trust me- you can absolutely still do that with a wedding vendor via a virtual consultation! (I've established great friendships via video chats in my 10 years as an online business owner.) Zoom is becoming a very popular meeting platform, and there's also Skype, FaceTime, or even Facebook Video chat. The vendor you're looking to have a consultation with will be able to give you instructions about what to do for your virtual meeting.
---

---
Hire A Wedding Planner
If there was ever an example (and sign) of why you need a wedding planner, this is definitely it!
Couples with wedding planners are able to have them deal with all of the communications with their venue and vendors for rescheduling. Not only that, but they're able to have the guidance and sounding board of their planner too. Fingers and toes crossed that you won't have to experience anything like this, but a wedding planner is most definitely worth his or her weight in gold! You can go here to see a few more things that wedding planners can do for you, and here to see our vetted and verified planners.
And as our friend Brooke at RSBP Events + PR said: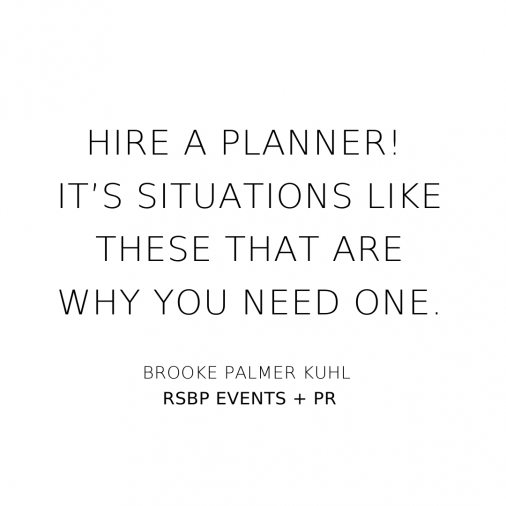 If you didn't have a wedding planner, or a coordinator (oftentimes referred to as Wedding Day Management) at the very least, now is the time to get that pro in place! And if you do have a coordinator already, you may want to consider upgrading to more of a full service package so you can enlist more help if it becomes necessary.
Wedding dress shopping + alterations
If you were planning on shopping for your wedding dress sometime soon, you may want to be aware of where the dress is being made. Tali of The Bridal Finery in Winter Park, FL shared with us, "An international designer could take 4-8 months and I would count on possible delays. I would recommend shopping for a North American designer if possible. Another option would be buying a dress off the rack so you don't have to worry about the production timeline. Our boutique focuses on designer dresses for off the rack. They are available now and you don't have to rely on a supply chain."
If your dress will be arriving in the Fall, it's going to be pretty busy, so Tali suggests, "booking an appointment with a seamstress the day after you buy your wedding dress. Alterations should start eight weeks before the wedding."
Alternatively, if you're looking for a combination of online shopping and shopping for a dress in a store, our friends at Luxe Redux Bridal have a pretty amazing solution for you called "Luxe In A Box"! Think like… StitchFix for wedding dresses! Yes, it's pretty awesome, and such a perfect option for a time like this. Learn more about this unique way to shop for a wedding dress online here.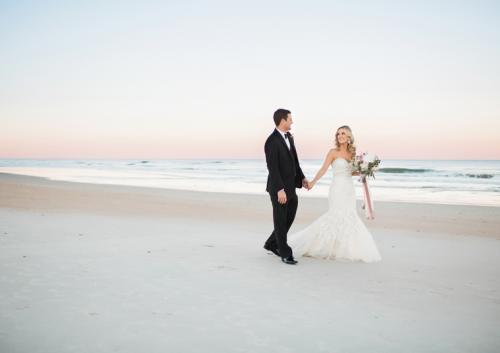 Image via Brooke Images
Get Wedding Insurance
Now, wedding insurance is likely not going to be covering a pandemic for quite a while, BUT this is an excellent example of why you should absolutely be purchasing wedding insurance. You never know what is going to happen, and it's always best to be prepared for that "just in case" situation that no one actually wants to think about.
Look At Your Guest Count
No one knows how long we're going to be socially affected by COVID-19. It may end up being that group gatherings are limited for a little while. With that in mind, you may want to consider an "essential" guest list in case you have to keep your guest counts down. Or, if you end up needing to decrease your spending a little bit due to the economy, my recommendation would be to cut your guest count. After all, guests do have the BIGGEST effect on your wedding budget!
And a little note if your wedding is in late summer or the Fall…
Please pause on contacting your team to talk about postponing or cancelling until we all know more information. The prime focus for wedding professionals now is to care for couples who are affected immediately in March, April, and at least the beginning of May. Everyone is being dealt with based on their existing wedding date, right now, so please be patient and understanding.
---
We seriously hope that none of this is going to come to fruition, but it's best to have knowledge and be prepared. And if you have any other questions, please let us know! 
The following two tabs change content below.
Lauren Grove is the editor and owner of Every Last Detail. A clueless bride-turned-wedding planner, Lauren uses her experiences and knowledge to educate and inspire brides all over the world.