This gorgeous wedding from Megan Ann Photography seriously has every detail you can imagine- and not only that, but almost everything is entirely handmade! From hand painted TOMS to an incredible photo wall, I guarantee that you want to see this one!
From the bride…
What (or who) helped you most in your planning process and/or on your wedding day?
 I downloaded an app on my phone similar to The Knott and it gave me a list for what I should be working on that month and helped me budget. That was super helpful because sometimes I would forget a small detail or two. Our families were the most helpful to us in the planning process, we had lots of DIY projects and they were willing to help us with all of them. 
Our family friends are wedding planners/coordinators Mary Ann Gregg who offered to coordinate our ceremony was amazing and the day of went off without a hitch. Katie Camp who is a wedding planner also a family friend I gave all our decorations in a trailer with labels and she went to town setting up every last detail perfectly. Having a family on both sides that was willing and able to help was such a blessing and wouldn't have been possible without them.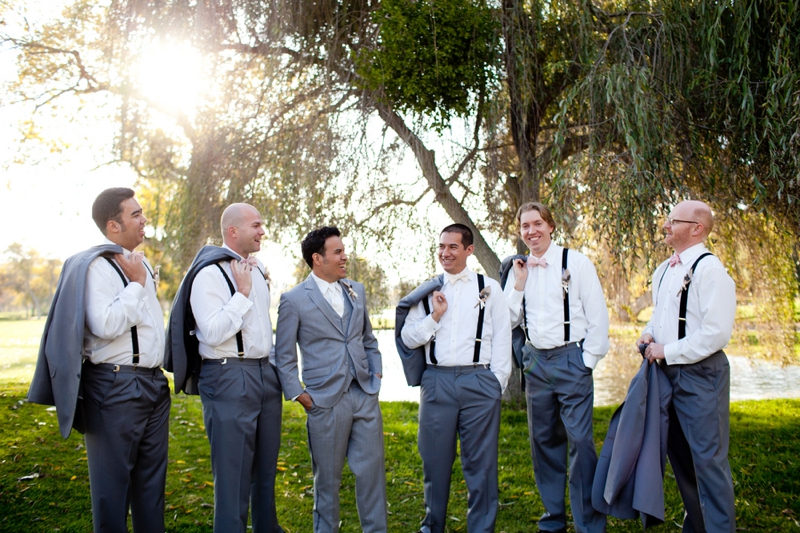 What was the most important thing to you when deciding who to work with for your wedding?
The most important things to us when we were deciding who to work with we're probably price and flexibility, we wanted to do so much and on a budget and have all the beautiful little details. Cottonwood Golf Club had exactly that. It was close to home and they allowed us to be creative in our planning and loved our creative side. That was our biggest deciding factor we wanted to be able to do all the creative decorating. Georgia LeBon at cottonwood instantly loved all my ideas and was excited about my vision so it was clear to me this was the perfect place for our wedding. She totally customized our package to fit us and our needs.
What was your inspiration for your wedding details and/or design?
The inspiration for our wedding design was "us" Rod and I are very creative artistic people. So as much of the wedding if not all of it we could make our own we did! I used Pinterest like a crazy woman. For example: Rod always hated at weddings that dancing was the only activity so we made our wedding how we would want to spend an evening celebrating! We had a bags game, cootie catchers at each table to help our guest visit each activity and gave them other things to do then just dancing. I'm a thrift store shopper so a lot of decorations we got second hand or borrowed from friends, looked through our parents garage, or we just made it ourselves. 
What was your favorite thing about your wedding?
My favorite thing about our wedding….it was totally us! I'm not sure if that makes sense but we love our family and our friends Seeing everyone come together to celebrate the union of Rod and myself was amazing. We didn't just do something because tradition told us we had to. We took each piece of the wedding and made it something that was special to us. Something that we were going to cherish forever and look back on and be happy we took the time to do it ourselves!
What is your best piece of advice for other brides?
My best advice for other brides; someone told me in the beginning of my planning that at the end of the day your going to be married to your best friend and that's what is most important not to get hung up on the napkins being perfect but in each decision I made I always kept that in the forefront of my mind, that at the end of all this planning and sometimes craziness I'm going to be married and that helped me focus on what I wanted everyone else to focus on, was our love for each other. Every love story is beautiful, but ours is my favorite because God is the author and he is the creator of love!
Vendors who made it happen…
The following two tabs change content below.
Joelle is the founder, owner, and creative director of Joelle Charming. She blogs, plans weddings, and writes love stories. Joelle is also obsessed with Taylor Swift, loves the color pink, and likes to wear bows in her hair.