Hi friends! We're back with some excellent information from one of our expert contributors! Quiana of Madison Elyse Events is joining us today to share her expertise on choosing your wedding venue- and more specifically, what to know BEFORE you book! The venue is always one of the very first things that you book when it comes to planning your wedding. But sadly, we've heard a lot of heartbreaking stories about couples who book their venues and then are hit with extra fees, space issues, or just overall disappointment. So before you book your venue, you absolutely need to do your research so you're prepared and knowledgeable about what to expect! Read on for more insight from Quiana!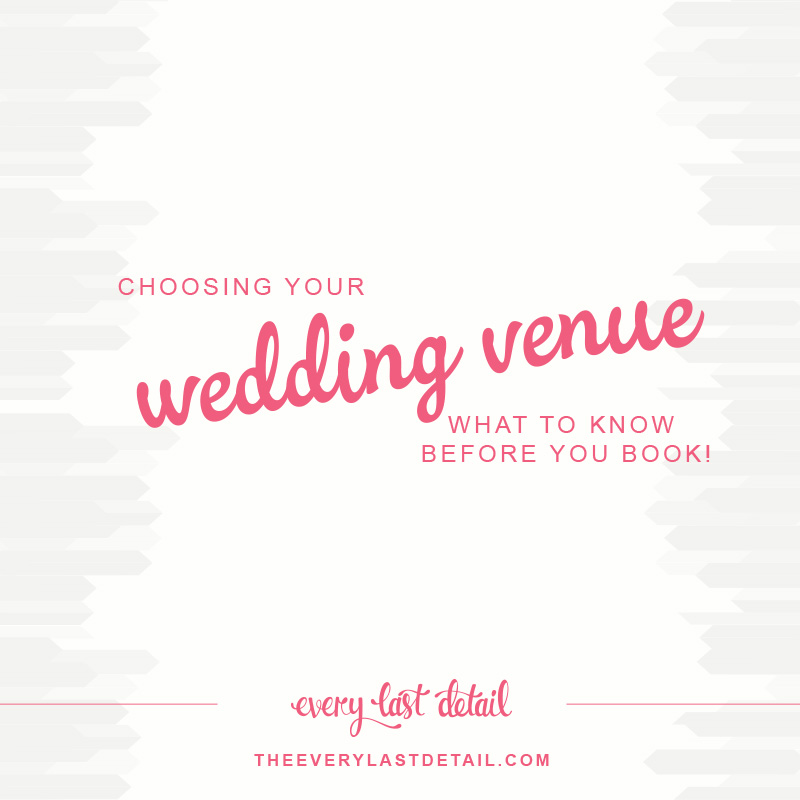 Hooray! You're engaged and your mind is filled with all of the things you need to do to get the wedding planning started. Dress shopping, browsing wedding inspiration on Pinterest, setting a date, finding your perfect venue… but STOP right there! Before you settle on that venue your cousin got married at or the reception space in the heart of the city everyone's raving about, take the time to consider these six things before signing on the dotted line:
1. Book Your Venue Soon!
There is nothing more disappointing than having your heart set on a specific wedding venue and the date is not available! Yes, bask in the moments of your engagement, but set some time aside with your fiancé to choose a date for you wedding. Especially if you want a specific date and you do not want to consider other days. A good example of this would be if you want to get married on the anniversary of your first date or the first time you both said I love you. But whichever date you choose, lock it in so you can then start your search!
2. Location, Location, Location
Think about where you want to have your wedding. Have you dreamed of a chic, upscale, wedding in the heart of the city? A rustic, rural, farm wedding? Or a simple, but elegant wedding in the suburbs? Whichever you choose, when making your venue decision it's important to think about the logistics. If you choose a ceremony space that is quite a distance away from the reception space, include a map for your guests, and allow plenty of time between the ceremony and the reception time for travel. Also, if you have a hotel room block, think about where the hotel is located in comparison to the ceremony and reception venues. I know, I know, you're probably thinking, "It's my wedding and I'll have it where I want it!" And yes, it's so true, however, those little details will be appreciated by your guests and will make for a more enjoyable experience for all!
3. Size Matters, It Really Does!
Trust me on this piece of advice- you are going to thank me later! If you have a confirmed list of 200 guests, a DJ, a photographer and videographer moving about the room, a photo booth, a candy table, and a dance floor, in a room that holds 200 people, you and your guests will feel like a pack of sardines stuffed in a tin container! I have seen this happen before with a wedding I provided day-of services for. The couple was supposed to have a space that fit 216 people, however, when they added the guests, vendors and extras to the room, it became hot, crowded and uncomfortable. As a result, the bride was angry for most of the night and did not enjoy her reception. Friend, don't let this happen to you!

So, when you are asking the venue manager questions, make sure to find out how many people can comfortably be seated in the room. Also, share your thoughts on what you would like to have- if it's a photo booth, you could ask if it would be best inside the room or outside the room for space sake. Is there space enough in the room for the elaborate sweets table or donut display you want to have? Being the expert, he/she should be able to answer these questions for you.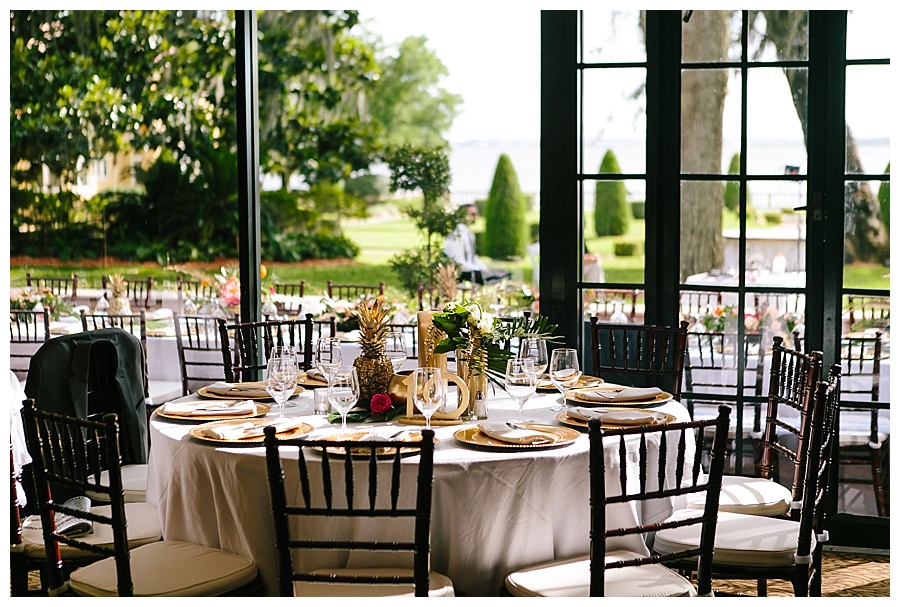 Image via Jacksonville Wedding Planner, G.G. Events
4. What's the Contingency Plan?
Whether your plan is to get married outside on the lush greens of a golf course or to have your reception in a courtyard of a romantic Italian villa, the one element we cannot control is the weather. Although rain on your wedding day is said to be good luck, it can certainly put a damper on your outdoor wedding dreams. Make sure the venue you choose has a contingency plan in place for yucky weather, such as a banquet space available inside in case of rain. You can also take the extra step and book an indoor space for this very reason. Negotiate and make an agreement with a venue that will allow you to hold the space in case the weather changes. However, if you are dead set on having your wedding outside rain or shine, a tent can provide everything you want in an outdoor contingency option. One or two beautiful chandeliers installed for overhead lighting, uplighting to add a touch of color to a white tent, and loads of lush florals and draping can make any plain white tent look like class and luxury.
5. Bang for Your Buck
We love amenities, especially when they add to the fabulosity of your wedding day! I mean, who doesn't?! When venue shopping, find out what's included in the price. For example, you believe you have found the perfect venue. It has everything you want- the perfect crystal chandeliers, beautiful ceiling to floor windows, an outdoor patio overlooking a lake, and enough space for the entertainment you want and all of your guests. Then you find out once you get to the office that you have to pay $5 per chair for the ceremony and $8 per chair for the upgraded Chiavari chairs for your reception. You cannot have the cake you want from your favorite bakery because the venue has a preferred bakery to choose from, and it's a $3 per plate up-charge to use the gold rimmed chinaware- or else you get the plain white china. There's absolutely nothing wrong with any of this, however, know and understand what you're paying for so there are no surprises. Or my motto is, if you have an amazing planner, anything is negotiable.
6. Does the Venue Fulfill Your Vision?
Every bride has had a vision of what she wants her wedding day to look like – the colors, the decor, the "in the moment" feelings, and so much more. You want your venue to scream perfection! When venue hopping, make sure things like the colors of the venue's carpet, wall paint, or decor will not clash with what you have in mind. If you choose a theme of romance for your wedding and the colors are blush, rose gold, and ivory, a venue with green/tan colored carpets and aqua colored walls will not work! It's your wedding day and everyone is going to take lots of pictures. You want to look back at your photos and have no regrets! (Maybe you should take a Snickers in case you get hangry and can't think straight!)
So, what happens if you have looked and looked and just can't find that perfect venue? HIRE A WEDDING PLANNER, DUH!
A wedding planner will be the most valuable source you can use to get all that you want and more in your wedding. The knowledge and resources available to a planner can be a big stress reliever for you. Save yourself the time and the headache, and allow someone else to do the work. You and your fiancé should be enjoying your engagement with family and friends, while having fun in the process. I have heard brides chat and have had conversations with women about their weddings, and the one thing that is consistent is they wish they would have hired a professional to do the planning. Most, if not all soon-to-be brides, do not realize the level of stress that can come from wedding planning until they are knee deep in the process and need a helping hand to pull them out! Be calm and hire a planner!
Stay Fabulous and Happy Planning!

The following two tabs change content below.
This post was written by an ELD Team Member... and there's a good chance she likely loves weddings, Kate Spade, and wedding details, as all of #TeamELD does!