One of the common questions I've been seeing about weddings and COVID-19 has been "Can I get my money back for a canceled wedding?"
Initially, I was setting out to create a blog post answering multiple questions about weddings and COVID-19, which is coming next. But I decided that due to so much misunderstanding around this topic, it needed it's own dedicated post.
The short answer to this question is that there is no definitive YES or NO as to whether you can get your money back for a canceled wedding. This is a situation that is going to be entirely unique to each and every vendor you have hired, and each and every contract.
It's important to understand that this current situation that everyone is dealing with is one that has never happened before, and therefore, there isn't a set precedent regarding the standard of what to do (or not to do). This applies to everything across the board, not just weddings- the government, retail, your workplace- everyone is taking it day by day, and we all need to have some compassion regarding that
---
---
One of our wedding experts, Claudia of A Day To Remember in Houston, shared these words of wisdom: "Weddings are a celebration that you have chosen to host. Our current situation is forcing us to make a choice on how to proceed. As vendors, we are here to help navigate the process of finding a new date. You may have chosen to postpone your date, but you weren't forced to cancel your wedding. When you are canceling your wedding, the ripple effect will affect so many businesses."
We 100% want to encourage you to reschedule your wedding and not cancel it– you deserve to have the wedding that you have planned for and dreamed of! But, I do realize that there can be circumstances in which rescheduling can't happen, and you may have to make the decision to cancel your wedding altogether.
So as much as it breaks my heart to say this…
let's talk about whether you can get your money back for a canceled wedding…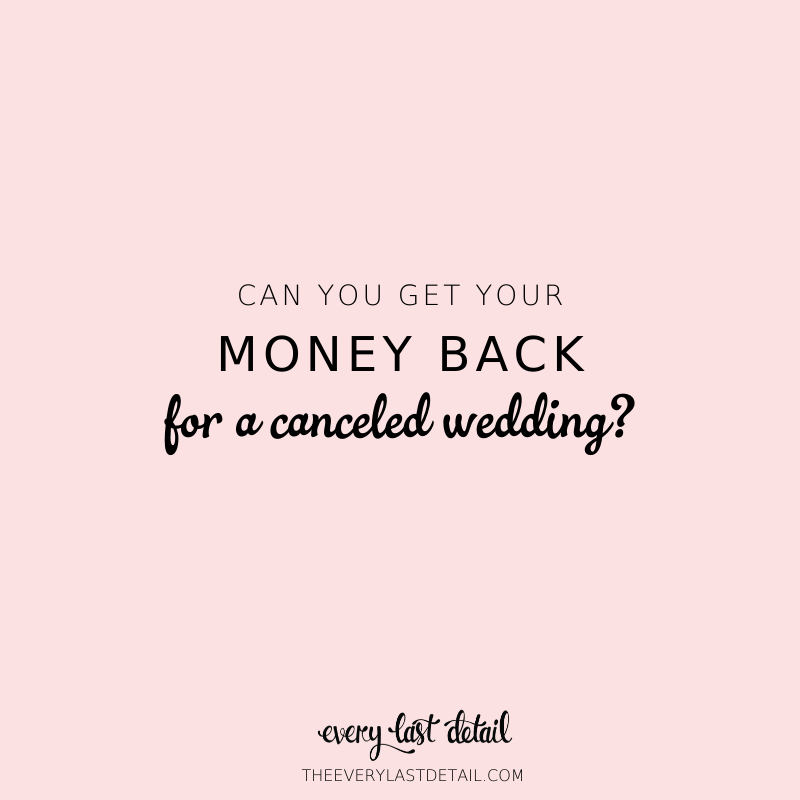 Before we dive into whether you can get any of your payments back, it's important to first review a few things…
SIGNED CONTRACT
---
When you book a wedding vendor, you sign a contact. This document lays out the terms of the service that you are securing, expectations, and yes, also what happens if there is a cancellation or inability for a service to be performed. Reading your contracts, while it might be a tad bit tedious, is SO important so you can ensure that you're on the same page with the vendors you are hiring. [Sidenote: I failed to pay attention to my own wedding photographer's contact and completely missed that I only had a certain number of hours of coverage, and hence, was a bit upset when she told me at 9pm that she was leaving my reception.]
Moral of this story: READ YOUR CONTRACTS and ABIDE BY THEM, regardless of whether or not we're experiencing a Pandemic situation!
NONREFUNDABLE RETAINER
---
It is customary to pay a "nonrefundable retainer" when you book a wedding vendor. This retainer is reserving your wedding date (hence the term "retainer"). You are paying to retain their services, and the wedding vendor is making YOUR WEDDING a priority for that day. Which leads me to…
TIME & AVAILABILITY
---
When it comes to wedding professionals' services is that most wedding professionals can only take a certain number of weddings per year. They have limited AVAILABILITY due to the fact that TIME is limited.
Weddings usually only occur 3 days of the week- Friday, Saturday, and Sunday (although most couples do prefer Saturday weddings). Add in the fact that there are "seasons" that weddings typically occur (of which we are sadly entering into for much of the US right now), and you now have the reality that in a normal year, a wedding vendor's available dates for weddings are already limited. When you book a wedding vendor for your wedding date, they (usually) cannot book another wedding that same day- sometimes even that same weekend.
Needless to say, your wedding date that you book with a CONTRACT and a RETAINER means A LOT to your vendors.
So now that we have that base information laid out, here's the deal with getting a refund for a canceled wedding.
Don't get me wrong- as a consumer, yes, I want to ask for my money back for a service that has not been entirely rendered. BUT, when it comes to weddings and events, there is often quite a bit of work that has to be done prior to the event date (and sometimes after as well).
We could compare it to… building a house:
An architect draws up plans to build the house. That floorpan is then brought to the contractor, and you start the process to officially build. You break ground on a piece of property, and then, you have a change of heart and decide you don't want to go through with the build. But, you don't go back to that architect and say, "Hey, we decided to not build the house, so we're going to need our money back now." Because that portion of the larger project was already completed, and the work was done.
So, how do you know whether you can get your money back for a canceled wedding?
READ (AND ABIDE BY) YOUR CONTRACT.
A wedding professional's contract should include information regarding what happens if your event is canceled, postponed, or if the wedding vendor is unable to perform their duties. The challenge that many people are encountering is that this particular situation that we are currently experiencing is one that has likely not been explicitly accounted for within a contract. Neither party within the contract is responsible for the changes that are being mandated.
The best option if your wedding is being affected by Coronavirus is to postpone your wedding. But, if you must cancel, please understand that it is very likely you will not get all of your money back.
Each and every wedding vendor's contract is different, which is why it's so very important to read them.
Some contracts may state that any payments made cannot be refunded. Some contracts might say that you can receive a refund for any amounts paid outside of your nonrefundable retainer. Some might outline a percentage of payments that can be returned, or some might say you can't get anything back if your wedding is within X number of days. I'm hearing about many different clauses- there truly is no right or wrong way for something like this to be handled. As I mentioned at the start of this article, whether or not you can get your money back for a canceled wedding is entirely unique to each vendor and the contract you have with them.
And the thing is, this goes even further than just this period of quarantine. My friend Amber Anderson, a wedding planner educator for Refine for Wedding Planners, had some excellent insight about this:
"Please know that vendors across the world are broken for you. We are doing our best to keep a strong front but behind closed doors, we are crying with and for you.

We are also having to consider couples getting married in the fall or next year and the harsh truth here is that the decisions we make today about refunds and leniency in our contracts have a long term impact on whether our companies will even be here when the postponement rolls around, much less for those that already booked for 2021 prior to this all coming unglued. Everyone truly is doing the best they can.

Industry leaders are begging vendors to stick to their contracts. Plain and simple, it's the only way we will be here as an industry a year from now. We are also talking non-stop about ways to be creative, flexible and helpful. It may not look as desired but it's really from the heart. Any amount of flexibility is backbreaking for vendors. We are small businesses, we are not recession-proof.

Here is what I really struggle to share with couples but I do hope it brings balance to the conversation. I would like to be the bad guy so your planner or vendor doesn't have to be. This message is not personal. It's not meant to cause pain. It's meant to help our economy stay afloat. You see, it's hard to understand how ingrained the event industry is to our economy, but really and truly, everything from corporate meetings to t-ball field assignments are all handled by the events community. Wedding planners are ranked in the top 5 highest stress jobs in America, year over year by Times magazine… above C-Suites and among first responders. So at this time, it's exponentially higher. With that being said, I hope to create some understanding here that wedding budgets are created independent of paying bills, buying food or medicine and diapers.

On behalf of vendors everywhere, I beg of you to keep your promises. Comply with the agreement you made when going into this. We didn't foresee this any more than you did. Though, we have already paid our bills with the money paid to us. It's not there to return. Vendors aren't being mean spirited; they are keeping the lights on and feeding their children.

Again, rest assured, we are all doing everything we can to be flexible and give breaks where possible. You may find one vendor on your team in a position to give more than another. Please don't bully the one that doesn't or can't. Quite honestly, your most prominent and most financially sound vendors are likely the ones sticking the strongest to their contracts. They are in a position of success because they have been smart in their business. But they will still come out of this in a hole".
Again, I know that this is such a hard situation to be in. And I realize that it's a bit difficult to understand. There is so much beauty and happiness associated with events that it's easy to forget that those associated are running businesses too, just as your local restaurants, stores, and services. The entire event industry is a very unique and complex one. It's also one that is oftentimes forgotten, misunderstood, and overlooked. So in all of this, please keep in mind that a wedding vendor's product or service that they are providing is what puts food on their table, and you booking them and paying them is their paycheck.
---
---
If you have any questions, please do not hesitate to reach out to me on Instagram. Additionally, I'd love to invite you to join our FB group where you can ask questions and have them answered by ELD's wedding experts! Stay safe friends, and keep planning those weddings! :)  
The following two tabs change content below.
Lauren Grove is the editor and owner of Every Last Detail. A clueless bride-turned-wedding planner, Lauren uses her experiences and knowledge to educate and inspire brides all over the world.