If you're not into what your wedding looks like, then sure, your wedding details don't have to matter. BUT, chances are, since you're here on Every Last DETAIL, you do care about what your wedding is going to look like.
Recently there has been an article going around published by a large wedding website, talking about "7 Details Your Wedding Guests Won't Care About". Here's a peek of it:
"We're here to drop a truth bomb: There are some wedding details not worth agonizing or going into debt over—because your guests simply don't care."
Well, our "truth bomb" is…
your guests- and YOU- do indeed care about your wedding details!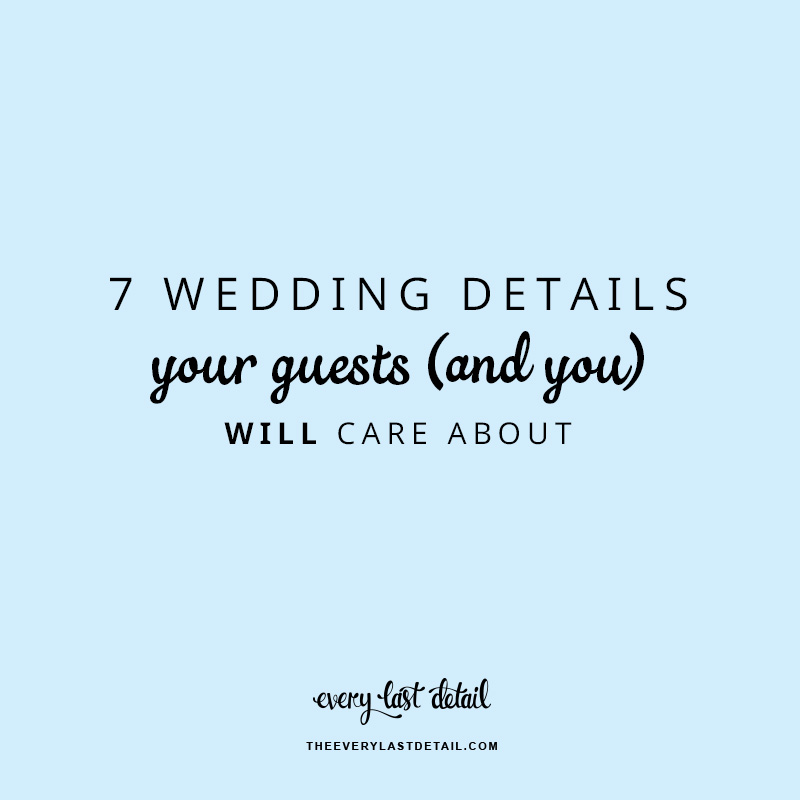 We obviously have a big focus on wedding details and wedding design here at Every Last Detail, so we of course wanted to write a response for our audience- because YOU care about your details right?!
(A little note: I write everything from my own perspective and experience as a former wedding planner and designer. Oh, and you won't see any talk about budget or DIY weddings here on ELD.)
We want to start off with these wise words from Tampa wedding planner and designer Amber Veatch Designs shared: "Weddings are all about prioritizing what's important to you as a couple. You aren't less than or better because you did or didn't have 14k gold stationery."
Now, I hope that you don't see this article that I'm speaking of, but it's been making it's rounds, so just in case you did see it, I want to shed some light on the things that were mentioned:
1. Invitations
Your invitations? They set the stage for what your wedding is going to be like. They play a part in indicating to your guests the styled and formality of your wedding day. And yes, they also provide your guests with important information. And your guests DO care- they just won't be aware of it unless you happen to skimp on them. Do your invitations need to be "over the top" to make an impact? Of course not. But they can be impactful and beautiful while playing an important role in your overall wedding day.
Nilkki Golden Photography recently received an invitation to her cousin's wedding, and you want to know what she said? "Wow! I bet they are going to have a nice wedding. This invitation is super beautiful and elegant. Looks like they are putting a lot of thought into their day. The invitation sets the tone before you even show up to a wedding." 
2. Programs
Your wedding ceremony programs are a stationery detail that can indeed have an impact on your wedding day- and are noticed. They can give your guests information about what is next for the wedding (ie, where to go, where cocktail hour will be, etc). It is also a way that you can provide your loved ones with recognition or a little thank you. And let's not forget that it clues people in to what's going on and who is who- I know I've found them helpful when attending weddings.
Jordan of Jordan Keenan Photography said, "Wedding Stationery is so important. It sets the tone for everything about your wedding. Sure, 14-karat gold flakes might not be necessary but working with a thoughtful stationery designer and calligrapher is! A recent bride of mine had her entire invitation suite custom designed that gave guests a glimpse into their theme and love story — and it's all they talked about!" I know that wedding that she's speaking of, and I can confidently say that the wedding stationery all play a huge part in that entire wedding day!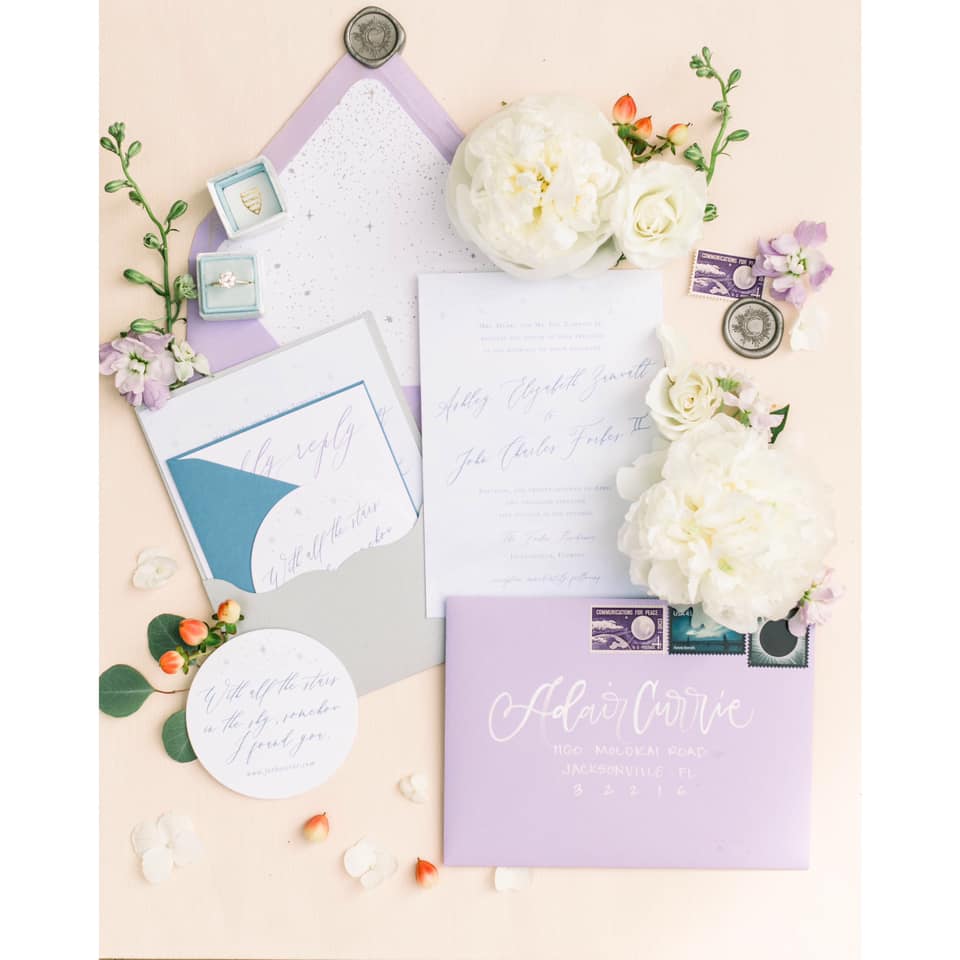 3. Aisle Decor
While aisle decor isn't a necessity, it's actually helpful to have some kind of decor on the front rows of your ceremony. This indicates to guests that the front rows- typically the first two rows – are "reserved" for family members. And true, this fact is typically is something that is "known" but nowadays, many traditions seem to be getting thrown out. So, if you want to ensure that your close family members get a seat up front during your ceremony, having aisle decor for those rows is going to be a big help.
4. Monogrammed Favors
Yeah, sure, monogrammed favors aren't needed at all. In fact, they're a bit old school, right? But favors themselves? They're a nice gesture, and can also play a great role in your over wedding design- sometimes even being something functional, killing two birds with one stone! Not to mention that a favor can be just about anything now, so don't immediately rule them out!
5. Expensive Linens
Linens as a whole can definitely make or break a wedding design. I've seen many weddings in my (nearly) 10 years in the wedding industry, and there might not be anything worse than a gorgeous tablescape on top of a stained, too-short linen provided by the venue. It's safe to say that I've definitely seen a wedding design look completely subpar all because of the linens on the tables. Even a standard cotton colored linen (usually no more costly than a white linen) can have a better impact on how a wedding looks! Just going beyond the basics here will help elevate your wedding in all kinds of ways. And yes, sometimes linens can be expensive. My suggestion is to save the super expensive ones for the cake table and sweetheart table!
6. Elaborate Centerpieces
Yes it's true- the bigger and more elaborate the centerpiece, the more expensive it's going to be. BUT, there are ways to design your wedding so you can have a mix of centerpieces that will still add tons of beauty to your wedding design. My favorite method of doing this when I was designing weddings was to do 2-3 different types of centerpieces. So let's say you have 9 tables… I would recommend doing 3 tall, elaborate centerpieces, 3 short floral-filled centerpieces, and then 3 centerpieces comprised of candles and single-stem bud vases. This is why it's so great to work with a wedding designer, because they will be able to guide you towards something that is going to give you the best of both worlds, and of course still fit within your budget. And remember- with weddings, there is no hard-and-fast rule about anything (for the most part ha!), so I always remind couples that they can take the most "elaborate" concept, and edit it down.
7. Wedding Cake Details
I see wedding cakes as the entire focal point for a wedding reception's design, with guests oohing and ahhing over it, so I think it's pretty safe to say that it's a detail that is noticed! Also, a beautiful wedding cake can again, be an excellent way to infuse more style and detail into your overall wedding. Sure, it's going to be eaten, but you can be know that if a wedding cake is beautifully designed, it's absolutely going to taste great too!
---
I think the interesting thing that has been uncovered when discussing all of these wedding details is that they can all have a big impact in the look of your overall wedding day. And the beauty is that some of these details, are smaller details, and can have that impact without draining your wedding budget- especially when you work with a professional.
And let's not forget that your wedding design and details are what will make your wedding unique to YOU. We love what Dana Cubbage Photography shares about this, "Details are what make your wedding UNIQUE!! These are the details that infuse your personality into the wedding! Skipping out on them might save money, but it will also deduce your wedding to a ho-hum party with no personality!"
The following two tabs change content below.
Lauren Grove is the editor and owner of Every Last Detail. A clueless bride-turned-wedding planner, Lauren uses her experiences and knowledge to educate and inspire brides all over the world.