Since wedding details are a main focus of mine (hello, did you see the name of my blog?), I thought that I surely would have created a full-out checklist for wedding details by now! Well, I searched through the ELD archives, and as it turns out, I haven't yet created a wedding detail checklist- until now!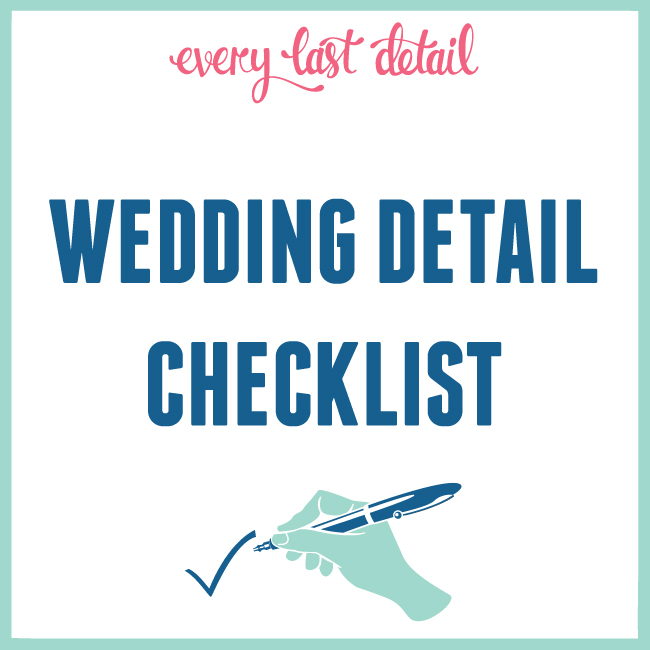 First, let's start with my definition of wedding details. Wedding details are anything and everything about a wedding that provide some kind of *look* to a wedding. This "look" could also be seen as a general style or theme. The amazing thing about wedding details is that a lot of them are things that are common to a wedding- centerpieces, bouquets, table numbers, etc. But then there are details that sometimes get overlooked, like menus or escort cards. And then there are details that aren't *necessary*, but are just plain fun! (These types of details can be perfect to help further infuse yourselves and/or your theme into your wedding! This is one of the big reasons why I love details so much- because they can really help to define *your* wedding.) There are lots of options for wedding details, and just about every wedding has them!
Being that I was going through my own mental checklists for my shoots today, I went ahead and scoured my brain for every possible wedding detail that you could have, and created a checklist for you all! Below is a little preview of the full list- click on the preview to download the full checklist! Everything on the list isn't *required*- as I said, it's every possible wedding detail. Use this checklist to make sure that you have your wedding details covered- and who knows, maybe it will give you some new ideas for wedding details too!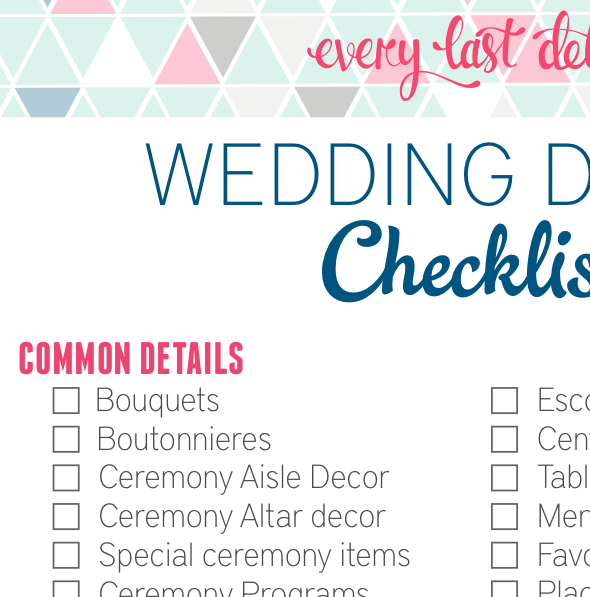 Brides, what kind of details do you already have planned? Did the checklist help you remember any other details?
---
Want to read more about wedding details? Click here to see more posts about details! 

The following two tabs change content below.
Lauren Grove is the editor and owner of Every Last Detail. A clueless bride-turned-wedding planner, Lauren uses her experiences and knowledge to educate and inspire brides all over the world.