Wedding season is upon us, and with that, many of you may be getting closer to your wedding day! Hopefully you will have a wedding coordinator to help you avoid the stress of the wedding day, but this doesn't always mean that you won't still have a few projects to finish up and final decisions to make in the days leading up to your wedding day. Once completed, these projects and decisions will be handed over to your wedding coordinator to handle for you on the day of your wedding.
However, in my experience, there are a few things that do commonly get overlooked in the last minute rush- things that can make for some unnecessary stress on the day of the wedding… either for you, your coordinator, or whoever you've put in charge of setting up for your wedding! And so, I've put together a list of a few of those things… more specifically, things NOT to say to your wedding coordinator…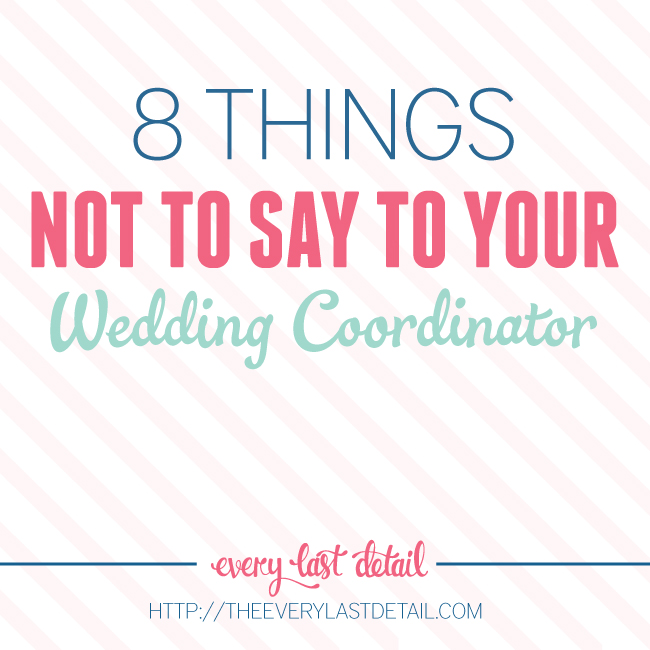 "Here are my escort cards, I have them ordered by table number."
The Problem:
Escort cards should not be displayed by table number- they should be displayed alphabetically. This ensures that guests can find their name easily and effectively, thus helping with the flow and efficiency of your event. After all- guests wouldn't know to look for their name according to table number, but they will know to look for their name according to alphabetical order!
The Solution:
I realized that you likely handled your assigned seating by table number, but it's important to take a moment and alphabetize the escort cards for your coordinator! There are so many little details on a Wedding Day, stopping for 25 minutes to put your escort cards in order may cause another important detail to be overlooked.
"Here is a bag of my place cards, I want them at each place setting."
The Problem:
This bag usually holds all the cards for every guest. If they are meant to be at each place setting, we have no clue "who is who", "who brought who", and "who should be sitting next to who"!
The Solution:
Take a moment and organize the cards for your coordinator! Be sure to separate the cards by tables in little bags AND give us a list of who should be at what table and who should sit next to who!
"Sorry I didn't have time to tie the ribbons on the favor bags- one goes at each place setting."
The Problem:
Time is always a HUGE factor on Wedding Days. If you have 150 guests and your venue has given your coordinator 2-3 hours to setup your entire reception, chances are that there won't be time for your favors to be tied with ribbons.
The Solution:
Gather your Bridesmaids the night before so they can help you finish up these little details. You will get them done a lot faster and ensure that it will get done!
"Here are my table numbers. You can choose where each one goes."
The Problem:
Even if you think it might not be important, it's essential to have a floorplan created of where you want each table to be. Your parents and family will want to be seated close to you, you may need to keep certain family members apart, and you might want to put your friends close to each other- but your coordinator won't know any of that (okay, maybe your parents' names, but that's it).
The Solution:
When you are assigning your guests' seats, start by creating a layout of where your tables should be in your reception space. Assign table numbers to those tables, and then assign seats based on that layout. If you are working closely with a designer or planner, they should help you with this, but if not, make sure to do it!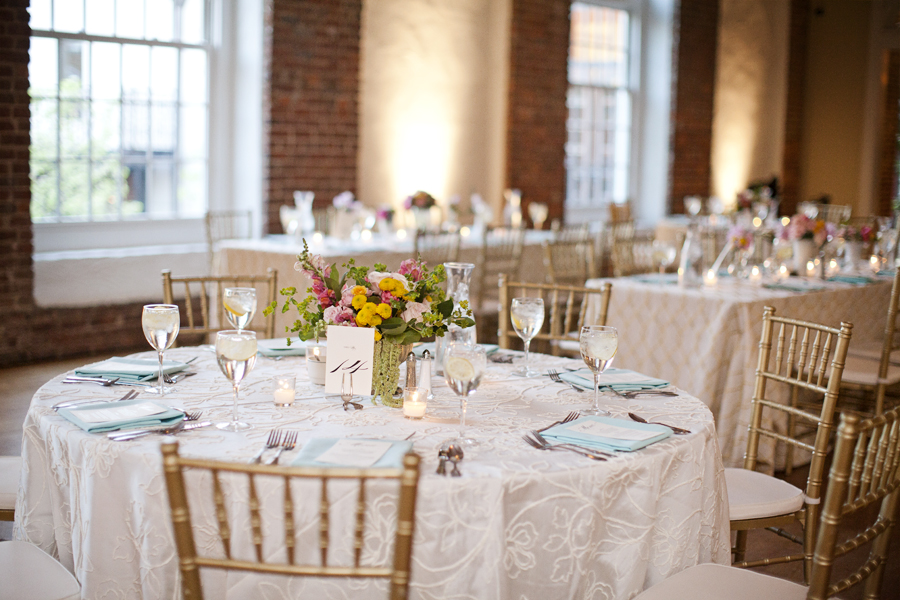 Image via Leigh Pearce Weddings
"I decided to save money and bought these rolls of tulle! I thought it was so cute! I want the tulle tied in a bow on every chair- I hope I bought enough!"
The Problem:
Tulle. Should. Not. Happen. EVER. (Unless it's being used as a main design element of the wedding, as seen here.) It really doesn't end up looking like a full, pretty sash. The bows never look like pretty bows (because you are using cheap tulle from the craft store), and once again, chances are that 150 chairs will not be tied if your coordinator has to sit there and measure out the same length for each chair and then tie it to the chair.
The Solution:
If your vision is to have chair sashes, go ahead and rent them from your local linen company. They won't be more than $1.00 (most of the time), it will look so much better and more finished, and tying 150 sashes will be a lot easier and faster for your Wedding Coordinator! I promise you!
"The venue said that they are providing votive candles, but I want to make sure they are votives and not tea lights!"
The Problem:
Not knowing the difference between a tealight and a votive candle.
The Solution:
Know the difference between a tea light (that will burn maybe 2 hours) and a votive (which will burn for more than 6 hours). Don't think you are saving money buying the candle without the glass holder. You have to put the candle in something!
"I want three floating candles and three taper candles in candlesticks down the middle of each table."
The Problem:
When you give your wedding coordinator boxes of candles, holders, and vases the day before your wedding, unopened… it sends up a huge red flag for us. These boxes have probably been sitting in your dining room or extra bedroom for months and you didn't open them to make sure nothing was broken in shipping and most of all, you haven't taken the time to unwrap all the individual candles and take off all the stickers! If we were to use this example and then multiple that by 15 (the average amount of tables for 150 guest Weddings) that is 90 Candles!!!
The Solution:
Just like in the other examples, take the time and be our "sous chefs"- prep your wedding day details. In this example, open all your boxes, make sure nothing is broken, take off all the stickers, and unwrap all your candles. Also, make sure your coordinator knows that they are responsible for the setup of your centerpieces. They make a timeline for your Wedding Day and usually account for all the deliveries, drop-offs, and arrival times. It is important for them to know this ahead of time so they can allot enough time to execute this for you and accomplish your vision.
"We bought tablecloths online! They were so much cheaper than renting. My vision was for a room full of floor length linens!"
The Problem:
Are you sure that you bought floor length linens? Consult your venue on what size tables they will be using for your wedding and then confirm the size of the linens that you will need. For a standard 60 inch round table, you will need a 120 inch linen to touch the floor. So, if you are buying, my next question is "What are you going to do with them afterwards?". If your answer is "Sell them!" think again. The time and energy you will put into trying to sell them will most likely end in vain. Moreover, other brides are not going to want to buy your soiled or dirty linens. The money you thought you were "saving" with buying instead of renting will go into professionally cleaning your linens and making sure they are pressed without wrinkles.
The Solution:
Just rent your linens or be satisfied with the linens that your venue provides if you cannot justify the additional cost. Yes, it can cost upwards of $500 for the linens, but it will be well worth the expense when you do not have the headache of them not being the right size or having to clean them in preparation to sell them… I promise! Your time is valuable, too!
---
Here are just three more tips that will make your wedding coordinator love you more than they already do!
1. Be sure to tell them what to expect ahead of time, so that if there is a surprise on the Wedding Day, they can be prepared!
2. TAKE OFF ALL STICKERS!! This takes up so much time and if we don't have Goo Gone in our kits, you will be stuck with the left over sticker residue. Not too pretty.
3. Don't think you are saving money buying the candle without the glass holder. You have to put the candle in something! If you give us a pack of candles that do not have a glass holder, at the end of the night, you will get that pack back, unused.
*Keep in mind that most venues only allow you or your Wedding Pro's 2 hours prior to Ceremony for setup! Helping them, will help you! Don't just give them a box blindly, make sure you give them instructions prior to the Wedding Day!
---

Have any questions about something you're planning on handing off to your coordinator? Ask in the comments!
Wedding pros, do you have any other tidbits to add? Comment with your own suggestions! 

The following two tabs change content below.
Hailing from Northeast Florida, Adair Currie has spent the past four years carving out her niche when it comes to executing spectacular events & weddings for her clients. Taking a different approach to the planning process with focusing on the couple or client first, keeping love & warmth of the event in mind, and creating memorable details that are client centered, has set Adair apart and ultimately has led her to be named Jacksonville's Best Wedding Planner.