Okay, so I have a confession to make… it takes everything I have when a friend/acquaintance of mine gets engaged to NOT send them a message/email listing what they should do first, give them a full timeline of when to do everything, warn them about what not to do, and tell them to hire a planner.
There- I said it. I have wedding-planning-advice-logorrhea. But what can I say? I eat, breathe and sleep weddings, and I want EVERYONE to have amazing weddings. But alas, I just tell the newly engaged friends congrats and move on (okay, I might send them a link to a blog post too). In most cases they have no idea what I *actually* do for a living anyways- they just know I post links to things about weddings all the time. ;)
Anyways, my point with this "confession" is this: How do you really know what to start with when you first get engaged?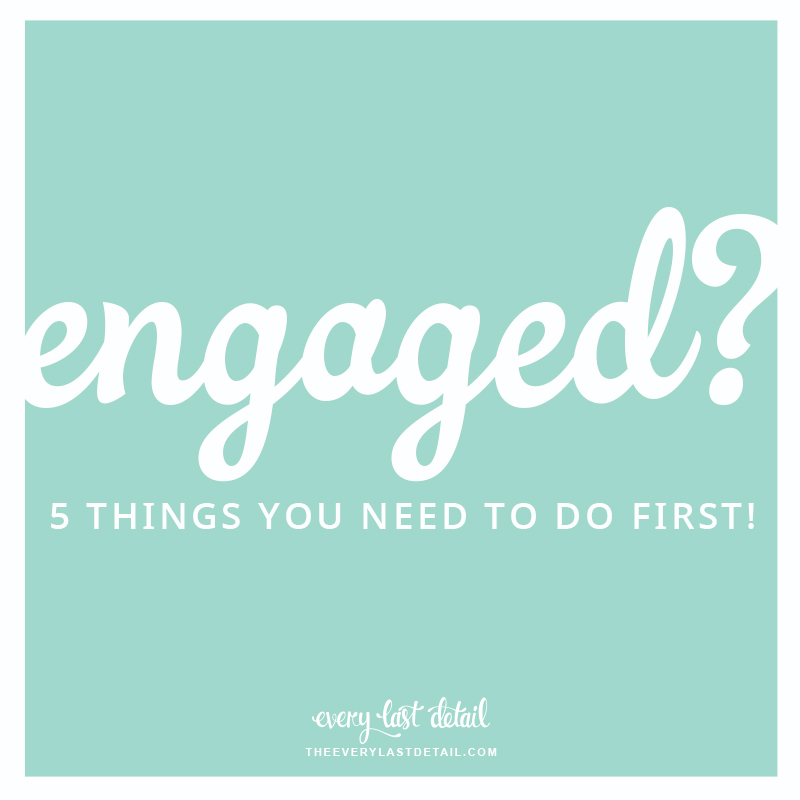 I myself- yep you guessed it… had NO clue. You do what you think you're supposed to do, right? Right away, you buy a wedding magazine or two or five. You look at their outdated planning checklists and inaccurate budget recommendations, and immediately develop the feeling that you need to get everything done right away. In some cases, this would be necessary- like if you decided you wanted to get married in less than 4 months. But in most situations, wedding planning happens kind of like a roller coaster.
[Tweet "The process of wedding planning happens like a roller coaster."]
You do stuff for a few weeks, and then you have a break. A  few weeks/months (depending on how long you have until your wedding) later, you have more things to check off your list, and then you have another break. And there you have it- a really fun, pretty, and happy roller coaster ride known as planning your wedding. ;)
So back to that question of what you *actually* need to do first when you get engaged. In my years of working in the wedding industry, I've developed my own realistic and honest take on what needs to be done first- aka pretty soon after you get the ring. But first and foremost, I must remind you to ENJOY being engaged! Revel in the feeling for a little while- it's so fun! You'll never be "newly engaged" again! But once you've gone through all your congratulations and made all of your phone calls, people will start asking you all about what you're planning. And that's where that question of where to start comes up!
Essentially you can't really get anything else done without doing these things listed below first, and they do in fact all pretty much happen at once. Heck, you could even sit down for a few hours and have just about all of these things done!
 1: Set a budget
You really shouldn't do anything before deciding on your budget. I know it's a tough conversation, but it needs to be discussed and decided on before anything else. Figure out who is contributing, how much they can contribute, and what your total budget will be. Then you can move on to…
 2: Choose 2-3 possible dates
Yep, to be safe, choose 2-3 possible dates to have your wedding. Think of what time of year you like, the weather, work schedules/vacation time, holidays, and yes, even football (or whatever sport your fiance is crazy about) schedules. Then choose your #1 preferred date, and have a #2 and #3 available in case your preferred date isn't available. Because I'm going to be honest- venues don't wait around for you to get engaged and decide on your perfect wedding date. Some venues even book up to a year and half in advance!
 3: Start your guest list
This is another toughie because yes, of course you want to invite everyone and their uncles to your wedding. I'm warning you. You're going to list everyone you know, friends you haven't seen in years but still "know" thanks to Facebook, coworkers you don't even like, and I'm sure your mom will want her friend Sue to be on the list too. But in reality, the more people you have, the more you have to spend. This is why you do your budget first.
Example: You want to have 200 guests. Your budget is $20,000. This means that you will have $100 per guest. Well, that really ritzy hotel you love? Yeah they're not even going to be close to $100 per person- and that's not including flowers, dress, and all your other vendors.
So starting your guest list and knowing your estimated count early on is imperative. And keep in mind- nothing is set in stone. Guest counts normally go down by the time the wedding day comes around anyways- and believe me… it'll get reeeeeally easy to cut those people you haven't talked to in forever. But it's crucial to have an estimation of how many people you're planning on so you can make some decisions! :)

 4: Decide on your wedding's style
Ah, there I go again on wedding styles. If you're new here, you'll find out that I'm HUGE on knowing what style of wedding you want. Vintage, modern, classic, eclectic, punk, rustic… there are SO many styles. Most styles also coincide with decor and details too. But none of that has to be decided on right away. Just know the general "gist" of the style of how you want your wedding to be. Once you know that, it'll be easier to decide on your venue. Which brings us to…

 5: Decide on your venue
So all of the previous 4 steps, like I said earlier, can essentially be done all in one sitting. Pretty cool, right? Once you've laid the "foundation" for your wedding, you can start researching and touring venues. When you're researching and you've found one you like, I recommend emailing or calling and asking if they have any of your possible dates available. If they do, then go ahead and schedule a meeting to tour the venue! Give yourself a few (1 to 3 max) weeks to tour all of your possibilities (depending on how long you have before your wedding date of course), crunch numbers, envision and dream of your wedding, and then pull the trigger on your venue! Once you have your venue booked (meaning deposit made) and your date secured… well woo hoo! You are getting MARRIED! ;)
Once you've completed all of these, you're good to go for a few weeks! Now you can tell everyone about the wedding date and start researching for your next steps! My quick suggestions for what's next: planner (if you haven't already hired one) and photographer!
---
If you've already done all of this and are on to the next steps, you can find more on our Newly Engaged page! Oh, and also, here are the 5 Things To Do NEXT!
So brides and grooms, raise your hand (aka comment) if you're newly engaged!! And if you're not, where are you in your wedding planning "roller coaster"?
The following two tabs change content below.
Lauren Grove is the editor and owner of Every Last Detail. A clueless bride-turned-wedding planner, Lauren uses her experiences and knowledge to educate and inspire brides all over the world.