As soon as I saw the first picture from this wedding by Vick Photography and Premier Planning Services, I knew I was in love. I just love all of the sweet details, especially the beautiful calligraphy. And the bride just looks so happy! You can absolutely tell that this couple is 100% in love, and that just makes everything that much sweeter.
From the bride:
Looking back on our wedding, it is so fun to think of all the great moments and fun touches that made for the perfect day. We were so blessed to have all of our closest friends and family in town for the weekend to celebrate with us. Thanks to our fabulous wedding planner, Rita Swanson from Premier Planning, we were able to spend the entire weekend enjoying the events and special moments rather than having to worry about the details.
In an effort to have a wedding that was classic and beautiful without being over the top, we worked on coming up with a few ways to add personal touches that would make the event unique to us but still have the focus be on a celebration of our new lives together, not about the linens, flowers, cake or dresses.
 Prior to the big day, one of my favorite details was the opportunity to use my hobby of letterpress to create our wedding invitations and save the dates. I found a local calligrapher who was able to design a custom map with wedding locations, such as the church and reception site, as well as fun little motifs around special places in our lives such as the high school where we met. Her beautiful calligraphy combined with a simple font allowed me to create classic invitations with a playful touch. I printed them in a simple, deep navy in an effort to keep it fun but still elegant.
Although I can't take credit for the idea, I must say one of the most special parts of the evening was when my dad and I asked all the other fathers and daughters to join us on the dance floor so that nobody would be watching our four left feet for too long! It was so fun to see all the dads' faces glowing as they danced with their girls. My sister joined my dad and I and we all laughed as we aimlessly swayed back and forth! Then, the mothers and sons did the same thing and it got everyone out on the dance floor to get the party started!
 My husband, Graham, was more than willing to let me run the show when it came to planning our big day. He was in the thick of dental school at the time and was simply excited for our big day. Having him totally out of the details made it possible for my mom and I to come up with a fun little surprise for him at the reception. His favorite treat is made by a local company, FunkyChunky, that makes the best chocolate and caramel covered pretzels. We attached one to a toothbrush that said "Don't forget to brush!" on it as the favor for each guest. We also had chocolate and caramel covered graham crackers with an "M" drizzled on them as part of the late night snack. He was in heaven!
 We had our photographer set-up a little photo booth area where guests could get fun pictures taken. For props, we did a hunting theme since some of Graham and I's favorite memories together have been from hunting trips to South Dakota. It's true – I'm a hunter! The photo booth also brought about one of the most memorable photos from the evening when all my cousins and grandma piled in and we gave her the target and took aim! Her expression is priceless.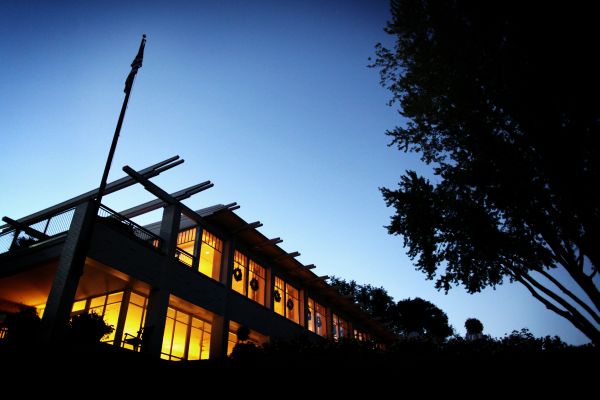 Our day could not have been more perfect or more us. Everything went flawlessly and the weather showed up in the most fabulous way. Sharing our first dinner together with all the people who love us most while the sun set outside the windows of the club left us totally overjoyed.  We look back on the day fondly.
Can you see what I mean about this couple obviously being in love? Their day was absolutely incredible, and definitely a symbol of their relationship, which I absolutely love. And they had a trolley! How amazing is that. It definitely made for some beautiful pictures, don't you think?!
xoxo,
Joelle
Vendors who made it all happen…
The following two tabs change content below.
Joelle is the founder, owner, and creative director of Joelle Charming. She blogs, plans weddings, and writes love stories. Joelle is also obsessed with Taylor Swift, loves the color pink, and likes to wear bows in her hair.