Looking back on my wedding planning experience, there's one thing that stands out in my mind more than anything. It's the fact that I was so concerned with "how much", that I didn't even care- or think- about quality. Big mistake y'all, big mistake. This resulted in hiring "cheap" wedding vendors, and in the end, we really didn't even cut any corners. We just ended up with issues on the day of, and regrets after the fact. So I wanted to share a little of my own experience, and why you don't want "cheap" wedding vendors.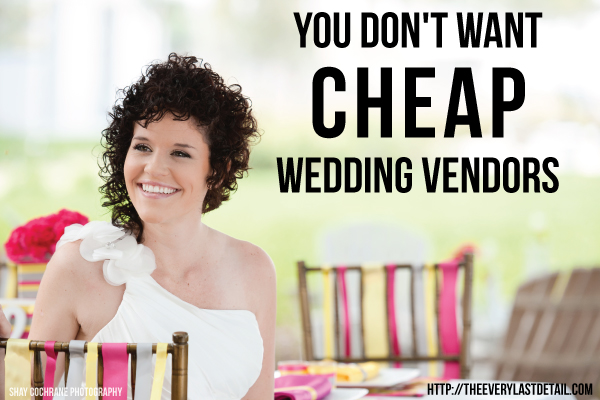 So let's start off with the fact that yes- I had a cheap wedding photographer (and wedding planner too). But guess what? She was still kind of expensive. In fact, knowing the quality that I could have had for what I paid for her service and products kills me. What happened? She had a package that had more "bang for your buck"- or in other words, offered more *stuff* with her package. Since I didn't know any better, her lower price and "better package" beat out the photographers who had higher packages. Mind you, those other photographers were also offering a better quality of work and a better experience, and their packages didn't include a gazillion prints and an album. I was comparing vendors based on price, but in reality it was impossible to compare them accurately. Looking back now, it makes sense as to why they were more expensive. But I wasn't paying attention to the quality- I was paying attention to the price, and what I was going to get for that price.
Now I'm not saying to NOT pay attention to price and what you get for your money. But I am saying to pay some attention to quality too. Why? Because the quality of a wedding professional ends up having a significant effect on the outcome of your wedding.
So what exactly is this "quality" that I speak of? The quality of a wedding vendor includes their experience, their knowledge, their customer service, the actual product and/or service they provide, and even how they perform on the wedding day. That's a lot right? Well guess what? They're all things that you're going to notice throughout your time working with your vendors and on your wedding day- so you should care! [If you want more tips on choosing your vendors, go here!]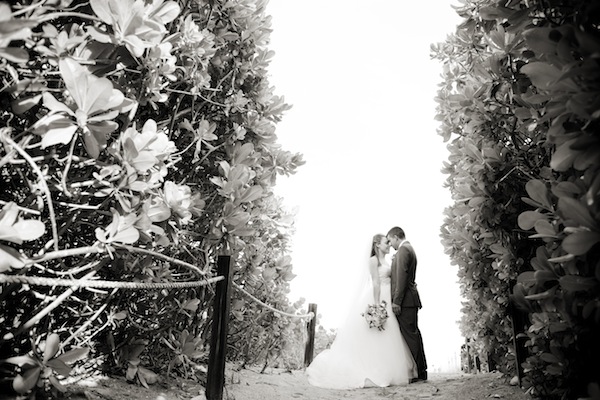 Image by Captured Photography by Jenny
With all of this said, I think we can all agree that it's human nature to look for the best deal out there. Unfortunately, that is the approach taken when it comes to hiring wedding vendors too. And I know- weddings are expensive. But trust me… you want to think back on your wedding experience and be happy about it, without any regrets.
So I encourage you to do your research. Know what to expect to pay for a particular vendor or service. If you have an idea of what to expect, and you also pay attention to the quality of what you're getting, chances are good that you probably won't end up with the cheap wedding vendors. And more importantly, you'll have a much better chance of having a wonderful wedding- or at least better than mine! :)
What kind of things are you keeping in mind as you're considering vendors? Have any of you avoided hiring a "cheap" wedding vendor? 
————————————————-
The following two tabs change content below.
Lauren Grove is the editor and owner of Every Last Detail. A clueless bride-turned-wedding planner, Lauren uses her experiences and knowledge to educate and inspire brides all over the world.