For those of you who love the details, I have something pretty for you today! There's just something so elegant and classic about black and white, don't you think? This bride and groom were spot on with their decision to use black and white, and it resulted in an absolutely beautiful wedding captured by Meet The Burks!
From the bride…
What (or who) helped you most in your planning process and/or on your wedding day?
The most helpful people in planning the wedding (before and even on the day of our wedding) was actually our wedding venue, Saratoga Springs! This venue is located in Mount Pleasant, NC (near Concord) and the price we paid for the venue included a wedding planner (which we had 2 meetings with to plan and organize everything) and wedding director for the day of the wedding! Even the decorations, linens for the reception tables, and all of the beautiful centerpieces were provided by the venue! Because we chose this venue which provided almost everything for us, it left us stress free (literally)!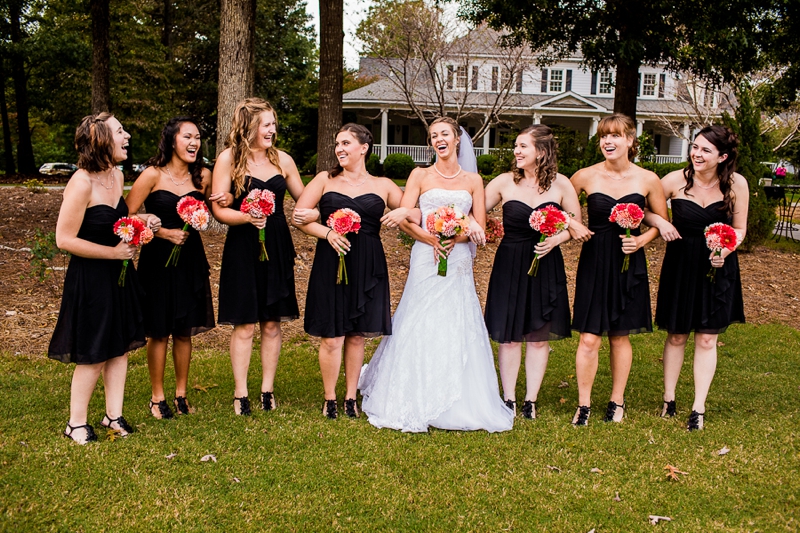 What was the most important thing to you when deciding who to work with for your wedding?
The most important thing to us when we were deciding who to work with for our wedding (this includes photographers, minister, venue, DJ, planners, etc.) was how comfortable we felt around them. We wanted them to celebrate with us in our marriage ceremony as we proclaimed the love of Jesus Christ and celebrated the union of me and Zack. We also looked for organization (I was a very organized bride) and passion for what they were doing.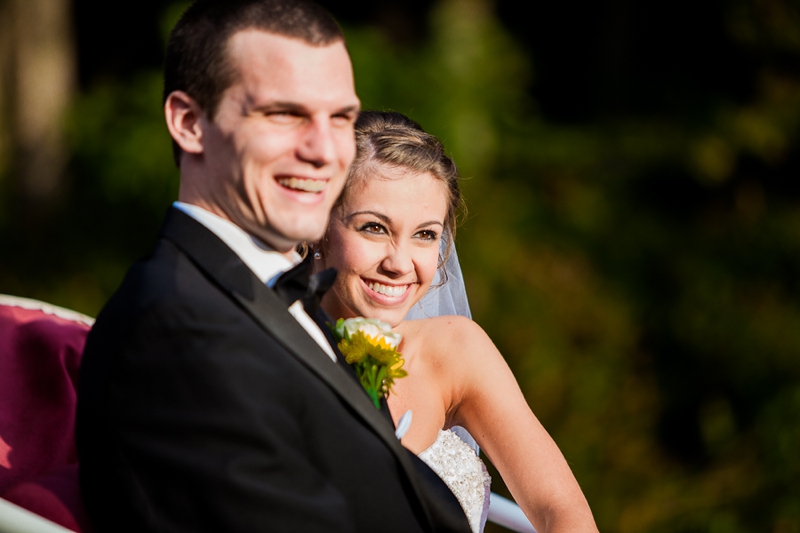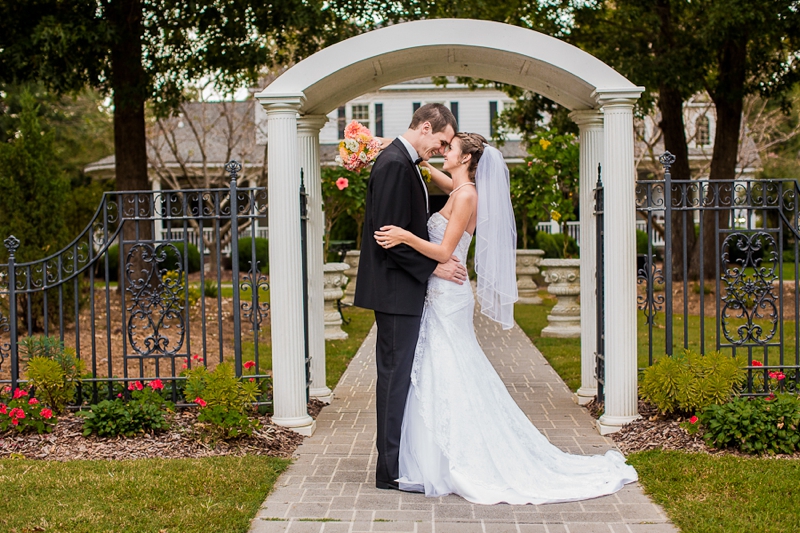 What was your inspiration for your wedding details and/or design?
We did not have a "theme" for our wedding (as most people do) but we wanted our colors to really stand out. Ever since I was a little girl, I had always wanted a black and white wedding with pearls as the accent decoration. So, my dress was white and I wore a strand of pearls my husband had bought me from China, the bridesmaids wore black. My husband wore a black tuxedo with a white vest with a faint floral design (which matched the floral design in the lace on my dress) and the groomsmen wore black. The tables for the reception were black, the next one was white, the next black, and so on. The centerpieces were different for each table, but for the most part, there were white flowers with tall, floating candles with pearls all throughout the candle-holder. 
These colors might sound a little bland, but we chose very colorful flowers that brightened everything up. The bouquets were light yellow, coral, red, and white. My bouquet was the same colors, except a little more white. To add color to the reception, we had a turquoise uplighting that surrounded the tent, which made it absolutely beautiful! I was so pleased with how everything turned out!!!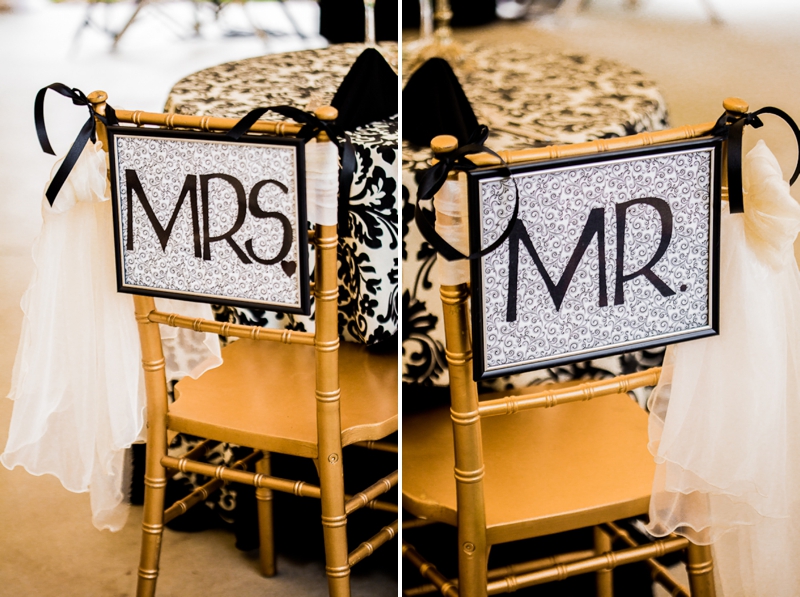 What was your favorite thing about your wedding?
My favorite thing about the wedding, besides going and picking out all of our decorations the wedding venue provided, was seeing my husbands face right when he saw me at the end of the aisle. Heather and Walter Burks (our photographers) captured this perfectly! All the planning and organizing was left behind and I just felt this freedom and joy walking (actually I kinda ran) towards my husband. Our happiness was complete when we finally said "I do." And it brings tears to my eyes even while I am writing this, because I know this is a picture of what it is going to be like when we see Jesus face to face. Jesus (our groom) is waiting patiently for us (his bride) to be united with Him one day (either through our departure here on earth by death or by His return!) That is why our wedding is so joyful to my husband and I, because we know that our marriage is not the purpose of our life, it is to glorify our Lord and Savior of our lives!
What is your best piece of advice for other brides?
My advice I would give to future brides: Don't let the stress of planning take away the joy of getting married. Let the planning be fun!  Allow yourself some time to sit back and relax. AND, don't spend all your money on flowers!!! Those are only used for 20 minutes. Whatever budget you have, take a good portion and put it towards a reliable and organized wedding planner and a helpful venue! If we had not done this, the stress would have been too great for me to actually enjoy the wedding. 
Oh, and one last thing… don't forget this is your husbands wedding too! He has been waiting for this day just like you. So take the time and ask his opinions and take him with you on your "pick out" days. If you are going to be a "team" after you get married, you need to be a "team" before you get married also. 
Vendors who made it all happen…
The following two tabs change content below.
Joelle is the founder, owner, and creative director of Joelle Charming. She blogs, plans weddings, and writes love stories. Joelle is also obsessed with Taylor Swift, loves the color pink, and likes to wear bows in her hair.