Whoa whoa whoa- we're talking about DIY on Every Last Detail?! Yep, it's happening, but it might not be what you think! If you haven't noticed, "DIY" is a term that isn't used too often around here, and it's for a good reason. (First, let me state that DIY in this capacity does not mean crafting! It means doing the job of a professional yourself.) At ELD, we don't encourage DIYing aspects of your wedding day for a few reasons- it's stress-inducing for you, and we've heard waaaaaay too many horror stories (and witnessed a few too). Not to mention the fact that wedding vendors are professionals for a reason- because they have experience and expertise!
So today, to give you a little more insight into the subject, I've asked wedding planner Caitlin of Plan It Event Design & Management to share her expertise regarding why you don't want to DIY your wedding. We're all ears Caitlin!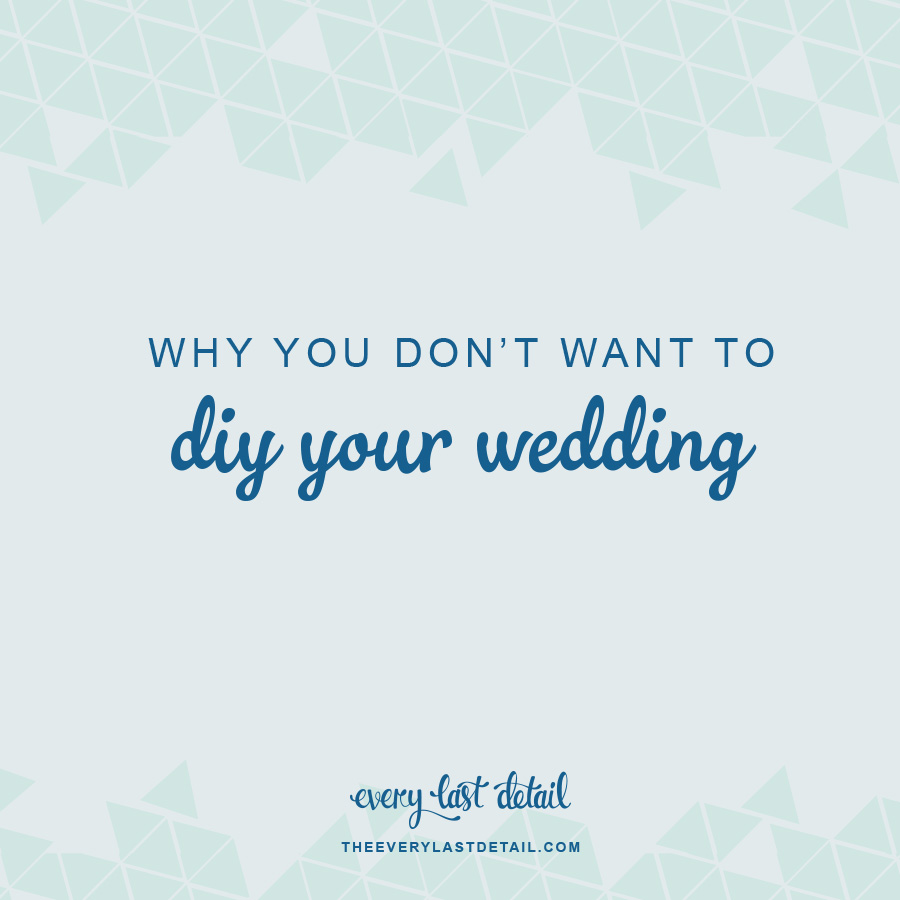 As an Orlando wedding planner, I ALWAYS strongly encourage hiring a professional partner, creator or vendor. In fact, many planners' contracts clearly state that they will not do work for your wedding when it is a service or offering that you could have hired someone else to do. This is a sticky subject, but it greatly deters clients from going the DIY route, and trust us—you will be so happy you didn't!
Please understand that we are not completely hating on the idea of DIYing (aka creating) items for your wedding. We love creating things (but we also believe there is a time and a place for everything)! The term DIY in this instance is more in reference to what was mentioned above- performing a service or providing a product that a professional could have performed or provided. We strongly believe that weddings are not the occasion you should skimp on things, and when you try to DIY every single thing, it can be a recipe for disaster.
The very beginning of the planning process involves setting a budget and determining the look and feel of your wedding. That way, you know right from the start what you can or cannot afford. Keep in mind that many vendors can also provide options in different price points. This will save yourself some time and energy of having to do it yourself.
A common instance we see a lot is purchasing items or linens versus renting them. We understand that you want to save money (hello, weddings are expensive!), but we always ask, "What you plan to do with 100 charger plates, 12 blush linens and 200 mercury glass votive candles after the wedding?!" There are plenty of outlets to post these products online in the hopes that another bride will want your items, but we have yet to hear of success from those efforts. The only way I can see this being successful is if you have all girls in your family and you all want to have similar looking weddings.
As wedding planners, it's often our job to not only ensure the wedding runs smoothly, but to also make sure the end of the night is covered as well. This is often a chaotic part of the day, and we're there to make sure all items, gifts, flowers, etc are not left at the venue and go home with the correct person. If you rent or a vendor provides all the items, then guess what? That vendor comes back at the end of the night to pick them all back up! If you're the one providing items, then they have to leave that night as well, with everything else you initially brought for set up. Often, as soon as we point that out to couples considering providing their own items, they immediately change their mind because they realize the hassle that's associated with it.
My point is that with the money and energy you're spending on gathering, purchasing, or making- and then attempting to sell these items- you could have just had a rental company, floral designer, or linen company provide them for you! (Not to mention the cleaning of all those items after the wedding too- that's no fun at all!)
The advice I can give any couple considering DIYing and buying ALL THE THINGS is this: less is more, quality over quantity, and don't sweat the small stuff! Focus on the details, but keep things simple- and hire professionals to keep your stress level down!

The following two tabs change content below.
Lauren Grove is the editor and owner of Every Last Detail. A clueless bride-turned-wedding planner, Lauren uses her experiences and knowledge to educate and inspire brides all over the world.