So, exciting news- my 6 year wedding anniversary is this weekend- this Saturday to be exact! On one hand, it feels like it was just yesterday that we were married (I think we've established that time flies by SO fast for me), but on the other hand, it feels like it was so long ago! And speaking of hands… (getting a bit more literal about things) the engagement ring on my left hand is more sparkly and gorgeous than ever… because it's a whole new ring!
That's right friends- I had my engagement ring reset, and I don't regret it one bit!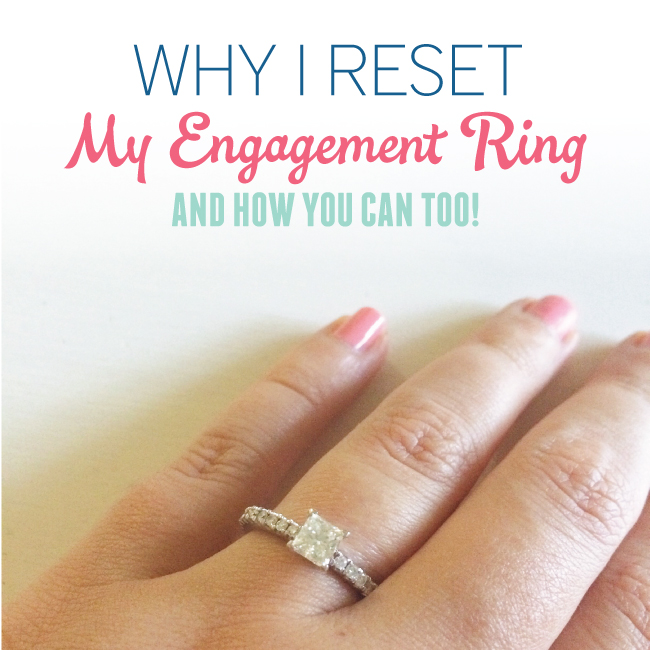 I know what you're thinking- how could I look past the sentimentality of my engagement ring? I didn't think I'd be able to do it either. Because yes, the engagement ring is a symbol of the love that your spouse has for you at the time that they propose, stating to you and the world that they want to spend the rest of their life with you. And yes, it's something that you imagine you'll have for forever and ever and pass down to your children or grandchildren. But when it came to my ring, I wasn't super attached to it. It screamed "2007" to me. Not only that, but to make a long story short… my husband (then fiancé) and I went ring shopping just to look, I picked it out on a whim, and my husband felt rushed to purchase it- even though he didn't actually propose until months after. Plus, it was my husband who had the idea in the first place to have my engagement ring reset into something that would be more suited for me! Needless to say, neither he nor I had too much sentimentality towards my engagement ring.
The beauty of the fact that I had my engagement ring reset is that it was fast and easy- because I used Gemvara's new Stone Reset service! We had been talking about reseting my engagement ring for a while, and when I heard about Stone Reset by Gemvara, I was definitely intrigued. Stone Reset by Gemvara is a simple way to transform your jewelry or loose gemstones into a new design. The process is concise and easy, they stay in contact with you throughout the whole process, and the result is amazing!
All you have to do is request a shipping box. Your box will be sent to you within a few days, and you just enclose the jewelry that you want reset, seal it up, and use the shipping label included to send it back. You will get an email from a Gemvara representative when they receive the box with your jewelry, and then they will get to work! They measure and evaluate all of your gems, and then within a few days, they send you the potential options for resetting your jewelry. Then you ask any questions or give the go-ahead, and in about 2 weeks your new jewelry will arrive on your doorstep (with you signing for the package of course)!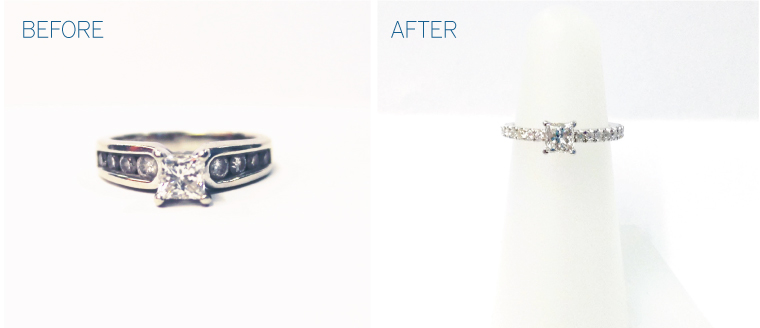 As you might be able to tell, my former engagement ring had channel set diamonds with a princess cut diamond. I wanted there to be have less metal on my ring, so Gemvara took my same princess cut diamond and added it to a new setting (their Carrie setting that you can see here). The result was something that is more delicate, and way more "me"… I love it! (I feel like I'm newly engaged again, looking at my ring all the time!)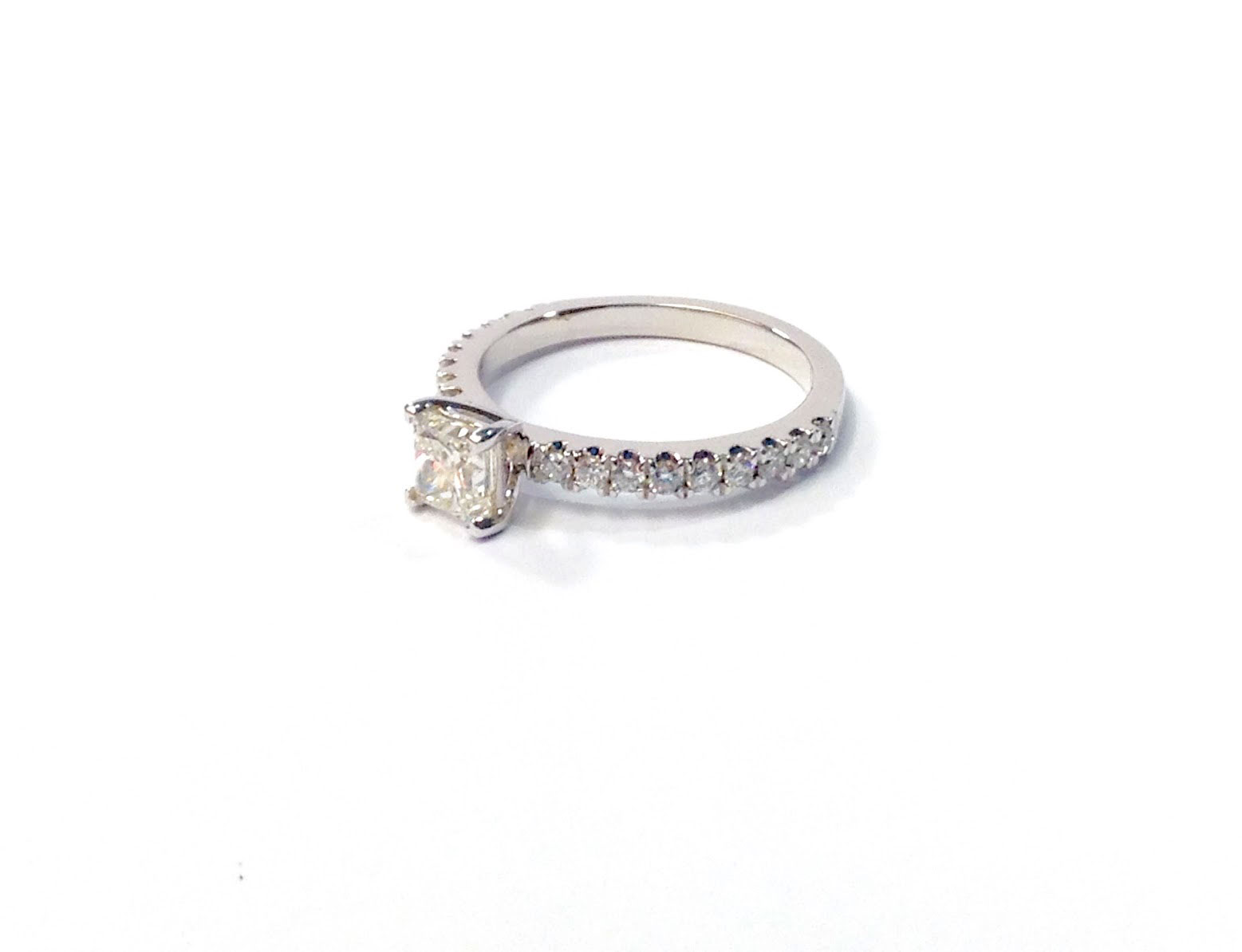 This process isn't just for rings though- it's also perfect for resetting old jewelry that isn't quite your style anymore, if you have a piece of jewelry from a relative, or even a loose stone that needs a setting. It's really SO simple, and such an incredible service. Stone Reset by Gemvara makes it easy to give new life to your old or loose gemstones!
---
Special Offer!
Visit Stone Reset by Gemvara and once you send in your old jewelry,
mention "Every Last Detail" to receive 15% off your new setting!
---
So friends, tell me- do you think I'm crazy? Do you think that you would ever want to reset your engagement ring like I did? Or do you have a piece of old jewelry that you don't wear anymore that you would want reset? 

This service review is sponsored by Gemvara. All opinions, thoughts, and experiences are the author's own. 
The following two tabs change content below.
Lauren Grove is the editor and owner of Every Last Detail. A clueless bride-turned-wedding planner, Lauren uses her experiences and knowledge to educate and inspire brides all over the world.