Hey there friends! Notice anything different around here? I'll let you look around for a minute…
Well, in case you didn't notice yet… welcome to the new Every Last Detail… or ELD Version 3.0 as I've come to call it! I am SO very excited to finally reveal this new brand and site to you all- it's been a long time coming!

As you can see, the biggest aspect of "ELD 3.0" is a whole new brand! This brand is the culmination of 4 years of blogging, and months of soul-searching, realizing, and defining… and it's 110% ME. Here's something you might not know: I never really had a brand created for ELD! When I first started Every Last Detail, I had no idea that it was going to become a professional wedding blog- I thought I was just going to be a wedding planner! Well, as a result of not planning, everything that I had for my "brand" up until now was just pieced together. But now, having a brand that is utterly and completely me… I feel like I'm finally "home". I'm still getting butterflies every time I pull up theeverylastdetail.com and realize that it's real! Silly I know, but I've tried to infuse my personality and my life into my business for the past four years, but now I finally feel like I can be myself. :)
I know the golden rule is that you shouldn't "rebrand" once you have something established, but I didn't come to this decision lightly. About halfway through last year, I started realizing that ELD (the way it was) didn't fully represent *me* and the audience of brides that I wanted to reach. You see, Every Last Detail is for the bride who is detail-oriented, hiring professionals, and who is planning *any* style of wedding. Modern, rustic, eclectic, whatever… as long as there are details and professionals are used, it's an ELD wedding! I wanted something that was more "all-encompassing" of all the different styles of brides that are out there. Because when it comes down to it, my goal is to educate and inspire all brides!  
Right now, most everything will function the same way as it did on the last version of ELD. We still have a few things that we're working on here and there, so if you catch anything that looks "wonky", please let me know! (I do know that for the next day or two, the Inspiration Galleries will be down, as it takes a bit of time for the thousands of images to propagate into the database.) I can also tell you that there will be new features and functions added over the new few months… but I wanted to get this updated and more modern identity out into the world for all to see!
One definitive change that coincides with the new brand is that the ELD vendor marketing platform (aka Every Last Vendor) is now The V List!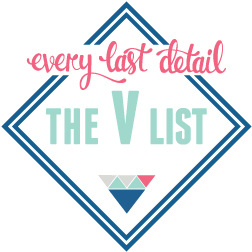 I first created Every Last Vendor in 2011, and quite honestly, I had no idea what direction I wanted to take it. Over the years, I have developed Every Last Vendor into more than just a vendor directory- I prefer to call it a vendor marketing platform. Sure, you can find vendors in it on the website, but that's an incredibly small part of what it is. Behind the scenes, I'm working to make sure that I send vendors traffic and get them exposure. I'll be the first to tell you that I certainly don't have the same traffic that large sites like Style Me Pretty and Wedding Chicks has- which sadly, also means that ELD isn't able to send vendors the same amount of traffic. It's for this reason that I've been determined to provide something different and *more* than what other wedding websites offer.
This whole journey I mentioned above is what has led me to The V List. You see, because of the level of service and amount of marketing that I offer to ELD vendors, I'm not able to take every single vendor. I've set a capacity for the number of vendors that I will take for all locations. I don't want vendors to feel like they're one among a list of a million… and I don't want brides to feel lost and overwhelmed when searching for vendors. And so, I started realizing that "Every Last Vendor" really didn't make sense for what the ELD vendor marketing membership is- because it really isn't every LAST vendor out there!
The inspiration for The V List came from two words that I keep on using when I describe what ELD vendors are- VETTED and VERIFIED. I do extensive research on all the vendors in The V List before accepting them as members. I reach out to other vendors, I Google, I read reviews- I want to make sure that I'm recommending the best wedding vendors out there. And I want brides to know that they can trust my recommendations. I wanted something that would indicate all of these things to the general public. And so, The V List (thanks to a few hours of brainstorming with Megan from Glamour & Grace) came to life! I love it, because to me, The V List serves as a reminder that all vendors found on ELD have been vetted and verified by ME, and are of the absolute highest quality. I'm so excited for brides to continue to find amazing vendors on ELD via this marketing platform!
Next up, I absolutely have to thank my designer, "coach", and friend Elle of Postfilm Design for her amazing work, vision, and support. She took my "I just want a facelift", really listened to me, and made something that reflects me more than I could have ever envisioned. And another huge thank you to my developer, John, for putting up with my crazy emails, freakouts, and never-ending ideas!
And now finally, I get to share a little shoot I did with my friend Becka of By The Robinsons! As part of my rebrand, I wanted to share a glimpse into the behind-the-scenes of ELD. Of course it's really just me sitting at my computer, with my coffee and my dog by my side, but it was fun nonetheless!
First, I have to start with the most amazing thing ever… a cinemagraph!
I'm now officially obsessed with cinemagraphs! I asked Becka real quick to define a cinemagraph for us, and here is what she said: "A cinemagraph is the combination of a photograph and a living moment. I combine a still frame from a moment with some of the life of that moment by isolating animation within the image." AKA… amazing! In the one above, it's my dress and my hair- can you see it? Seriously- I could do these all day! (Sidenote: the dress I'm wearing was actually the inspiration for ELD's color palette! I call it my "brand dress".) Also, another note… I live in a really small house, and in turn, my office is super small and not the prettiest. It's my dream that one day I'll have my very own office- complete with painted walls, actual wall space, and a desk that isn't shoved in a corner! ;)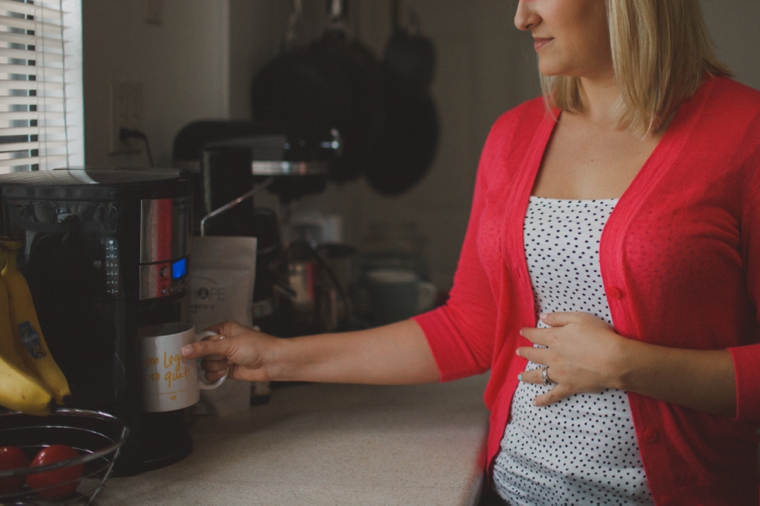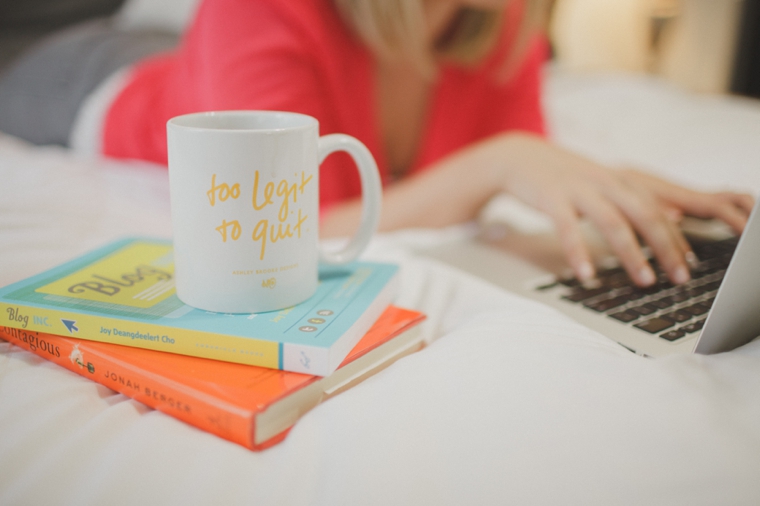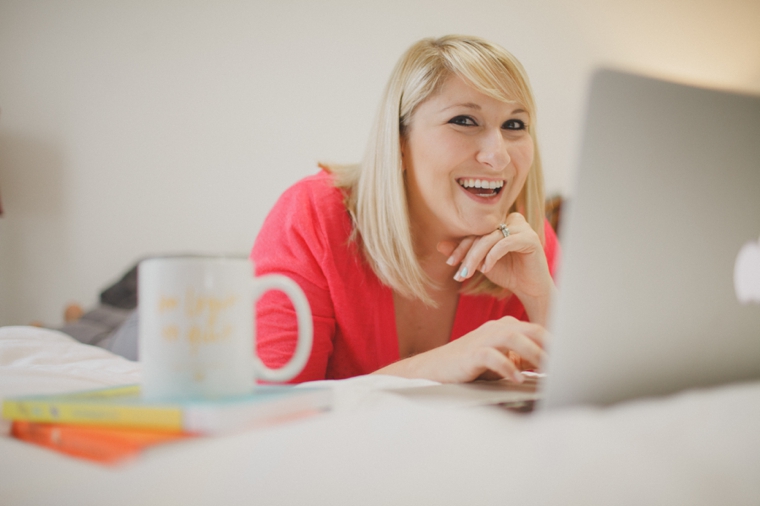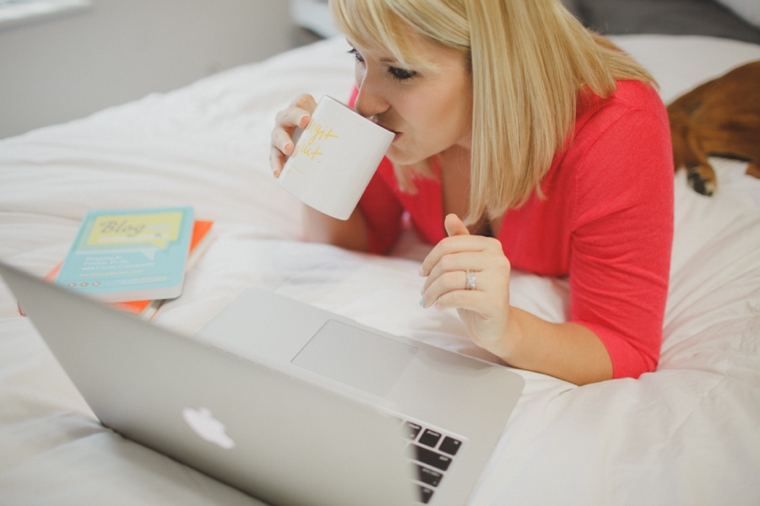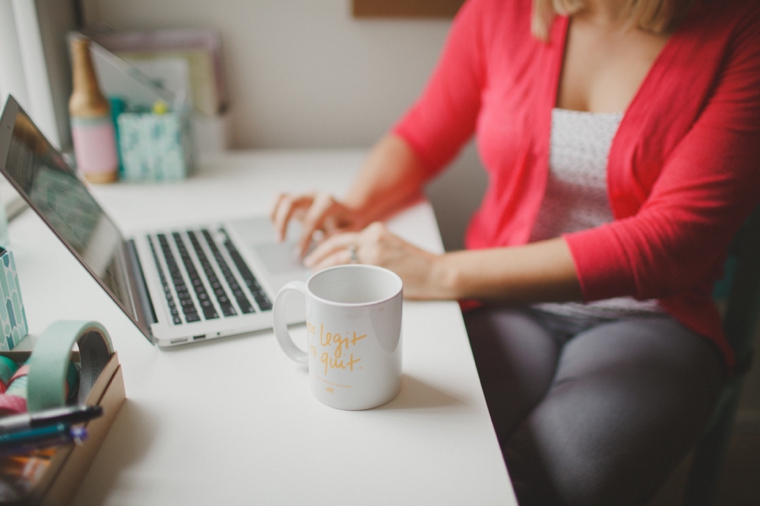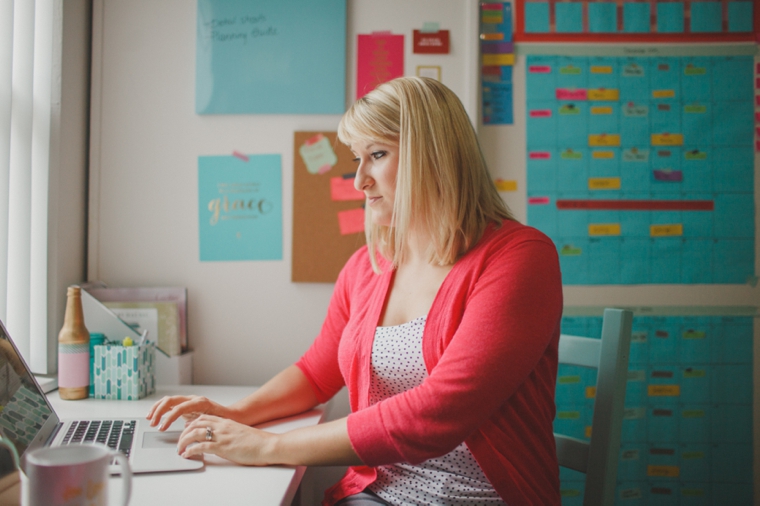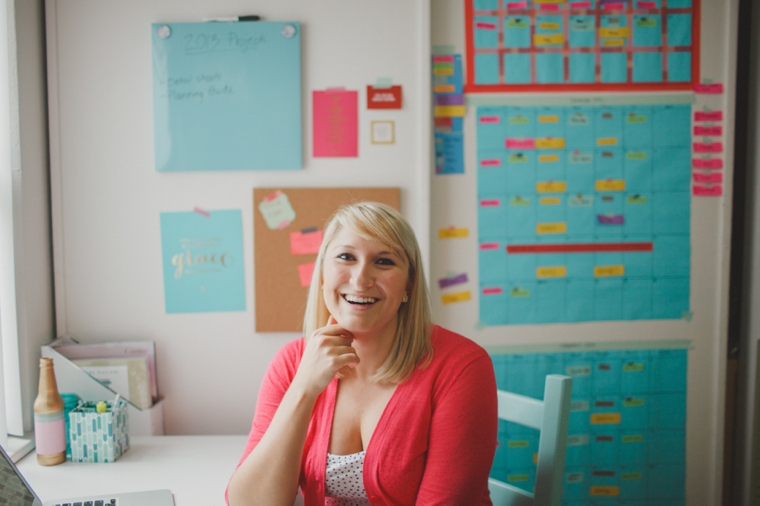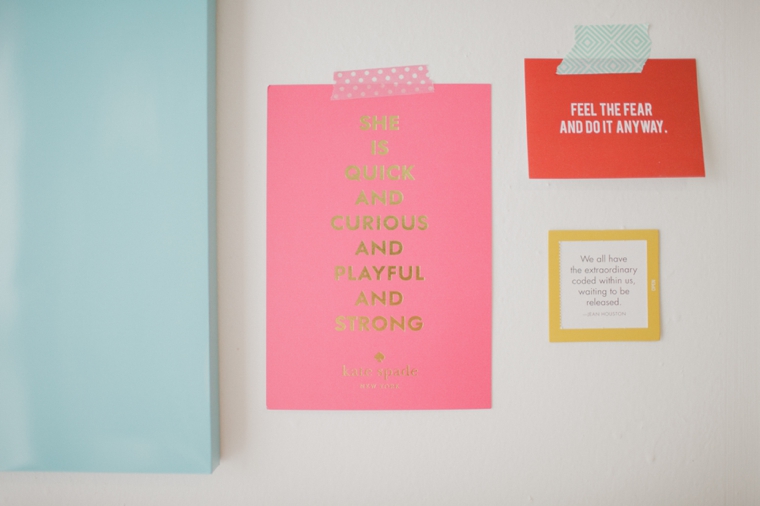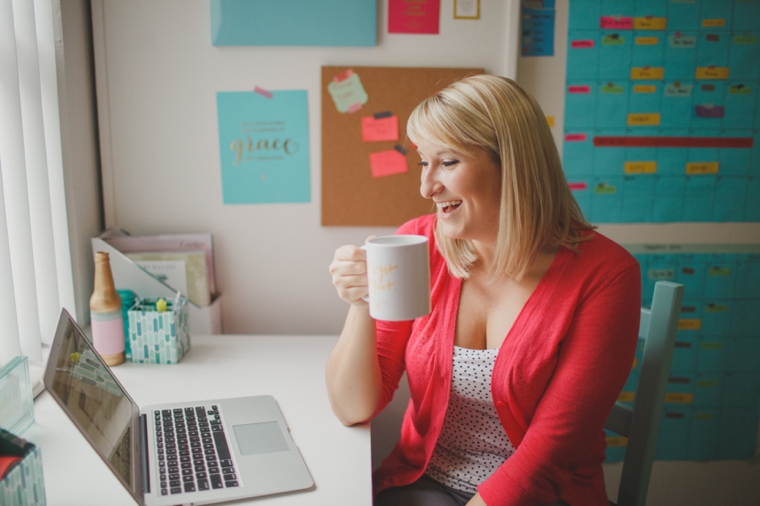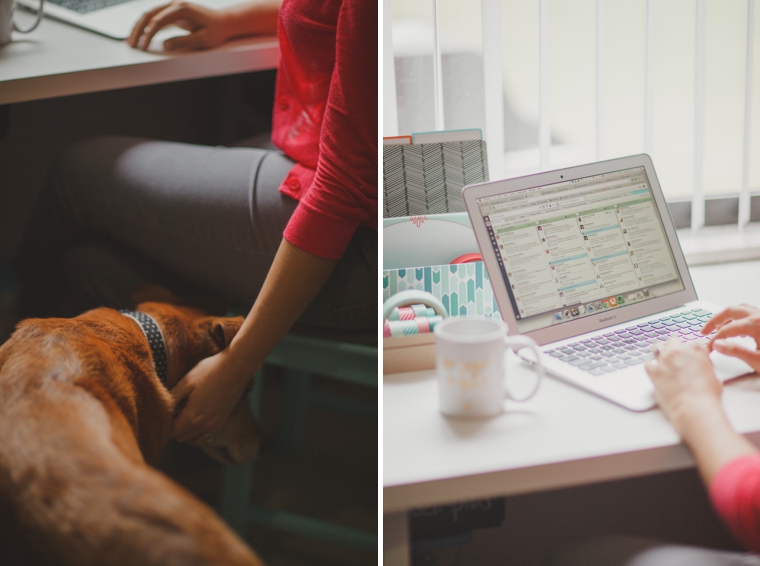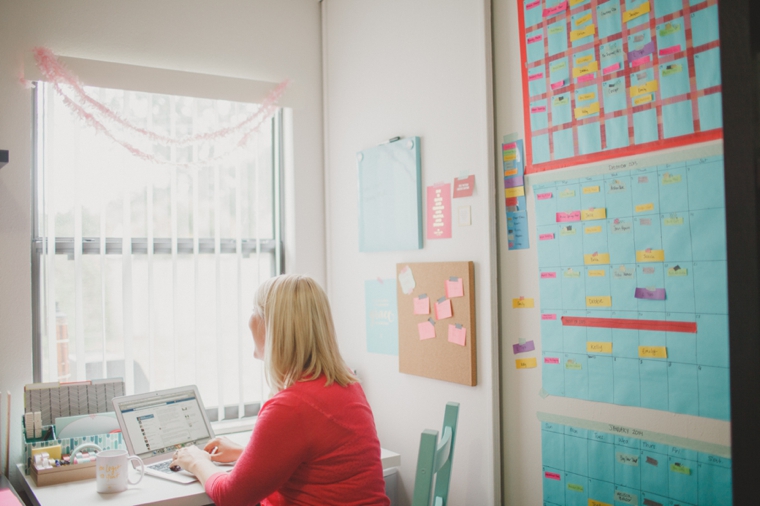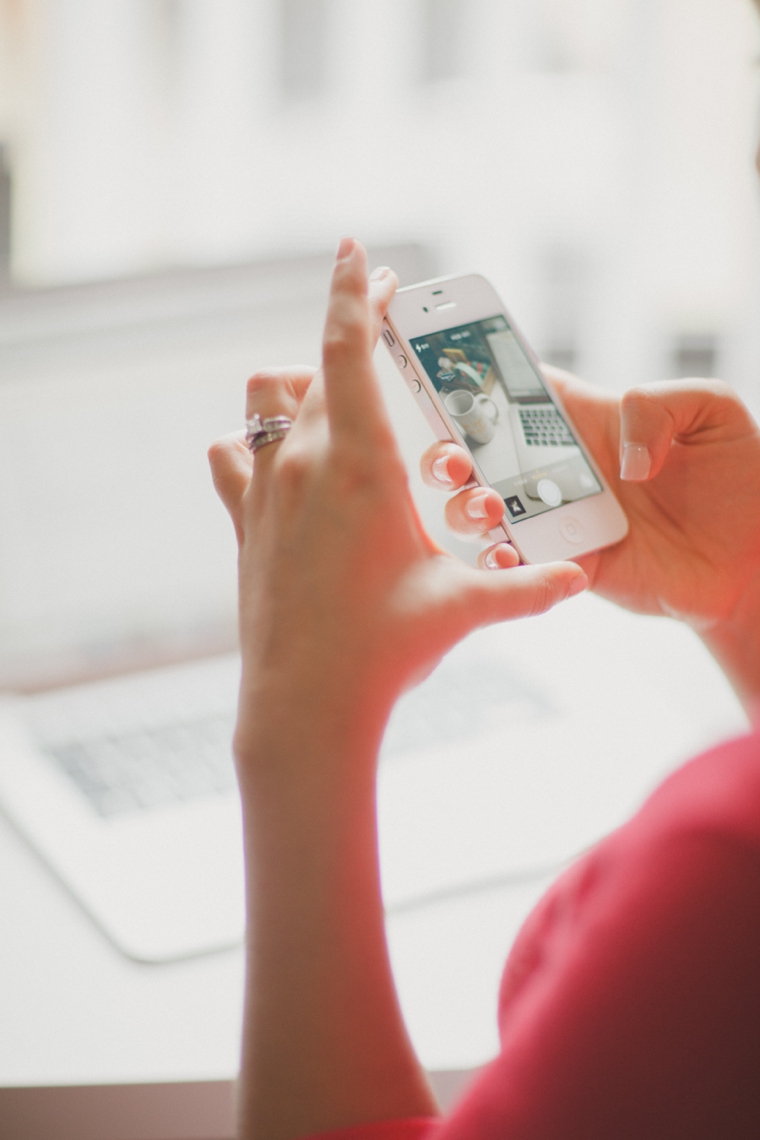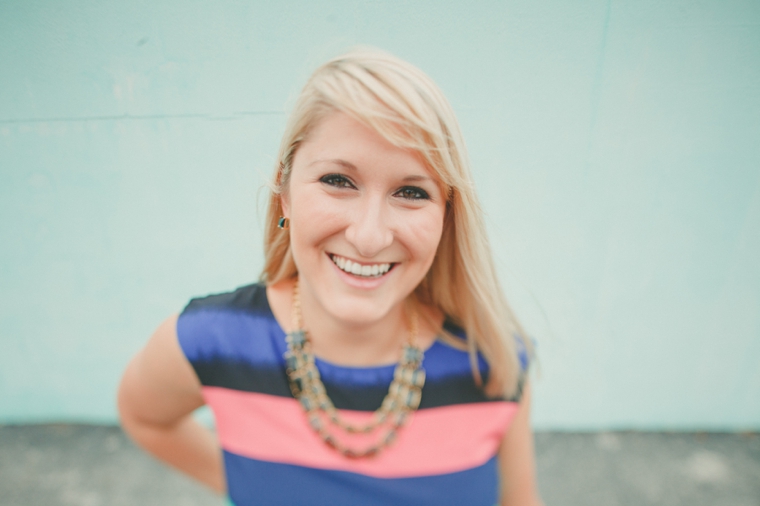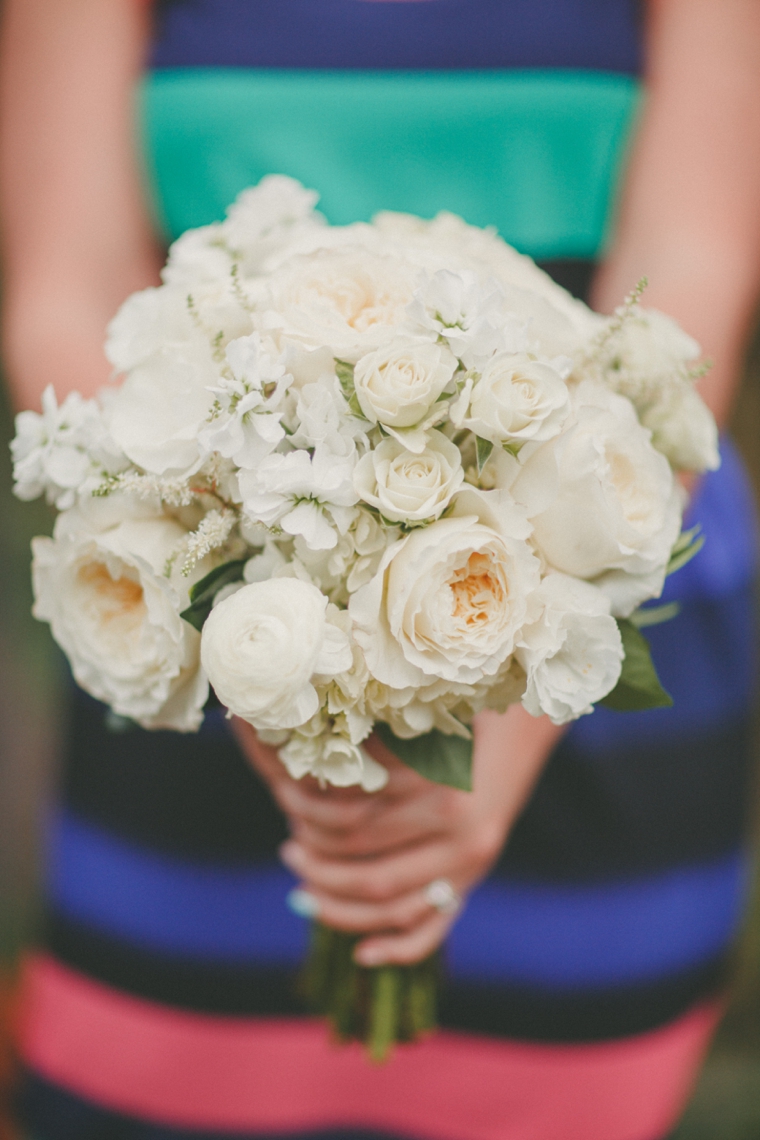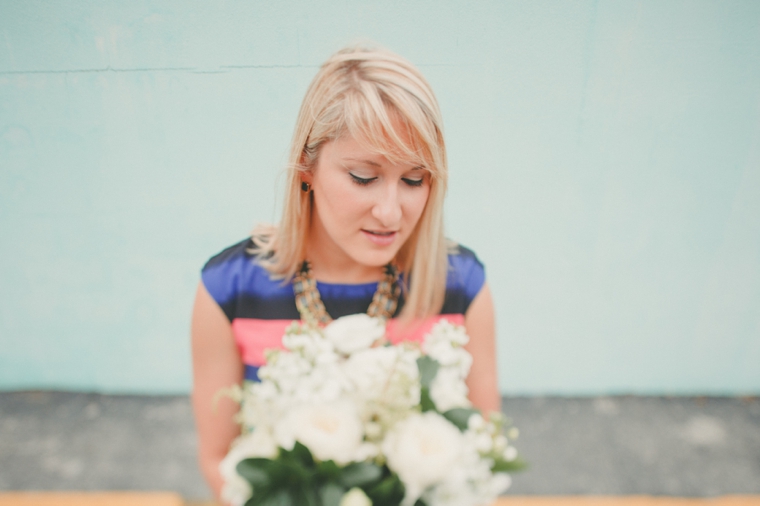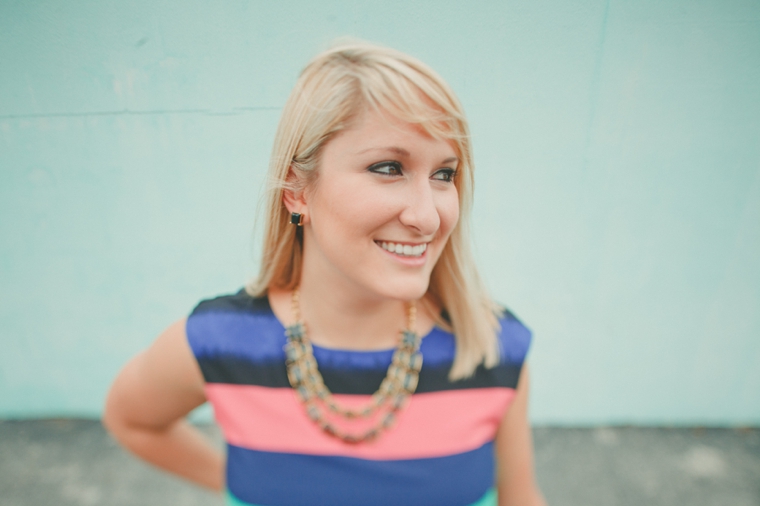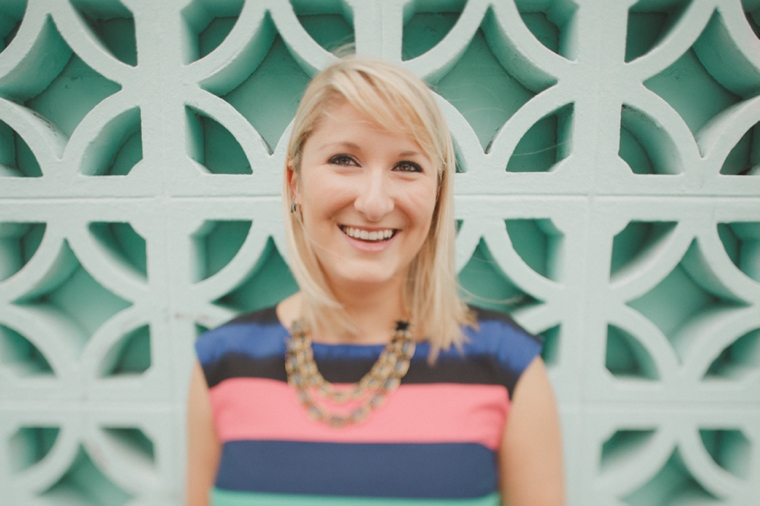 I just realized how fitting it was that Becka was the one who did a "new brand" shoot with me- she and her husband were the photographers for the very first wedding that I ever coordinated! I have literally known them since the very beginning of Every Last Detail. Kind of perfect, right?
I'm sure I could just keep writing about ELD and my hopes and dreams for ages, but I'll spare you the boredom. ;) Thank you all for sticking around with me thus far, and for reading Every Last Detail too! It means the world to me that you've visited my little corner of the web, and I hope you'll continue to come back! I love you all! :)
Photography: By The Robinsons
The following two tabs change content below.
Lauren Grove is the editor and owner of Every Last Detail. A clueless bride-turned-wedding planner, Lauren uses her experiences and knowledge to educate and inspire brides all over the world.