Wedding room blocks are something that can tend to be an afterthought (and possibly a freakout moment) when it comes to wedding planning. It's a little bit of an unknown topic, and often times you're left to fend for yourself when it comes to figuring out the ins and outs… but not today! We're sharing tips and insight from the room block experts at Jetaport, a website designed specifically to help you book room blocks!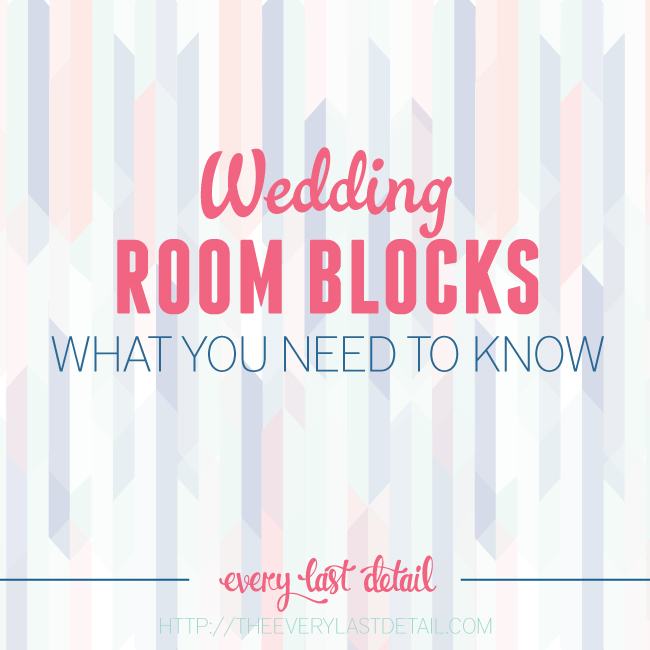 What is a "room block" and how does it work?
A "room block" is a reservation of nine or more hotel rooms. Courtesy room blocks are usually best for weddings, as there's no fee for unfilled rooms. (In contrast, guaranteed room blocks require a financial commitment to book a percentage of the rooms, and sometimes also require a deposit to secure the room block.) Your wedding guests can book the hotel rooms within your room block at lower pre­-negotiated rates, sometimes with extra amenities and concessions.
How do you know know if you need a room block or not?
If you're debating whether or not to reserve a room block for your wedding, think about your guests. If you know you have more than 10 guests that will be needing a hotel, it makes sense to hold rooms at discounted rates for your guests to reserve. We recommend that couples book courtesy room blocks to avoid any financial penalty for unused rooms.
Who pays for the rooms in a room block?
All individual guests are responsible for paying for and reserving their own rooms. The hotel will usually release any unused rooms within 30 days prior to arrival (this is known as the cutoff date) with no penalty. Please note that wedding room blocks don't usually require any prepayment (but sometimes they will, especially if you are guaranteeing rooms or looking in a destination wedding location).
When do you recommend that a couple should reserve their room blocks?
Couples should start reserving room blocks as soon as they have a confirmed venue.
How do you determine how many rooms will be needed in a room block?
The trickiest part of reserving a room block is estimating the number of rooms needed for your out-of-town guests attending the wedding. Just take the total number of out of town guests that you're expecting and divide by two. Also, let your Travel Advisor know of any concessions you may have. For example, you may want shuttle service to and from the venue or complimentary WiFi. Many hotels will also offer the newlyweds a complimentary room upgrade or suite based on availability on the event date.
How can a couple utilize Jetaport to handle their room blocks for their wedding?
Setting up a wedding room block can be a tedious, drawn-out process. Phone tag with sales managers, negotiating rates, terms and amenities, dealing with documents- it's a pain. Thankfully, Jetaport's process is very simple! Jetaport's hotel search makes it easier than ever to find the perfect hotel. Select up to four hotels from which you'd like to receive an offer for your wedding room block. And don't be shy­­ with your request- you can include details on all the things your unique group of guests need.
Your personal Jetaport Travel Advisor will take it from there, and will be available any time you need help or have a question. Within 48 business hours, all your offers will be organized neatly on your Jetaport Trip Dashboard. You can accept or decline an offer with just a click, and even sign a booking agreement electronically. Simple as that!
---
Oh, and the best part about Jetaport? It's a free service! I'm so thrilled to be able to share this resource with you, because we all know that your time is best spent on more important things… after all, you've got a wedding to plan!
For more information on room blocks, we recommend heading over to check out Jetaport's Wedding Block Tips page!

The following two tabs change content below.
Lauren Grove is the editor and owner of Every Last Detail. A clueless bride-turned-wedding planner, Lauren uses her experiences and knowledge to educate and inspire brides all over the world.