Let's be honest- your wedding is dress is likely one of the most important parts of your wedding day. I don't care how much you spend, whether you're eloping or hosting a grand ballroom soiree- just about every bride is going to be wearing a wedding dress on her wedding day. Spending hours searching for the perfect dress is one of the very first things that you'll do- from research via magazines and websites, to the time you spend going to bridal shops. But once you do find your perfect dress, there's something that I've noticed many brides tend to overlook- what to wear underneath your wedding dress.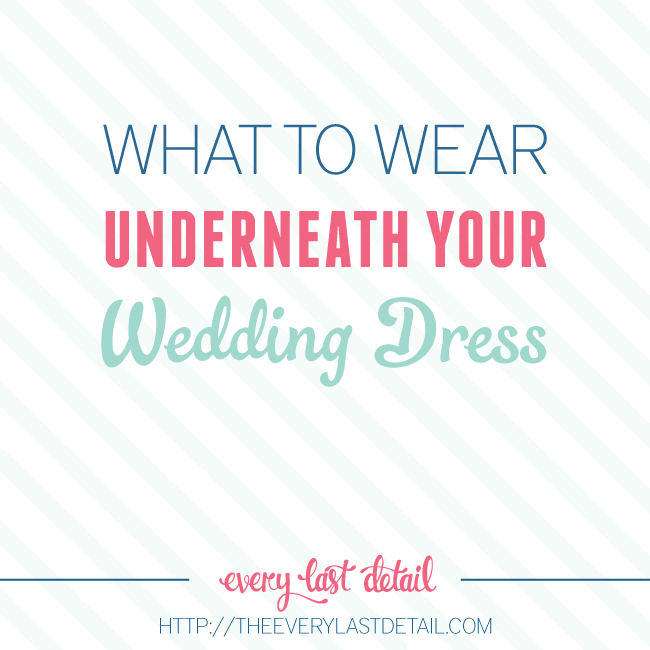 You may think that a simple strapless bra may do the trick, but this could be far from the truth. You see, the right or wrong undergarments can do all kinds of things to your wedding dress- everything from sliming you to making your dress look ill-fitting. You could spend thousands on your wedding dress, but in the end, how your dress looks can all can depend on what you're wearing *underneath* it all.
The important thing to keep in mind is that not every dress is equal, and therefore not every undergarment is going to be right for the same dress. This is why we turned to the experts, our friends at Le Mystere, to find out what the best options were for different styles of wedding dresses out there.
Strapless: If you're wearing a strapless dress and you want some extra slimming or smoothing, you will want to go for a bustier or corset. If your dress has boning built into your dress, you may be able to just opt for built in cups, a backless strapless bra, or a normal strapless bra like Le Mystere's Soiree Strapless.
Mermaid: If you've chosen a Mermaid dress, you're already aware that your curves will most definitely be making an appearance on your wedding day. However, you'll likely still want to flatten your stomach and smooth out your hips, so a high waisted slimming undergarment or a bustier will be your best bet.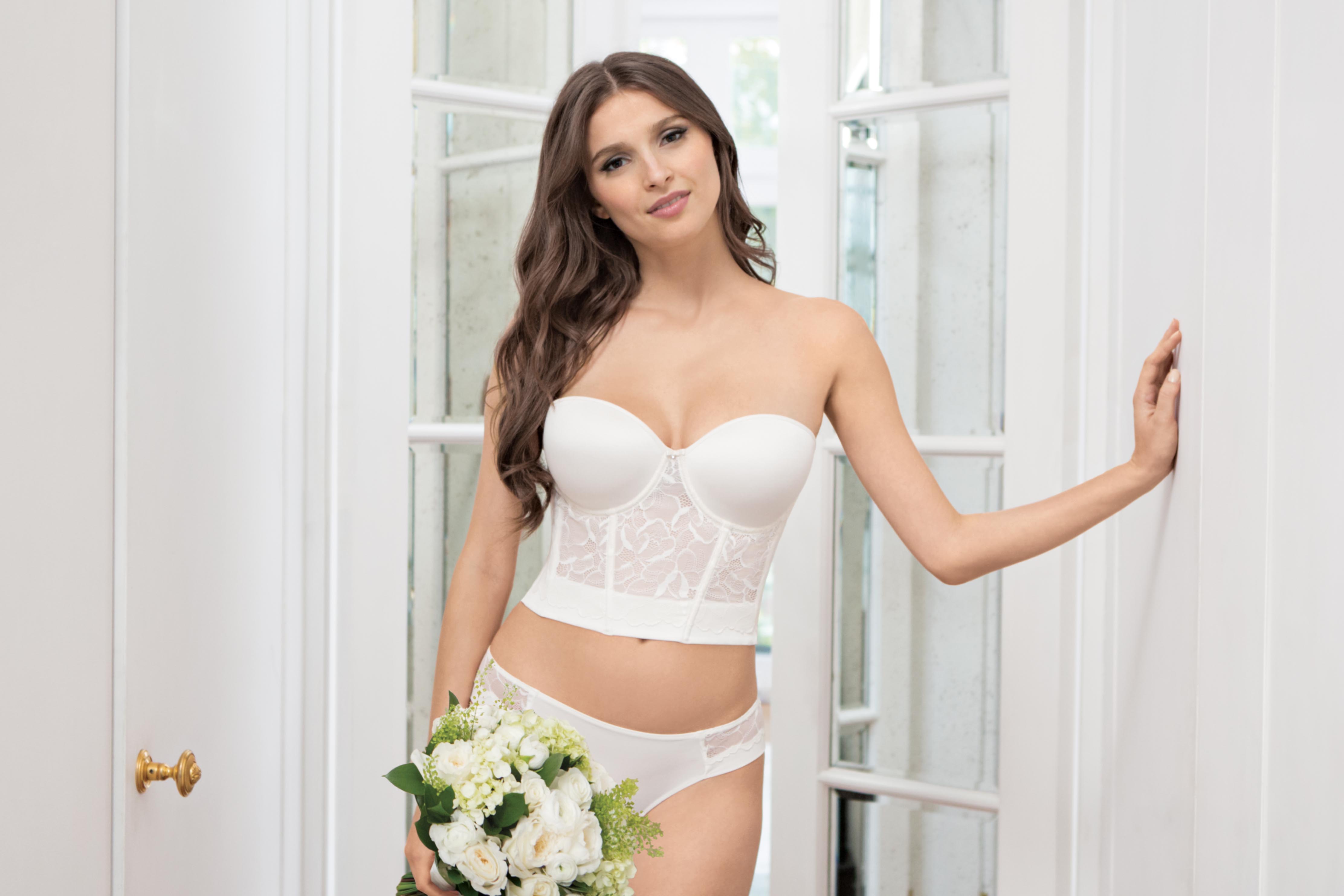 Halter or V-Neck: If a plunging neckline is what you're working with, the Infinite Possibilities Plunge Bra or the Ultimate Plunge Bra may be solutions.
Sheath: The neckline of a sheath gown can vary, but you can definitely expect that they will be slim-fitting, so it's important to wear seamless undergarments. Depending on your dress, you may need to have cups sewn in to your dress, or the seamless Sculptural Strapless may do the trick.
A-Line: And finally, the most popular dress style, the A-Line. Since this dress style is flattering on many body types and can come in various cuts, you can really pick and choose what you want to wear under your dress. We recommend going for the simplest, most comfortable of options with the Bridal Seduction Bustier or the gorgeous Sophia Strapless.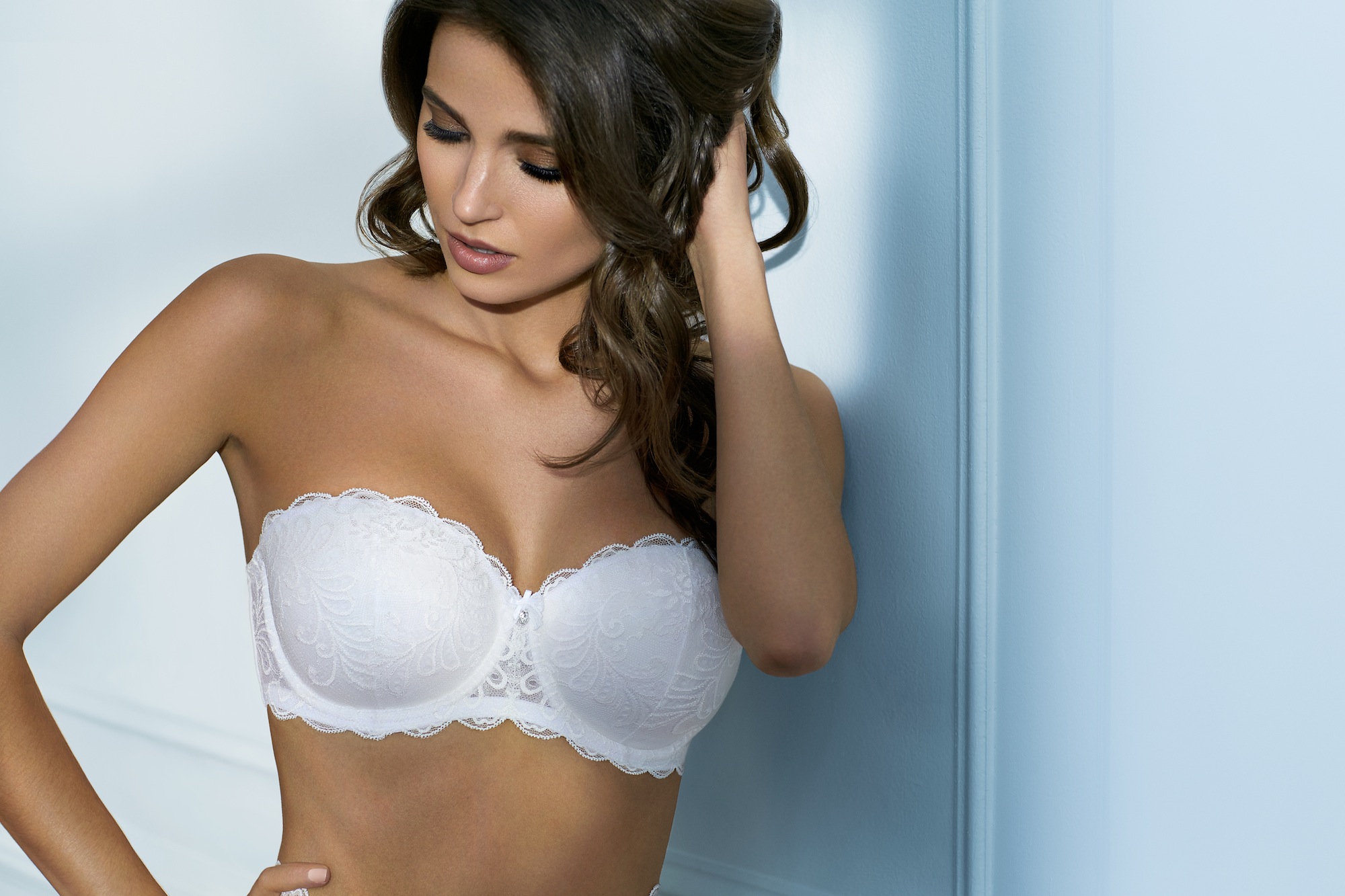 Definitely do your research when it comes to what you should be wearing underneath your wedding dress. We also highly recommend asking your bridal consultant about what she recommends for undergarments when you're trying on gowns. Once you've decided on what to wear, make sure you bring your undergarments with you prior to your first dress fitting so your seamstress can give you the best fit possible- and make any recommendations as well. And don't wait until the last minute either, because sometimes what you need can't be found in stores, and you will have to turn to a place like Le Mystere to find the right option.
*This post is sponsored by Le Mystere. All thoughts and opinions are the author's own.
The following two tabs change content below.
Lauren Grove is the editor and owner of Every Last Detail. A clueless bride-turned-wedding planner, Lauren uses her experiences and knowledge to educate and inspire brides all over the world.