I'm so excited to introduce you all to this week's Vendor of the Week, Watertown Films! Based in Portland, Oregon, this husband and wife cinematography duo travels all over the West Coast capturing couples' wedding days flawlessly. Get to them a bit through their interview below, and then be sure to watch the video- it's amazing!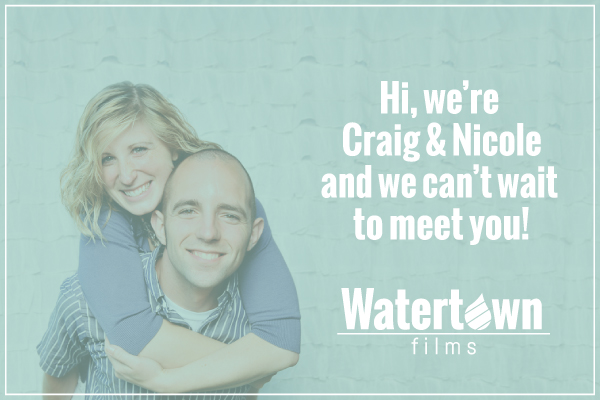 Why do you see yourself as being Modern, Vintage, Classic, or Eclectic?
We find ourselves being any or all of these depending on the wedding we are filming. Our main goal is to capture your wedding as organically as possible, telling your story beyond just the details. Stories compel us. They move us. They create emotional attachment. Stories connect with the depth of our souls. As Muriel Rukeyser beautifully put it, "The Universe is made of stories, not Atoms." You have a story, and it's begging to be told, whether you know it or not. Your wedding day is about more than just stuff, it is a reflection of the two of you. It is the story that led up to this day and the story that will continue long after. Regardless of the style, we hope you will trust us to capture it perfectly.
What is your favorite wedding detail you've ever seen or created?
We have had the opportunity to work with some of the most authentic and generous couples we have ever known. These characteristics can always be seen down to the smallest details of a wedding. One of our amazing couples had old classic books as a part of the table decorations for each table at the reception. Inside those books they had written personal letters to every person at the table, recounting memories and thanking them for the role they had played in their lives. It was such a touching personal detail, and the guests couldn't stop talking about it! This is by far one of our most memorable details. We are still good friends with this couple today and couldn't be happier about it.
What is your favorite store or brand?
Craig: I first wanted to say REI, but I can't in good conscience because I go in there and just window shop and pretend like I'm going to go climb MT. Everest. In reality, all I end up doing is wearing those really expensive hiking boots on a walk around the neighborhood park. So, with all that being said my favorite store is probably….the GAP.
Nicole: I love Pottery Barn! I love the colors, the textures, the design. If I could decorate my house with everything in there, I'd be a happy camper!
What is your favorite thing about weddings?
Craig: My favorite thing about a wedding is the couple themselves as well as all the friends and family that they have chosen to surround themselves with. To be more specific, my world gets rocked when that couple is so OPEN and honest about their struggles and feelings and all the emotions welling up inside that it overflows with beautiful acts of love. The hand written vows, a quick prayer before the ceremony, an emotionally tender first look.s..these are the things that I love being a part of.
Nicole: I love the relationship building aspect of weddings the most. We have made some amazing friends out of the clients we have filmed. Our goal is to connect with and get to know our couples as well as we can, because that makes the wedding day so much more fun and enjoyable for all of us. The intimate moments that we get to be a part of are so worth it!
What qualities do you possess that enable you to work well with brides and grooms?
We are easy going and love adventure. We are not going get frazzled on your wedding day if things don't go exactly as planned, and we hope you won't either! The goal at the end of the day is that you leave married…and our goal is to get it all on film.
What steps do you take to ensure that your clients will have amazing wedding days when working with you?
We get to KNOW you! Whether that's having coffee, going out to dinner, or skyping a lot, we invest in every couple we work with. We feel like this is the most important thing we can do to make your wedding film amazing, because we will know you well enough to know how to tell your story. We also take the time to contact the other vendors before the wedding day, especially the DJ and Photographer, so that we can ensure we all work well together and make your wedding day a success!
That's just the tip of the iceberg…let's set up a time to talk, and we'd love to tell you more.
contact: Craig Flood
email: hello@watertownfilms.com | phone: 503.974.6087
website: http://www.watertownfilms.com
twitter: Follow @WatertownFilms | facebook: "Like" Watertown Films!
location: California, Colorado, Hawaii, Illinois, New York, North Carolina, Oregon, Washington | type: Cinematography | style: Classic, Eclectic, Modern, Vintage | price: $$, $
The following two tabs change content below.
Lauren Grove is the editor and owner of Every Last Detail. A clueless bride-turned-wedding planner, Lauren uses her experiences and knowledge to educate and inspire brides all over the world.