I'm pretty sure it's no secret that I LOVE flowers- which is why I also LOVE floral designers! Life In Bloom is an amazing Chicago floral designer who has a focus on the uniqueness and creativity that can be conveyed by using florals- and my goodness, they certainly do that incredibly well! I'm excited to have them as the ELD vendor of the week, and introduce you all to their work…
Why do you see yourself as being Modern, Vintage, Classic, or Eclectic?
As a floral designer I design for all styles. Not every Bride & Groom have the same vision for their wedding day. However when creating things more for my own enjoyment I tend to lean towards a vintage style. I love to combine old vessels with loose organic and lush flowers. I also like to use a lot of classic flowers, such as peonies and ranunculus. They have withstood the test of time and are always a favorite in bouquets.
What is your favorite wedding detail you've ever seen or created?
My favorite wedding detail that I've created was a rustic branch centerpiece for a sweetheart table that was actually created for Every Last Detail. I love suspending floral & lighting. It allows for more space on the table and creates a unique look that isn't seen very often. I hope to be able to incorporate a similar centerpiece for a wedding in 2013.
What is your favorite store or brand?
Kate Spade and Anthropologie. Kate Spade has the most amazing wedding shoes and beautiful classic jewelry. Everything in that store is designed to perfection, classic & timeless. Anthropologie has that unique vintage vibe. I guess my love for these both can be traced back to the first question where I love mixing classic and vintage styles in my work ☺.
What advice do you have for a newly engaged bride?
Enjoy the process and ask for help when you need it! Your family and friends are there to support you, so don't be afraid to ask for help. Also, make sure you find vendors that you get along well with and match up with your personal style.
What is your favorite thing about weddings?
I love the emotion of weddings and how everyone attending is there to celebrate two people in love and starting their life together. I think every wedding is magical ☺. I also enjoy seeing all the little details and planning coming to fruition on that day after months of planning.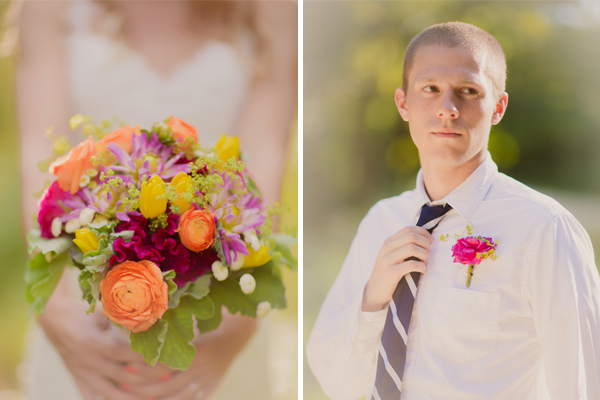 What qualities do you possess that enable you to work well with brides and grooms?
Not only do I have a creative side and background but I also have a degree in horticulture. This background and my previous jobs have given me tons of experience in the floral field. I love sharing my ideas and expertise with brides and grooms, tailoring each event to fit their personal style.
What steps do you take to ensure that your clients will have amazing wedding days when working with you?
I listen closely and ask questions not only about what the couple thinks they want their wedding flowers to look and the overall event, but I like to talk to them about what they as a couple like to do, how they met, got engaged, how they like to spend their free time. This information is how I can personalize each event to my brides and grooms. I love getting to know all the wonderful people I work with, and I build a personal connection with my clients so that they can trust me to create wedding flowers beyond their wildest dreams.
 contact: Rachel Wyffels
The following two tabs change content below.
Lauren Grove is the editor and owner of Every Last Detail. A clueless bride-turned-wedding planner, Lauren uses her experiences and knowledge to educate and inspire brides all over the world.