I'm so excited to share the work of the amazing Art by Ellie with you this week! One of the things that I think EVERY bride deserves is custom wedding invitations, and Art by Ellie can certainly make that happen for you…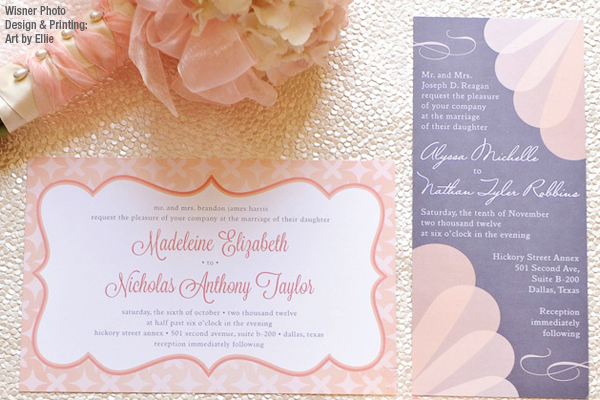 Why do you see yourself as being Modern, Vintage, Classic, or Eclectic?
I love any style that is rooted in good design, and every piece I design is completely custom, suited to the bride's unique style. I have designed pieces in all of these styles and there are elements I love about each one.
What is your favorite wedding detail you've ever seen or created?
I'm in love with making custom rubber stamps at the moment, and I love invitation wraps, tags and twine to tie an entire suite together. I also really love using doilies for making "paper lace" details as well. Outside of what I do, I completely love watching video trailers of the wedding day — when I see all the subtle details and candid shots behind the scenes, I really feel like I know the couple and I always get teary-eyed.
What is your favorite store or brand?
I love Whole Foods and Target for shopping. As far as branding, I think places like Crate & Barrel, Chipotle, and method cleaning products have pretty much nailed it. I get inspired by everything from billboards to business cards — even grocery store circulars from the newspaper and product packaging for hair products, beverage bottle labels or cleaning sprays. I am constantly looking at fonts wherever we go (to the point where my husband and kids think I am slightly nuts — but if being nuts about type is wrong, I don't want to be right). :)
What is your favorite thing about weddings?
Definitely the people!
What qualities do you possess that enable you to work well with brides and grooms?
I love what I do and I hope that shows in my work. I try my best to be a good listener, helpful, accommodating, and friendly.
What steps do you take to ensure that your clients will have amazing wedding days when working with you?
I make sure the work I'm doing is all about them. Of the hundreds of weddings I've worked on, no two have been exactly alike. Each bride, and each invitation are completely unique and special, and there is something I love about each and every one of them.
contact: Laura Heymann
The following two tabs change content below.
Lauren Grove is the editor and owner of Every Last Detail. A clueless bride-turned-wedding planner, Lauren uses her experiences and knowledge to educate and inspire brides all over the world.