[Editor's note: Oh hey, so guess what? Valentine's Day is in a few days! A few years ago, I did this Valentine's Day DIY Dinner Date shoot, and since the holiday of love is fast approaching, I thought I would share it again!]
Valentine's Day has a tendency to sneak up on my husband and I, and we're always left with no plans, which means we either end up getting take out from somewhere or cook dinner together. A I put together a little "Valentine's Day DIY Dinner Date" inspiration shoot to inspire you all, complete with printables and recipes so you can have a dinner date at home for your Valentine's Day! No need to worry about dinner reservations or expensive meals- just gather what you already have at home and have a nice romantic (and affordable) dinner for two!
I had some of my wedding pro friends help me make all of this happen, and they truly rocked it out! My friends Caroline and Evan Photography came and shot everything in my BACKYARD, and Kevin of Good Food Catering whipped up the fabulous 3 course meal in my teeny tiny kitchen. Lauren of Palm Papers created a printable invite, different versions of printable menus, and even little DIY gift items too! I'll have more about the printables and recipes at the end of the post… but right now, it's time to get inspired! :)
[Oh and PS- since we did this in my backyard, I bribed my husband (with the yummy food of course) to hangout so we could be the "couple" for the shoot. Of course my pup Penney didn't need any bribing- she's a model. ;) Plus we needed new photos of our little "family", and I'm all about killing two birds with one stone!]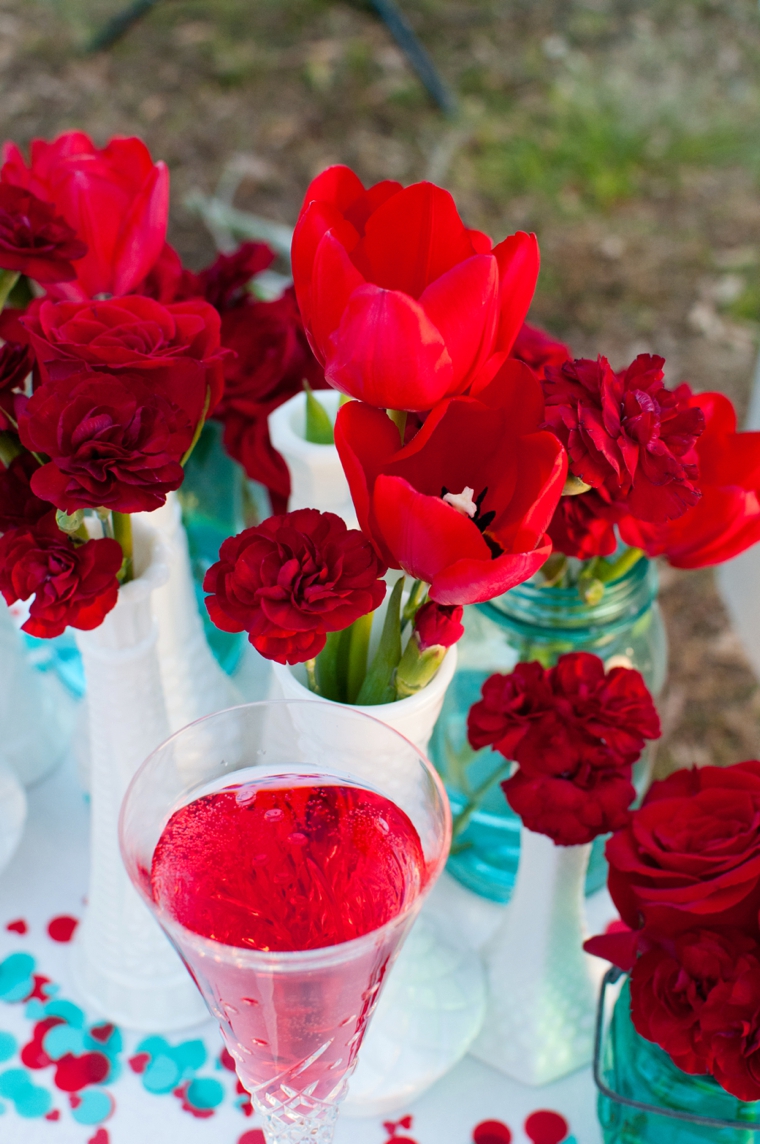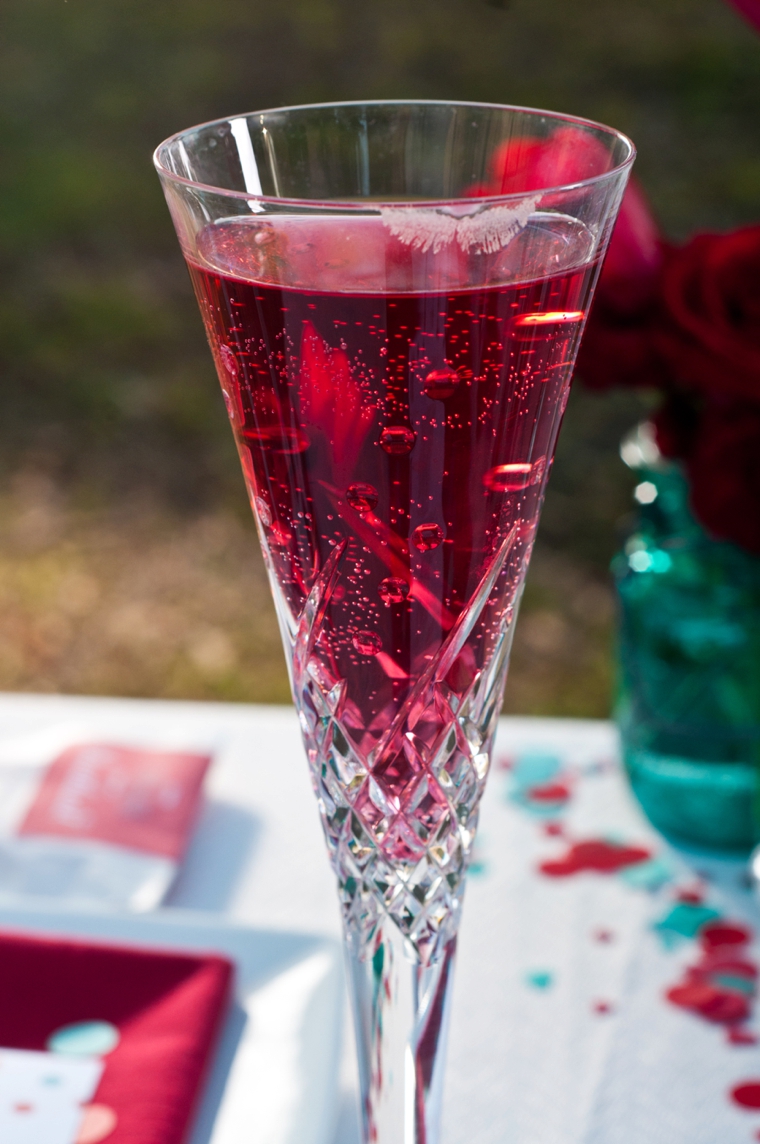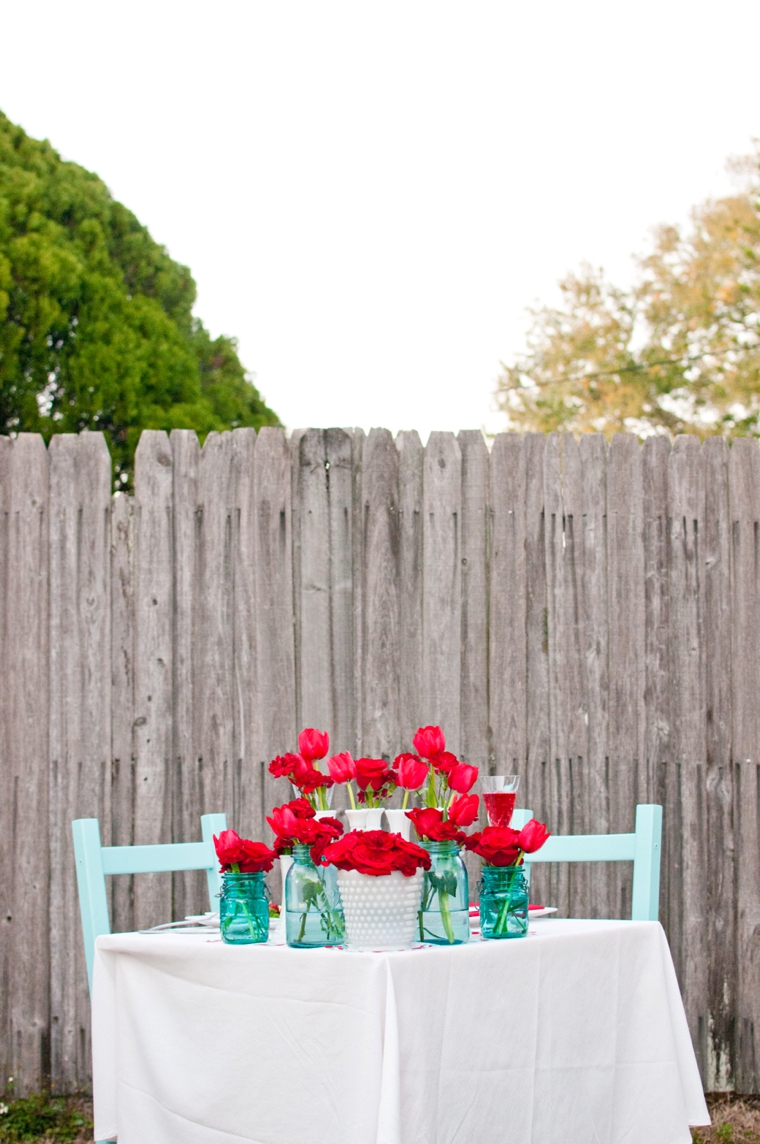 Fun little extra: I broke out our champagne glasses from our wedding day! We hadn't seen those in forever- I was quite proud of myself for remembering them! ;)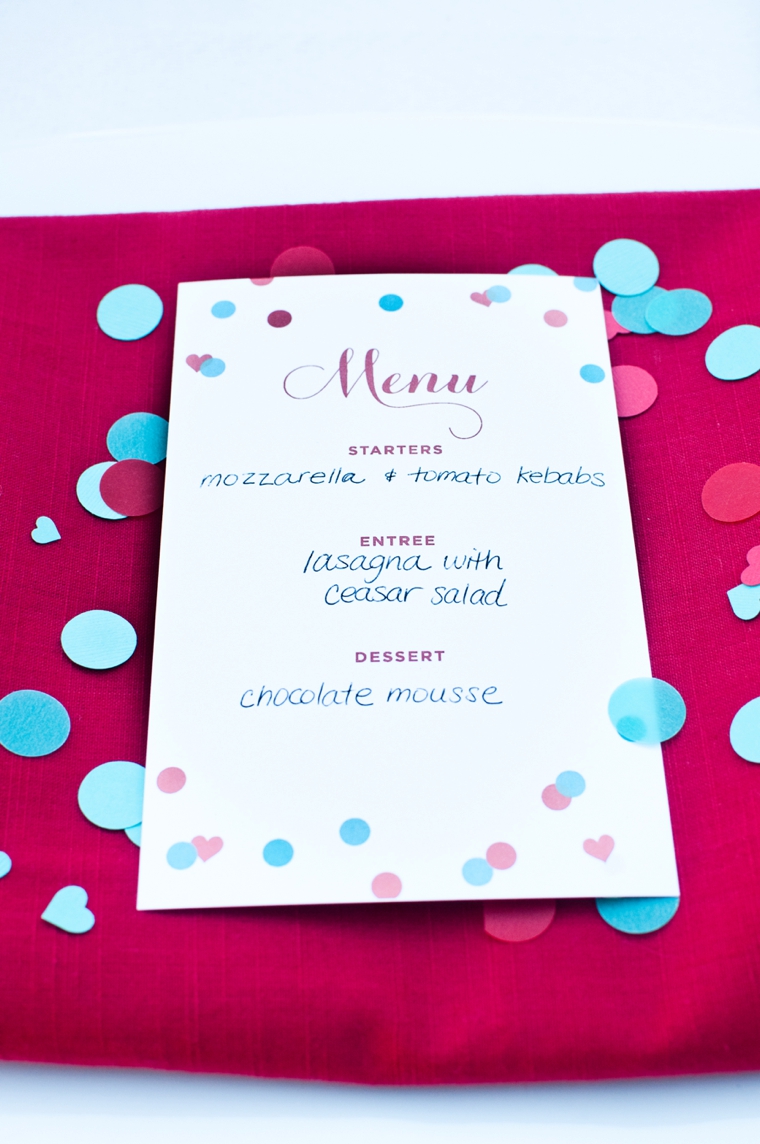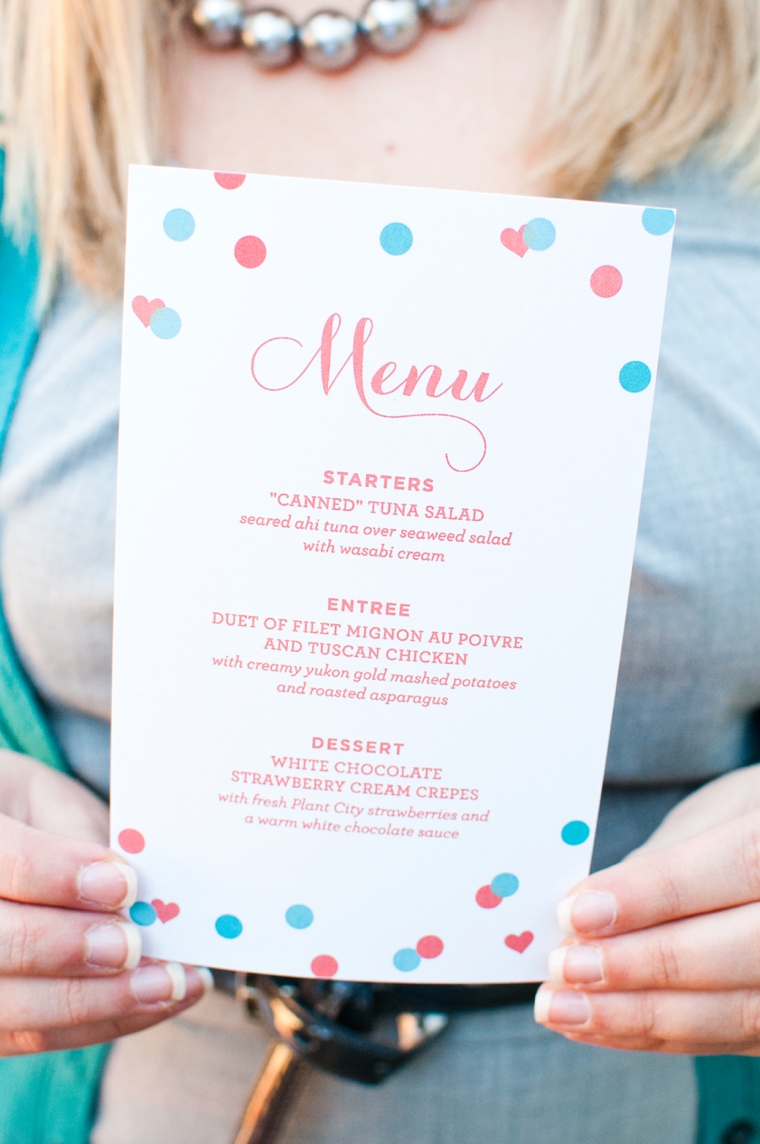 My husband and I are high school sweethearts, so I made one of the "gifts" a throw back to the days of writing notes to each other- before texting existed. Remember all of the fun ways to fold notes back then?!
Annnnd time for a little family photo shoot… ;)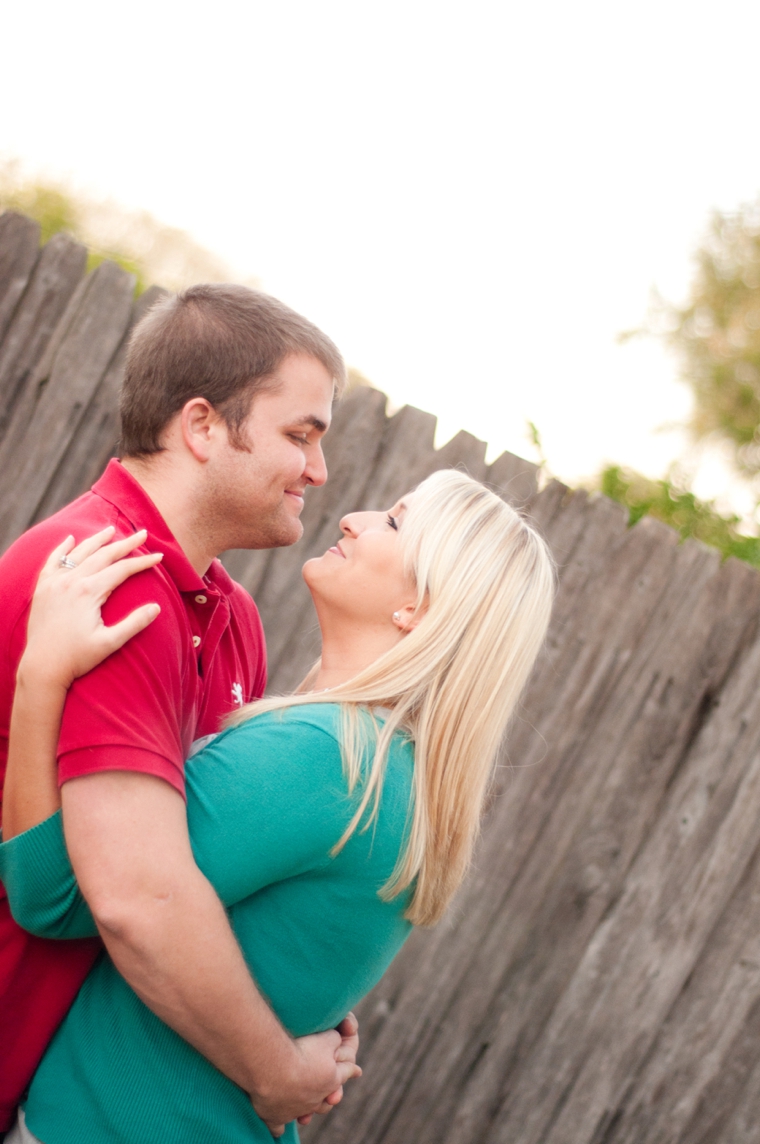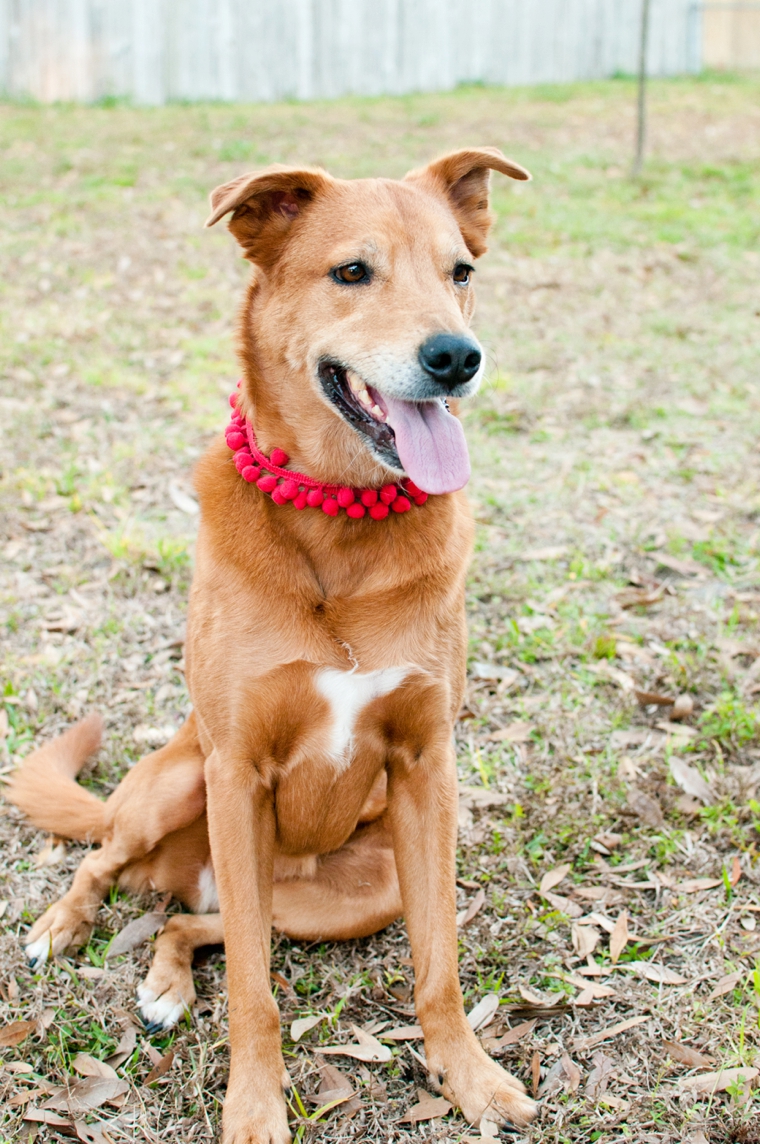 I'll tell you what- I kind of really loved being able to do a shoot in my backyard. I think it's safe to say that you can expect to see more of these backyard shoots in the future! The only thing I didn't like about it was that I had to clean my house like a crazy woman- not quite my cup of tea. ;)
So now about the printables, gifts, and recipes … you can download the printable files and recipes here. There are 3 different color combinations (red/aqua, red/pink, and red/silver) for the printable items so you can pick whichever one you want! A few simple instructions…
"Reasons I Love You" Gift: Fold a piece of colored paper in one of the fun note folds from "back in the day". Print out the Reasons cards, cut them, and fill them in with your reasons, then place the cards inside the "note"!
"Some Sugar For My Sweetheart" Bag: Place your sweetheart's favorite sweets inside a bag, and seal it with the printable label! I printed mine on a full sheet label and then cut it down, but you could also just add a piece of double stick tape to paper to seal it!
Menus: There are 3 different types of menus that you can use. One has the complete menu according to the recipes provided. Another has the complete menu minus the steak, and another has blank portions that you can write in your own menu!
Recipes: The recipes and instructions are all included in the download. And FYI, it is all SUPER tasty and easy! :)
And that's about it! Super easy, right?! A HUGE thank you to Caroline and Evan Photography, Good Food Catering, and Palm Papers, who were awesome in helping me provide you all with this Valentine's Day Dinner Date inspiration! Oh and there's also a "behind the scenes" post over on Caroline and Evan's blog, complete with a video too! Go check it out! :)
So now I want to hear from you all… do you have any plans for Valentine's Day yet? Has this inspired you to have a dinner date at home? I hope so! :) Oh and totally unrelated… but don't you think Penney is just the prettiest dog in the world?! ;)
Vendors who made it all happen…
Photographer: Caroline and Evan Photography // Food: Good Food Catering // Printable Designs: Palm Papers
The following two tabs change content below.
Lauren Grove is the editor and owner of Every Last Detail. A clueless bride-turned-wedding planner, Lauren uses her experiences and knowledge to educate and inspire brides all over the world.