What's one of the very first things that you do once you get that sparkly engagement ring on your finger? Chances are probably pretty good that it was either start looking online at wedding dresses, or flipping through the countless photos of dresses that grace the pages of a wedding magazine. Well, that's what I did at least! Now I always say not to start looking for your wedding dress until you have your venue secured, but for some, it's just a total and complete priority. However, you definitely don't want to start your wedding dress search without a little knowledge! I've asked Megan, the owner of Malindy Elene Couture Bridal, to share some wedding dress shopping tips with us today so that you're able to walk into a bridal salon knowing a little more about what you're looking for!  

When it comes to shopping for a wedding gown, finding that perfect shape, and knowing fabrics for your wedding gown, most girls are totally stumped! Well if you are one of those girls, you're not alone! We've broken down some of the terms you will hear on your first shopping trip, as well as the things that will help you describe to your bridal stylist what exactly you are looking for in your dress.
Let's start with the most important part of your gown- and the thing that will make your dress a "statement"- the FIT! Finding the perfect dress for your body type is imperative.
Below are 5 of the most common wedding dress fits…
Ballgown:  These will be your most full options- the typical princess moment! They'll come in every form imaginable; covered in crystals, very detailed with lace or even simple satin.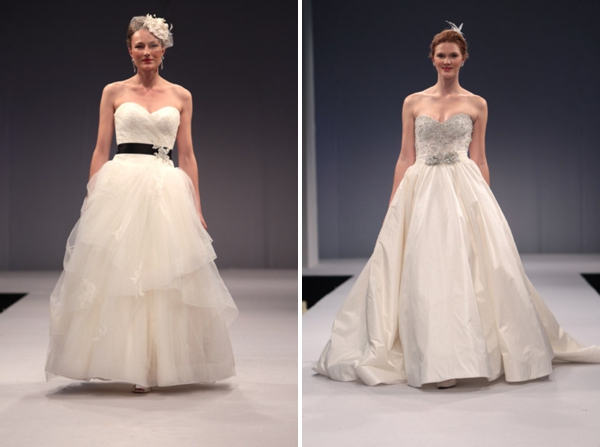 Ballgown Wedding Dresses by Anne Barge
A-line: This will be fitted at the waist but nearly as full elsewhere. Think of the way the literal letter "A" looks, and you've got yourself an a-line!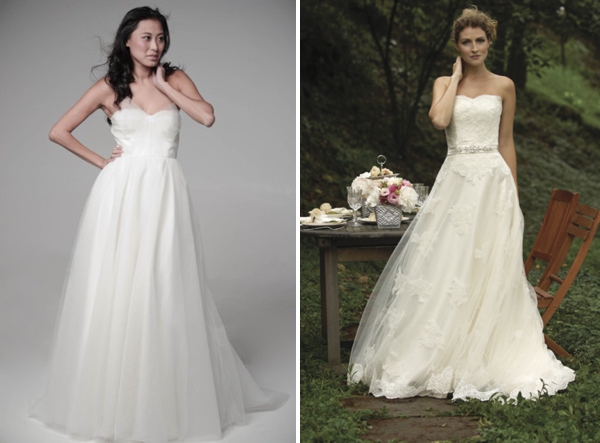 A-Line Wedding Dresses By Ivy & Aster and Augusta Jones
Fit and Flare: These dresses are "fitted-ish".  These are going to be fitted over your waist and partially over your hips, but not all the way to the knee. Fit and flare dresses are usually ideal for most body types. Even the girls that think they cannot do a "fitted" dress look spectacular in these gowns!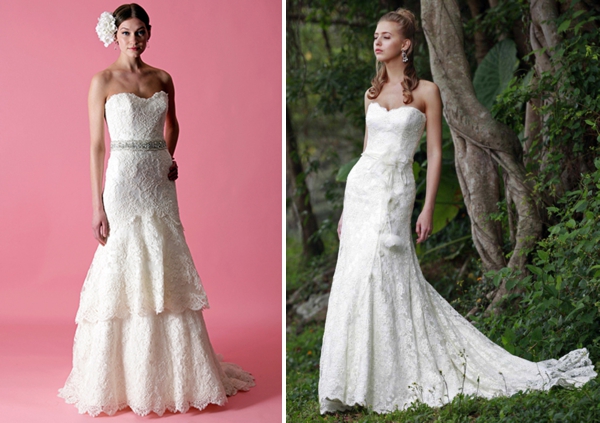 Fit and Flare Wedding Dresses by Badgley Mischa and Augusta Jones
Mermaid: This is for the girl who wants something super fitted and sassy! Expect to show off your booty a bit in these style gowns!  These will be the most fitted all the way to almost the knees, and very form fitted in shape.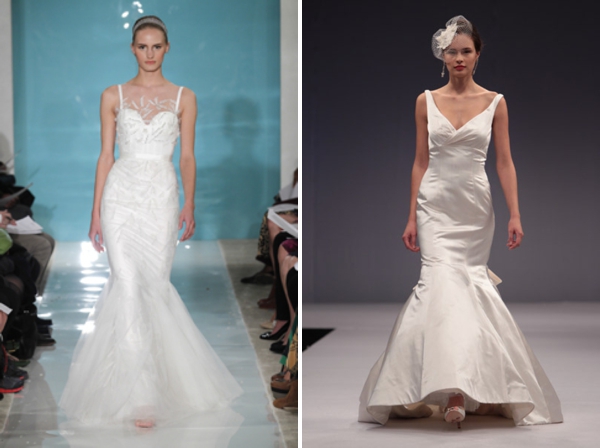 Mermaid Wedding Dresses by Reem Acra and Anne Barge
Sheath: This shape is the typical "beach" look- very flowy and organic.  The dress doesn't have much shape to it on it's own: it relies on your own shape to give it a figure.  This type of dress will most likely be very "light weight".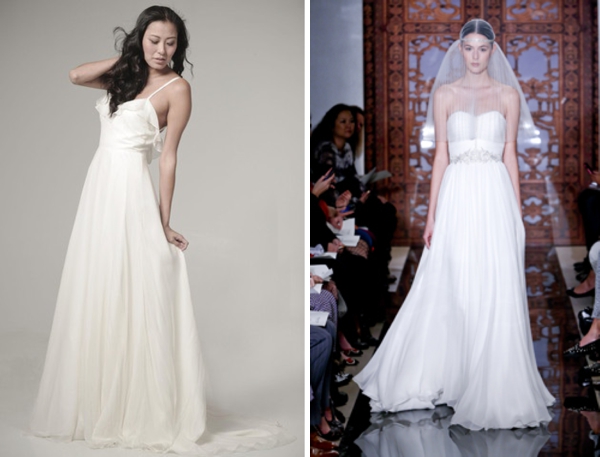 Sheath Wedding Dresses by Ivy & Aster and Reem Acra

Next we have the different wedding dress necklines…
Sweetheart neckline.  This will have a slight dip in the middle (making it a heart shape… see what I did there: "sweetheart neckline").  Some sweetheart necklines are deeper than others- just be sure to keep the cleavage "grandparent appropriate"!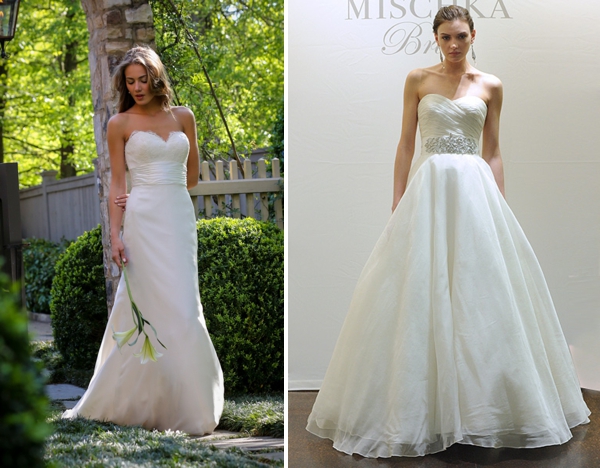 Sweetheart Neckline Wedding Dresses by Anne Barge's Blue Willow and Badgley Mischka
Scoop neckline.  Again, this neckline pretty much describes itself. This will just have a slight dip, but without the point that the sweetheart has.
Straight across neckline. These are a bit harder to find, but they are beautiful for a girl who has a larger bust and wants some extra coverage!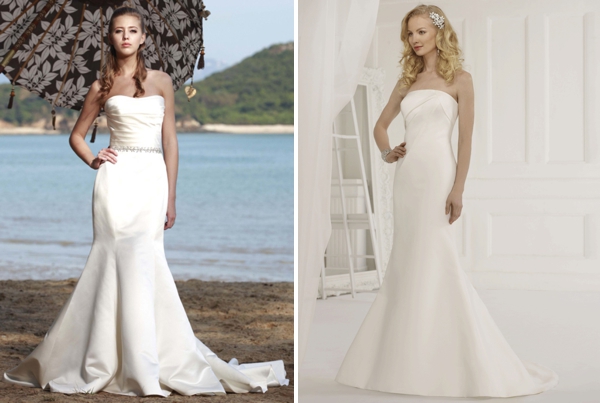 Scoop neckline dress by Augusta Jones, Straight neckline dress by Birnaum & Bullock
Other neckline terms you may hear:
Capsleeves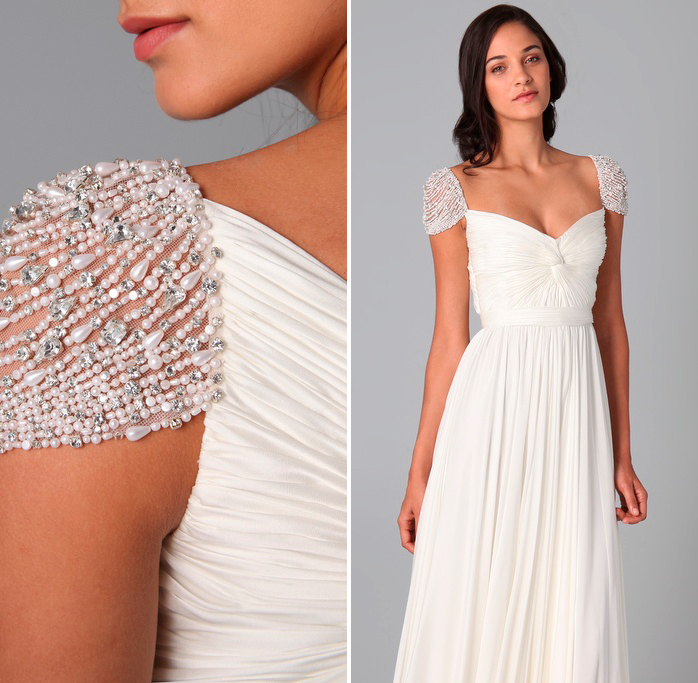 Dress by Reem Acra, image via The Bride's Diary
Lace keyhole back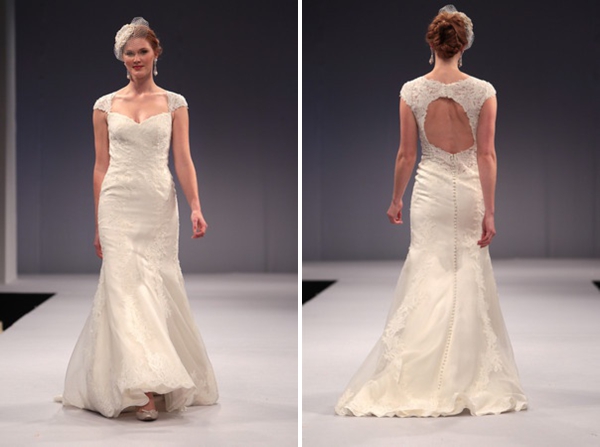 Dress by Anne Barge
Lace build up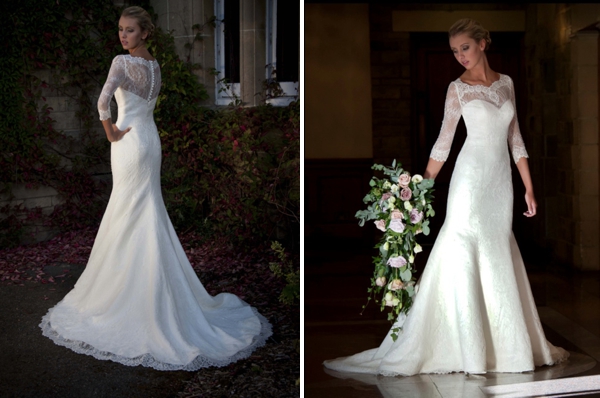 Dress by Augusta Jones
So now that you know all the wedding dress style "lingo", you're all set to go dress shopping! You just have one more key thing to remember: be open to things you may not necessarily think you'll like… gowns always look and feel different when they are on your body!
————————————————————————————
Some of you may already be familiar with my own wedding dress shopping horror story, but if you're not, you can go read all about it here. I am convinced that if I had done my research accurately and completely, I wouldn't have had such a bad experience. But instead, I got wrapped up in the *act* of going dress shopping, and didn't stop to think about the styles that I liked. So friends, take this information, and use it to find the wedding dress that will be perfect for you!
Have any of you already purchased your wedding dress? What style will you be wearing? I want to hear ALL about it! :)   
The following two tabs change content below.
Lauren Grove is the editor and owner of Every Last Detail. A clueless bride-turned-wedding planner, Lauren uses her experiences and knowledge to educate and inspire brides all over the world.