One of the things that I love about weddings is that every bride wants something different. Whether that's something eclectic and funky, or classic and timeless, it doesn't really matter in the end, because it's what the couple wants for the celebration of their life and love. And that's what I love about today's classic peach wedding from Reign 7 Photography – it was timeless, classic, and stunning… exactly what the couple wanted! Lucky for us, the gorgeous bride, Marsula, was kind enough to share insight into the planning of her lovely Florida wedding…
What (or who) helped you most in your planning process and/or on your wedding day?
I did everything myself and being on the other side of the country from our venue I had to get creative with my planning. Most of my ideas came from blogs, magazines, and Etsy. Etsy was my best friend through the whole planning process. I found everything there down to personalized thank you cards for my bridesmaids! As for coordinating day of arrangements our coordinator Jamie at the Gasparilla Inn took care of everything. She was a huge help.
What was the most important thing to you when deciding who to work with for your wedding?
Reliability was our number one requirement. There is nothing worse than finding out your wedding band is not going to show up a few days before your wedding which is exactly what happened to us. I had a gut feeling about them from the beginning and should have listened to it but I was so impressed with their demo cd I went with it. I was left scrambling for a new band with days to spare. In the end it worked out because our band was a hit! My advice would be do the research and read reviews. If you have a bad feeling about a vendor or something isn't right then move on and go with someone you feel comfortable with.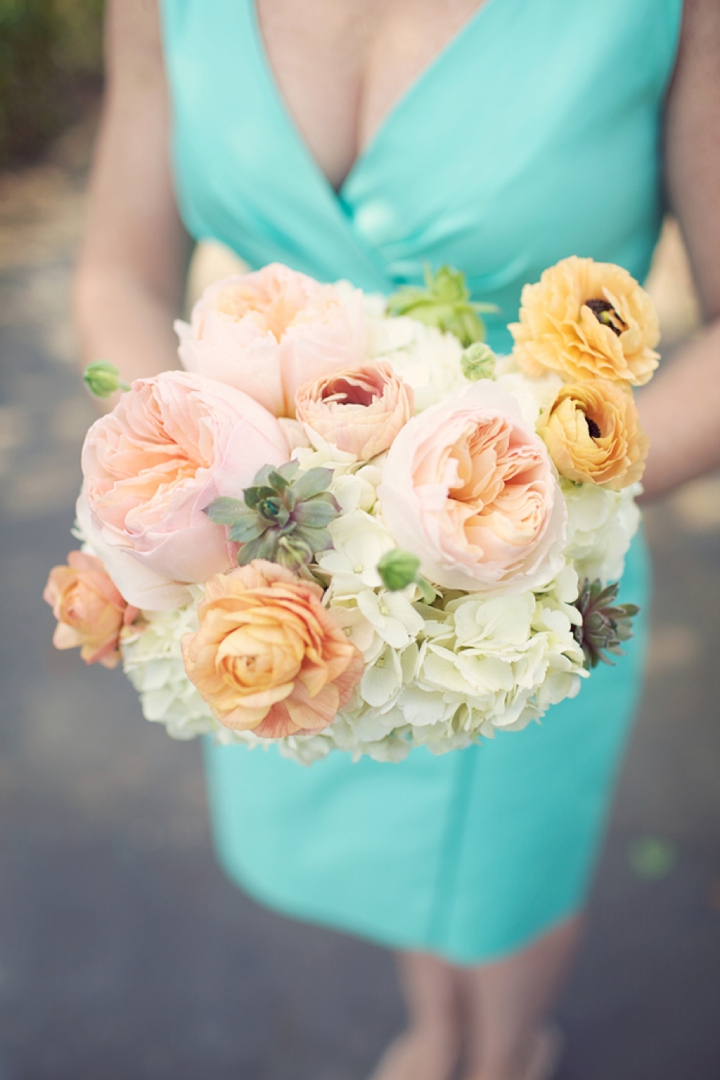 What was your inspiration for your wedding details and/or design?
I had a very specific design esthetic from the beginning. I work in fashion so I know what I like and what I don't like the moment I see it. But I also had to keep the venue in mind because my biggest fear was having a design that didn't go with the venue. So just because I liked something I had to keep asking myself if it went with the venue and design goal I had in mind. I started with the color palette which was mint and marigold with touches of soft peach and grey then built off of that. I knew I wanted a classic style nothing too trendy. It was hard to resist all those fun art deco trends but I stuck to my guns on the timeless route. In the end for me it was everything I dreamed it would be. 
What was your favorite thing about your wedding?
This is easy…family. My husband and I live far away from our families so the time we spend with them is cherished. It was the first time our entire family would be at the same place at the same time in the eleven years we have been together. Between the two of us we have 15 nieces and nephews and they mean the world to us. Not including them was not even an option. Watching our nieces, nephews, and my 90 year old Grandmother getting down on the dance floor is something that is just priceless. Any stress that came with planning a wedding went right out the window when I saw the smile on my Grandmother's face when she handed me her cane to go dance with my Dad. Truly priceless.
What is your best piece of advice for other brides?
Have fun or at least try! Also, don't feel like you have to run every last detail by your fiancé.  Men tend to be practical thinkers. While its smart to be practical on some things remember this is your wedding day, this is what little girls dream of, and if you want a cotton candy machine just because, then do it! On the day of take one minute to look around, take a mental snapshot, and feel the love that everyone in the room has for you. These moments are far too few in life and it's important to take a moment to soak it all in and appreciate it. Appreciate that these people are here because they care about you and want to celebrate this new chapter of your life with you. That's pretty awesome.
Oh I love Marsula's advice about taking a "mental snapshot" of your day- I definitely wish I had done that on my own wedding day!
The classic style of this wedding was perfect for Marsula and her husband Dan- so now tell me… what style of wedding is perfect for you? Share in the comments!
Vendors who made it all happen…
The following two tabs change content below.
Lauren Grove is the editor and owner of Every Last Detail. A clueless bride-turned-wedding planner, Lauren uses her experiences and knowledge to educate and inspire brides all over the world.