Fall is a pretty popular time for weddings to occur, and along with that comes the pleasure (hopefully!) of attending those weddings. And even though we normally share wedding planning advice for engaged couples, today I thought we should share some insight for wedding guests… specifically, information that is crucial for every wedding guest to know!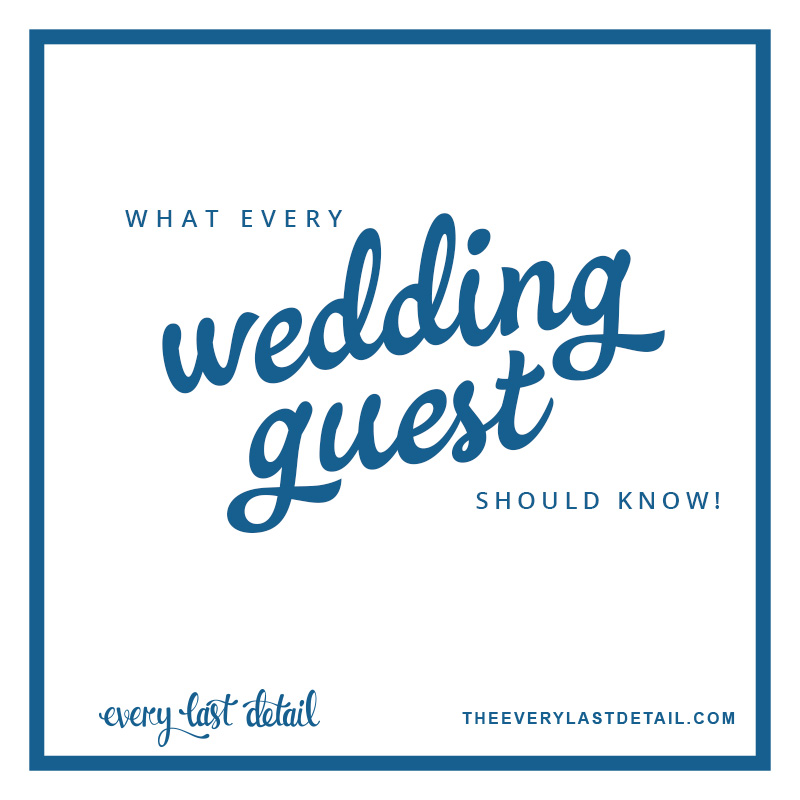 In the past several years, I've learned that there can sometimes be a bit of confusion for guests about certain aspects of a wedding. The ceremony, cocktail hour, seating charts, and food stations are just a few of the many things to take in at a wedding, and it's a good idea for you to be a little in-the-know about everything beforehand.
Having been a wedding planner in my former life (and still coordinating weddings with friends from time-to-time), I can tell you that a large part of a wedding planner's job is dealing with guests, and let me tell you- I've witnessed a few "unsavory" things from guests that could have easily been avoided if they had just known! And so I've put together a few tips for wedding guests from my own experiences, wedding professionals' insights, and even brides…
BEFORE THE WEDDING
>> Do not bring a guest unless the couple has indicated that you can- RSVP for the people that are listed on the invitation's envelope only.
>> Make sure to double check that you wrote your name (and meal selection if applicable) on the RSVP card.
>> Even if it is not mentioned, leave the kids at home unless they are a part of the wedding party.
>> Oh, and let's not forget to RSVP on time! (Admittedly, I am AWFUL at this, so my recommendation is to send your RSVP as soon as you get the invitation!)
>> Read all of the info on the accommodations card and wedding website so you don't have to ask the bride or groom in the days before the wedding. It should all be there for you!
GENERAL DAY OF
>> Don't text or call the bride the day of the wedding explaining your issues or asking questions.
>> Be present for the day! Don't stay behind a camera or your cell phone… celebrate with the bride and groom!
>> Don't come empty handed. Even the smallest gift is appreciated. If you are purchasing a gift, have it sent to the couples home instead of bringing it to the reception. Cards are always nice too.
>> Show up on time! Which means… 20-25 mins before the ceremony start time that is on the invitation! And on that note… also try not to show up WAY early either!
>> Stay out of the aisle during the ceremony!
>> And with that said, please refrain from taking photos with your phones/cameras/iPads during the ceremony- especially if the bride and groom have requested that you refrain from doing so!
>> Please don't try to turn your friend's wedding into your family photoshoot/reunion.
>> If transportation (such as a shuttle) is being provided for you, use it!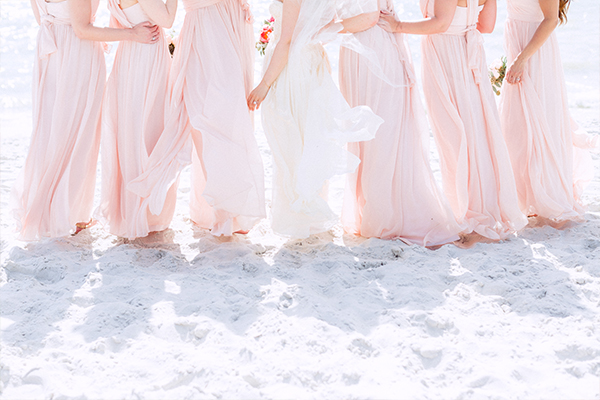 Image by Hunter Ryan Photo
ATTIRE
>> Dress accordingly. Please remember to check the weather before you leave.
>> Again, check the weather. You might want to bring a sweater or umbrella, just in case.
>> Dress appropriately for the setting. Turn to the invitation and/or wedding website to decipher the style and location of the wedding and recommended attire. If you can't figure it out from that, ask around- just try not to ask the bride… she probably doesn't need any more stress than she already has.
>> This should be a given, but don't wear white (unless instructed to by the bride).
RECEPTION
>> Get to the cocktail hour when it starts, and stay the full time.
>> Don't try to push your way into the reception because you're ready to sit down or claim your seat. Often times finishing touches are being made or photos are being taken, and it is preferred that guests wait until the designated time to enter the reception.  The bride and groom have a cocktail hour for a reason, and there is most likely a plan in place- you should respect that.
>> If there are stations or a buffet, you will be released by table- by someone in charge- to get your food.
>> The pretty, big, sometimes sparkly plates at your placesetting? Those are likely decorative chargers. They are not to be used as dinner plates.
>> If seated at a long table without specific assigned seats (typically indicated by place cards) please do not leave 1 chair between yourself and the next person. There are a specific number of chairs available for a set number of guests.
>> Please remember that the bride and groom (and/or their parents) are paying for you to eat and drink. The best thing you can do is enjoy it!
>> The couple *really* wants you to dance and use the photo booth! Again, if it's there, it was paid for with the aim of your enjoyment.
>> Please don't try to do a toast/speech unless you have been asked to do so.
>> At the reception, don't assume that "extra" favors, candies, bottles of champagne, etc. are yours for the taking! They could have plans for those things after the wedding!
>> Don't just grab things that you see, unless you KNOW they belong to you or your date. This includes an umbrella covering the photographer's equipment, candles and centerpieces on the table, and random jackets on chairs. If you do see something lying around, give it to a staff member at the wedding.
>> Please don't leave with the centerpieces unless you're told to. The vase is probably rented!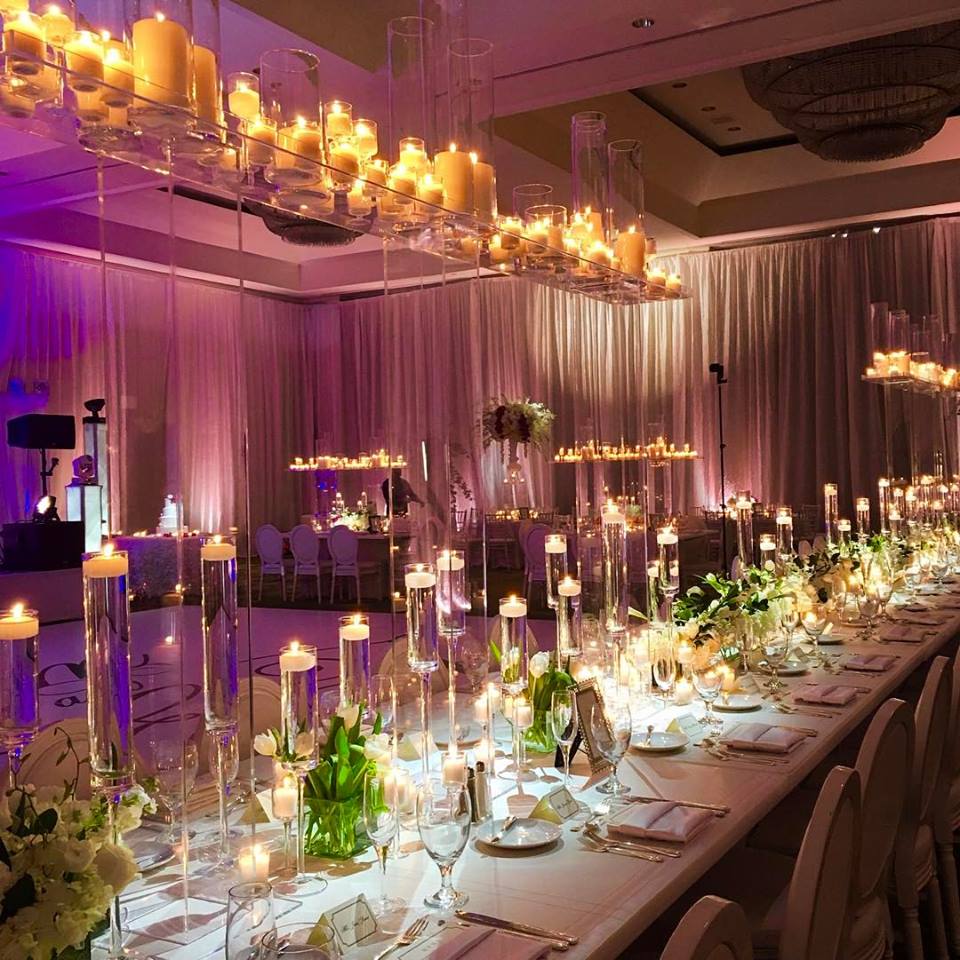 Image via RSBP Events
VENDORS
>> Please be mindful of the couple's wishes that are being carried out by wedding professionals. If a planner or coordinator tells you something that you don't necessarily like, it's for a reason that has been predetermined by the couple.
>> Trust the photographer to get the shots that the couple wants. The couple hired them for a reason, and chances are good that they are going to be happier they picked the photographer's image over yours.
>> Don't jump in front of the photographer with your own camera during family photos and critical events.
>> Don't try to talk to the photographer during the ceremony.
>> Please refrain from taking your own photos over the wedding photographer's shoulder.
>> Remember that vendors involved with a wedding most likely know more about what should be going on than you do. If you have a question, ask someone in charge.
---
I know that there is SO much more to all of this, and also that each wedding and couple and wedding guest is different. And yes, I could probably take each individual thing and write a full post about it. Perhaps I will one day- but for the time being, I just wanted to get these tips out there for wedding guests. Because when it comes down to it, the bride and groom want everyone to have a great time at their wedding, and these tips will only help you achieve that!
Have some other tips to add for wedding guests? Feel free to add your own in the comments!
---
Do you know someone who will be attending a wedding?
Or perhaps you'll have your own wedding guests soon?
Share this post with them so everyone attending a wedding soon will know the ins and outs!
This post was originally published on December 13, 2012.
The following two tabs change content below.
Lauren Grove is the editor and owner of Every Last Detail. A clueless bride-turned-wedding planner, Lauren uses her experiences and knowledge to educate and inspire brides all over the world.