It's no secret that one of my FAVORITE wedding details involves seating. Seating charts, escort cards, placecards… I just love them ALL! Rightfully so, I have a special seating ideas board on Pinterest, and as I was pinning away on it recently, I realized that some of you might want to know the difference between all of these different seating options- because there are indeed differences!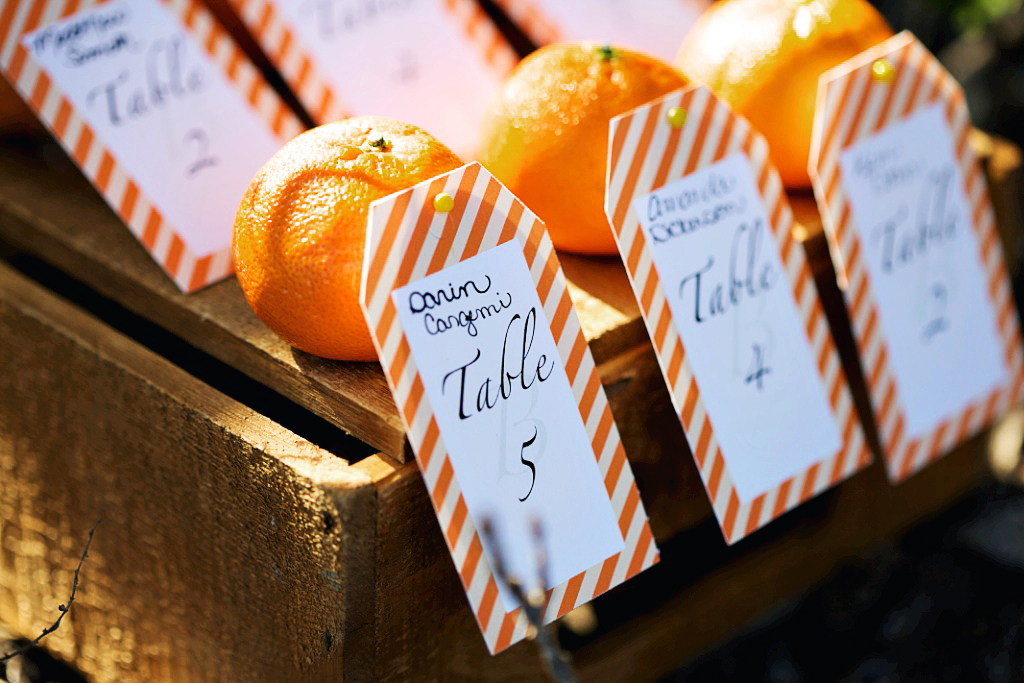 Photo by Roohi Photography, Design by Burkle Events
So first, let's touch on WHAT seating options are for. You have the options that direct guests to their tables (seating chart and escort cards), and then you have the option that directs guests to their exact seat at the table (placecards). All seating options are helping to *direct* guests to their tables, but there is a difference between how they do the directing. Seating options exist so your guests can find their seats in a timely fashion, thus allowing your wedding reception to run a bit more smoothly.
Okay, and before going into the exact descriptions and details of all the seating options, I have to say this…. ALPHABETICAL ORDER please!!!! I seriously want to cry every time I see a seating chart or escort cards arranged by table number. Think of it this way: your guests don't already know what table they're sitting at. That's why you're telling them. Keeping everything in alphabetical order makes guests' names easy to find and in order! So do your guests- and your wedding timeline- a favor and don't make them have to SEARCH for their names among an unorganized list of table numbers!
-Seating Charts-
Seating charts are the most common seating option that I see non-alpha order happening… probably because it works better aesthetically. BUT, it doesn't work logistically, so remember to keep it alphabetical! Seating charts are a great option if you have a lot of guests. Sometimes you can even do 2 separate charts- either an exact duplicate of the same chart, or splitting up the letters, similar to what is shown above. Seating charts are also a great option if you will be having placecards at each placesetting- that way you can direct them to the correct table, and then their placecard will direct them to the exact place that you want them to sit. You can also do really fun things with seating charts, like making them interactive or using objects or symbols instead of table numbers/names!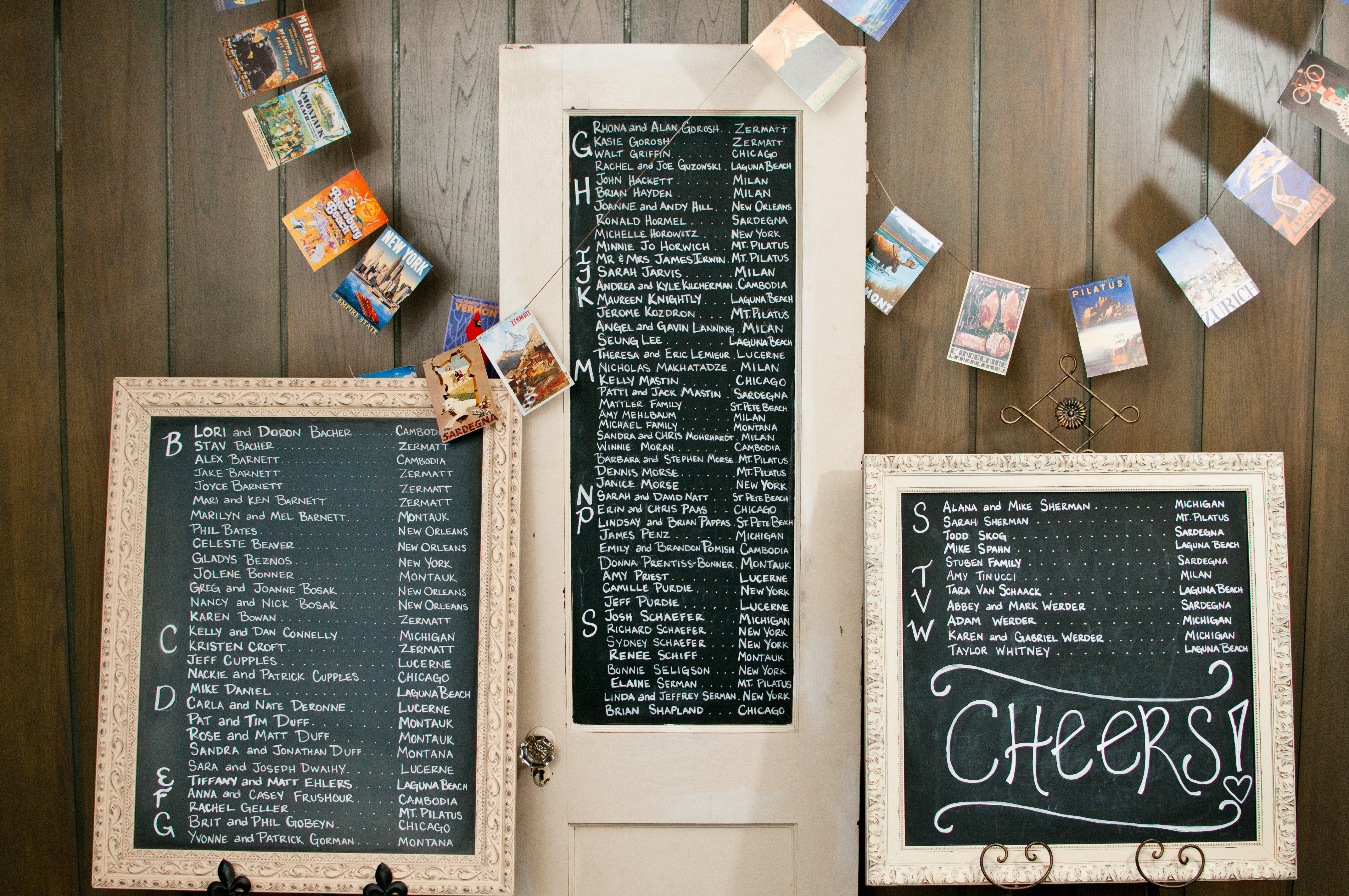 Photo by Caroline & Evan Photography
-Escort Cards-
Escort cards are another method of telling guests what table they are sitting at. They are the most common seating option, and are traditionally seen as tented cards with guest names and the table number (in alphabetical order). Simply put, they are "escorting" guests to their table. :) But nowadays, there are tons of creative things you can do for escort cards without having to go completely traditional. From having cards designed to match your stationery (which is always classic and gorgeous), to attaching cards to favors, creating "escort objects"- there are so many great ideas! You can even do full-out escort boards, with cards attached to the board, making it a little more interactive for your guests… I've even seen guests have to replace their escort cards with a photo of themselves or a fun message! Guests love it, and it starts your reception off with a bit of fun in the atmosphere! Again, remember to keep these in alphabetical order (clearly I can't say this enough), and if you're having trouble thinking of some ideas, just head on over to the escort/seating inspiration gallery, or check out my Pinterest board! :)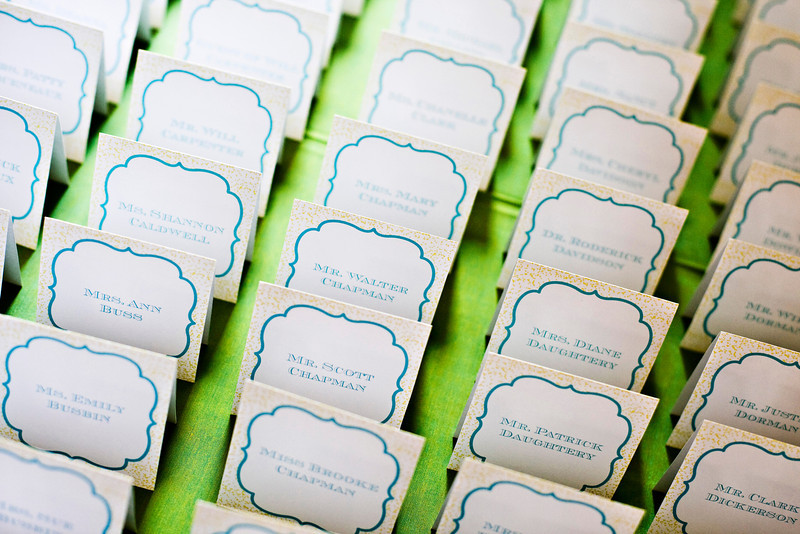 Photo via M. Elizabeth Events
-Placecards-
Okay, and now on to placecards, which are meant to indicate to guests what *place* they are sitting at. Usually you won't have placecards without having one of the two prior options I mentioned above- a seating chart or escort cards. Placecards are a quite the feat though, because you will have to assign each guest to the exact place you want them to sit at their table. However, I most definitely recommend placecards if you will be having long tables- it eliminates any potential confusion that may arise when guests have to choose their seats. It's imperative when you have placecards that you have an extensive floorplan of all of the tables and the names that will go at each placesetting. The thing about seating is that no one can do it for you except for you (and your family/friends), because you are the one who knows your guests. (I always felt bad when my brides were plagued with their seating assignments, but I didn't know the guests, so I couldn't help them!) So if you're doing placecards, just know that it's going to take a little time. :)
What I love about placecards is that it's another awesome detail that can be incorporated into your wedding design. You can have favors at the placesettings and have placecards attached to those, have your placecards as a part of your menus or even as a napkin ring! It's little details like these that can really step up your table design, and sometimes can become a *part* of the table too!
Menu & Placecard Design by A&P Designs, Photos by K&K Photography
There are SO many great ways to do your wedding seating! Seating charts, escort cards, and placecards are all intended to inform your guests and keep your wedding reception moving smoothly- and you can do it all gorgeously and even have some fun with it! Remember, if you need ideas for your seating, you can take a look at the gallery here on ELD, or head over to my Pinterest board to see the latest from around the web! I even have a little service in which I can work closely with you to help you come up with a fabulous idea for your seating- so if you want help, shoot me an email! :)
Have you decided on how you will be doing your wedding seating? I want to hear all about it! Have any questions? Ask away!
The following two tabs change content below.
Lauren Grove is the editor and owner of Every Last Detail. A clueless bride-turned-wedding planner, Lauren uses her experiences and knowledge to educate and inspire brides all over the world.