Well friends, I've been in Ohio, enjoying some GORGEOUS weather, and now I'm off to Chicago for a few days! I asked my good friend Megan of Glamour and Grace to share some of her own wedding insight for this week's Thursday Tips post! So be sure to give Megan a warm welcome to ELD and enjoy her insight! :)
Hello wonderful ELD readers! This is Megan from Glamour and Grace filling in for Lauren as she has some fun up north. I usually focus my posts on amazing images and minimal writing, but Lauren asked me to share some of my personal experiences with DIY and why I have a love/hate relationship with the whole idea. But I will sprinkle in some pretty photos, because it is just more fun that way!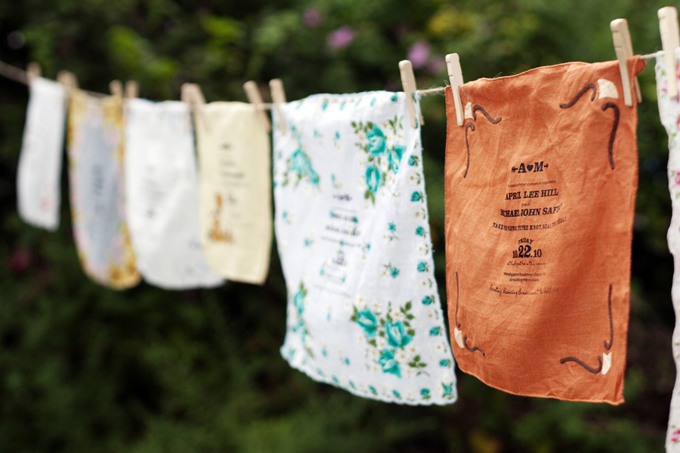 April and Michael's wedding by Kristina Hill
DIY has become a popular idea with weddings in the last couple years (note: I consider DIY any wedding without a planner or with a lot of homemade details). It all sounds like a great idea, right? You are a brand new bride just starting to research your possibilities when you begin to realize all this wedding stuff is way more expensive than you thought. So you decide, well, I can probably save $ if I do x, y, and z myself. But DIY is not always that saving grace and can quite often turn into a major thorn in the side of your wedded day bliss. I have personally experienced both sides of the DIY wedding coin, positive and negative, so I thought I'd share what works and what doesn't.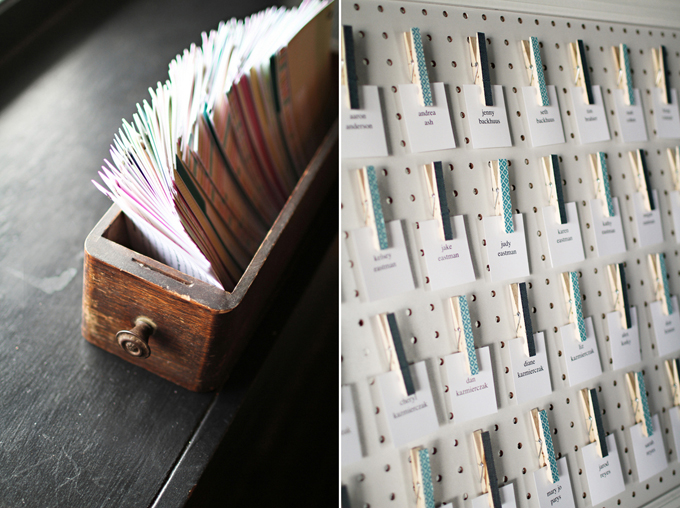 Katie and Shawn's wedding by Troy Grover
Lets start with how not to DIY (also known as DIY hell). I was recently a bridesmaid in one of my good college friend's weddings. Because they were on a limited budget, she decided she would DIY most of the wedding. The big problem with this is that she hates to DIY. So it now becomes, crafty-bridesmaid-and-a-couple-relatives-do-it-themselves (not so fun). Not only was this a lot to ask for from the wedding party and family, but it created tons of stress the months and weeks before the wedding. Also, beyond not even really liking to DIY things herself, she left a lot of the big projects for the last 2 months. Add on top of that that she finds out she is pregnant a month before and is now too sick to work on the wedding at all. There were also several other family events that happened around the same time to make things more difficult. Furthermore, her nor any of her family members were the organized type and hadn't been to many weddings. So long story short, the whole week I traveled up to be with her was spent caring after a sick woman, tea staining programs, creating table numbers, hot gluing centerpieces, organizing the bridal party, and more. It was seriously one of the most stressful times in my life (can I add in no sleep from a nightly deflating air mattress?) I love my friend, and would help her again if there were a redo, but DIY was not for her wedding.
What to take away from this example of DIY hell:
Don't take on DIY projects unless you like to craft and are creative.
Don't DIY unless you have some willing and able friends and family to help you.
Don't DIY if you do not have the time to put into the projects you plan.
Don't wait until the last 2 months to DIY, spread them out throughout your engagement.
Don't DIY if you (or someone outside the bridal party) are not an organized person.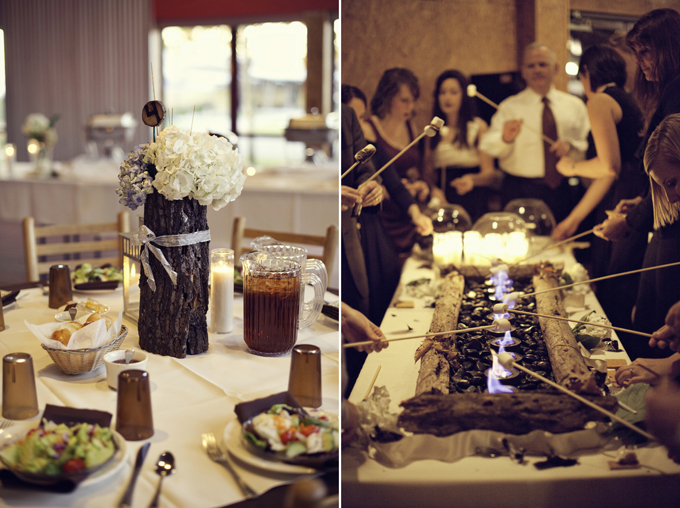 Lindsay and Ryan's wedding by Lauren Piper
Now that you all think I hate DIY, you should know that my own wedding was DIY. I did not hire a wedding planner and made a lot of the details myself. One of the main reasons I could pull this off is that I love to make things. I also had the amazing support of my mother, who I inherited my organized, yet creative mind from. Another point on my side is that I had time on my hands. I had just finished school and was only working part time at an internship (the 3 months before the wedding I had no job and was able to fully commit myself to planning). I also knew exactly what I wanted and had the tools to create them (i.e. Photoshop and Illustrator were my best friends).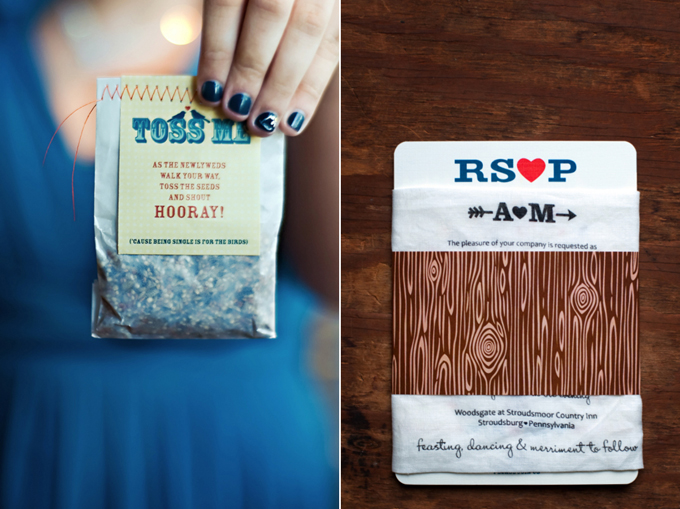 April and Michael's wedding by Kristina Hill
Now one of the most important things that I had, that I make sure everyone who wants to DIY their wedding has, is someone (outside the bridal party) to take charge come wedding day. When you DIY your wedding, it is easy to get over involved and want to be in complete control of all the details. This, for sanity's sake, is just not possible. I was fortunate enough to have my mother, who knew my complete vision and every detail's place, along with two family friends who love weddings and designing to help. I will be forever grateful for my mother, who the Wednesday night before the wedding, reassured me that she would handle all last minute details and that everything was under control and would be beautiful. This was the all-important moment that contributed to my ability to relax and enjoy the rest of the wedding week. Also, my two family friends left early for the venue with a truck packed up with decorations and took over for my mom to make sure everything was perfectly placed and helped deal with all the vendors.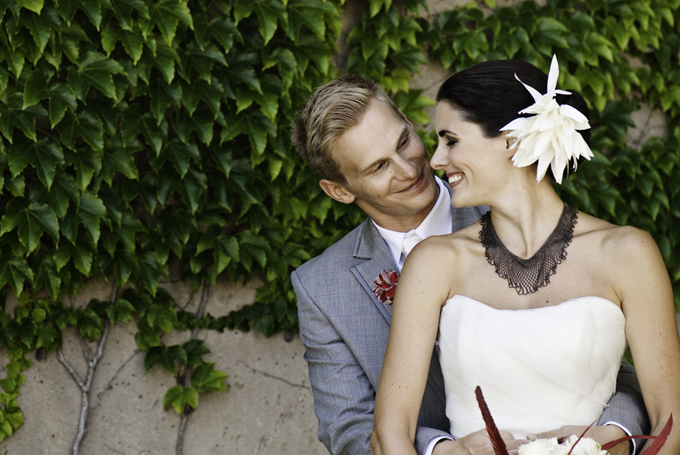 Joanna and Jeremy's wedding by A&A Photography
So, DIY weddings can work and they can turn out beautifully, just be sure you do your research and have the time and resources to manage your projects. Don't just DIY to save some money, because in the end, a lot of projects don't save on time and sanity.
Will you be venturing into the world of DIY for your wedding and do you think you're prepared? Do you have some DIY horror stories? How about some DIY successes?
The following two tabs change content below.
Lauren Grove is the editor and owner of Every Last Detail. A clueless bride-turned-wedding planner, Lauren uses her experiences and knowledge to educate and inspire brides all over the world.