For today's Thursday Tips, I thought I would just provide some clarification and insight into things regarding wedding vendor pricing that I never knew about or understood when I was a bride…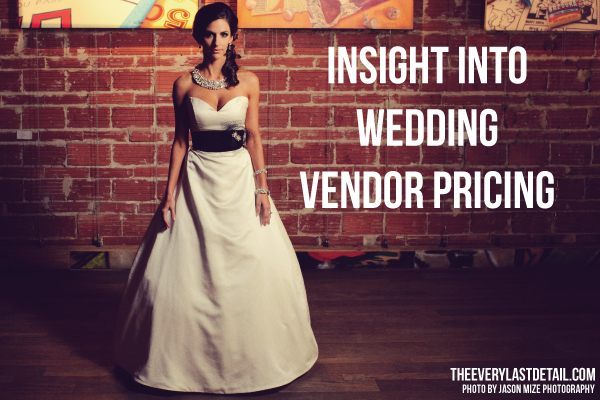 Image above by Jason Mize Photography
Pricing: This is the big thing, because I don't care how much money you have, you want to get the best price on everything. I thought it when I was a bride and I've heard many other people voice the same- "Why is everything SO expensive for a wedding?" Simply put- weddings are people's jobs. It's their livelihood and what puts food on the table. Prices that you are given are what the vendor has decided they need to charge to make a living- not all of the money that you pay vendors goes into their bank accounts to stay forever. That being said, vendors' prices can vary because of QUALITY. It could be the quality of flowers, the quality of chivari chairs, the quality of equipment, or the quality of the service you're getting. Wedding services and products are for sure something that you get what you pay for.
Service fees: "Why the heck do they need an extra fee? That's ridiculous." A service fee covers costs for vendors. If they have any employees, that pays them. It covers any extra costs and materials for your wedding- like floral foam for your centerpieces, or tape to tape down electrical cords for your DJ. It's there so you're not being nickel and dimed for every little thing– because ultimately that wastes your time and the vendor's time.
Delivery: Simply put, it covers gas for a vehicle to get to your wedding and deliver everything. If a truck or van needs to be rented, the delivery price covers that as well.
Tax: If you are getting anything that is an "object" you have to be taxed. Flowers, rentals, linens- the rule of thumb for me is if you can hold it, it's taxed. (A service like planning is not taxed, because it's all just paying for time.) You go to the store and buy anything- food, a dress, shoes- and you know that it's not going to be exactly the same price that's listed on the price tag. Unfortunately that's how it is with everything, weddings included.
I could go on and on, but these are the general things that I myself had no clue about. I hope I was able to clear some things up for some of you! If you have any questions, please don't hesitate to ask! :)
The following two tabs change content below.
Lauren Grove is the editor and owner of Every Last Detail. A clueless bride-turned-wedding planner, Lauren uses her experiences and knowledge to educate and inspire brides all over the world.