When I was planning my wedding, one of the big things that I had no clue about was how to design my wedding. Sure, I had tons of inspiration, but didn't really have a way to fine tune and focus it. These were the days before Pinterest (OMG how were weddings planned without Pinterest?!), so I had pages torn from magazines and printed out photos everywhere (actually, they were in a ziploc bag- embarrassing, I know). I was one of those brides that said, "I want my wedding to be elegant and simple"… which is probably the most common and least descriptive way to describe a wedding. I was SO all-over-the-place with what I liked- I have no idea how my floral designer even came up with designs!
Well, when I started planning and designing weddings, it was then that I realized the way to make each wedding unique and personal was with design, decor, and details. The beautiful thing about these elements of design is that you can tell the story of your relationship with them. Sure, every wedding reception table has centerpieces and table numbers, every bride has a bouquet, and every reception has a cake. But when all of those elements have a particular style, theme, and design? Well THAT is what makes a cohesive wedding design, and as a result, an awesome wedding!
So, in case you can't tell, the design of my wedding is definitely something that I wish I could have done differently- especially since I became an event designer and planner following my wedding. And because I want you all to have the BEST wedding possible, I thought today I would share some tips on how to design your wedding!
1. Inspiration & Vision. 
You probably have this down-pat, but starting off with inspiration is the key way to start the design of your wedding. Spend some time on Pinterest and blogs and save the things that you like. You don't have to have anything in particular in mind at this point, just gather inspiration. Save what you like and what resonates with you- even if it's not wedding related! It's also important to stop, close your eyes, and think of the "vision" that you have for your wedding day. There could be something that you have in mind, and you don't even realize it yet.  
[Check out this post about using Pinterest to help you in your quest for inspiration!] 
Another thing that I would recommend is to think about and write down things that would tell the story of your relationship. Do you love cooking together? Did you meet at a brewery? Do you both love video games? Even if you think that it couldn't be translated into your wedding design, don't hold back! Tell your story- you never know what could end up creating a fabulous wedding design. Plus, if you're working with a wedding designer, they can create something amazing out of something you might think is crazy!
*Note: Please remember- designing your wedding is about inspiration, not replication! Being inspired by something doesn't mean that you have to replicate it for your own wedding. It's okay to think something is awesome, but not include it in your own wedding design. 
Pro Tip
---
"During my first consultation with a new client we discuss their favorite books magazines and store/designers. It gives me and more inside look into what their Silas and how to pull inspiration from there every day life rather than just what they've seen and liked online!" – Adair of Dairing Events
---
2. Curate and Focus.
After you have LOTS of inspiration, it's time to curate and focus! Go through everything that you've saved/pinned, and pick out what REALLY speaks to you. This means either delete images/pins, or save them to another board. I would actually recommend saving to another board so you can at least keep track of what you like initially. And don't forget to keep in mind what your own personal style is too. It's also okay to not actually have photos of what is inspiring to you- if you just have a general idea, that's perfect! Once you've whittled down your inspiration, you should see a trend appearing. It could be colors, a general style, or even be a *thing*- like airplanes or food or a graphic pattern!
Pro Tip
---
"Allow a designer to help you "edit" your ideas. There are so many wonderful ideas out there that it's easy to start incorporating non-cohesive ideas into your plans. Sit down with your designer and "cull through" your inspiration and remove the ideas that don't work, aren't practical, don't reflect your personality, and don't seem cohesive." – Cassie of Flaire Weddings & Events
---
3. Define and Describe. 
This is when it's time to define and describe your wedding design. If you're familiar with the weddings here on ELD, you might notice that I always give weddings a style when describing them. I highly recommend giving your wedding a "title" that describes it's design. This will help you when working with with your vendors, and also help you to keep things focused. [I recommend taking a look at the ELD Style Dictionary if you need help!] Something like "Modern rustic pink and white wedding" or "Romantic and colorful Kate Spade inspired" is perfect. And of course feel free to get creative with the definition/description of your wedding- think outside of the box!
Pro Tip
---
"Let your venue speak to you! Instead of working to transform the space, use the space to bring your vision to life. I also ask the couple during our first meeting to choose three words to describe their day. These three words need to reflect their day and how they want to feel. Bright, modern, eclectic, excited, romantic, unique, traditional, etc. Really helps to round out a design and keep all elements cohesive." – Julie of Events by Jules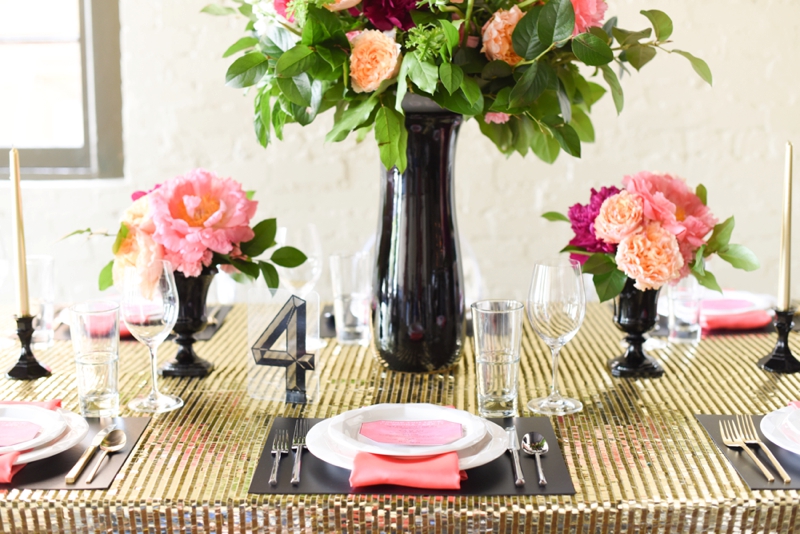 Image by Mikkel Paige, Designed by Ashton Events | CHIC MODERN PINK AND ORANGE WEDDING IDEAS
4. Decide, Designate and Design.
This is hands down my favorite part of designing a wedding. You have your inspiration that you've curated, and you have defined the style and theme of your wedding. Now it's time to decide on and designate the specific design elements for each item of your wedding.
What do you want your reception to look like? Will the centerpieces be tall, short, or perhaps both? What about the ceremony- is it going to be in a church or outdoors? Here are the things that you should be designating:
– Paper elements (Save The Dates, Invitations, Menus, Signs, etc)
– Attendant florals
– Ceremony design/decor/details
– Cocktail hour elements
– Escort card/seating display
– Linens
– Reception florals
– Table numbers
– Cake & cake table
– Sweetheart/Head Table
– Dance floor
– Rentals
– Food
– Entertainment
Once you know these elements, you will have your wedding design! If you're working with a wedding designer, he or she will likely provide you with a description of these elements. Some designers also sketch out certain elements too- which is AMAZING and definitely helps with visualization!
Pro Tip
---
"Design your wedding with your guests in mind. They have potentially traveled and paid money to come spend time with you, so be sure to think of them. They know their guests the best, so if they know they are Northerners who expect a seat and a place to "call home" all night, provide ample seating and/or escort cards. If they are a NOLA group who is used to dancing and mingling all night, food stations and lots of hi tops are better suited for their reception.  I'm biased and think it's "Southern hospitality", but it's really just being hospitable in general . Love on your guests as much as they should be loving on you!" – Avis of Carillon Weddings
---
5. Execute!
Of course you still have to execute your wedding design- this is what makes all of your planning and designing come to life! The key to executing your wedding successfully is to work with a great team of professionals who can make your wedding design a reality. I of course highly recommend working with a planner and/or designer, as they will most definitely ensure that you have a great team to make everything happen.
Remember to keep things organized. Make lists, label things, and keep your details together. There's nothing worse than handing over your design and detail elements to someone, but yet they have no instructions on what is what, and what goes where. Be sure to communicate the design elements of your wedding to whoever is helping you to execute your wedding design.
I asked some of our preferred vendors to share their tips about designing a wedding, and here is what they said:
"It's important to look inside when designing your wedding. What are you about? What is your personal style? Are you fun and energetic and the life of the party or are you classic and traditional and elegant? Make sure that your design style for your wedding reflects that. If you're the class clown, muted colors and soft elegance isn't representative of who you are. If you're classic and sophisticated, rainbows and unicorns at your wedding would make some guests question your sanity. Search for the things that make you and your fiancé unique and interesting, and incorporate those little joys into your details. You traveled cross country to chase your love story? Incorporate travel details and have a paper plane toss as your send off. Spent many long nights as study partners in college? Serve up some of your favorite study treats and coffee for dessert and decorate with books or stories about you as a couple. Have fun! Create a design that not only relays your personal style, but tells your story. When guests walk into your wedding, they will surely think 'that's so them!'" – Emily of Emily Grace Design
"Curate your ideas….pick one concept and stick with it. Just because you love a lot of ideas doesn't mean they all go together." – Tracie Domino Events
"Make it cohesive- go back through and edit all of your inspiration items to make sure they relate to each other. I can't tell you how many times brides focus on specific items and forget to tailor it back to the big picture. They fall in love with something on Pinterest and then the look spins away from their initial style. Your own personal style is more important than Pinterest. Your story and personal style should be the editing guide for the big picture. Don't hesitate to cut something that truly isn't you just because it looks cute." – Laura of Ashton Events
"When working with my wedding design clients, we always start big picture and then start breaking down the design into specific components. For the big picture, you want to come up with words and feelings to help you capture the look and feel you are trying to create. Then, you can start translating that vision into reality, step by step. A well designed wedding will feel cohesive and coordinated; from the invites, to the fabrics and lighting, to the flowers selected, and even the food and beverage choices. Having a master plan is key." – Cassie of Flaire Weddings & Events
---
That is some of the best advice I've heard- and I most certainly wish I had known all that while I was planning my wedding! The thing about the design of your wedding is that it's what makes your wedding *your own*. The way that you infuse your personalities into your wedding is with design and decor, which also clearly includes details.
So friends, tell me- are you designing your wedding? Are you working with a planner or designer? I want to hear all about your wedding designing!! 
[Editor's note: A version of this post was published in June 2013, and it has been updated and revamped for accuracy.]
The following two tabs change content below.
Lauren Grove is the editor and owner of Every Last Detail. A clueless bride-turned-wedding planner, Lauren uses her experiences and knowledge to educate and inspire brides all over the world.