Happy Thursday everyone!  I just got back from a fabulous business workshop that I spoke at, and my mind is buzzing with all kinds of inspiration, ideas, and excitement. Today's post is something a little more inspirational and insightful as opposed to the usual tips I share, but I hope you will be able to gain some useful knowledge!
I came across this quote by Karl Lagerfeld (thanks to my friend Ashley), and it resonated with me in so many ways. It's so incredibly true, and it can apply to so many different aspects of life…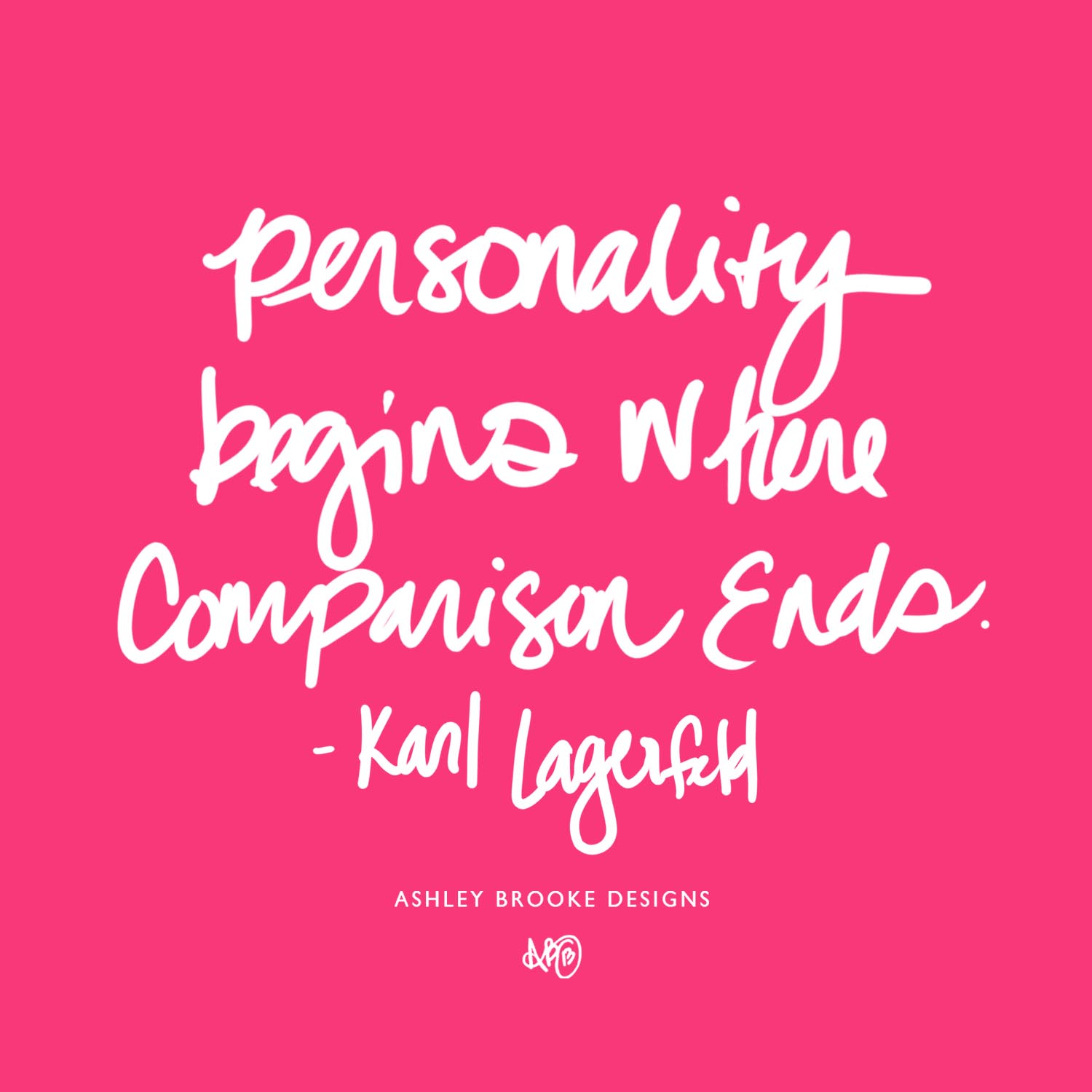 Illustration by Ashley Brooke Designs
This quote has a focus on personality, but I want to talk about the other thing mentioned- comparison. Comparison can be a good thing, but it can also be a bad thing. It can be a great tool to help you make decisions. But the trouble is when you start comparing things that really can't be compared. I've talked about this when comparing vendors. Sure, you want to compare what one person offers against what the other person offers. But when it comes to vendors, everyone does things differently, has different styles, has different experience, and that is why it's so difficult to compare one to another. You can only compare an apple to an orange in so many ways. To me, the amazing thing about wedding vendors is that they ARE different and unique. Not all brides are going to love and want the same thing, and I believe that one of the beautiful things about weddings.
So let's move on to actual weddings. Between Pinterest, all of the amazing wedding blogs out there, Loverly, and magazines, brides today have access to TONS of inspiration. SO much more than I had back in 2008 when I was planning my own wedding- in fact, sometimes I'm jealous! But all of this inspiration has also caused brides to compare their weddings to others' weddings. I compared my own wedding to others and ended up being pretty unsatisfied because of it, so I can't even imagine what it's like now!
I want to encourage you to stop comparing, and start letting your personality shine through for your wedding.
You don't have to have mason jars just because 80% of the weddings on blogs have them. You don't have to worry about the "right" way to do things. Heck, you don't even have to have an actual wedding! Just do what works for you, what you and your partner want, and what will truly reflect your personalities!
And now I want to get a little more personal. I myself have the hardest time with comparison. In the wedding blog world, it's really hard to NOT compare yourself to others. It's also incredibly difficult when others do the comparing all the time too. I understand the comparison of numbers, because that is hard data. But the flip side is very similar to what I mentioned about vendors- everyone offers something different and does things differently. You can't compare Walmart to your favorite local boutique, right? Beyond the hard data, there can more to a wedding blog. For me, I care about helping brides and vendors A LOT. Like the *sometimes-my-heart-feels-like-it's-going-to-burst* kind of A LOT. And I've realized that everything I'm so incredibly passionate about all leads back to wanting to help everyone and anyone involved in the wedding world. Which is why, if you haven't already been able to tell, ELD isn't a "normal" wedding blog- because I share posts like this one and all of the other wedding planning tips. I'm sharing this because I don't want you all to think that I'm just some elusive face on a website. I'm here to help, and I care more than you know. :)
So with all of this said, let's end the comparisons and start looking at personality and uniqueness!
I'd love to hear from some of you about your thoughts on comparison… whether wedding-related or personal, what do you think?
The following two tabs change content below.
Lauren Grove is the editor and owner of Every Last Detail. A clueless bride-turned-wedding planner, Lauren uses her experiences and knowledge to educate and inspire brides all over the world.