True story: the biggest part of planning your wedding is the actual wedding day. You spend months, maybe even years planning, and then in a mere 8-12 hours, it's over and done with.  Of course you want your whole wedding day to go smoothly, because it IS such a small time frame. And this is why you absolutely *need* to create a Wedding Day Timeline.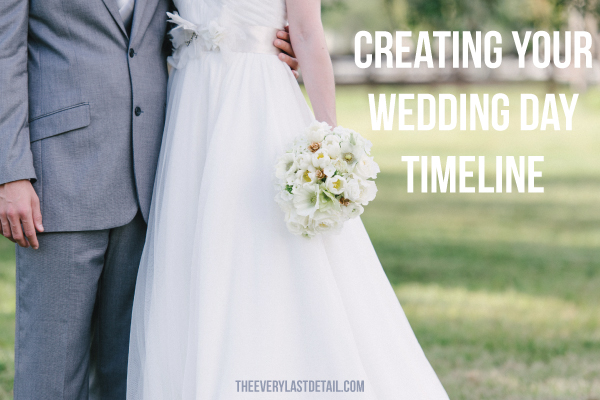 Image by Rustic White Photography
If you have a wedding planner or coordinator (which of course you know I HIGHLY recommend), he or she will create your timeline for you. You can of course also make your own timeline- I recommend this template here on ELD to help you with the order of events. Either way you decide to go, you will need to think about certain things for your wedding day. You could have a certain order of events in your mind already, whether it's something that you've thought of, or just one particular thing you want to be sure to include. And so, I give you some common tidbits that are necessary to think of when creating a Wedding Day Timeline.
– Hair and makeup appointments- times and locations
– Time of arrival to ceremony location for bride and groom (especially necessary if needing to stay "hidden" from each other), and transportation to and from ceremony if needed
– Time for photos before and/or after ceremony
– Time to bustle your dress
– Will you and your new husband be attending the cocktail hour?
– Announcement/Grand Entrance into your reception (and who will be announced- bridal party and parents, just bridal party, etc)
– Time of First Dance
– Time dinner will be served/buffet opened
– Time of Father/Daughter and Mother/Son Dances
–  Cake Cutting
– Toasts
– Garter/Bouquet toss, if applicable
– Exit, if applicable
– Any special events, such as a cultural dance or special tradition
 ————————————————————-
As you can see, there are several different things that need to be considered when creating your wedding day timeline. (All the more reason to have a coordinator, right?) If you have a coordinator for your wedding, you won't have to worry about anything having to do with the timeline on the day of your wedding. He or she will just simply let you know when things are about to happen, and you just go with the flow. If you don't have a coordinator, try to designate someone to keep track of time and let you know about when things should be happening. (You don't want to dilly dally and have guests start leaving before you cut the cake!) So use these tidbits to create your Wedding Day Timeline in order to ensure a smooth wedding day for yourself and your guests! Good luck!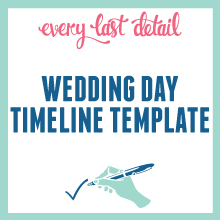 Click Here To Download the ELD Wedding Timeline Template!
View another post on creating a wedding day timeline 
The following two tabs change content below.
Lauren Grove is the editor and owner of Every Last Detail. A clueless bride-turned-wedding planner, Lauren uses her experiences and knowledge to educate and inspire brides all over the world.