Today we're continuing on with Stationery Week with something that EVERYONE needs to know about when it comes to wedding invitations- the wording! It's a common question that comes up, and today Caroline of Caroline Creates is here sharing her insight on invitation wording with us!
——————————————————————————————
You've set the date, booked the venues and now its time to work on the invitations! But how do you go about inviting people to your wedding? More importantly… how do you word the invitations?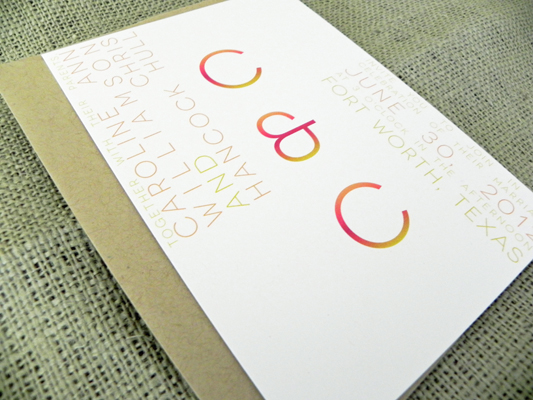 Wedding invitation wording can cause undue stress with many brides. You can really get bogged down with the details and how to convey your wedding on paper. Here are some things to think about when deciding how to word your invitation:
How formal or casual is your wedding? The formality of your event needs to speak through the wedding invitation design and the wording. Your guests should be able to tell what kind of wedding they are attending by how they are invited.
Who is hosting? Who the host of the wedding is helps determine how you structure the wording of the invitation. For example, if the bride's parents are hosting, their names should be above the actual wording which invites the guests.
Be sure to "invite". Don't forget to include an inviting phrase or sentence. Some examples are "request the honour of your presence," "join us," "invite you to the celebration of," "You are cordially invited," etc. Pick a statement that matches the kind of wedding you are having and your personality.
Who, What, Where and When. Be sure to include all these "Ws" and you will be set!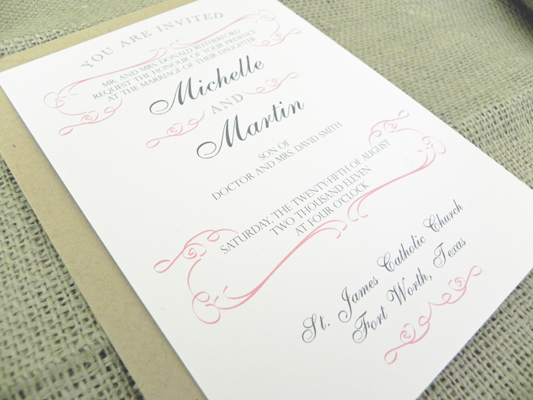 So now that we have a few guidelines, let's look at some examples that I tend to see most:
Traditional
Mr. and Mrs. Donald Rutherford
request the honour of your presence
at the marriage of their daughter
Cynthia Ann
and
Mr. John Quincy Smith
son of
Doctor and Mrs. David Smith
Saturday, the twenty-fifth of August
two thousand eleven
at four o'clock
St. James Catholic Church
Fort Worth, Texas 
 This is the epitome of traditional. Notice, both parents are listed here and every detail is literally spelled out.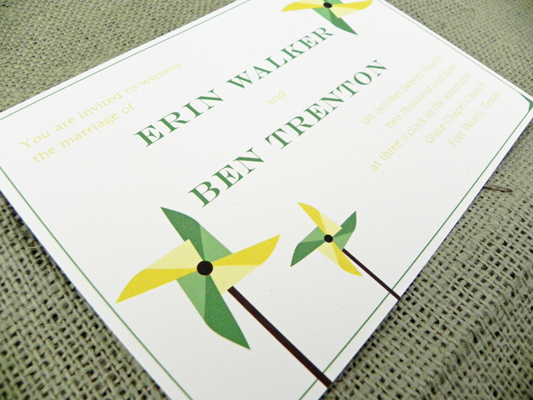 Modern
Together With Their Parents
Cynthia Ann Rutherford and John Quincy Smith
Invite You to Join Us in a Celebration of Marriage
Saturday, the twenty-fifth of August
two thousand eleven
at four o'clock
St. James Catholic Church
Fort Worth, Texas 
This example shows how you don't always have to list the parents if you so choose. Modern wording on invitations can really be anything that fits your wedding. If you want to say "Come watch us tie the knot" then go for it. However, if you want your wedding to be a black tie affair, that type of wording may not be the best choice. Remember, the wording helps determine how causal or formal the wedding will appear in your guests' minds.
In summery, remember my guidelines when working on your invitation wording. If you are working with a custom designer, be sure to convey what you want your invitation to say: wording and design go hand and hand. Don't be afraid to ask for help. Your invitation designer/supplier will be able to help you navigate and choose the best wording for you. My biggest piece of advice is to do what you are comfortable with and what makes the most sense to you and your wedding! Happy inviting!
——————————————————————————————
Such a huge help, knowing these tidbits and seeing examples of the wording! A big thank you to Caroline Creates for sharing her expertise with us- be sure to go check out more of her work in ELV! How are you thinking of wording your invitations? Traditional? Modern? A unique mix? 
The following two tabs change content below.
Lauren Grove is the editor and owner of Every Last Detail. A clueless bride-turned-wedding planner, Lauren uses her experiences and knowledge to educate and inspire brides all over the world.