Well hey there everyone! Welcome to another post in the ELD Stationery Week series! Today, Lauren of Palm Papers is sharing her expertise on informing your guests with your wedding invitation. After all, that's one of the biggest reasons invitations exist, right? Let's get right to it! 
——————————————————————————————
When it comes to wedding invitations, it's easy to only focus on the design, the paper and the printing, but the most important part is WHAT your invitations actually say. Your guests need to know where to go after all. But beyond the location, your wedding invitations say so much more than that and it's important to include key information so that your guests are fully informed about your big day.
Invitation
Naturally, the invitation holds most of the information. The items below are the lines that every invitation should have in some form or another.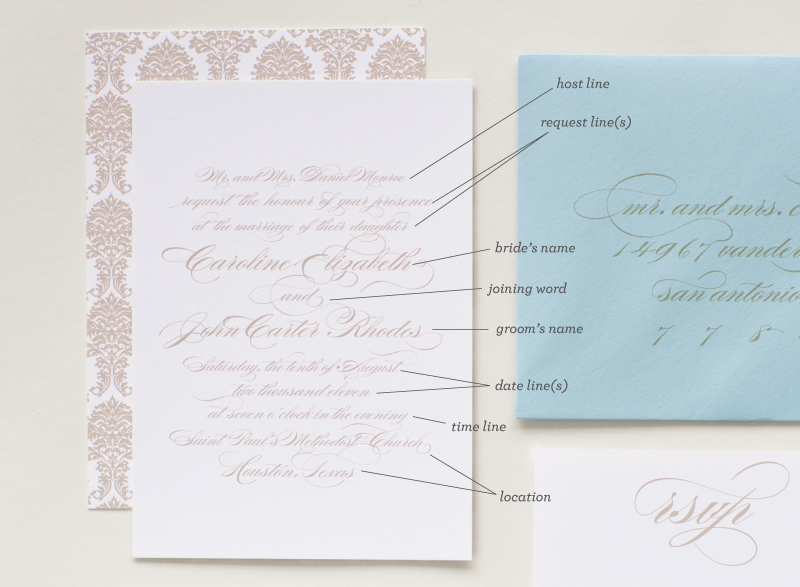 Some lines are obvious, like the couple's names and the date, but a few lines require a little more detail.
For instance, the "host line" informs your guests about who is hosting the event. Traditionally, it was always the bride's parents, but these days it can be the groom's parents, a combination of both, other family members or even the couple themselves. There will be a post later this week to discuss wording options for all types of circumstances.
Another key item of the invitation is the location. It's an obvious one, but how much detail to you need to provide? The location name should always be included, but the address doesn't always have to be. If there is more than one place with this name or it's a common name, it's often nice for guests to have the specific address, but it's not required and should be decided at the discretion of the couple.
RSVP
The main point of the RSVP is so that you know how many guests will be attending. RSVP responses are critical in determining the number of heads you will pay the caterer for, as well as for tables and seating at the venue. Always provide a date for your guests to return the rsvp card. The date should be a minimum of 2 weeks before your event, but can be earlier based on other deadlines that you need to factor in.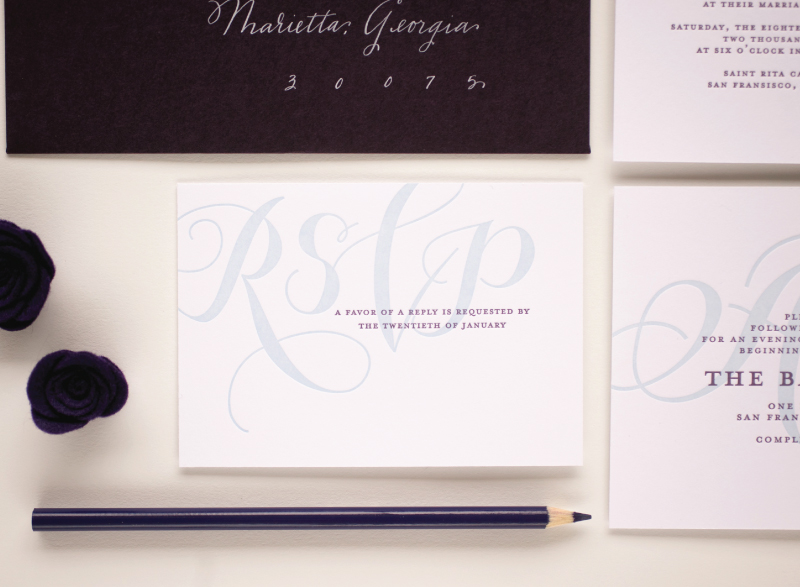 Envelopes
I often get asked about the inner and outer envelope. Traditionally, the outer envelope was used to protect your invitation, and while that is still the case, the main reason I recommend an inner envelope is to let your guests know who is invited to the wedding.
The outer envelope is addressed to a family, couple or single person, but the formal address doesn't answer the critical questions: Are children invited? Can I bring a guest?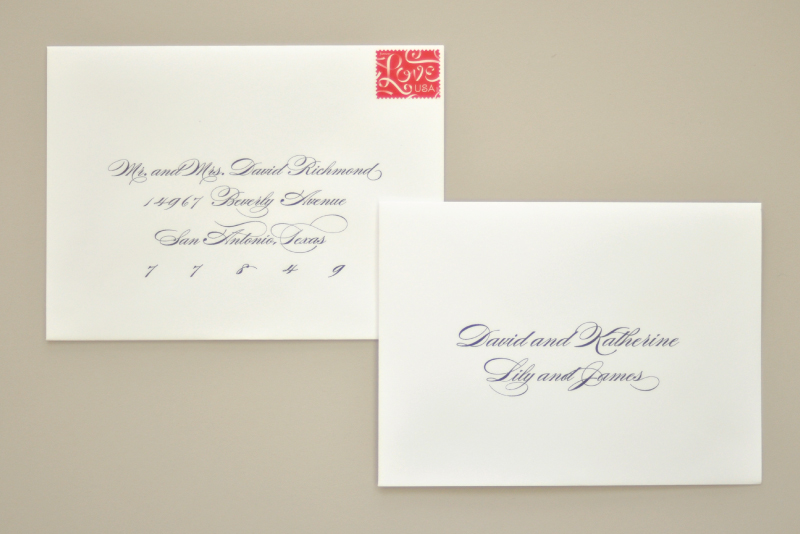 With the inner envelope, you can list each guest, including children's names or simply and 'and guest' to let your single friend know that you would like them to bring someone to the festivities. With budgets and certain event styles, these things are not a given, so if you don't want any question of who is invited, this is a great way to makes sure that everyone is on the same page.
As you can see, the invitation and its parts are not just for looks. While it does set the tone for the event, most importantly, it informs your guests on everything they need to know to attend your big day.
——————————————————————————————
It's SO important to make sure you inform your guests with your invitation pieces! Thank you for sharing all of this with us Lauren! Friends, make sure you check out more of Palm Papers' work in ELV! And if you have any questions, feel free to ask away in the comments! :)
The following two tabs change content below.
Lauren Grove is the editor and owner of Every Last Detail. A clueless bride-turned-wedding planner, Lauren uses her experiences and knowledge to educate and inspire brides all over the world.